They say timing is everything in life and that's certainly true when it comes to planning your dream holiday to Japan. Discover the best time to visit. 
Table of contents:
Intro
When Is The Best Time To Visit Japan?
What Is The Weather Like in Japan?
Most Popular Times of Year in Japan
Top Ten Tips for When to Visit
Bonus Tips
Intro
Japan is one of those once-in-a-lifetime destinations that appears on the bucket lists of millions of people worldwide each and every year – and it's easy to see why. From the country's fascinating ancient traditions and historic culture, with its temples, castles, shrines, samurai and geisha, to the excitement of its futuristic neon metropolises, with all their sights and sounds; from the serene, awe-inspiring beauty of Japan's island landscape with snowy mountains in the north, subtropical beaches in the south, cherry blossoms, lush forests, rice paddies, and much more in-between, to the country's legendary food and drink and world-famous dishes like sushi and ramen to enjoy – what's not to love? But with so much to see and do, when is the best time to visit?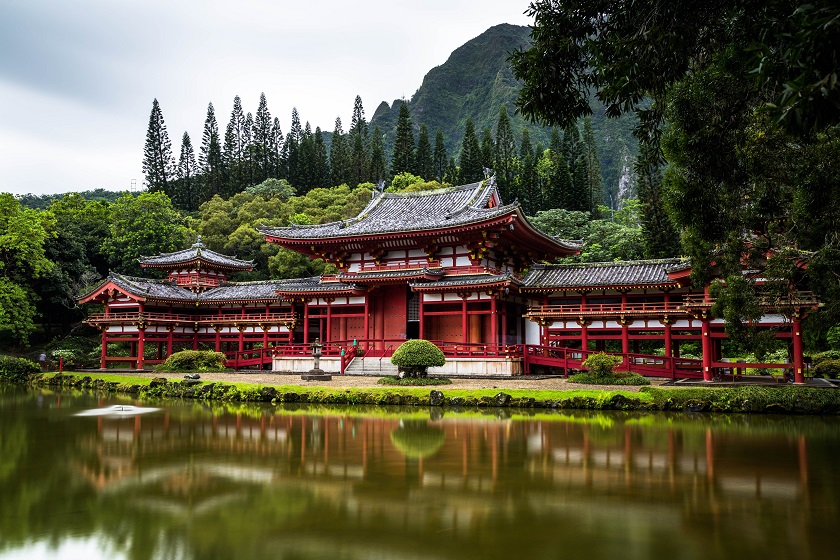 Ultimately, there is no bad time of year to visit this amazing country, but it definitely pays to do your research into when will suit you best. From Japan's weather and seasons to major cultural and sporting events, as well as  annual festivals and celebrations, there's a lot to consider and plan. We'll walk you through the most popular times of year, the weather, the seasons, the sights and sounds, and tell you how to get around with JR Pass – one ticket for all of Japan's excellent domestic rail network. When is the best time to visit Japan? Get ready to find out!  
When is The Best Time to Visit Japan?
Is the best time to visit Japan in spring during Cherry Blossom season or in the autumn when the leaves brown and there are less tourists around and smaller queues for temples, shrines and big attractions? Should you avoid the rainy season leading up to the summer? Or is June, otherwise known as the month of water, actually a brilliant time to go? What about Japan's famous festivals throughout the year, or visiting during the Christmas, Easter, or New Year holidays? You'll find all of these times of year recommended as being the best, but which one is THE best? 
The single, biggest factor when it comes to when you should visit Japan is… you! Your individual needs and preferences should ultimately determine when you travel to Japan, where you visit and stay, and what kind of holiday you have. Do you like it hot or cold? Do you prefer big cities or idyllic countryside? Are you an avid skier or a beach bum? Fascinated by history or the latest technology? Do you enjoy the hustle and bustle of the crowds or would you rather have some peace and quiet? The great thing about Japan is that it has all of these things and much more. Diversity is the name of the game. It might be the most vibrant, and eclectic place in the world when it comes to offering so much to see and do, and so many, radically different experiences, within a single country. 
In Japan, you can have a city break, a winter getaway, a beach holiday, an outdoors adventure, a cultural education, a spiritual experience, and more – and thanks to the country's excellent domestic rail network and the Japan Rail Pass, you can have a holiday that combines the best of both worlds if you want.. If you're looking for a quieter, more relaxing break then you might want to avoid the peak holiday season or major events such as cherry blossom season or the Olympics. However, if you don't mind the crowds (or even enjoy them!) and you want to be there for those once-in-a-lifetime moments, then you'll want to go when you have the best chance of experiencing the spectacular sights and sounds of Japan. And sometimes that means visiting during a very specific window. The world-famous Cherry Blossom season for instance attracts millions of visitors from around the world each year, but sometimes only lasts a couple of weeks, so timing really is everything. You can find out everything you need to know about this hugely popular event by reading our Ultimate Guide to Visiting Japan to View The Cherry Blossom.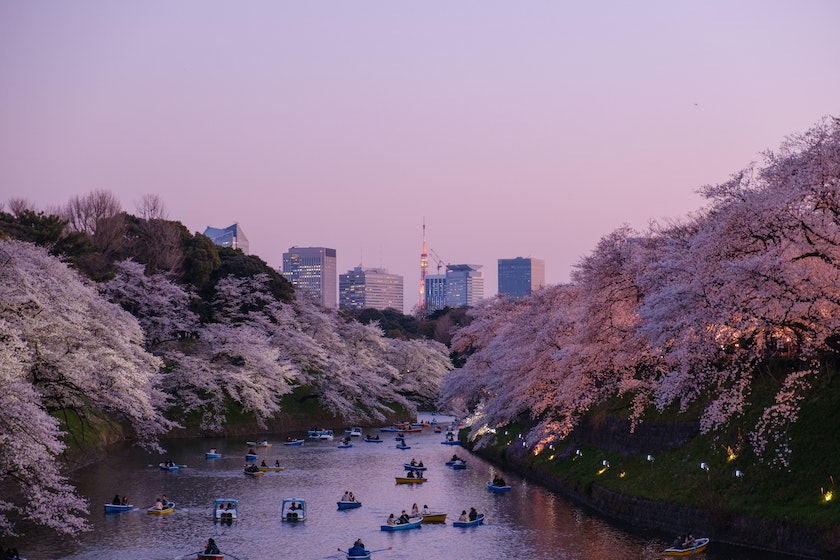 What Is The Weather like in Japan?
Usually, if someone asks 'when' the best time of year to visit Japan is, they're talking about the country's weather and seasons i.e. when should I go to get the very best weather. Of course, the 'best' weather is completely subjective to each person and depends very much on your own tastes. The icy depths of winter are far too cold for some, but perfect for others. Similarly, if you're a sun worshipper you're going to want to visit at the height of summer, which would be unbearable for those who prefer the shade. Like every country, Japan's weather varies throughout the year. There are hot summer months in July and August, cooler, drier months in the spring and late autumn, a rainy season (the month of June is typically the wettest!) and cold winters that can see heavy snowfall. As well as the time of year, Japan's unique geography also plays a part. Hokkaido in the North is thick with snow in the winter and generally cooler all year round, while subtropical Okinawa in the south has baking hot summers and mild, even warm, winters. Here's our quick guide to Japan's Four Seasons (in one day):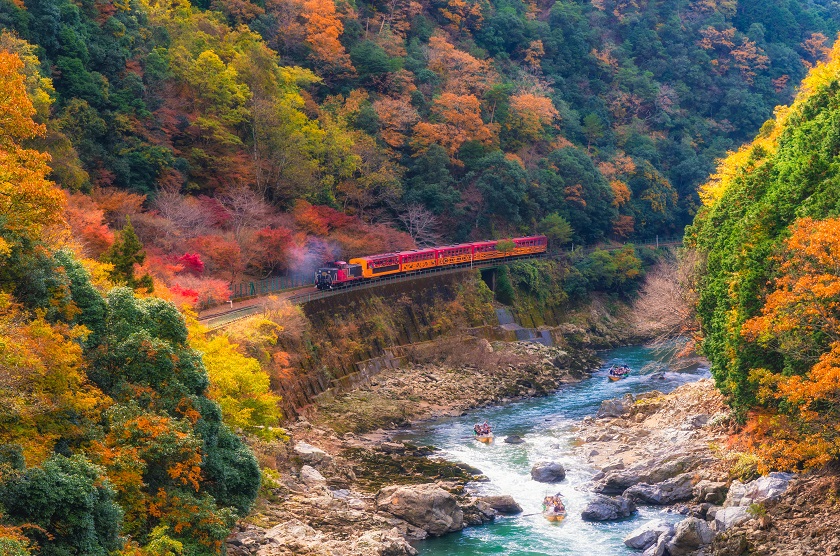 Japan in Spring (March to May)
There are many reasons why Spring is so special in Japan. The weather is neither too hot or too cold, the country's diverse landscape is particularly beautiful, and there is a huge amount going on. From traditional geisha dances at Kamogawa river to mark the beginning of spring, to firefly squids in Toyama Bay, visits to farm and green tea plantations, and an abundance of spring festivals across Japan, Spring is a lively time of year. It's also Cherry Blossom season and Golden Week (more on both below). For a definitive overview of everything this season has to offer, read our Spring into Japan guide. 
Summer in Japan (June, July, August)
Summer is a perfect time to hit the beach, go swimming and diving, and enjoy watersports. Temperatures are at their hottest, but it can only be wet with the Typhoon season beginning in June and lasting until October. Even so, summer is beach weather! Read our guide to Japan's Best Beaches and Watersports Destinations for more. Summer is also a great time for outdoor adventures, from climbing and hiking the likes of Mt. Fuji, to bike rides around the country's excellent cycle trails, to river rafting, walking, and exploring Japan's amazing National Parks
Japan in Autumn (September, October, November)
If strolling through a Japanese garden surrounded by leaves of burnished gold, red and yellow sounds like your idea of heaven, then perhaps autumn is the best time of year for you. Japan's autumnal foliage (koyo) has inspired and attracted 'leaf chasers' who follow the changing of the leaves from northeast to southwest, often using a JRail Pass and the excellent domestic rail system. This time of year also means relatively mild weather – ideal for travelling around, special events and delicious seasonal food. You can find out everything you need to know by reading our guide to Autumn in Japan
Winter in Japan (December, February)
Unlike some countries, winter in Japan is relatively short, lasting from December until February, but sees heavy snowfall and icy temperatures. It has lots going for it though from fewer crowds, beautiful snowy scenery, winter sports and illuminations, food and drink festivals, Japanese snow monkeys bathing in hot springs, and more. Read our overview of why Winter in Japan is so magical for more.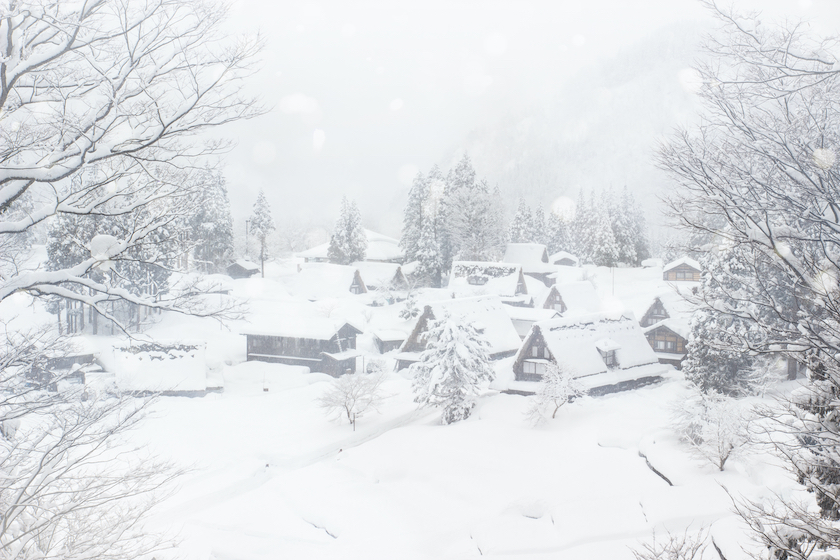 For an even more comprehensive month-by-month guide to the ""weather and temperatures of Japan read our Guide to Japan's Weather and Seasons
Most Popular Times of Year in Japan
Japan has peaks and troughs of activity and busy periods all year round. Traditionally, the most popular and busiest time of year is cherry blossom season which, as we've mentioned, attracts millions of visitors to Japan. It also takes place during Spring which is generally a very popular time to visit because it is considered to be one of the best seasons for weather. It's a great time to see Japan if you want to see the beauty of the cherry blossom, enjoy hanami (flower gazing) in the park with family and friends, and experience the country at one of its busiest, and most lively, festival periods.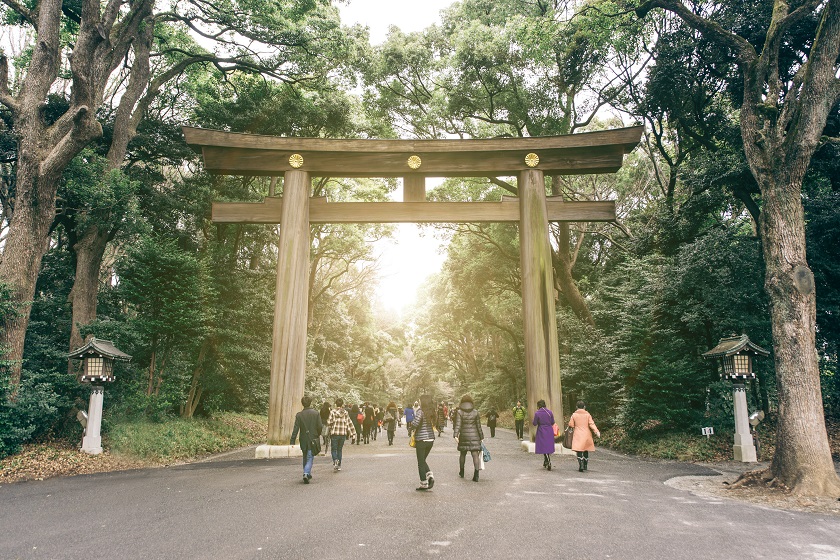 However, if large crowds and potentially long queues for temples, shrines, and other attractions isn't for you, then it may not be the best time to visit. Spring is also when another of Japan's most popular events takes place – Golden Week. This is a single week at the end of April and beginning of May each year in which four Japanese national holidays take place one after the other – Shōwa Day (29 April), Constitution Memorial Day (3 May), Greenery Day (May 4), and Children's Day (May 5) – formerly Tango no Sekku (Boy's Day). Due to the ongoing festivities, many Japanese citizens take time off from work that week, if their business is not already planning to close, so popular attractions, parks, and the streets themselves can be extra busy. You can read our comprehensive guide to Golden Week for more details.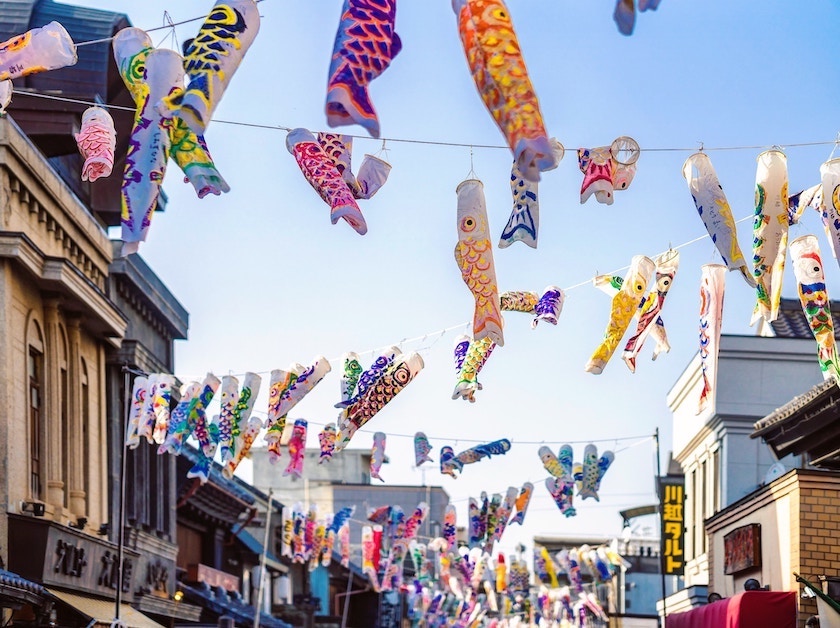 For this reason, quieter periods throughout the year have become increasingly popular – late autumn in particular – and even winter, especially if you don't mind the cold. In fact, depending on your interests, winter can be the No.1 time of year to visit. If you love winter sports and snow festivals for instance, you'll be in heaven. There's also regional winter foods, craft beer (and beer festivals), Japanese whiskey to warm you up, and winter illuminations. It's no surprise really that visiting Japan in winter – or seeking out the naturally cooler parts of Japan such as Hokkaido, Japan's northernmost island, has become a hot tip (no pun intended) amongst travel experts. Winter does have some busier periods though – New Year is a major holiday in Japan and it's worth reading up about How Japan Celebrates New Year if you're planning to visit at this time of year. There are hundreds of other festivals linked to temples and shrines throughout the year to look out for too. Matsuri are a major part of Japan's culture and some of the festivals attract huge crowds. Read our Top 12 Festivals in Japan for more
Also look out for major sporting events such as the upcoming Tokyo Olympics and Paralympics, and regular events such as Japan's baseball and sumo season, and F1 racing at Suzuka. Naturally, if you're a sports fan, you'll want to be there when the action takes place! As ever, the best time to visit is about mapping your interests and likes against what's happening in Japan at the time – and there's always a lot going on. 
Top Ten Tips for When to Visit
Deciding when to embark on that once-in-a-lifetime, bucket list holiday to Japan isn't easy, especially with so much to see and do. Here's a round-up of our Top 10 Tips for deciding when to visit this amazing country:
March to May is often regarded as the 'Goldilocks' season in Japan when the weather is 'just right', but be mindful that this is also Cherry Blossom season and Golden Week.
If Cherry Blossom season is too busy for you, why not try the quieter Plum Blossom season in February instead? Read our Plum Blossom Guide for everything you need to know.

 


Golden Week and New Year are two of the busiest times of year in Japan. If you want to experience Japan's festivities first-hand this is great, but if you're looking for a more relaxed trip, it might be best to plan around these weeks.


Autumn is becoming an increasingly popular time of year to visit Japan. Experts say that the autumn 'koyo' leaves are just as beautiful as the cherry blossom and it's also cooler and quieter.
 

Speaking of the quiet life, Japan has some of the most beautiful rural villages anywhere in the world, including many that offer a snapshot of the country's more traditional past. Read our Top 5 Most Beautiful Rural Villages to Visit in Japan.
 

June may be the start of the rainy season, but this month of water is developing a reputation among Japan experts as being an amazing time to visit since so many other people stay away. Discover Why June in Japan is a Hidden Wonder in our guide.


Seeing Mt. Fuji is high on everyone's lists when visiting Japan, but when is the best time to go? The official climbing season is July to September only although you can view the mountain by train too. Read our comprehensive guide to Climbing and Hiking Mt. Fuji for more information.


Japan has some of the most diverse wildlife in the world and depending on the time of year, you have a chance to see everything from whales and dolphins to sea turtles, mobula rays, hammerhead sharks, snow monkeys, spider crabs, and much more. Discover the best time to see these creatures first-hand in our Wildlife Tour of Japan
Incredible food all year round.


Whatever time of year you visit Japan, you're guaranteed some of the best food you'll ever eat. From Japanese favourites such as sushi and ramen, to fine dining at Michelin-starred restaurants, from street food at festivals and parks, to eating at a traditional Izakaya restaurant, and regional specialities in dedicated food districts such as Dotonbori in Osaka, every month is a great time to eat in Japan.


Whenever you go to Japan, the best way to get around is the country's excellent domestic rail network. Japan's trains and reputation for efficiency is world-famous and with the Japan Rail Pass, you'll have a gateway to the whole country – perfect if you want to sample the neon nightlife of Tokyo's Golden Gai one day and then enjoy the tranquillity of Nara deer park the next!
There is simply no bad time to visit Japan, and an abundance of amazing times to visit, so remember the golden rule – it's all about what is best for you – and have an unforgettable stay in this beautiful country.
Bonus Tips