Kanazawa is famous for its history, beauty, and unique Japanese culture. These elements all come together in the city's three well-preserved teahouse districts: Higashi Chaya, Nishi Chaya, and Kazue Machi. 
Higashi Chaya: The Big One
Of Kanazawa's teahouse districts, the one that immediately comes to mind is the largest, Higashi Chaya, the "east" teahouse district. The area was established in 1820 as an entertainment zone for the merchant and noble classes. Today, the pristine wooden buildings and elegant flagged stone walkways ooze Edo-era luxury. 
While there are still a few buildings where geisha perform, most of them have been converted into shops and restaurants. This is a great place to wander around and browse for souvenirs, but beware—other travellers will have the same idea! 
Adding a touch of kitsch are the local Japanese tourists decked out in rental kimonos.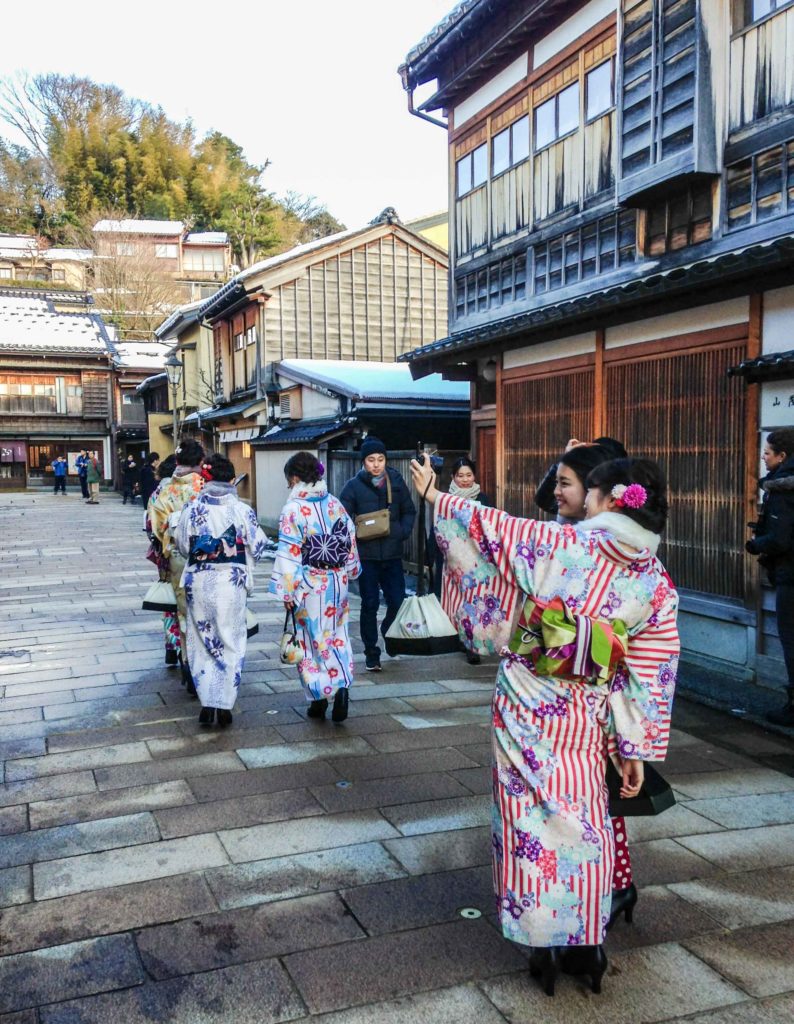 Groups of girls sight-seeing in Higashi Chaya
Preserved History at Shima Teahouse
To see inside a teahouse, stop by Shima Geisha House. This building now functions as a museum, and the rooms appear much as they did during the district's heyday. Visitors can see performance spaces, the geisha's dressing room, and the guest rooms on the second floor. There are also displays of traditional musical instruments, geisha accessories, and utensils for tea ceremonies. Admission is ¥500, and well-worth it to get a greater understanding of Japanese culture and history.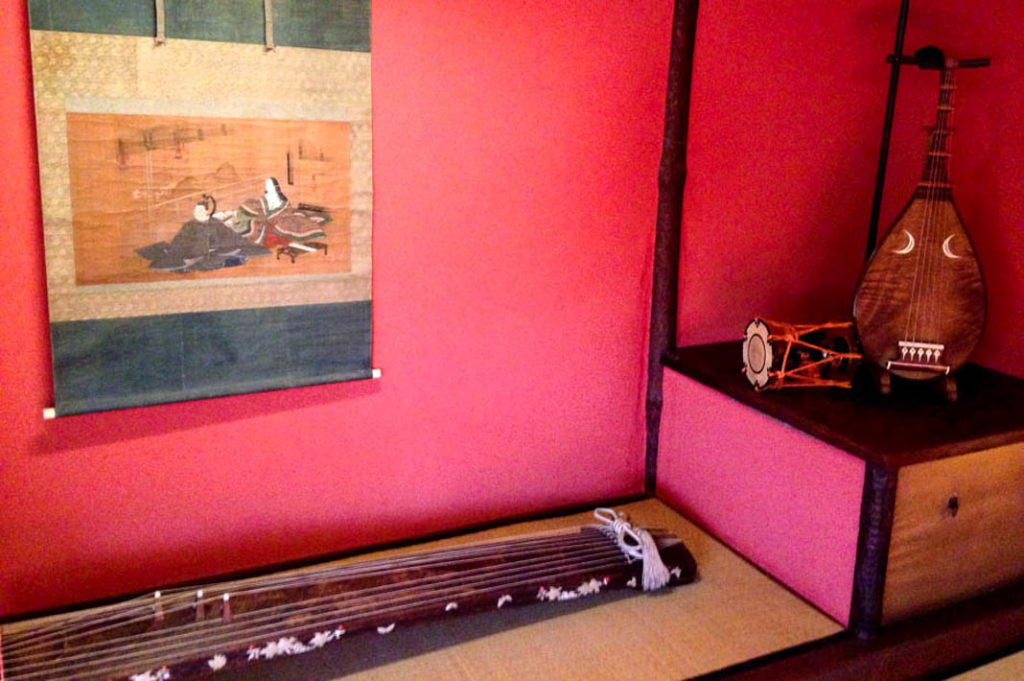 Dining
Higashi Chaya is also a great place to eat, drink, and shop. For a more modern yet local treat, try Café Tamon. Housed inside a historical machiya building, this trendy café is popular for its fluffy soufflé pancakes. Choose from a variety of toppings, such as matcha, Mont Blanc, and fruit. Rest assured that this will be a premium, Instagrammable pancake experience, as Café Tamon only uses local ingredients. The café is located on a quiet street, across from the scenic Utatsu Shrine. 
Shopping
Souvenir shops abound in Higashi Chaya, especially ones selling local arts and crafts, such as gold leaf. For more gold leaf than you can shake a stick at, check out Hakuichi. This shop only sells gold leaf items, including gold skincare, edible gold leaf for food, and even gold golf balls. Most people come here to gawk and eat the gold leaf ice cream. It costs ¥891 and the gold has no flavor, so this dessert is purely for novelty.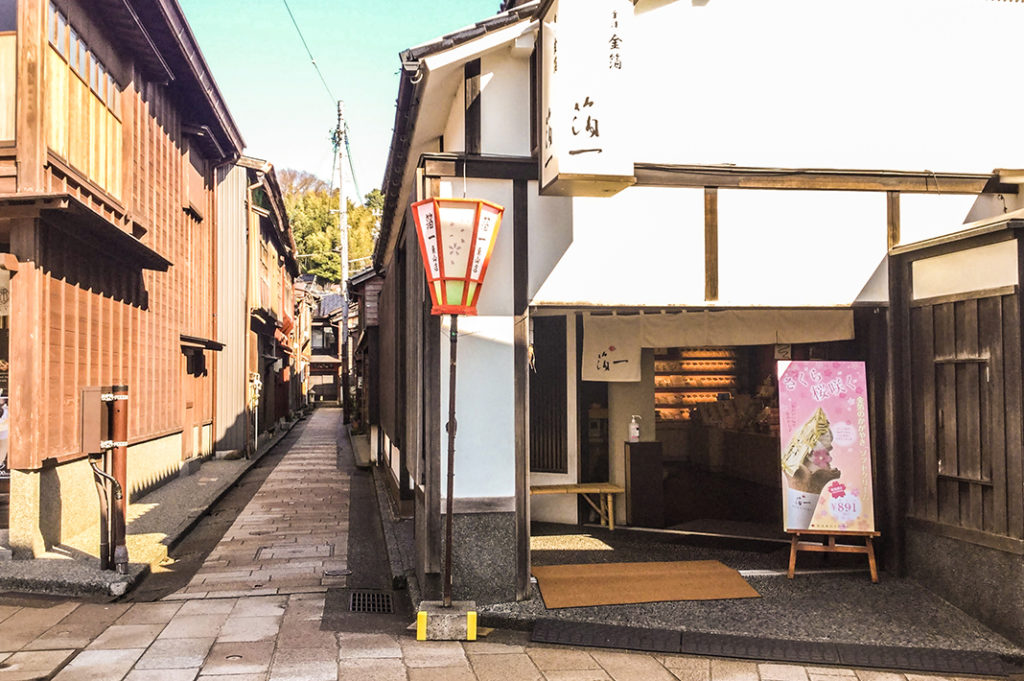 Hakuichi, which specializes in gold-leaf ice cream
For nice gifts that are more than just normal souvenirs, take a look at enishira. Enishira specializes in handicrafts from the Hokuriku region, including ceramics, metalwork, jewellery and accessories. All items for sale are by local artisans, using traditional methods, but with a more modern interpretation.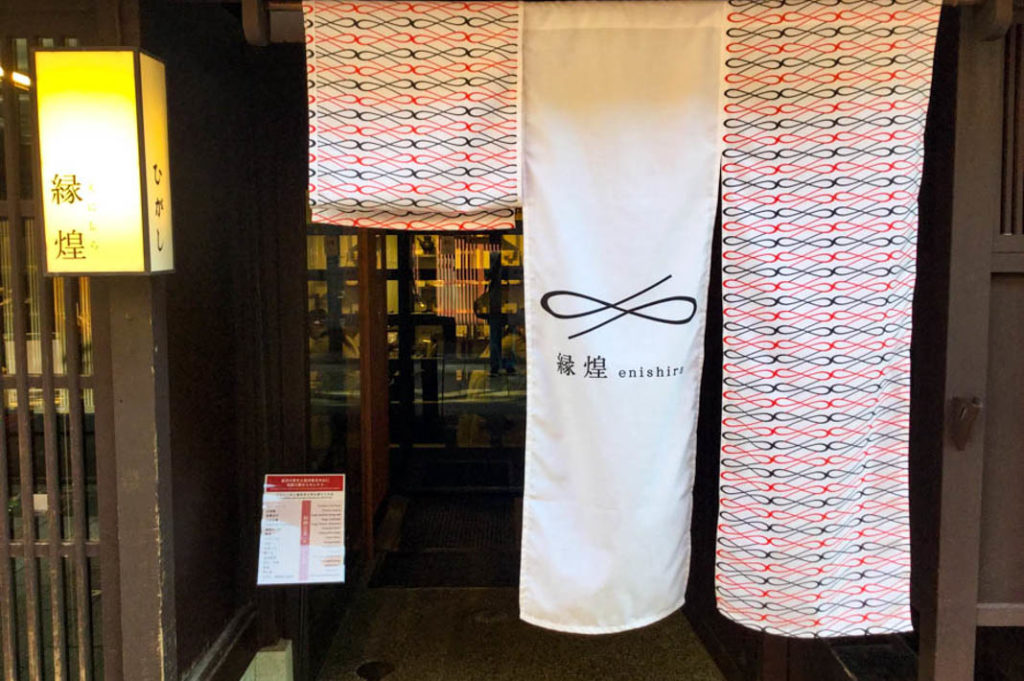 enishira
Kazue Machi: The Secret One
Across the Asano River from Higashi Chaya lies Kazue Machi, the most exclusive of the teahouse districts. While most of the businesses here are not open to the public, its riverside location and dainty alleyways make it an atmospheric place to stroll. 
However, one spot you should visit is the Karhu Collection, a gallery showcasing the work of Clifton W. Karhu. As you can tell by the name of the artist, Karhu was not Japanese, but loved Kanazawa dearly. The vivid colors of his woodblock prints are striking, and display a unique blend of Eastern and Western art traditions. Look for the door with the carved rabbit silhouettes, on a side street away from the river.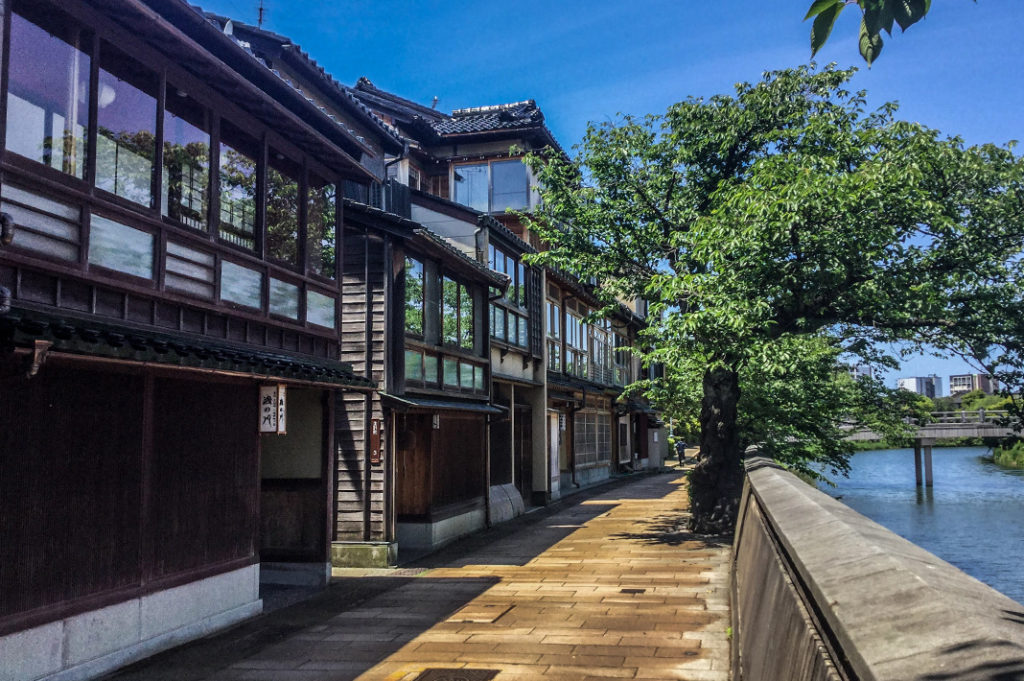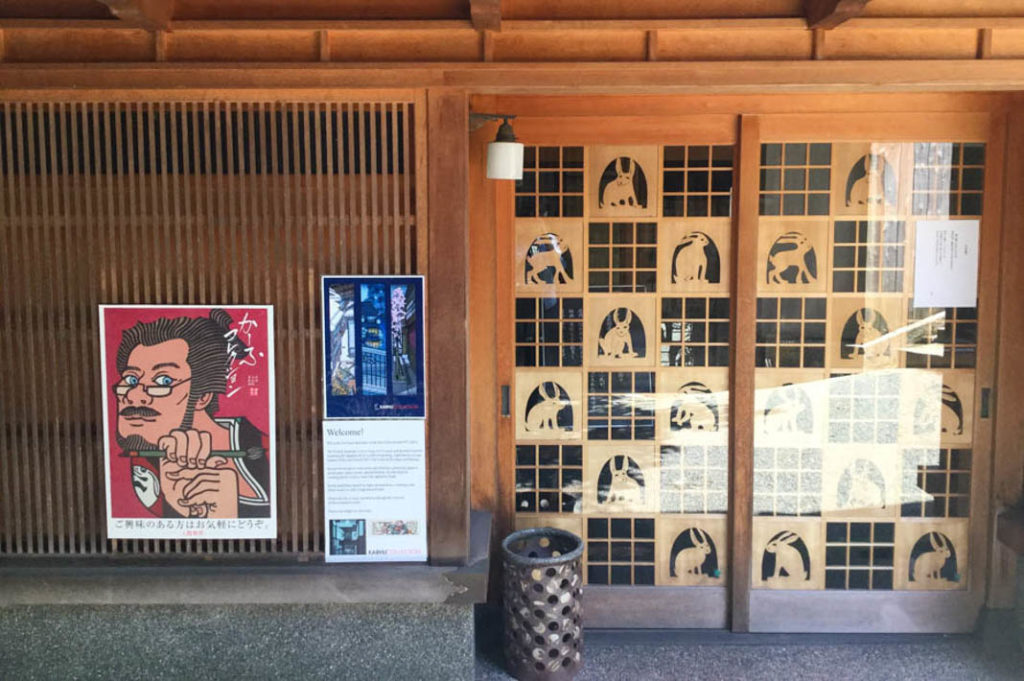 The Karhu Collection
Nishi Chaya: The Tiny One
Nishi Chaya, the "west" teahouse district, is the smallest, but makes up for its size in charm and quiet. There is only one street, with a museum, shops and restaurants, and a powder blue building that feels out of place. This dainty building is actually a geisha training hall with a music school for geisha. At times you can even hear the sound of the shamisen drifting from it. In order to visit a perfectly preserved, Edo-era neighborhood with few tourists, Nishi Chaya is the place to go.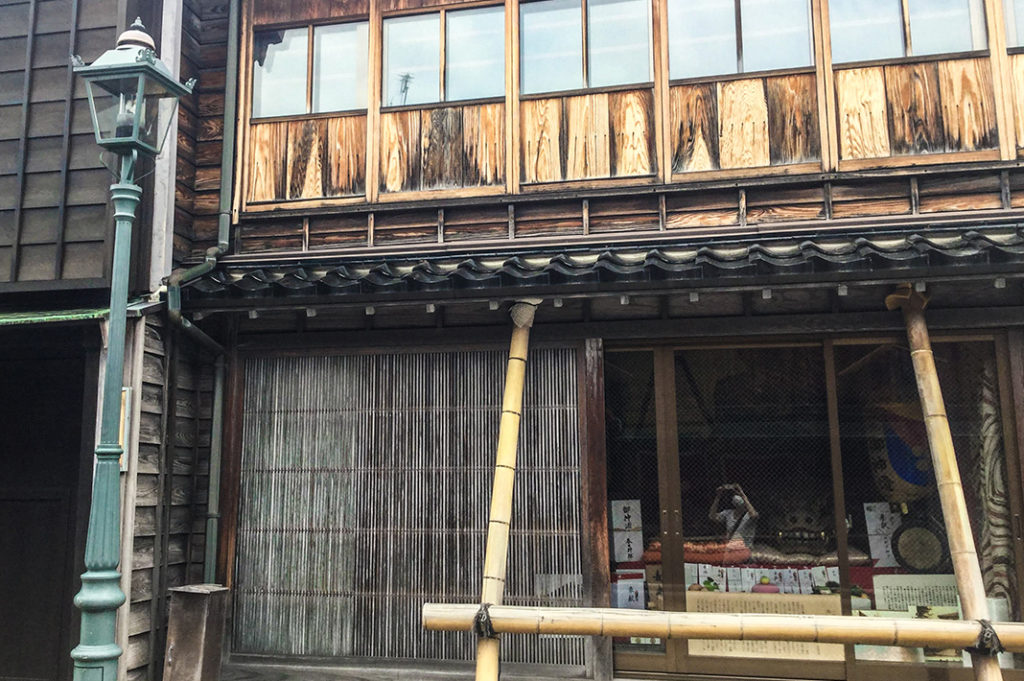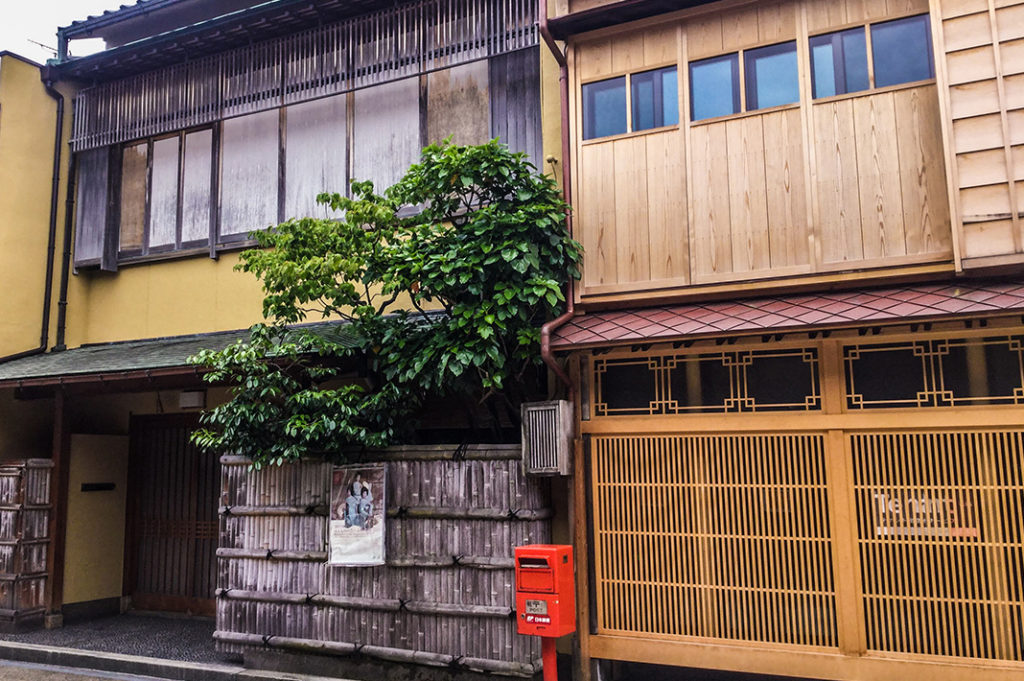 Information
Both Higashi Chaya and Kazue Machi can be accessed by taking the Right Loop of the Kanazawa Loop Bus. Get off at the Hashibacho stop for both districts. The ride from Kanazawa station is about 10 minutes. To get to Nishi Chaya, take the Left Loop of the Kanazawa Loop Bus and get off at the Hirokoji stop. It's about a 15 minute ride from Kanazawa Station. 
This article was first published by Japan Journeys. Check Japan Journeys for deeper and unique insights into visiting Japan, including wellness, travel, cuisine and more. Follow on Instagram @japanjourneys.jp, and on Facebook at this link!