Intro
Japan in Wintertime
Reasons to Visit Japan During Winter
Best Winter Activities in Japan
What to Eat During Winter in Japan
Don't Forget
Intro
The four seasons are very important in Japanese culture and each has a special significance. The two-week period when the sakura (cherry blossom) bloom and fall during Spring, and the changing of the leaves in Autumn, both reflect Shinto beliefs about the beauty and impermanence of life. Similarly, winter has its own importance and symbolism as a season. The icy cold of winter is associated with the Shinto concept of purification and there are echoes between the season and one of Japan's key creation myths about the sun goddess Amaterasu Omikami. She was so offended by the actions of her brother, Susanoo no Mikoto, that she hid in a cave and the absence of her warmth and light brought darkness to the world. Thankfully the other gods were able to trick her out of the cave using a mirror to startle Amaterasu with her own reflection and they were able to return her to the sky. The sun's return is celebrated on 21 December, the Winter Solstice, each year in Japan, and is sometimes referred to as The Festival of Light. You can read much more about Japan's incredible folklore and mythology, including the terrifying Yuki-Onna (Snow Woman) in our Folktales of Japan blog and if you're interested in finding out more about Shintoism, one of the two main religious practices in Japan alongside Buddhism, then don't miss our Spiritual Guide to Japan.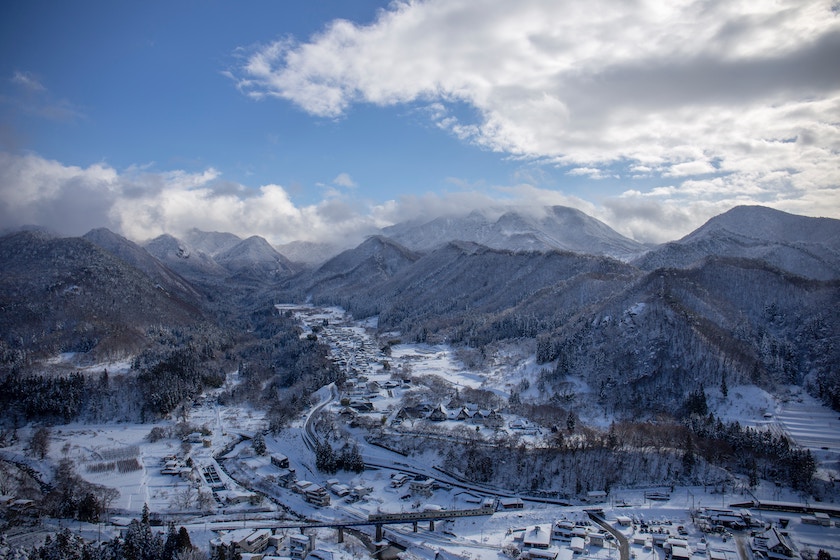 Unlike some countries, winter in Japan is relatively short, lasting from December until February. However, while Japan may be more commonly associated with the subtropical weather of its southern islands, Winter can see heavy snowfall and cold temperatures. In the mountains, snowfall can be particularly plentiful, making Japan one of the world's best destinations for skiing and snowboarding, with Hokkaido and the Japanese Alps (the location of the 1998 Winter Olympic Games) being especially popular. Japan also celebrates Christmas and New Year at the same time as other countries although there are a few distinct differences including eating Kentucky Fried Chicken for Christmas dinner and a big tradition of Christmas cake. Find out how else the country marks the occasion in Do People Celebrate Christmas in Japan?
Reasons to Visit Japan during Winter
Why do travel experts believe winter is the best time to visit Japan? Let's take a look at the top reasons:
Fewer crowds
Japan is an incredible country and people travel from all over the world to visit its many attractions. As such, it can get busy. However, Winter is generally much quieter and it's the perfect time to visit if you're keen to avoid the crowds.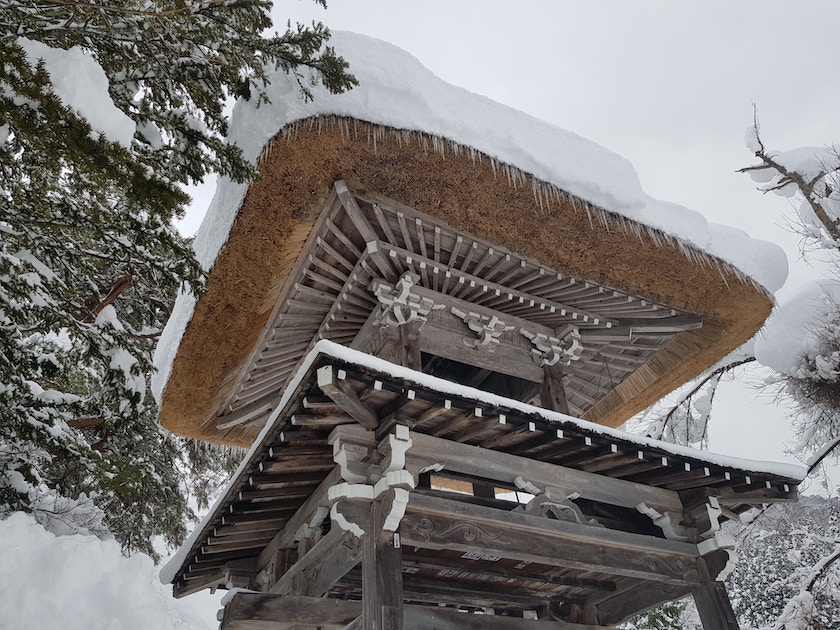 It's beautiful!
Japan in winter is like a fairy-tale wonderland. The mountains, forests and rural villages, shrines and temples, and major cities are beautiful at any time of year, but they look particularly magical topped with snow. If you love the aesthetic of a snowy vista than Winter might just be the best time of year to visit Japan. It's incredibly beautiful. Try visiting the impossibly beautiful village of Shirakawa-go in Gifu Prefecture (in the Japanese Alps) whose gasshō-zukuri style houses make it look like something out of a Christmas card. You can reach Shirakawa-go by using your JRail Pass to take the Hokuriku Shinkansen from Tokyo to Shin-Takaoka Station and then getting a ticket for the Kaetsuno Bus, which will take you to the village.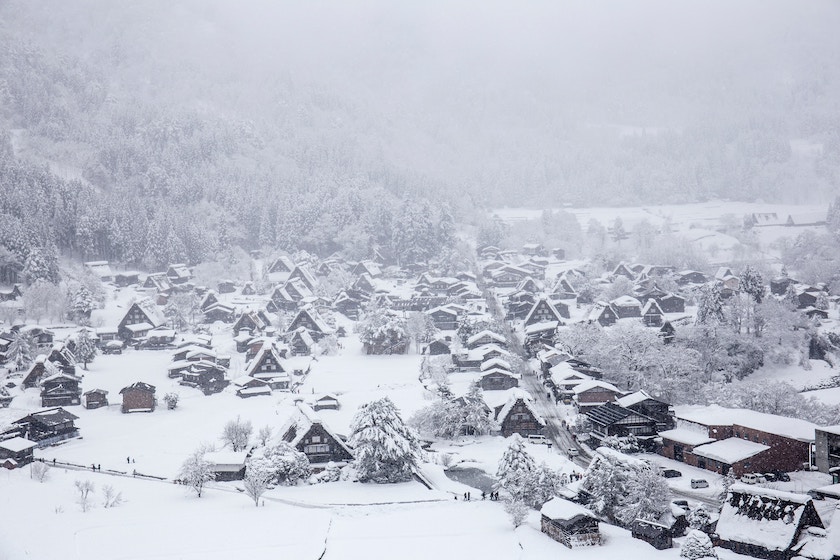 Snow-capped mountains
During winter, the country's many mountains look particularly spectacular including the famous Mount Fuji.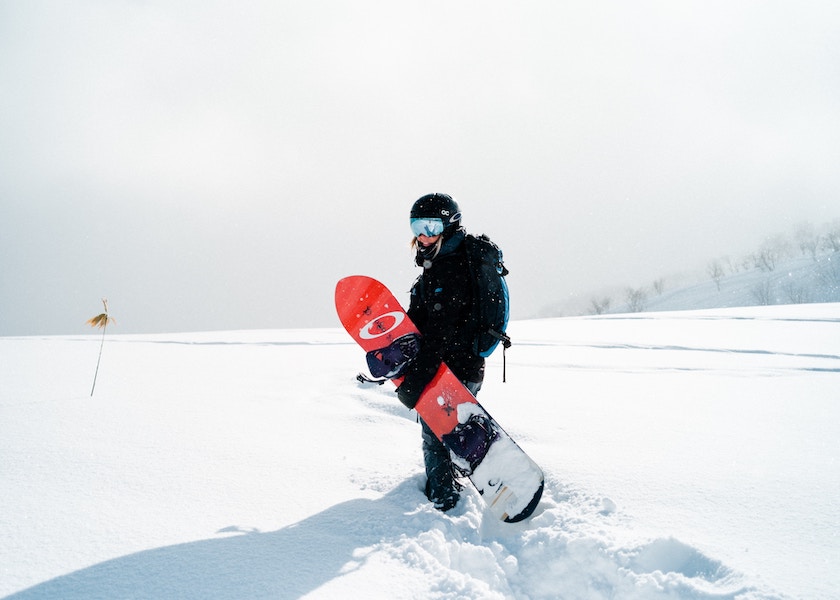 Perfect for Skiing and Snowboarding
If you're an avid skier or snowboarder, then Japan is simply unmissable. Thanks to its mountainous landscape, forged by thousands of years of volcanic activity, combined with its unique geographical location and the icy winds blowing across from Siberia, it has gained a reputation as one of the world's best winter sports destinations.
Winter Festivals and Illuminations
Japan has a love affair with Winter illuminations and snow festivals. Tokyo in particular has a huge number of illuminations to see in the run-up to Christmas, but some of the biggest are elsewhere in Japan. If you love illuminations as much as people in Japan, try Kobe Luminaire or Sagamiko Illumillion festival in Kanagawa, which is said to use six million LED lights in its Pleasure Forest at Lake Sagami Resort. Snow festivals featuring incredible ice sculpture creations and much more are also very popular in Japan and are known for their spectacular visuals. You'll definitely want to take lots of photos given how 'Instagrammable' these festivals are so make sure you've buy PocketWifi in advance to ensure you stay connected, without expensive data roaming charges, while you're travelling the country. To read an extensive rundown of all the best winter illuminations in Japan read our indispensable Winter Illuminations in Japan You Can't Miss guide.
Amazing Winter Comfort Food and Drinks
Like many countries, Japan likes to eat, drink and be merry during the cold Winter months and it's a brilliant time to visit if you're keen to try the country's seasonal specialities. We recently published beginner's guides to Japanese favourites such sushi and ramen and if you scroll down we'll look at some of the best winter warmers.
Snow Monkeys and Winter Wildlife




Japan boasts some amazing wildlife and winter is a great time to see particular creatures. For instance, winter is the time to see the mating dance of the red-crowned cranes in Tsurui, Hokkaido, while in January and February is the best time to see Steller's Sea Eagle in action above the Pacific waters off Japan. The reason? Sea Eagles love to eat Cod which can be caught in abundance at that time of year. To spot a sea eagle try visiting Shiretoko National Park. The nearest station is Shiretoko-Shari which is on the JR Semno line. Humpback whales also migrate from December onwards, starting in the Ogasawara Islands before reaching Shikoku is February and March.
However, Japan's most famous winter animal is arguably the Japanese macaque – the world's northernmost living primate. You'll find these beautiful and distinctive creatures, with their pinkish faces and fluffy grey coats, in mountainous and densely forested regions of Japan, particularly Nagano Prefecture. You can also find Japan's snow monkeys warming themselves in onsen (hot springs), but we'll have more on that, and where to go to witness it, further below.
Best Winter Activities in Japan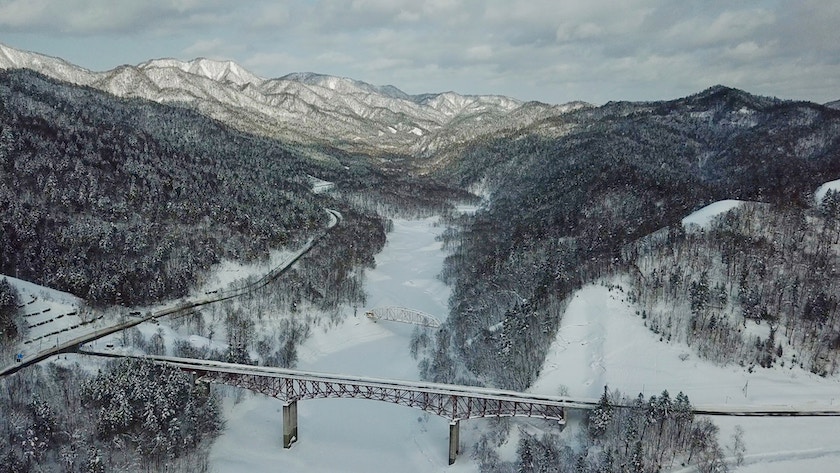 Even though it's colder and darker outside, you won't be short of things to do in Japan over the winter months. In fact, there are a number of unmissable activities and events that only take place in Winter. Here are our recommendations, where to go, and how to get there with a Japan Rail Pass: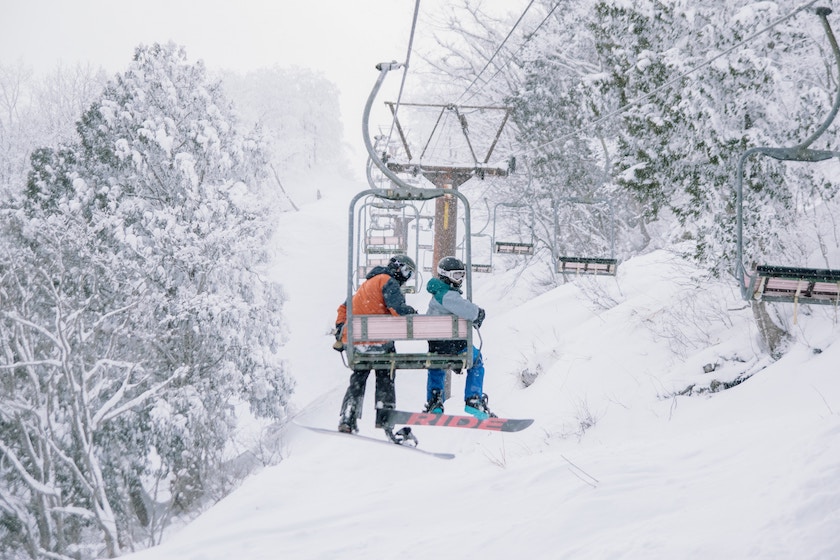 Winter Sports
Having hosted the Winter Olympics twice in 1972 and 1998, as well as the Asian Winter Games, it's probably not surprising to find out that winter sports are hugely popular in Japan. As a result, Japan has more than 500 ski resorts with some of the best slopes and winter sport infrastructure anywhere in the world.
Sapporo
While Sapporo Teine is the closest ski resort to the city, many of the more serious ski resorts in the area are located closer to Mount Yōtei.
Two of the big name ski resorts in this area are Niseko and Rusutsu.
Hokkaido
Some of the most popular ski resorts in the centre of Hokkaido include Furano, Asahidake and Tomamu. Furano is best known as being a family-friendly destination, even though it is home to some challenging runs that including the island's steepest. Asahidake, on the other hand, is perfect for more seasoned skiers thanks to its back country slopes. It's also a great pick if you prefer cross-country to downhill. Lastly, we have Tomamu, one of Japan's classier resorts that offers plenty of comforts once you're done for the day.
Nagano
Hakuba Valley in Nagano is probably the best known to international visitors in this region. In Hakuba there are a whopping 11 different ski resorts to choose from, meaning that there's an incredible level of variety on offer. Hakuba is especially known for deep powder and slopes that are typically steeper than Hokkaido's. The region is also home to resort towns like Yuzawa and Nozawa Onsen, both famed for their hot springs, known in Japanese as onsen. As for the skiing at these resort towns, Nozawa Onsen is one of Japan's longest and most cherished ski destinations.

For the perfect introduction to everything you need to know about getting started in winter sports, try our Starting Guide to Skiing and Snowboarding in Japan.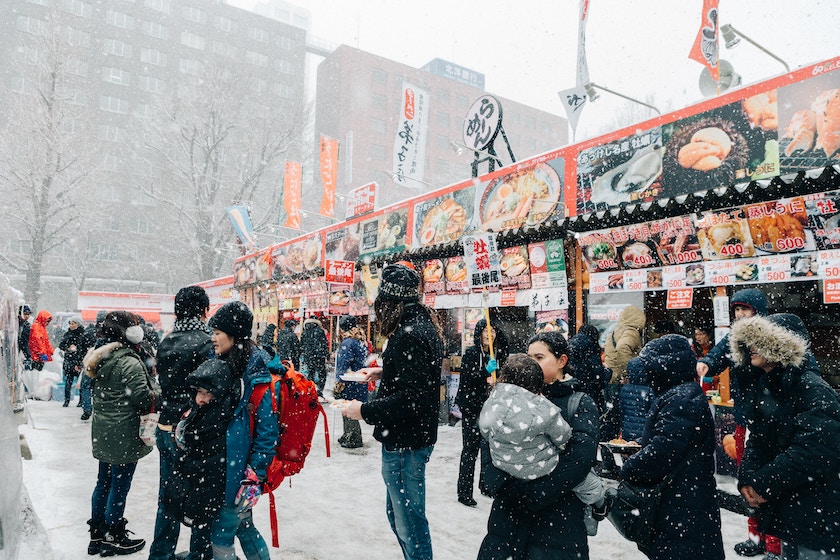 Yuki Matsuri (snow festivals)
Japan loves festivals and there are an abundance of snow festivals and winter illuminations across the country during Winter. One of the most popular and best known is held in Sapporo. Next year will see the 71st Sapporo Snow Festival (it was founded in 1950 by a group of high school students) in the 'winter city' of Sapporo in Hokkaido and it will include a huge range of activities including an International Ice Sculpture Contest, illuminations and ice skating. You can read much more about this festival in particular, including hints, tips and recommendations by reading our Guide to Visiting the Sapporo Snow Festival.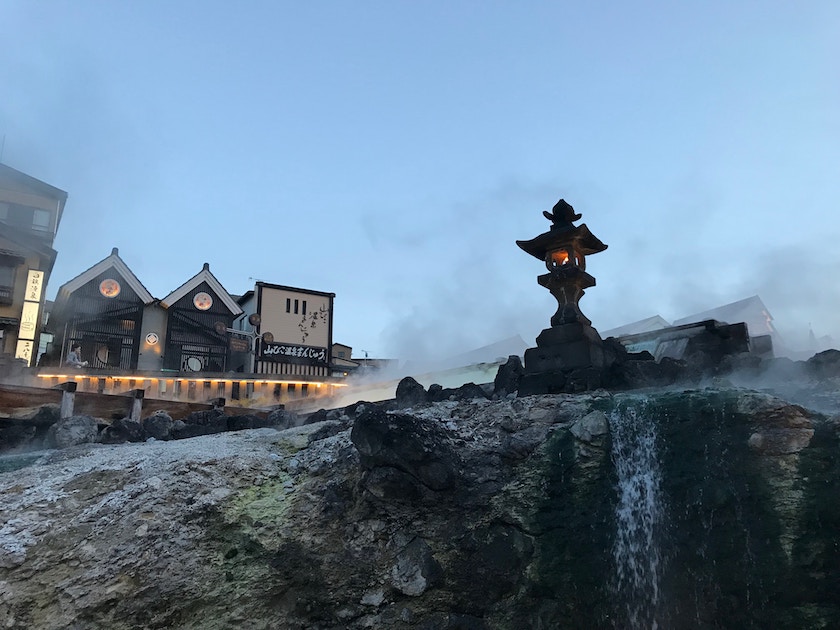 Onsen Hot Springs
Japan's indoor and outdoor onsen and hot springs are legendary and one of the many unique activities that attract visitors from around the world all year round. However, there's something extra special about taking a dip in an onsen during Winter. You even bathe in an outdoor mountain onsen with the snow falling around you. It's an amazing way to warm up while relaxing your body and mind while surrounded by ice and snow.
Our recommendation would be a trip to the town of Ginzan in Yamagata prefecture – the beautiful real-life inspiration for the fantastical onsen town in Studio Ghibli's animated masterpiece Spirited Away. You can reach Ginzan by taking the JR Yamagata Shinkansen from Tokyo to Oishida Station. From there, buses depart for Ginzan Onsen every 60-90 minutes. Kusatsu (pictured above) is another good recommendation.
Jigokudani Monkey Park
The famous Jigokudani Monkey Park near Yudanaka hot springs where the snow monkeys bathe and frolic in the onsen (natural hot springs) to keep warm. Visit during December to March while it's super snowy. To get there from Tokyo, take the Hokuriku Shinkansen to Nagano Station using your JRail Pass, then take the Nagano-sen (Nagaden) train to Yudanaka Station, and it's a short bus ride from there to Jigokudani. </liL
What to eat during Winter in Japan?
Japan is renowned as a world-leading destination for food lovers all year round. From amazing home-grown delicacies such as sushi to 'fast food' refined into an art like ramen, plus dozens upon dozens of other specialities, and one of the highest concentrations of Michelin-starred restaurants in the world, Japan has earned its outstanding reputation for food and drink. And amazingly, the winter months see some of Japan's favourite dishes on tables. After all, it's the season for comfort food. Don't miss these foodie highlights:
Nabe

This is essentially a Japanese winter stew or hotpot using miso or yuzu soup stock base which can have everything from chicken and tofu to seafood and clams added. Sumo wrestlers have a sumo-sized version called 'chanko nabe' while training.
Shabu Shabu
Raw slices of meat dipped into a boiling vegetable broth and then pulled out to eat with a sauce. Although this dish, and Sukiyaki featured below, can be eaten outside of Winter, they are both dishes to warm you up.
Sukiyaki
There are many different varieties from different regions, but one example is thin slices of wagyu beef mixed with tofu and vegetables such as leeks, mushrooms, and cabbage, in a soy sauce with sugar for a sweet-savoury combo, and often served with a raw egg.
Crabs
While crabs are available throughout the year, they're in season in Winter and form the centrepiece of several delicious dishes.
Oden
Stewed fishcakes, tofu and root vegetables, which are eaten after being fished out of the savoury broth they're boiled in. This is often eaten with 'karashi' – a potent mustard sauce with a kick like wasabi.
And of course, how better to wash all of this down with a glass (or two) of warm and delicious sake (Japanese rice wine)? There is even an annual sake tasting festival each Winter in Tokyo and at other locations throughout the country. It's definitely a great way to warm up after a bracing winter excursion.
Don't Forget
If there's one destination above all others in Japan it might just be Hokkaido in Northern Japan, which includes so much of what we've featured in this guide including winter sports, mountains and wildlife, snow festivals and illuminations, onsen and great winter food. For a dedicated guide just to Hokkaido, try our Five Day Hokkaido Rail Itinerary.
If you see Japanese people wearing white gauze masks over their mouths in Winter, don't be alarmed. They're just trying to be polite by protecting you and other people from their germs if they have a cold.
Each season is special in Japanese culture. Read about visiting Japan in Autumn or if Spring is more your thing, don't miss our guide to Visiting Japan in 2020 to View the Sakura.
For more help deciding which season to visit Japan read our guide to Seasons and Weather in Japan.
Temperatures in Northern Japan can sometimes range from highs of -2 °C (28 °F) and lows of -7 °C (19 °F) during the Winter, which is very cold, so pack appropriately. wrap up warm and wear suitable footwear.
If you get cold and you're staying in a traditional Ryokan, see if they have a kotatsu – this is a low table fringed with a thick quilt with a heater underneath the top. Ingenious!
The Internet connection in certain ski resorts can be a bit disappointing, so be sure to purchase Pocket Wi-Fi before going to stay connected during your trip.
From the end of December until early January, many places in Japan, including restaurants, museums, and other establishments, will be closed so please bear this in mind when planning your trip.