Table of contents:
Intro
Japan in Springtime
Top 10 Things To See and Do During Spring in Japan
Don't Forget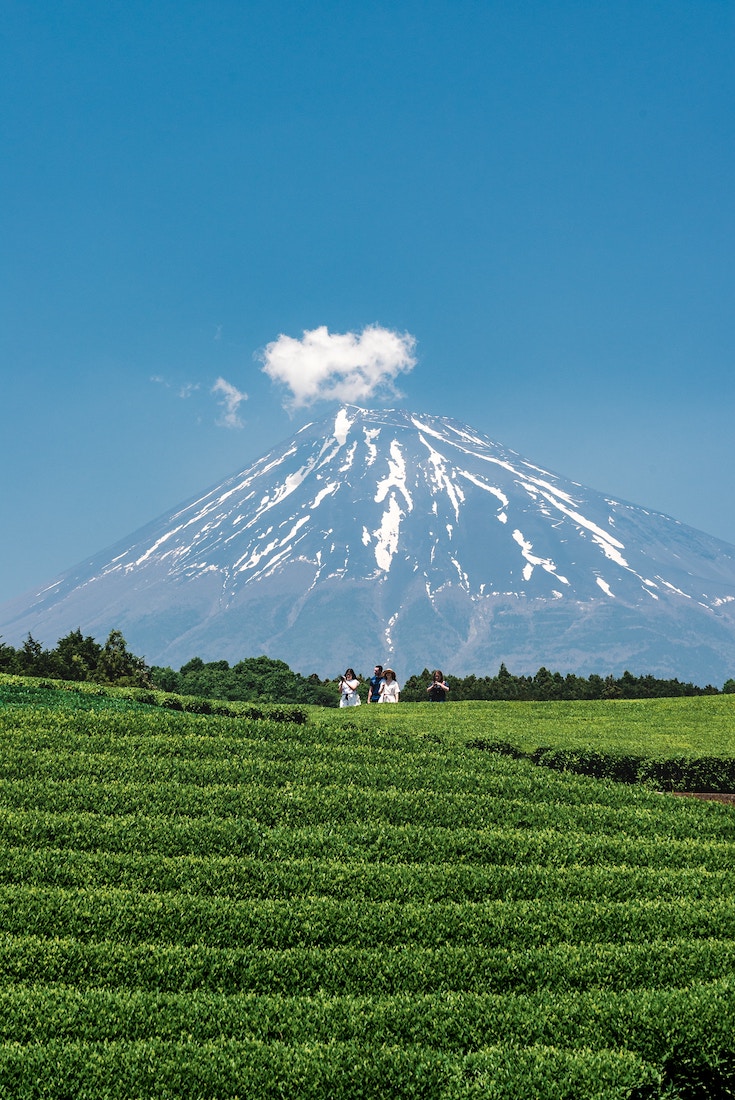 Intro
There's nothing like the joy of Spring. The sun starts to shine once more, trees and flowers blossom, and the world comes alive again. And there's nowhere better to spend this wondrous season than Japan. Spring is hugely important in Japan and it's also one of the best times of year to visit this extraordinary country. In this guide, we'll run through our Top 10 Things to See and Do if you're lucky enough to be visiting Japan during Springtime. As ever, the most-reliable and best-value way to see everything is using Japan's super-efficient rail network and your JR Pass for unlimited travel. So, if you need a little spring in your step, read on and discover exactly where to go, what to do and how to get there. Get ready to Spring into Japan. 
Japan in Springtime
There are many reasons why Spring is so special in Japan. The weather is neither too hot or too cold, the country's diverse landscape is particularly beautiful, and there is a huge amount going on. The season is also important culturally and spiritually. Spring symbolises rebirth and renewal in Japan and is closely linked to both Shinto and Buddhist beliefs. As the landscape comes to life after Winter, the country of Japan also springs to life with a packed programme of festivals (matsuri), ancient ceremonies and traditions, seasonal food and drinks and much more. Cherry Blossom season alone attracts millions of visitors each year and it is deservedly celebrated as one of Japan's most spectacular and must-see attractions, but it is also just one of a whole host of events and activities that take place in the country each Spring. A holiday to Japan in Spring is not a case of what to do, it's more a matter of how can we manage to see and do all of this? A JRailPass will give you unlimited travel on the famous Shinkansen bullet trains, intercity and urban lines, but even then you'll need some careful planning and savvy know-how to see it all. Thankfully, we are here to help!   
Top 10 Things To See and Do During Spring in Japan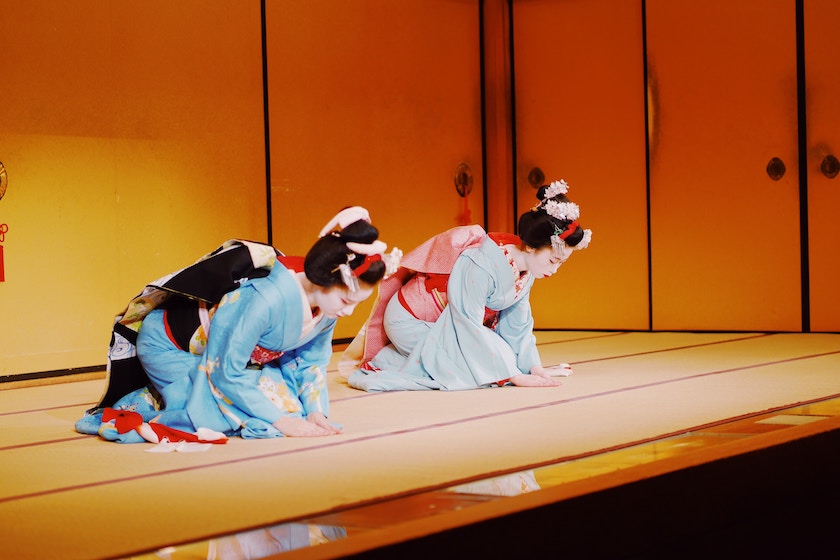 From firefly squid to hanami, beautiful and tranquil Japanese parks to one of the world's most spectacular cycle routes, this list of our Top 10 Things to See and Do During Spring in Japan is guaranteed to put a spring in your step!  
1.) Watch the dances at Kamogawa river, Kyoto
Witness a rare traditional geisha dance at Kamogawa Odori
Every May, geishas and their apprentices, known as maiko, perform a traditional synchronized dance at Kamogawa Odori. In fact, it is more like a play than a dance and often portrays historical events. Kamogawa Odori was first performed in 1872 at Pontocho's Kaburenjo Theatre and it has become a symbol of Spring as well as a key part of Kyoto's cultural history. This is a wonderful opportunity to witness a quintessentially Japanese dance in one of the country's most historic and cultural cities. Kyoto is also home to the famous Gion district as well as some of Japan's most famous and most beautiful temples and shrines. Kamogawa Odori takes place every year from 1st May to 24th May. Kyoto is easily accessible using the JR Pass. From Tokyo for instance, simply take the Shinkansen Hikari bullet train
2.) Mother Farm
This family friendly farm is the perfect destination for animal lovers. After all, what says 'Spring' more than lambs, ducks, pigs, cows and even alpacas. You'll find Mother Farm in Chiba Prefecture. It's so big that there are very cute animal-themed sightseeing buses to help you get around and as well as petting animals you'll also get to pick your own fruit including strawberries, blueberries and kiwi. There is also a spectacular flower trail including 25,000 petunias. It really is the perfect spring day out. To get there using your Japan Rail Pass, take the JR Uchibo line to JR Kimitsu Station and then the free shuttle bus to the farm itself. As well as a family fun day at the mother of all farms, Japan boasts some of the world's most unique and diverse wildlife, including several species and varieties you will only find here. If you're an animal lover, you may also want to check out our Wildlife Tour of Japan guide
3.) Spring skiing and snow
If you're a fan of skiing and snow sports, then Spring in Japan is a surprisingly good time of year to visit. The south and central Japan might be warming up, but in the North, the Spring weather is perfect for hitting the slopes. Check out Hokkaido and ski resorts such as Furano, Niseko and Rusustu. Spring is also the best time to visit Japan's famous 'large valley of snow' known as Yuki No Otani in Murudo (part of the famous Tateyama Kurobe Alpine Route). It's quite a surreal and spectacular sight – a road literally carved through the snow – and Spring is an ideal time to visit because the snow is at its peak and the temperatures are slightly more manageable. Read our Starting Guide to Skiing and Snowboarding in Japan for more information on these activities, including where to go and how to get there.
4.) Relax in Japan's Parks and Gardens
From beautiful city parks that act as an oasis from urban life to vast, rugged and diverse National Parks, Japan has it all. And Spring is the perfect time of year to enjoy both kinds of park. Tokyo (Yoyogi Park, Ueno Park), Kyoto (Haradani-en Garden, Ryoan-ji Temple, Murin-an Villa), Osaka (Kema Sakuranomiya Park, Osaka Castle Park, Mino Park), and other major cities all have beautiful parks and of course you'll find some stunningly beautiful and serene parks in more rural areas. Nara Park with its free-roaming deer is highly recommended for instance, but there are many others. Spring is the ideal time of year to picnic in the park and you'll be spoilt for choice in Japan, particularly if you love gazing at flowers. This is known as 'hanami' of course and we'll have more on this below. So which parks should you visit this Spring? As well as those mentioned above, the famous Hitachi Seaside Park is also worth a visit and we would also recommend Mifuneyama Rakuen in Saga Prefecture. It features a multi-coloured blanket of flowers that changes with each season. In Spring, you will see Cherry Blossoms followed by Azaleas as the weather transitions into summer, as well as many other flowers. From JR Hakata Station, use the Sasebo Line's express train to get to Takeo Onsen Station and it's a five-minute taxi or bus to Mifuneyama Rakuen. If you're a fan of flowers, Spring is an ideal time to visit Japan.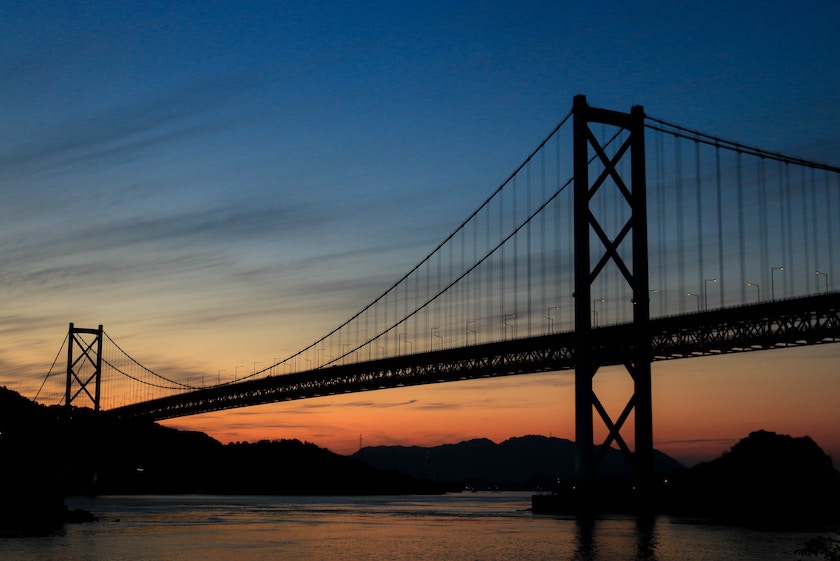 5.) Relax in Japan's Parks and GardensCycle Shimanami Kaido – Japan's most beautiful cycle route
Shimanami Kaido is considered to be one of the world's best routes for cyclists. This 70km stretch of expressway joins the country's main island of Honshu with the island of Shikoku and while cycling the route you'll travel over six bridges, cross the Seto Inland Sea, and pass across six smaller islands. It truly is a spectacular and beautiful route and is frequently rated as one of the best cycle journeys in the world. Cycling will also be on the agenda for this year's Olympics which are coming to Tokyo this year. Olympic cycling is set to take place in Lake Yamanaka – the largest of the Fuji Five Lakes – and is part of the official Olympic 2020 cycling course, which will conclude at the Fuji International Speedway in Oyama. You can get to Oyama by using your Japan Rail Pass and taking the Tohoku Shinkansen. You find out much more about this year's Olympics on our dedicated pages, Tokyo 2020 and the Japan Rail Pass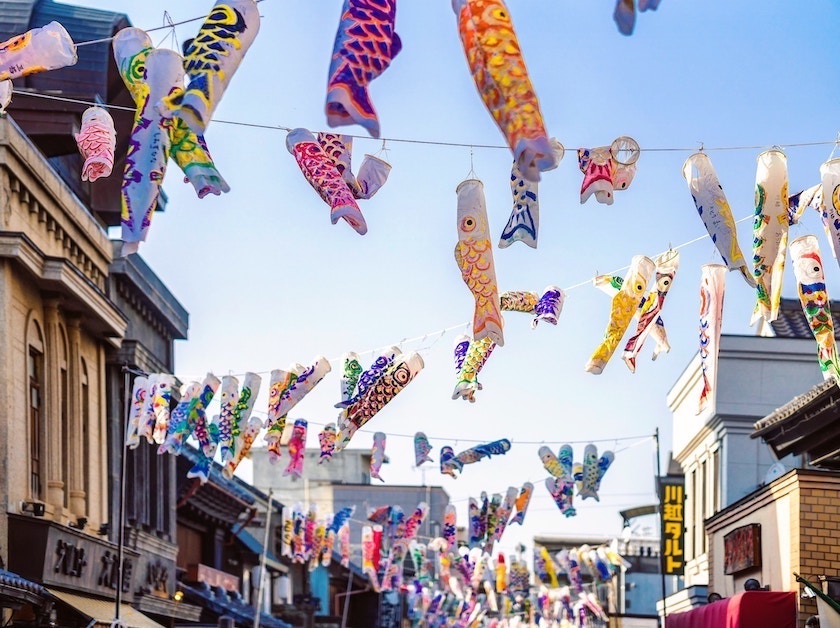 6.) Relax in Japan's Parks and GardensSpring festivals (matsuri)
Japan loves festivals and while there are matsuri all year round, some of the biggest and best take place in the Springtime, such as Kanda Matsuri and Sanja Matsuri in Tokyo and Aoi Matsuri in Kyoto. From the doll displays of the Hinamatsuri in March, to the mikoshi floats of Takayama Matsuri in April, to the carp kites of Kodomo No Hi, Japan's Spring festivals are colourful, diverse and spectacular with something for everyone. Also look out for Inuyama festival in Aichi and Kanamara Matsuri (the steel phallus festival) as well as Earth Day in Tokyo's Yoyogi Park in May. If you're interested in finding out more about Japan's love of festivals, read our detailed guide to the Top 12 Festivals in Japan, which includes much more information about some of the matsuri mentioned above.  
7.) Visit a Green Tea plantation
While Japan has many beautiful green tea plantations for all you Matcha-lovers out there, Shizuoka features some of the best and they are within relatively easy reach of Tokyo for day trips by train. Imamiya and Obuchi Sasaba in particular are both highly recommended and offer beautiful green fields against the iconic backdrop of Mt. Fuji (which may still be topped with snow in Spring). The nearest train station is JR Fuji Station and there are buses available in the direction of both plantations. 
8.) See the Hotaru ika (firefly squids) of Toyama Bay
From March to May in Toyama Bay, tiny bioluminescent squid known as Hotaru ika or firefly squids, make for a once-in-a-lifetime sight as thousands come to the surface of the water to lay eggs, creating a magical rippling blanket of electric blue across the bay. You can get to Toyama from Tokyo in a couple of hours on the JR Hokuriku Shinkansen.
9.) Spring food
If we've said it once, we've said it a thousand times – Japan is a paradise for food lovers and Spring is no exception. There are even Spring specialities, which you simply have to try if you're lucky enough to be visiting Japan this Springtime. Some of our recommendations would be Sakura mochi (cherry blossom flavoured dessert), bamboo shoots, green tea ice cream, and seafood such as mussels and clams. Strawberries are also very popular (and in season) in Japan in Spring and you'll find corn on the cob served at stalls in parks and at festivals too. These are just a few examples of course. You can find out much more about Japanese food in our Introduction to Japanese Food and Regional Dishes.    
10.) Spring foodHanami (flower viewing)
We have intentionally saved the biggest until last. Spring is, of course, Cherry Blossom season in Japan (and plum blossom season just before it) – two of the biggest and most popular occasions in the Japanese calendar. This is especially true of the world-famous Cherry Blossom (also known as Sakura) which attracts millions of visitors to Japan each year. Hanami, or flower viewing, is most commonly associated with the Sakura even though it originated with plum blossom and is about much more than just gazing at flowers – there are festivals, picnics in the park, celebrations and special foods. There is a genuine party-like atmosphere in Japan during Cherry Blossom season which is one of the many reasons why it is so popular. While most associated with the Sakura, technically the practice of hanami could be applied to the whole spectrum of beautiful flowers, from azaleas to pink moss, wisteria to blue nemophila, and many more, that bloom in Japan throughout the year. If you're planning a visit to Japan to view the Sakura this Spring then you'll want to read our comprehensive guide to Visiting Japan to View The Sakura in 2020. Of course, as mentioned above, cherry and plum blossoms aren't the only flowers which bloom in Spring in Japan and the country has many other flower related attractions, which are definitely worth a visit such as Ashikaga Flower Park in and Kawachi Fujien Wisteria Garden in Fukuoka.   
Don't Forget