Table of contents:
What is an Izakaya?
Different Types of Izakaya
Drinking at an Izakaya
An Izakaya Menu
Izakaya Etiquette
Where to Find Izakayas
Food is often a big reason why people choose to visit Japan, as the country is widely famous for its unique cuisine. The opportunity to experience genuine Japanese food is usually at the top of most visitors' agendas and one great way to explore Japan's food culture is by visiting an izakaya. Sort of a Japanese gastropub, eating at an izakaya is something every traveller to Japan should do if they have the chance.
What is an Izakaya?
Even though they are incredibly common in Japan, it can be tough to quickly explain what an izakaya is. Not just a restaurant and not really a bar, food and drink are equally important to the experience of dining at izakayas.
What izakayas are though are casual establishments where friends and co-workers go for drinks and food after work, similar to how people in Spain head to tapas bars for their evening meal. That means they have shared food and a lively atmosphere that you might not expect, considering the usually reserved nature of people in Japan. If you're after a quiet or romantic meal, then an izakaya might not be the right choice.
Different Types of Izakaya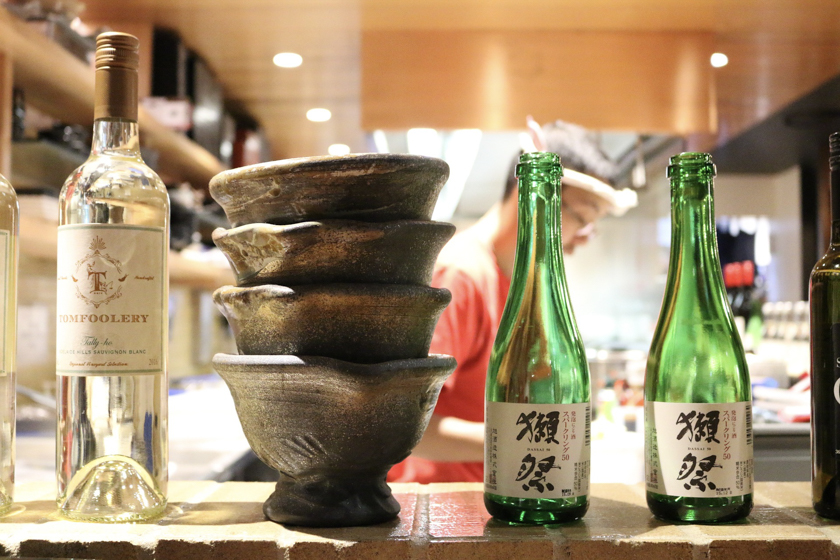 Just like there are all sorts of types of restaurants, bars and cafes, so too are there different izakayas that you can visit. These differences vary from the size of the restaurants to how you are seated and even how you order. Choosing the right place to eat can greatly impact your enjoyment of the evening, so it's best to understand the types of izakaya that are out there.
Seating is something that varies with izakaya, as some places will have your regular table and chairs, but others will feature the Japanese tradition of sitting at low tables on tatami flats. These options aren't mutually exclusive though, so some places will offer both as well as seating along the bar counter.
Ordering in izakayas can also change between venues, affecting where you might want to. That's because many restaurants offer special "all you can eat" and "all you can drink" options. Known as tabe-hōdai and nomi-hōdai, both provide unlimited orders for a set price per person, but usually have a time limit.
Drinking at an Izakaya
Visits to an izakaya usually start with a toast, which really tells you how intrinsic alcohol is to the izakaya experience. Although the standard first drink at an izakaya is cold draft beer, places offer other alcoholic drinks as well, usually ones typical to modern Japan. So you'll find common drinks like nihonshu (known to foreigners as sake), as well as shochu, chūhai, and yes, whisky.
Besides people coming to an izakaya for dinner, some also visit for casual drinking parties known as nomikai. These kinds of gathering involve colleagues socialising after work with flowing conversation aided by flowing alcohol. These kinds of gatherings can stretch on into the night with people leaving far less put together than when they arrived.
An Izakaya Menu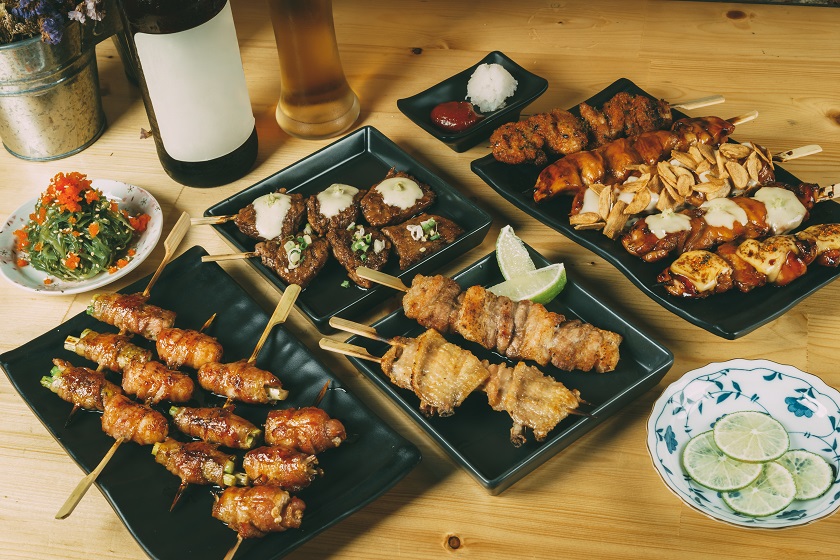 The food served at izakayas is generally dishes that are easily shared and go well with beer or sake, since food and drinks are both essential parts of the experience. Given that requirement, it's quite surprising the range of dishes that are served and how the menu almost always differs from one place to the next.
Typically though, items on the menu will mostly be Japanese dishes with the occasional western food like french fries also available. Standard menu items can include edamame, sashimi, yakitori, yakisoba noodles and fried chicken.
As for the menus themselves, they vary from one izakaya to the next as well. Some establishments, particularly modern ones, will feature picture menus and possibly even English ones. These kinds of menus are also more common in areas that see a lot of foreign tourists. Traditional izakaya, on the other hand, tend to have picture-less Japanese menus making ordering harder if you don't read or speak the language. In that scenario, it's best to rely on patience and a positive attitude to see how you go.
Izakaya Etiquette
Much like every activity travellers experience in Japan, there are customs and etiquette that go along with a trip to an izakaya. To ensure you don't offend anybody or accidentally embarrass yourself, it's best that you learn a few of the social norms for visiting izakayas. Below are just some of the things to keep in mind, with being respectful the core principle that underlines them all.



Many izakaya require you to take your shoes off upon entering and staff will show you what to do with them;


Normally, visitors first order a beer to drink while they read the menu, which usually comes with a small appetizer. When ordering a la carte, dishes are ordered gradually rather than all at once.


The table waits to eat or drink at first until everyone has been served their drinks, after which a toast is made.


Food at an izakaya is meant to be shared much like tapas. First place the food you want on your own small plate before eating.


Unlike other places in Japan, there isn't an expectation of quiet in an izakaya, so you'll hear plenty of conversation and maybe even some singing.


When drinking from bottles, it's generally rude to pour your own drink, with people instead refilling the empty glasses of their companions.
Where to Find Izakayas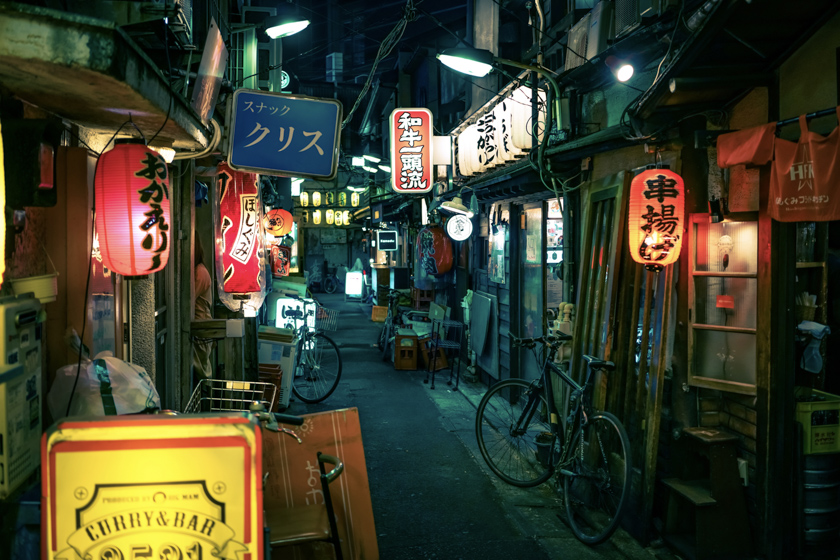 Now that you know what to expect and how to behave in an izakaya, you just need to find one! Thankfully, they're quite a common type of restaurant in Japan and not exactly hidden. The restaurants, especially small independent ones, usually have red paper lanterns hanging outside. They're also usually found around the main train station of a city since patrons will want to commute home after leaving. That means izakaya can be an excellent stop if you're coming or going to the train station when travelling around with a Japan Rail Pass.