Tokyo's legendary Golden Gai bars offer a chance to step back in time to the city's vibrant post-war nightlife.
Table of contents:
Intro
A Brief History of Golden Gai
Ultimate Guide to Golden Gai
Top 5 Expert Tips
The Rules of Golden Gai
Nearby Tokyo Attractions
Japan's Best Nightspots
Bonus Tips
Intro
When it comes to experiencing Tokyo at night, there's one location above all others that offers visitors a taste of Japan's past. Welcome to Golden Gai in Shinjuku – a legendary quarter of the city filled with narrow alleyways, hidden, hole-in-the-wall drinking establishments, and colourful nightlife that has remained untouched by modernisation. It really is like going for drinks in post-war 1950s Tokyo, and the area is famous for its 'Showa retro' atmosphere. We'll tell you everything you need to know about Golden Gai, share expert tips and recommendations, and provide suggestions for other nightspots elsewhere in Japan which can be reached with your JR Pass. If you're planning a trip to Tokyo, a night out in the mythical Golden Gai is not to be missed.
A Brief History of Golden Gaio
Golden Gai means 'Golden Block' in Japanese and refers to a block of six narrow alleyways (called Yokocho) in Shinjuku, Tokyo, with around 200 bars, pubs and places to eat packed together to form a legendary nightspot that comes alive from 8pm each night. Golden Gai is especially unique for being relatively untouched by the post-war 'Japanese economic miracle' that transformed the rest of Shinjuku into a mass of futuristic buildings. Golden Gai's colourful history begins in 1945 in the wake of the Second World War when it had a reputation for black market trading and prostitution. In the late 1950s and 1960s, the area's bars became popular among writers, artists and intellectuals. A famous bar called the Bundan Bar (bar of the literary world) was particularly popular and led to the block being referred to 'bunkajin no matchi' or 'the district of cultivated people'. It was also in this decade that the name 'Golden Gai' was commonly used. In the 1980s, the bar and restaurant owners of Golden Gai found themselves under threat from the Yakuza who were trying to intimidate them into leaving so the valuable land could be sold to building developers. However, the brave owners stood firm and took legal action, and as a result Golden Gai remains as it has been from the 1940s onwards, preserved for future generations and visitors to enjoy.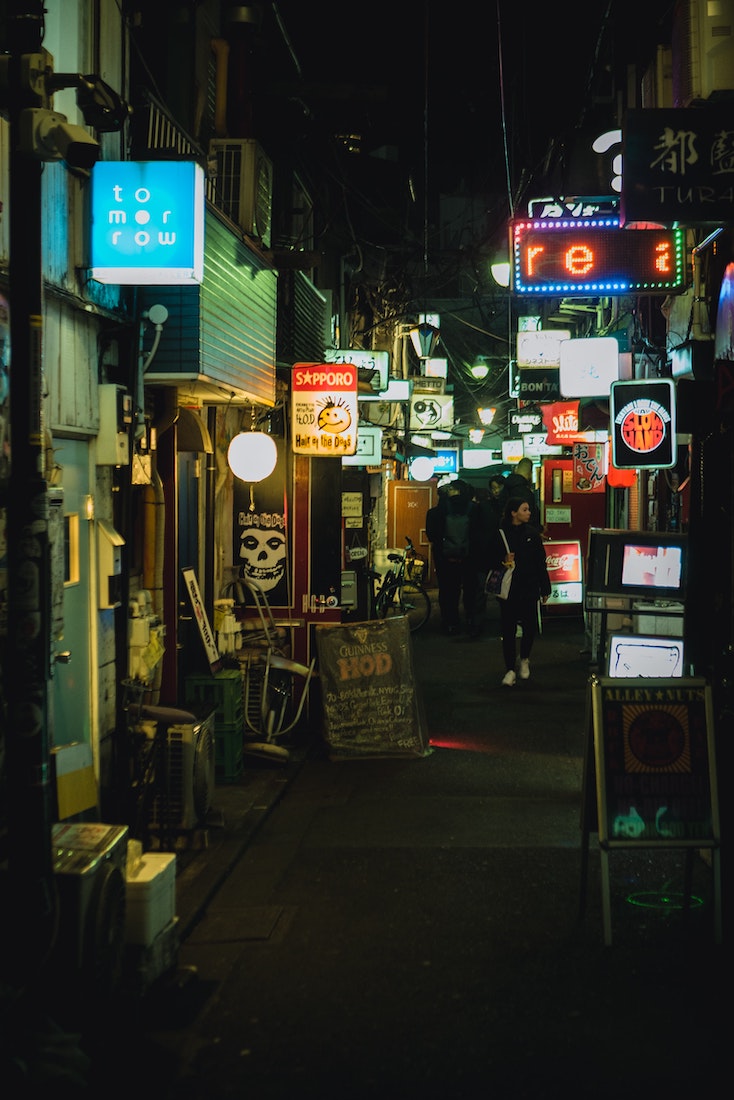 Ultimate Guide to Golden Gai
Today, Golden Gai's nightlife stands out from the rest of contemporary Tokyo and offers visitors the chance to step back in time. This experience has been referred to as 'Showa retro' – a sense of nostalgia for Japan from 1929-1989 (when the country was ruled by Emperor Showa Hirohito), particularly the immediate post-war years of the 1940s, 1950s and 1960s before Tokyo's widespread modernisation and transformation into a futuristic metropolis. The streets and alleys of Golden Gai are small and narrow, some only fit one person at a time, and most buildings are similarly petite and only two storeys high. The architecture dates back to the 1920s, 1930s and 1940s and the whole area looks and feels ramshackle in the most charming sense imaginable.
As we mentioned above, there are more than 200 bars, pubs and eateries in Golden Gai, so you'll be spoilt for choice. Not every bar is intended for international visitors though, some are reserved for locals and there is usually signage outside to indicate which is which. Some of Golden Gai's most popular bars for visitors include Albatross, Kenzo's Bar, Bar Plastic, Ace's, Champion, Zucca, Blue Square and many more. There is a huge variety of bars to discover and explore down the narrow, tightly packed alleyways. Some bars are tiny with just five or six seats, others are bigger, some are themed (there's everything from music and movie themed bars, to a former S&M club, Halloween and even a hospital-themed bar). Some of the two storey buildings are home to more than one bar too – offering very different drinking experiences just a staircase away from each other. Diversity and nostalgia is the order of the day and with plentiful drinks, food, music, and karaoke regularly on offer, Golden Gai is known for having something for everyone. The 'golden block' still has a reputation for attracting cultivated people among the locals – artists, actors, and celebrities – as well as tourists and overseas visitors, so you never know who you'll end up sitting at the bar with.
You can find Golden Gai a short walk from JR Shinjuku Station's east exit adjacent to the Hanazono Shrine. You can also get there from Tokyo Metro's Shinjuku Sanchome Station. Top tip: you'll want to invest in a prepaid travel card such as an ICOCA, PASMO or Suica card for Tokyo's public transport, as well as a JRailPass for getting around the rest of Japan. Check out our Top 30 Tips for Using Japan's Metros for advice and guidance on using the city's subway network.
Top 5 Expert Tips
Here are five tips for your visit to Golden Gai:
Golden Gai is known for being safe and friendly. Feel free to explore and don't be nervous going into different bars. Look for signs welcoming tourists and visitors.
Bars open from 8pm, but tend to get busier and livelier as the night goes on, so don't arrive too early.
Some bars and pubs in Golden Gai have an entrance fee – this is usually inexpensive, but make sure to check before you enter. In exchange, you will sometimes get a complimentary drink and bar snacks. This is very often cash only, so do take some change with you before venturing into Golden Gai. 
Making a little effort with the language can go a long way. Ask the bar staff for their recommendation by saying 'o-susume, o kudasai' and be sure to say 'oishi' or 'umai' afterwards, and of course, 'kanpai!' – Japanese for cheers! Check out our guide to Japan's favourite beers in Kanpai: A Craft Beer Tour of Japan.
Golden Gai has some excellent places to eat too – try the local specialities at Nagi Ramen. Japanese style curry is also popular. For more on the former read our Beginner's Guide to Ramen. 
The Rules of Golden Gai
Golden Gai has some official rules established by the association of business owners in the area. These have been put in place to keep the area safe and friendly, and to prevent any disorder. Of all the rules, the one you may be able to 'bend' slightly is around photography. If you want to take a couple of discreet photos of the narrow alleys then it is possible. Just try to avoid getting anyone's face in the photos as this is seen as impolite in Japan generally. The following is prohibited on Golden Gai alleys:
Smoking, tobacco and cigars.
Loitering, shouting and singing.
Alcoholic beverages and drugs.
Photographs and videos without permission.
Climbing on buildings and fences. 
As you can see, the 'rules' are quite fair and mostly aimed at preventing anti-social and disorderly behaviour. Some individual bars also have rules such as a charge for falling asleep in the bar too. For more on etiquette and customs in Japan, you can read our Guide to Japanese Etiquette, or for something specifically on food and drink check out our Guide to Japanese Table Manners.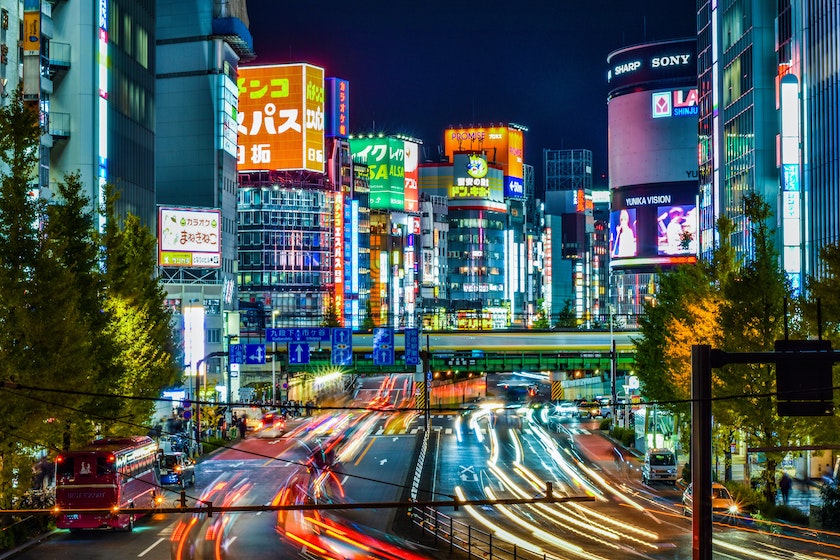 Nearby Tokyo Attractions
There is lots to see and do nearby Golden Gai. Here is a selection of attractions just a stone's throw away from the bars:
Shinjuku
Golden Gai is located in Shinjuku, which is considered one of the must-see areas of Tokyo generally. From glowing neon to lively nightlife, world-famous restaurants to the city's biggest red light district, Shinjuku has a bit of everything and is known as a vibrant, bustling entertainment hub. Highlights and landmarks include the Robot Restaurant, the beautiful Shinjuku Gyoen park, the Samurai museum, the aforementioned Kabukicho red light district, countless ramen restaurants and Izakaya, and much more.

Omoide Yokocho
Famously known as 'piss alley', this narrow alley in Shinjuku is packed with Izakaya pubs and is another unique attraction in the area. The name comes from an inaccurate translation of the alley's Japanese name as well as its popularity as a drinking spot. Like Golden Gai, Omoide Yokocho is popular with locals and visitors.
Hanazono-jinja Shrine
A large Shinto shrine in the heart of Shinjuku, Hanazono-jinja is the most important shrine in the ward and is dedicated to Inari Okami, the god of trade and worldly success, who guards the district's merchants, craftsmen and artists. Several festivals are held throughout the year at Hanazono shrine including the Reitaisai Festival in late May and the Tori-no-ichi Festival in November. The shrine is also popular for sakura viewing during the Cherry Blossom season. 
Park Hyatt Hotel
Just around the corner from Golden Gai is the famous Park Hyatt Hotel, which was immortalised in Sofia Coppola's Oscar winning film, Lost in Translation, starring Bill Murray and Scarlett Johansson. You can visit this hotel, admire the stunning view of the city made famous in the film and even dine at the 52nd New York Bar & Grill where Bill and Scarlett hung out. For more on the locations featured in this film and other movies shot in the country, read our guide to Japan on Film.

Izakaya
Shinjuku is home to many izakaya – a kind of Japanese gastropub where drinking and food go hand in hand. They are a traditional Japanese experience and you'll find them all over Japan. Check out our guide to Why You Should Visit An Izakaya in Japan for why they are so special. 
Guides to Tokyo's most famous city wards
Golden Gai is in Tokyo's Shinjuku district, but there are many more distinct city wards to experience with their own personality, sights, sounds, landmarks, and attractions. But in a city so vast, where do you start? Thankfully, here at JR Pass we have you covered. We've created comprehensive guides to some of Tokyo's most famous and popular areas.
Ueno
Home to many beautiful temples, shrines and ponds. Ueno Park is also home to various museums, like the Tokyo National Museum, National Museum of Nature and Science, and Shitamachi Museum. Not to forget Ueno Zoo, which is great when traveling with kids. Find out much more about the Ueno District in our Guide to Ueno, Tokyo.
Shibuya
Shibuya is a special ward in Tokyo and a major commercial and business centre. The area is known as one of the contemporary fashion hubs of Japan, as well as a booming nightlife area. Read our Ultimate Guide to Shibuya, Tokyo, for everything you need to know about this bustling city ward.
Asakusa
Asakusa is where the vibe of older Tokyo lingers, small craft stores and restaurants line the streets. Then there is the ancient Sensō-ji temple, featured on many postcards from Tokyo. Asakusa is built on the banks of the Sumida river, which nowadays is a trendy upscale dining scene. In the evening, the area comes to life with countless Izakaya and entertainment venues opening. Our Guide to Asakusa includes the top ten things to see and do in the area.
Akihabara
Akihabara, sometimes shortened to Akiba, is famous for the many electronic and Otaku culture shops. From tiny hobby shops to massive department stores specializing in a wide variety of anime, manga, digital entertainment, gadgets, home electronics, general hardware and anything closely related. Additionally, entertainment cafés styled after popular manga and video games serve themed food and drinks. Then there are the iconic maid cafés. Akihabara is a unique part of modern Japanese culture and should be included on any visit to Tokyo. Read our full Guide to Akihabara for more.
Chūō
Chūō is a ward in the heart of Tokyo. It is next to the business and administrative area of Chiyoda. Chūō has a history that dates back to the 17th century. It was at the heart of the old imperial city of Edo, which eventually became Tokyo. Chūō retains plenty of history, but it is also one of Tokyo's busiest and most modern areas. The world-famous Ginza shopping district is here, as are more-relaxed neighbourhoods, nightlife, and culture. Our Guide to Chuo, Tokyo has the full story.
Chiyoda
Chiyoda is one of the most centrally-located of Tokyo's districts. It is in the middle of Tokyo, and the eastern part of the overall Tokyo metro. This ward, often known as "Chiyoda City" in English, is home to the Imperial Palace, parks, shrines, and museums. It is also the centre of the current government, and home to the Prime Minister's residence and the place where parliament meets. These sites make Chiyoda an attractive destination for tourists. Find our more in our Chiyoda Guide.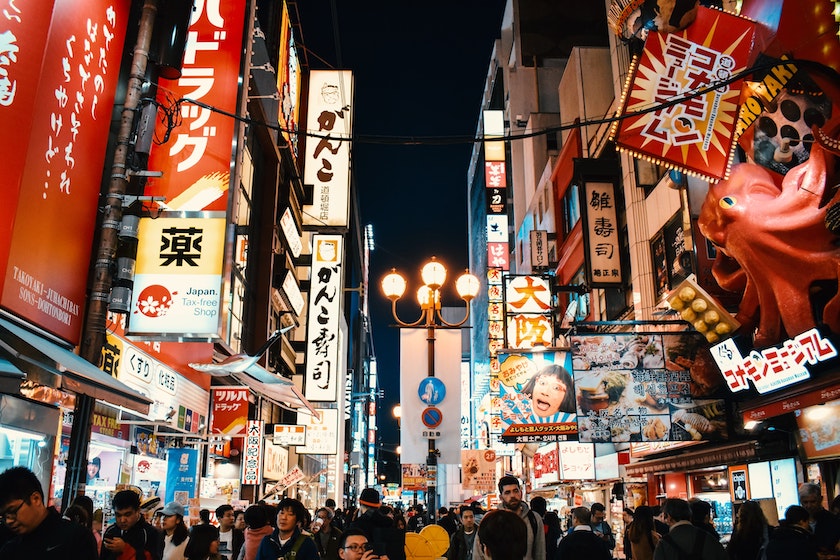 Japan's Best Nightspots
Of course, Tokyo isn't the only place where you can enjoy an authentic Japanese night out. If you're willing to venture further afield with your Japan Rail Pass, there is a whole country's worth of nightlife to discover, from unique bars to countless izakaya.
Osaka
Known as Japan's kitchen, Osaka has a reputation for great food, but it's also known for its lively nightlife to rival Tokyo's. The famous Dotonbori street in the Namba district is renowned for its street food, but you'll also find lots of bars too. Osaka is easy to reach with the Japan Rail Pass. Simply take either the Hikari or Kodama trains on the Tokaido Shinkansen lines to get from Tokyo to Osaka in 3-4 hours. You can reach Dotonbori using the JR Pass by travelling to JR Namba Station from Shin-Osaka Station on the Tokaido-Sanyo line to Osaka Station. From there, take the Osaka Loop line to Imamiya Station. It's then one stop to JR Namba.
Kyoto
Japan's cultural heart, Kyoto may appear quieter and more civilised than the likes of Shinjuku, but the city still has its fair share of bars to visit. Like Osaka, Kyoto is easily accessible from Tokyo. Just hop on the JR Tokaido Shinkansen to Kyoto station. It takes about 160 minutes.
Sapporo
Hokkaido, Japan's northernmost island, offers a different kind of nightlife to the likes of Tokyo and Osaka, but it is just as good. Sapporo, the capital of Hokkaido, is both central and well connected using the JR rail network, making it the ideal place to explore this region. It also hosts the famous Sapporo Snow Festival and is home to the original 'ramen alley'. If you're interested in the Hokkaido region be sure to read our Five-Day Rail Itinerary for Hokkaido for a comprehensive guide to getting there and back using the Japan Rail Pass. To reach Sapporo from Tokyo using your JR Pass, take the JR Tohoku/Hokkaido Shinkansen from Tokyo to Shin-Hakodate-Hokuto and transfer to the Hokuto limited express to Sapporo.
Bonus Tips