Osaka's neon-lit Dotonbori area is a feast for the senses and one of Japan's most famous and iconic districts.
Table of contents:
Intro
A Brief History of Dotonbori
Top 10 Things To See and Do in Dotonbori
Exploring Osaka
Bonus Tips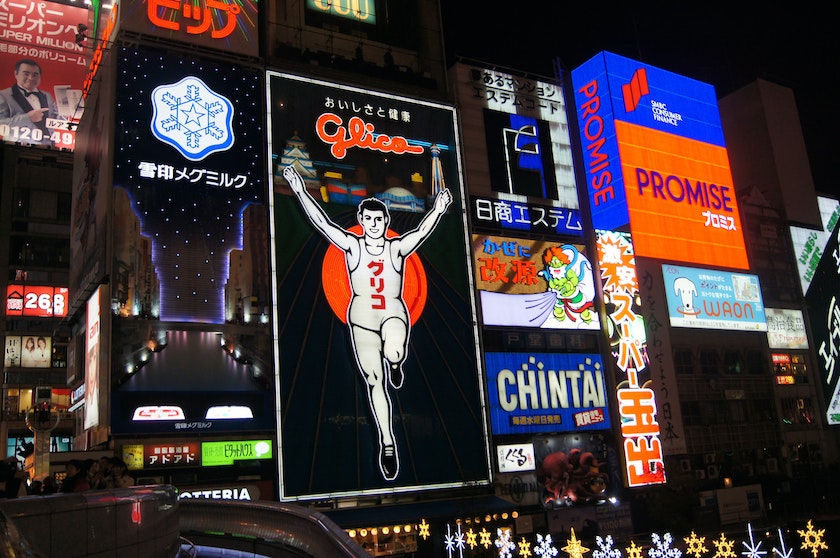 Intro
When you close your eyes and picture Japan, one of the images you might think of first is the neon-lit nightlife in the country's glamorous metropolises. The sights, the sounds, the smells, the food! Dotonbori – Osaka's historic entertainment district – is as famous for its neon lights as it is for its food. Japan is generally considered to be one of the world's number one destinations for food lovers and Osaka is known as the country's 'kitchen' thanks to its incredible regional cuisine and street food. Dotonbori is a feast for the senses that brings together neon lights, delicious food, and dazzling entertainment all in one amazing place. We'll tell you how to get there with the JR Pass, the top ten things to see and do, other attractions throughout Osaka, and much more. Discover the very best of Dotonbori is our comprehensive guide.
A Brief History of Dotonbori
Dotonbori's history as an entertainment district goes back hundreds of years to 1612. The area even takes its name from Yasui Doton, a local merchant and entrepreneur who invested his entire fortune in a project to create a waterway through Osaka by diverting the Umezu River and connecting the waterways to Kizugawa River. Doton was sadly killed during the Siege of Osaka in 1615, but his cousins saw his vision completed and named the new canal after him. Dotonbori literally means 'Doton's canal'. As Doton had hoped, the new interconnected waterway through the heart of Osaka became a major and lucrative trade route. From 1626, the canal began to take off as theatres and playhouses moved into the southern bank, and teahouses and restaurants opened on the north bank. The water had brought merchants, trade, and travellers with money to the area and this influx in turn helped give birth to a whole entertainment district, which has continued to grow, prosper and evolve over the decades. Although heavy bombing during WW2 destroyed many historic theatres and playhouses, Dotonbori survived and moved forward with a greater emphasis on its incredible local food. Today, the area is arguably most famous as a culinary destination. It has even inspired a phrase known as 'kuidaore', which is sometimes interpreted as 'eat until you drop' or 'eat until you've no money left'. The area's nightlife and entertainment is still thriving too and the Shochikuza theatre is helping keep old traditions alive. More than 400 years later, Yasui Doton's dream is still going strong.
Top 10 Things To See and Do in Dotonbori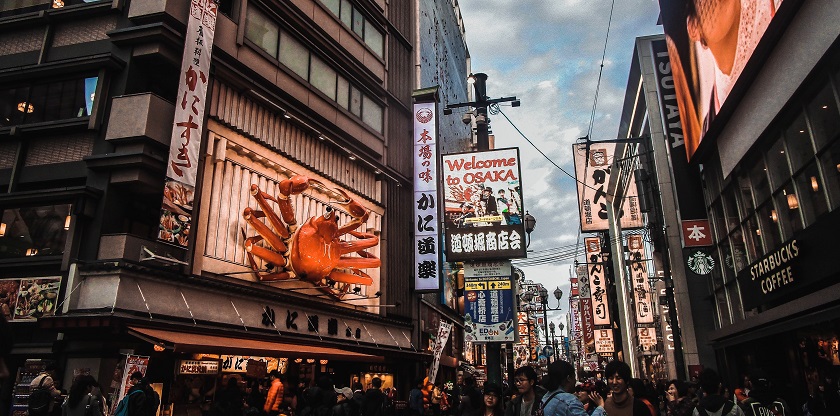 Dotonbori is famous for its food, its nightlife, its entertainment, and more. With so much to see and do, where do you start? There's so much amazing food to try in Dotonbori that it would be easy to fill this list with food alone! Instead, we've tried to keep it a little more varied! Here's our Top 10 Things To See and Do in this unmissable district.
1.) Don't miss the iconic Glico 'Running Man' neon sign.
Dotonbori is famous for its 'Blade Runner' landscape of neon signs (so much so that Blade Runner director Ridley Scott filmed Black Rain here in the 1980s. See Japan on Film for more) and arguably the most famous of all Osaka's neon signs is the Glico running man in Dotonbori. An iconic visual and a favourite meeting spot, it's also become famous for locals and tourists to take selfies with (often mimicking the running man pose!). The Glico sign is one of thousands of neon signs up and down the canal. Also look out for the Asahi beer sign (more on beer later) and the giant mechanical crab outside Kani Douraku restaurant (see the photo above).
2.) Eat (and drink) until you drop!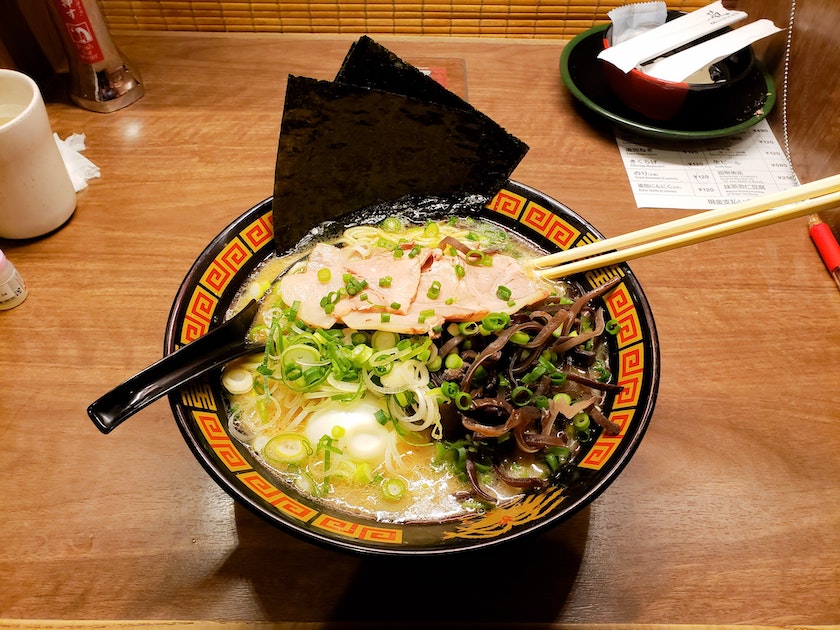 As we've already mentioned, Dotonbori is famous for food. If you love going on a culinary adventure, then this is definitely the place to be. Dotonbori has an abundance of restaurants and places to eat and is particularly famous for its seafood and street food dishes. Japan does street food slightly differently to the rest of the world and you can read all about it in our guide to Japanese Street food Explained. Dotonbori is one of the country's street food hotspots and it's famous for particular dishes that you'll just have to try if you're a food lover. These include:
Okonomiyaki
This delicious dish, consisting of savoury fried pancake packed with cabbage, egg, seafood and noodles, originated in Osaka and is a speciality in Dotonbori. If you're a foodie, you can't miss the 'original' Okonomiyaki.
Takoyaki
Another Dotonbori speciality, Takoyaki are small fried balls made with batter filled with diced octopus pieces, spring onion and ginger. You can even cook this dish yourself at Dotonbori Konamon Museum.
Crab
Osaka is world-famous for its seafood and crab is another favourite, so much so that one of Dotonbori's most famous restaurants, Kani Douraku, has a giant mechanical crab above the door (as pictured above).
Kushikatsu
Essentially a deep fried fish on a stick, this local delicacy is a favourite in Dotonbori and should be eaten by dipping the stick in sauce once only (never twice for hygiene and etiquette reasons).
Fugu (Pufferfish)
Deadly fugu is a delicious delicacy in Osaka and Japan in general, and one of Dotonbori's favourite ways to serve this dish is Tecchiri (a hot pot) and Tessa (thinly sliced like sashimi). To guarantee your safety, fugu can only be cooked and served by certified chefs.
Ramen
Another Japanese favourite, you can get ramen 24 hours a day in Dotonbori at Kinryu Ramen, a restaurant distinctive for the huge green dragon guarding its entrance.
After you've eaten, you'll need a drink so why not check out the famous Hozenji-Yokocho alley – Dotonbori's equivalent of Tokyo's Golden Gai – a hidden treasure trove of more than 60 bars and nightspots that are well worth seeking out.
3.) Visit Hozenji Temple
For a slice of calm after experiencing the neon lights and culinary wonders of Dotonbori, why not visit the nearby Hozenji Temple? This small temple, located down a narrow 'yokocho' or alleyway, is a relic from Dotonbori's past and features a moss-covered statue of Buddhist deity Mizu-Kake Fudou. This serene safe haven is the perfect place to unwind.
4.) Go for a cruise along Dotonbori
The canal itself is obviously a famous and important feature of Dotonbori. If not for the waterways, the whole entertainment district that has sprung up around it wouldn't exist. Travelling by boat is a great way to see Dotonbori and there are lots of guided cruise boats up and down the canal to choose from.
5.)Shop at the famous Kuidaore Taro and Don Quijote stores
Kuidaore might translate as eat or spend until you drop, but it's also a very famous store in Dotonbori with an equally famous mascot. He looks a little bit like Wally from Where's Wally fame, but the Kuidaore mascot is actually a clown wearing glasses. Inside, you'll find Dotonbori souvenirs, clothes, sweets, and more. Another well-known shop on the banks of Dotonbori is Don Quijote – a bargain store where you will find all kinds of products at a low price, including every possible flavour of KitKat chocolate.
6.) Watch a kabuki performance at Shochikuza Theatre
Dotonbori's cultural heritage as an entertainment district filled with theatres and playhouses goes back hundreds of years. While the theatre trade isn't what it was before WW2, Shochikuza Theatre is still going strong and puts on traditional kabuki performances for visitors. Kabuki dates back to the 17th Century and it is iconically Japanese. Seeing a live show, which blends song, mime, and dance, is a great experience for anyone interested in experiencing authentic Japanese theatre. Kabuki is so revered it is inscribed in UNESCO's Intangible Cultural Heritage list.
7.)Fish for prizes!
Dotonbori Tsuribori is the kind of place that prompts people to say, 'only in Japan'. Here you can literally catch fish for prizes! Fun and irreverent, it's a great way to pass the time after you've tried everything else on our list! You can even try catching an eel if fish prove too easy!
8.) Drink Japanese craft beer at Tachibana brewery
Japan has a thriving craft beer scene. You can read all about it in our guide, Kanpai! A Craft Beer Tour of Japan. Dotonbori actually boasts the only on-site theatre brewery in Osaka above Shochikuza, so after you've enjoyed the show why not head upstairs for a craft beer? The brewery is also known for its seafood and tofu dishes to pair with its drink selection.
9.) Sight-see from the Ebisubashi Bridge
Dotonbori's Ebisubashi Bridge offers the perfect view along the canal and both riverbanks with their illuminated neon signs. It's a great place for photographs and is known to be a popular romantic spot for couples.
10.) Stay in a capsule hotel!
Capsule hotels are a Japanese institution and the very first of its kind – Capsule Inn – was in Osaka. That very hotel is still open today and there are some great capsule hotels in Dotonbori too such as Capsule Hotel Astil. Read our recent guide to Staying in a Capsule Hotel in Japan to find out more. Alternatively, if you're looking for something more traditional try the Michelin-recommended Cross Hotel Osaka which is five minutes from Dotonbori. There are lots of other interesting places to stay across the city too.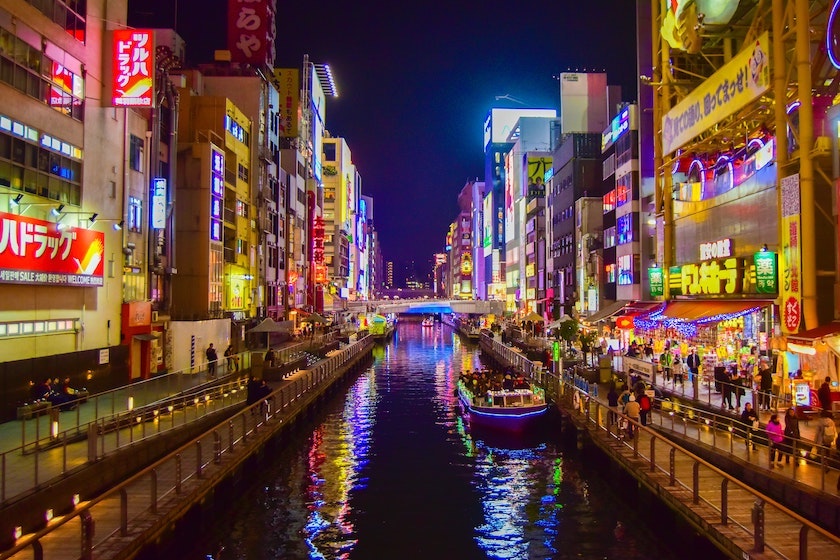 Getting to Osaka is easy with the JRailPass. You can reach the city from Tokyo and Kyoto on the JR Tokaido Shinkansen. Once in Osaka, the easiest way to get around the city is using public transportation, so you'll want to invest in a prepaid travel card such as an ICOCA, PASMO or Suica card, as well as a Japan Rail Pass for getting around the rest of the country. Check out our Top 30 Tips for Using Japan's Metros for advice and guidance on using the city's subway network. You can get to Dotonbori from JR Namba Station via the Midosuji line or the Yotsubashi line. The Dotonbori area is also less than five minutes from Namba subway station on foot.
Exploring Osaka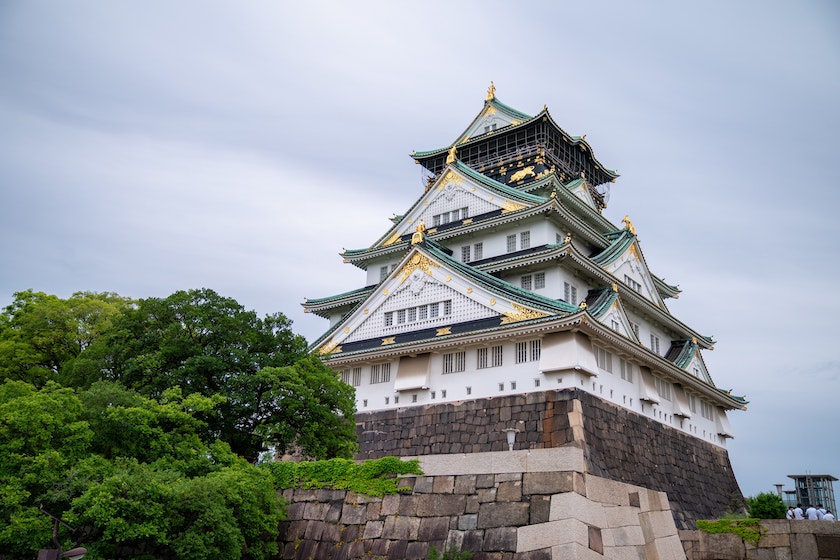 Osaka is Japan's second largest city and a veritable wonderland for international visitors. From neon lights and glittering skyscrapers to historic castles and gardens, Michelin-starred restaurants and one of the best aquariums in the world, Osaka has a little bit of everything and is a city where old and new Japan collide in the best possible way. You definitely won't be short of things to do in this huge and spectacular city.
Japan's Kitchen
As we've mentioned, Osaka is known as Japan's kitchen and while Dotonbori is packed with incredible local restaurants, street-food and much more, the rest of the city has a lot to offer foodies too, including Michelin-starred restaurants and fine dining, some of Japan's very best seafood, and more. Osaka is a great place to go if you want to sample a wide selection of Japan's most famous regional dishes. You can find out our recommendations in our indispensable Beginners Guide to Japanese Food and Regional Dishes. Meanwhile, if you fancy a break from Dotonbori's street food, why not swap to a fine dining experience at restaurants such as Ajikitcho Horienten or Ichiju Nisai Ueno Minoten. Find out more in our guide to Japan's Best Michelin-starred Restaurants.
Osaka Castle
Osaka castle was originally built around 1583, but underwent a massive renovation in 1997, and has since become one of the most modern castles in Japan, complete with elevators, outside light show, and Wi-Fi. It offers a wonderful interactive experience and magnificent views of the Osaka skyline. It is also surrounded by the beautiful Nishinomaru Garden, which has more than 600 cherry blossom trees. Discover more in our guide to Visiting Osaka Castle.
Shopping at Shinsaibashi and Kuromon Market
Dotonbori has lots to offer shoppers and just a short walk away there are even more shops to check out in Shinsaibashi – the city's biggest shopping area with hundreds of big name stores. Meanwhile, if you're into cooking, you should definitely visit Kuromon Ichiba Market, which has developed a reputation for offering the freshest ingredients and seafood. It's a traditional food market like they had decades ago in pre-war Japan, and it is apparently where Osaka's best chefs get their local ingredients from.
Osaka Aquarium
Located in the Osaka Bay area, Osaka Aquarium Kaiyukan is one of Japan's best aquariums and one of the largest in the world, with 30,000 marine animals from across the Pacific Ocean. If you love sealife this is an amazing way to view and interact with marine wildlife that you may never get a chance to see in the oceans, from whale sharks and dolphins to sea lions and penguins. You can find out everything you need to know in our guide to What To See at Osaka Aquarium Kaiyukan.
Denden Town
Denden Town is the Akihabara of Osaka, here you'll find everything related to anime, electronics, gadgets, music and Otaku culture. Visiting Denden town is a great way to experience Japanese Otaku culture (most known for anime, manga and video games), or to shop for electronics and parts. For more information read our guide to Denden Town and for more on Manga, Anime, Otaku and J-culture, read our guide to Japan for Gamers, Otaku and J-culture fans.
Bonus Tips
Many of Dotonbori's experiences revolve around incredible food and you may feel you need to read up on Japan's culinary etiquette before you do. If so, we've put together this super helpful guide to Table Manners in Japan.
Osaka is one of Japan's biggest cities so if you need a helping hand on your first visit why not consider our dedicated Meet & Greet Service?
Dotonbori is a sensory adventure, but if you want to experience a different side of Japan you may want to head out of the city on a day trip. If so, you'll need a Japan Rail Pass – one ticket for Japan's excellent domestic rail network. Read about Why The Japan Rail Pass Is Worth It for more information.