Table of contents:
Intro
Top 10 Beautiful Beaches
Japan's Top Surfing Spots
Taking a Dive into Japan
Japan for Water sports
Don't Forget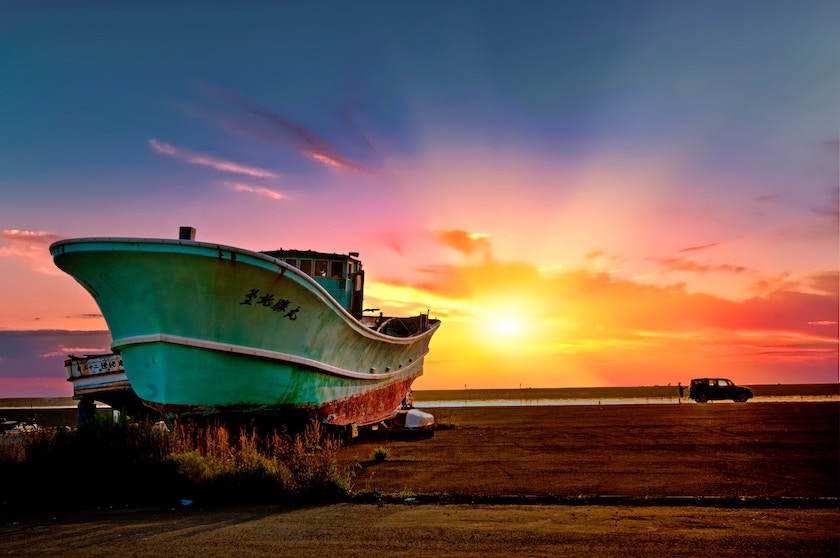 Intro
If you're anything like us, you're already thinking about sunshine, white-sand beaches and crystal blue waters. Sure, winter is beautiful and cosy, but during those dark, colder months, it's natural to start looking forward to your next holiday in the sun. While Japan may not instantly spring to mind as a beach destination, it actually boasts some of the most stunning and spectacular beaches in the world, and is highly rated for its water-sports and diving. Let's not forget, Japan is an archipelago consisting of more than 6,000 islands. While it is synonymous with the temples, shrines and gardens of historic Japan and the futuristic neon mega-cities of contemporary Japan, it is also a country of rugged mountains, bamboo groves, dense forests and incredible beaches. We'll help you plan a sun-kissed getaway to Japan, tell you where to go and exactly how to get there with your JR Pass.
Top 10 Beautiful beaches in Japan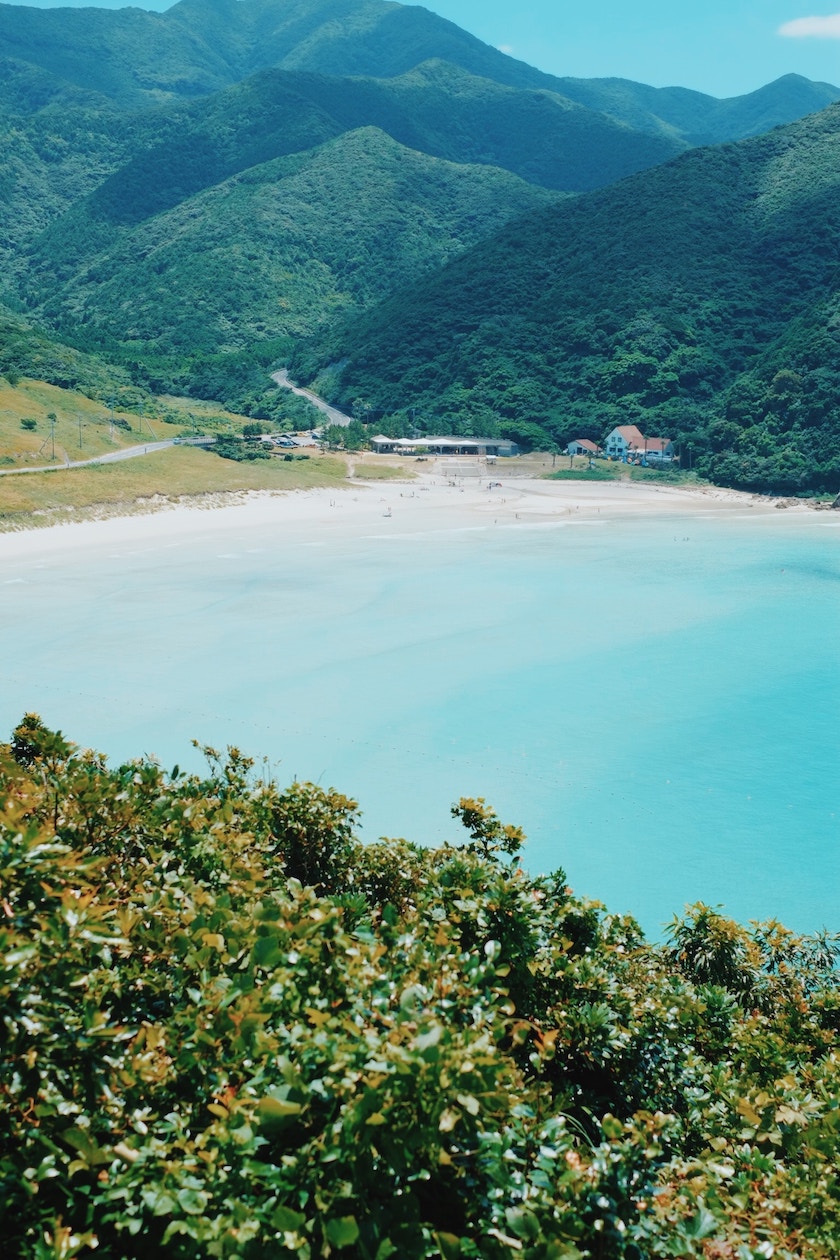 Japan is the perfect place to have a beach holiday, especially with everything else the country has to offer, and it can easily compete with the rest of Southeast Asia and the Caribbean when it comes to white-sand beaches and tropical waters. Just take a look at this list of beautiful beaches to understand why Japan should be at the top of your list for beach and water sports holidays:
Miho Beach, Shizuoka
This stony beach is lined with beautiful pine trees and is an excellent destination for swimming and cycling. However, what truly makes it extra special is the view of Japan's iconic Mount Fuji in the distance. How many beaches can offer that?
Shimoda Beach, Shizuoka
You can view the torii gate of the Shirahama Jinja Shinto Shrine from this attractive sandy beach with a reputation for good surfing. The word 'Shirahama' actually means 'white-sand' so you'll likely see it applied to a number of different beaches right across Japan. To reach this particular beach, take the JR Limited Express Odoriko from Tokyo to Izukyu-Shimoda Station. It's then a 10-minute bus ride to Shirahama Kaigan and the beach. You can find out more about the beautiful port town of Shimoda in our Shimoda Visitor Guide.
Chirihama Beach, Ishikawa
Located at Noto Peninsula in Ishikawa along the Sea of Japan, this beach may not be the most picturesque, but it is the only stretch of sand in Japan where you can drive your car (or other vehicle) – making for quite a unique experience.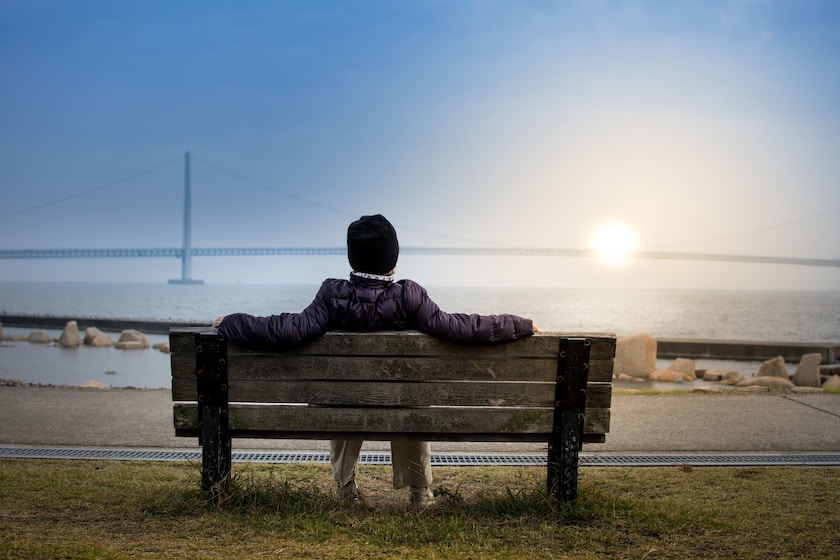 Tsunoshima Island, Yamaguchi
Featuring a spectacular bridge that connects the island to the mainland, Tsunoshima Island in Shimonoseki City has become an increasingly popular tourist destination in recent years. Imagine crystal blue waters and white-sand beaches, surrounded by the Sea of Japan.
Yonaha Maehama Beach
Arguably one of the most beautiful beaches in all of Japan, Yonaha Maehama Beach on Miyako Island in the southern Japanese island of Okinawa is a tropical paradise featuring four miles of white-sand and turquoise waters that are rarely crowded. If this sounds like paradise that's because this is as close as it gets. An absolutely stunning beach destination.
Shirahama, Wakayama
Not to be confused with the other Shirahama (white-sand) beach on our list, this beach in southern Wakayama features a picture-perfect man-made beach, but the area also boasts incredible rock formations, oceanside onsen and is known for great watersports. From Osaka it's 2 hours on the JR Kii line using your Japan Rail Pass.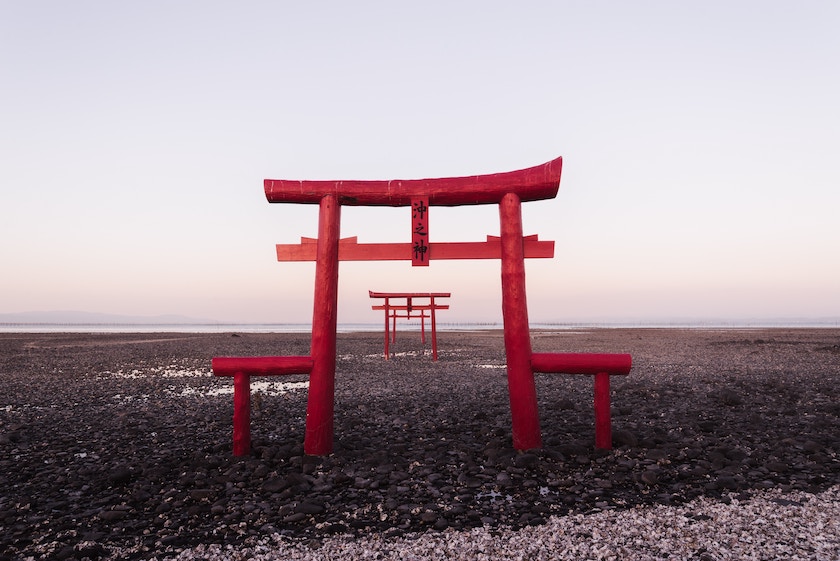 Amami Oshima Island
Unspoilt beaches, mangrove forests, coral reefs and more, await in the subtropical Amami Oshima Island in Kagoshima prefecture between Kyushu and Okinawa.
Jodogahama Beach
Jodogahama means 'pure land'. This popular beach is part of the Sanriku Recovery National Park in Iwate and is known for calm and tranquil waters and rugged rock formations.
Ibusuki, Kyushu
The volcanic sand beaches of Ibusuki make for a unique and distinctive beach destination. You can even bury yourself (and friends) in the hot sand for a DIY spa treatment. Ibusuki is easily accessible from Kagoshima-Chuo Station via train.
Bayside Beach Saka, Hiroshima
This beach is known for its spectacular sunsets and calm waters. It's close to Hiroshima, so it's highly accessible, although it does get busy with tourists in July and August. Swimming is only permitted in these months, but fishing is allowed all year round. The JR Pass is a great way to reach Hiroshima. Take the Sakura bullet train on the Sanyo line from Osaka. Once in Hiroshima, the best station for the beach is JR Mizishiri Station.
Japan's Top Surfing Spots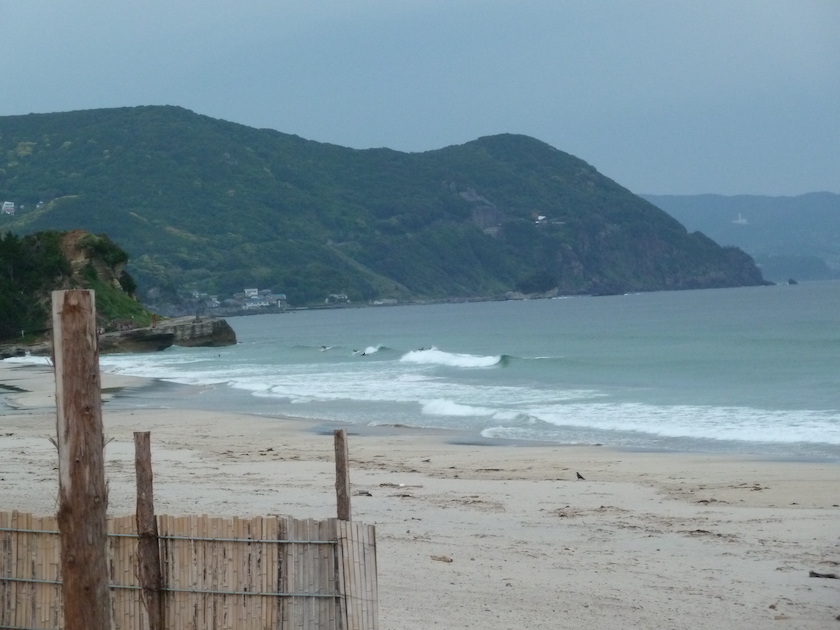 You might not immediately think of Japan as a 'surfing mecca', but it's actually amongst the world's best surfing destinations. There are several 'surf breaks' in Japan and the JRail Pass is an excellent way to travel up and down the coastline in search of the perfect wave. Here's our pick of Japan's surfing spots:
Irino – This beach near Kochi City has a reputation as one of the best surfing spots and you may also spot sea turtles on the sand laying their eggs. The closest station is Tosa-irino.
Chiba and Shonan – These beaches are great for surfing with consistent waves and big breaks, but they can also get super busy with crowds of locals and tourists at weekends heading to the coast from Tokyo.
Shikoku – Tokushima Prefecture's southern coast and neighbouring Koichi in Shikoku both have decent waves. Ikumi beach is the pick of the bunch.
Kyushu – The diverse and varied coastline of Kyushu is a paradise for surfers. For some of the best surfing in Japan, visit Karatsu in Saga Prefecture or Koigaura beach in Miyazaki Prefecture. These are great beaches for catching a wave and they're generally much quieter.
Okinawa – As we mentioned above, Okinawa's tropical islands features plentiful white-sand beaches and are a natural go-to for surfers and beach lovers.
For more on beaches and surfing in Japan, as well as the best beaches for sun worshippers, check out our Itinerary Tip: Beaches guide. Also, if you're looking for beaches within easy reach of Tokyo, here are a couple of additional recommendations:
Izu-Hanto – 100km southwest of Tokyo, this peninsula has many great beaches and spectacular onsen overlooking the Pacific.
Izu-Shoto – A chain of submerged volcanic islands stretching out 300km into the Pacific, the nearest are easily reached from Tokyo for a weekend break. With camping, deserted white sandy beaches and sea-gazing onsen what's not to love?
Taking a Dive in Japan
Japan is considered one of the best kept secrets of the diving world, and for good reason. With 6,000 islands and 21,000 miles of coastline, Japan offers some of the best diving locations in the world. The wide range of temperatures in Japan's waters also means there is an extraordinary diversity and variety to the country's marine wildlife, its coastal geography and its underwater ecosystems.
Japan's waters boast 3,000 different types of fish alone, as well as a huge range of other marine life and exotic wildlife to encounter, from sea turtles, cuttlefish, hammerhead sharks and dolphins, to mobula and eagle rays, moray eels, sea snakes, barracuda, pygmy seahorses, crabs, shrimps, tuna salamanders, nudibranchs and much more. There are many amazing diving spots in Japan (some islands have more than 100 each!). Here are a couple to get you started:
Yakushima (Kagoshima)
Arguably Japan's most famous diving destination for seeing sea turtles, Yakushima is the place to go for turtle lovers. Being off the coast of Kyushu, it also boasts a number of unique species including Scorpionfish, lionfish and Moorish idols. You can reach Yakushima Island by Shinkansen to Kagoshima, using your JR Rail Pass, and then transferring to a ferry, jetfoil, or plane.
Yonaguni and Ishigaki (Okinawa)
These are two of Okinawa's most famous dive stops. Yonaguni is world-famous for sunken wrecks, incredible undersea ruins and, of course, amazing sea life including hammerhead sharks. Meanwhile, Ishigaki features beautiful tropical waters, coral reefs and an abundance of sea life including angelfish, manta rays, and butterfly fish.
For a much more detailed guide to diving in Japan, including the fascinating history of Japan's community of ama divers, read our Deep Dive in Japan.
Japan for Water Sports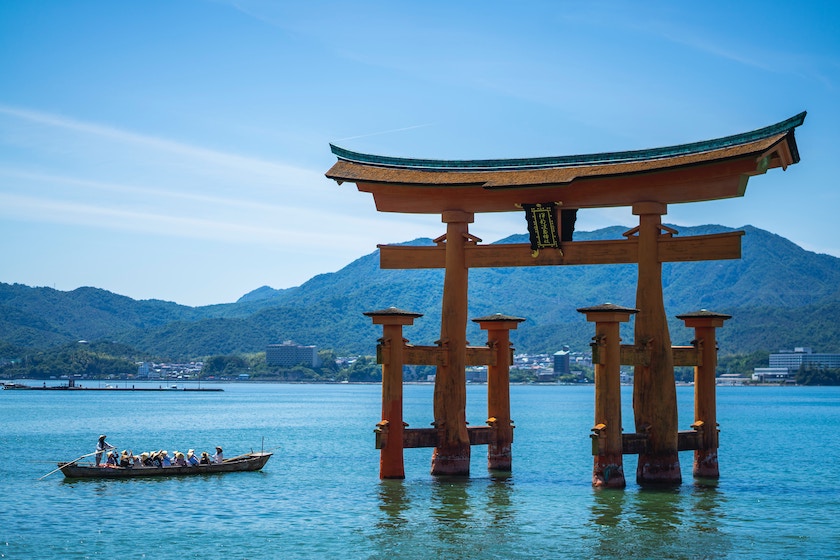 You might not be heading to the beach to just lie on the sand of course. As well as offering excellent surfing and diving opportunities, Japan is a great destination for water sports fans. While in Japan, you'll be able to enjoy activities such as:
Parasailing
This is when a person in a special harness is pulled behind a speedboat attached to a parachute-like canopy which allows them to soar over the water. This is a particularly popular activity in the subtropical Okinawa islands.
Sea Kayaking and Canoeing
This is a great way to enjoy the water and see the coastline. Try a short course in kayaking or canoeing in Miyajima, Hiroshima, near the iconic Itsukushima Shrine – one of Japan's most famous landmarks and a UNESCO World Heritage site. Also check out Lake Shikotsu in Hokkaido National Park for kayak tours.
Flyboard and Hoverboarding
Flyboards and hoverboards are a relatively new type of gadget that allows you to fly over the water.
Paddle Boarding
Sometimes known as SUP (Stand Up Paddle boarding), this water sport activity is also available in Miyajima Bay, Hiroshima, near the iconic Itsukushima Shrine. To get there from Hiroshima Station take the JR Sanyo line to Miyajimaguchi and jump on a ferry bound for Miyajima. You can enjoy the 10-minute journey on the JR Ferry for free with the Japan Rail Pass.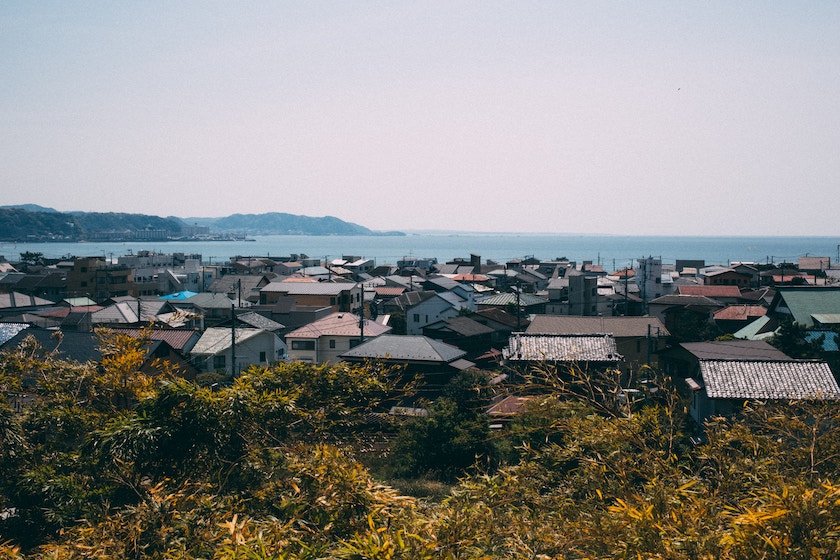 Windsurfing and Kitesurfing
Essentially surfing with a sail, windsurfing and kitesurfing are both popular activities in Japan. Try Yuigahama and Zaimokuza beaches in Kamakura, which boasts several popular beaches and is accessible from Tokyo and Yokohama, as good places for beginners and regulars to try surfing, windsurfing, kitesurfing and swimming, although they can get busy. The beaches are between 20-30 minutes' walk from JR Kamakura Station.
Yachting and Boating
With 21,000 miles of coastline, Japan has lots of opportunities to take a yacht, boat or tall ship out and experience life on the high seas. Yachts are particularly popular in the subtropical south of Japan.
Wakeboarding
A wakeboard is a shortboard with foot ties and is towed behind a speedboat, allowing a person to attempt mid-air and aerial stunts over the waves, once the boat reaches the optimum speed.
River Rafting
Japan is blessed with a number of magnificent rapids that are perfect for river rafting. Try the Yoshinogawa River which is a few hours from Osaka. The Tama River, just one hour from Tokyo, is another great spot and has more gentle rapids suitable for beginners and families. Minakami, which is two hours away from Tokyo, also has a reputation as being one of the best water sports destinations in Japan.
As well water sports, Japan is the perfect place for outdoor activities of all kinds. From hiking, climbing and cycling to meditation, martial arts, and wildlife experiences, Japan's diverse landscape lends itself to a huge variety of pastimes and activities. It's also world-famous for winter sports if you fancy a complete change of pace from lounging in the sun! Yes, Japan has incredible beaches and is an excellent water-sports destination, but it has so much more to offer too.
Don't Forget
Nowhere in Japan is more than 93 miles from the sea – so you're never far away from a beach or the water. Amazing!
One of the great things about Japan is the sheer amount to see and do. You can be relaxing on the beach one minute and, thanks to the Japan Rail Pass, you're just a train ride away from a big city, a temple or shrine, mountains, forests, rivers and more.
If your beach holiday is about rest, relaxation and re-connecting with nature, you might also be interested in Japan's National Parks.
Japan is also famous for the diversity of its wildlife – from whales, dolphins, sharks, turtles and more in its waters to just as amazing creatures on land. Read A Wildlife Tour of Japan to find out more.
Naturally with so many beaches and so many coastal villages, towns and cities, there is an incredible amount of delicious seafood to enjoy (as well as a huge range of other excellent Japanese dishes). Find out more in our Beginner's Guide to Japanese Food and Regional Dishes and our special guides to Sushi and Ramen.
Not only is Japan's world-renowned rail network the best way to get around this amazing country, but the JR Pass is the most cost effective way to use these trains. Why? Find out in, Is The Japan Rail Pass Worth It?