If you're visiting the beautiful country of Japan during the rainy season, it's helpful to know what to expect and how to get the best from your trip.
Table of contents:
Intro
When Is Japan's Rainy Season?
What causes Japan's Rainy Season?
What Is It Like To Travel During Rainy Season?
Best things to do in Japan's Rainy Season
Bonus Tips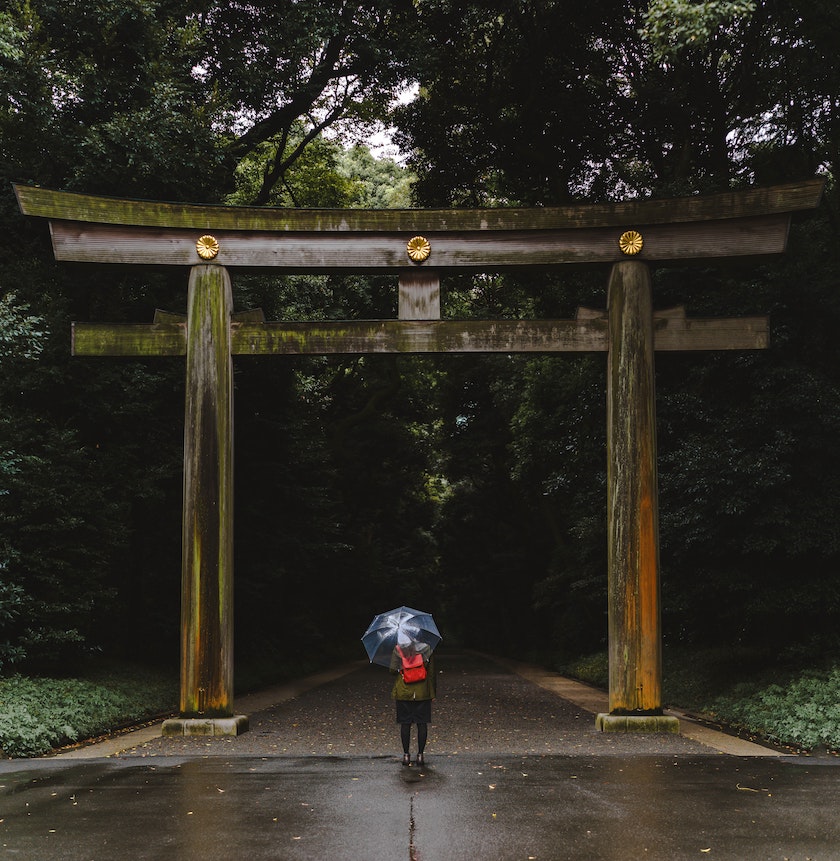 Intro
Rain, rain, go away, come back another day – or so the saying goes. No one likes the rain it seems, but it doesn't have to be a bad thing. Japan's rainy season is known as 'tsuya' or 'baiyu' (which translates as plum rain – not because of the shape of the raindrops, but because the fruit comes into season) and it takes place every year in the summer. However, many travel experts actually rate this as a brilliant time to visit the country, as long as you know what to expect, what it's like to travel during this season, and what precautions to take. We'll tell you all of this and much more in our guide to Japan's rainy season, as well as the top things to see and do around the country, and how best to get there using the excellent domestic rail network and your JR Pass. Most importantly, we'll explain why the rainy season is such an excellent time to visit. So, grab one of those transparent plastic umbrellas that Japan is famous for and let's go – we'll have you singing in the rain in no time!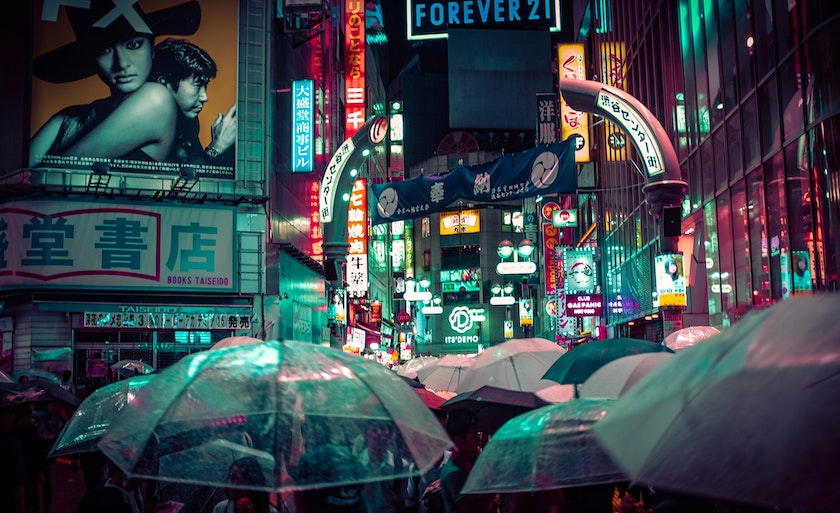 When Is Japan's Rainy Season?
The first thing you need to know is when Japan's rainy season actually takes place. The answer is the summer months, although it does vary slightly depending on which part of Japan you're visiting. The southernmost Japanese islands, such as Okinawa, are the first to experience the rainy season. It can sometimes begin as early as May in sub-tropical Okinawa. At the other end of the spectrum you have Tohoku. The rainy season tends to begin later here, usually June to July. Either way, you're looking at the months of May to July. Typically, June is the month most closely associated with the rainy season in Japan – so much so that it is referred to as 'minazuki' or 'the month of water'. However, it's actually an excellent month to visit Japan if you're not put off by the chance of rain. Why? June is much milder than July and August, so perfect for those of us who overheat easily, it's also quite cool at night, and crucially, because of its reputation as the month of water, it's much quieter than March to May when Japan is flooded with millions of visitors for cherry blossom season.
For a detailed guide to everything this month has to offer, read our guide to June in Japan: Why The Month of Water Is a Hidden Wonder. The only areas of Japan that aren't really affected by the rainy season is Hokkaido in the far north and the volcanic Ogasawara island way off in the south east pacific ocean. Hokkaido is becoming an increasingly popular area of Japan all year round thanks to its unique charm and snowy climate and the summer is a great time to visit if you're keen to avoid the rainy season.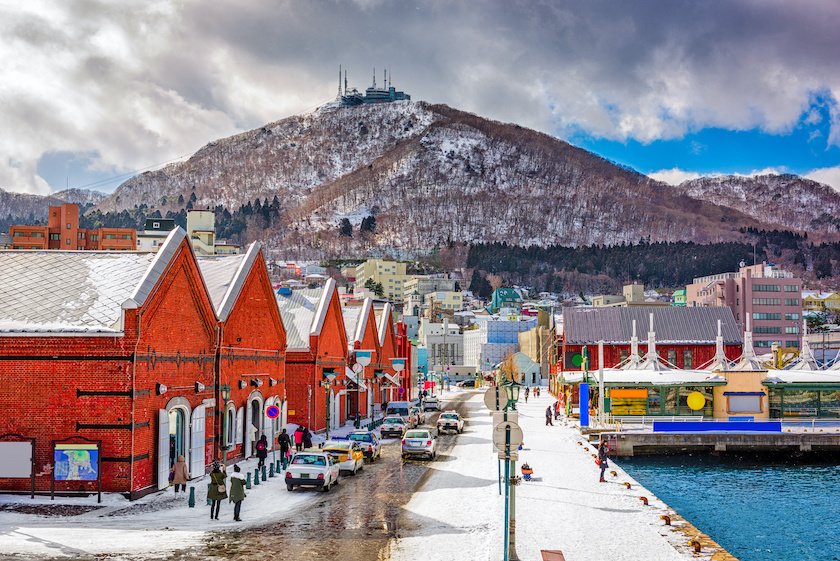 Hokkaido is particularly well known for its rugged and spectacular landscape, its naturally snowy climate, which makes it a favourite for skiing and snowboarding enthusiasts, and its regional food specialities, especially crab. We've put together a brilliant Hokkaido Five-Day Rail Itinerary for those interested in exploring Japan's northernmost island. It includes visits to Sapporo, Otaru, scenic Hakodate (pictured above), Asahikawa, and Noboribetsu Onsen. Hokkaido can be reached directly by rail from Tokyo, a one way trip takes roughly four hours using the Hokkaido Shinkansen. The trip is fully covered by the JRailPass.
As we've explained, while Japan's rainy season takes place in the summer it does depend on the region you're visiting. You can find out more about Japan's seasons generally and which one might be the best fit for you in our guide to Deciding When To Visit Japan: Weather and Seasons.
What causes Japan's rainy season?
Japan's rainy season is caused by warm bodies of air, from Southeast Asia and the North Pacific, colliding with colder air from the Sea of Okhotsk and China. Although the level of rain and the timing can vary year on year, and geographically by area of Japan, it can result in continuous heavy rain from mid-June to mid-July over the Japanese archipelago. Don't despair too much if you're planning to visit Japan during these months, however, as some days it hardly rains at all. It's certainly not the torrential typhoon conditions that some people imagine it to be. There are also quite a few positives to visiting Japan during 'tsuya, as we'll explore below.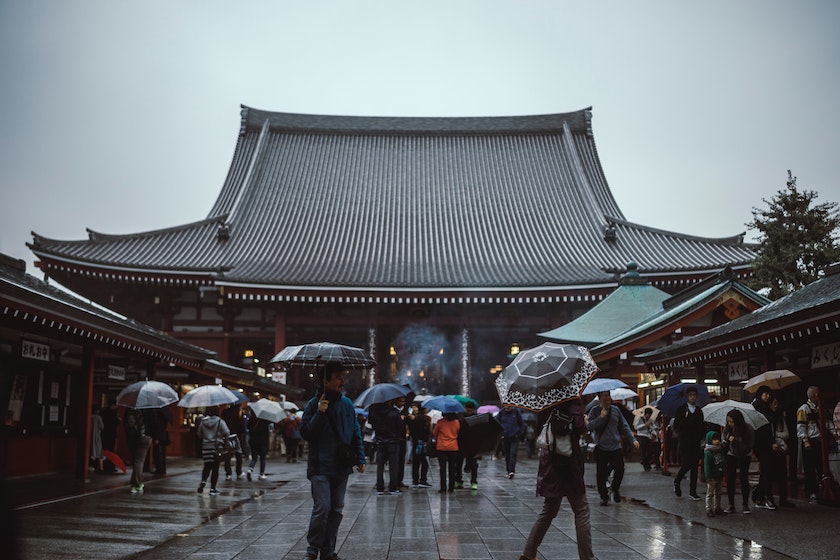 What Is It Like To Travel During Rainy Season?
If you are travelling to Japan during the rainy season and plan to visit one of the regions likely to have more rainfall, then you will want to know what it's like to travel during this period. As with anything in life, there are pluses and minuses. Let's start with the good stuff. Japan is beautiful whatever the weather and there's a case to be made that the country looks even more stunning in the rain. Certainly its incredible greenery, beautiful parks, and dense forests, look even more luscious after a splash of water. Similarly, when the rain clears, Japan's lakes shimmer with a magical quality and the air is clear and fresh, providing even better views of the country's towering and majestic mountains. Umbrellas – including those iconic transparent umbrellas – are plentiful and available everywhere you might need one.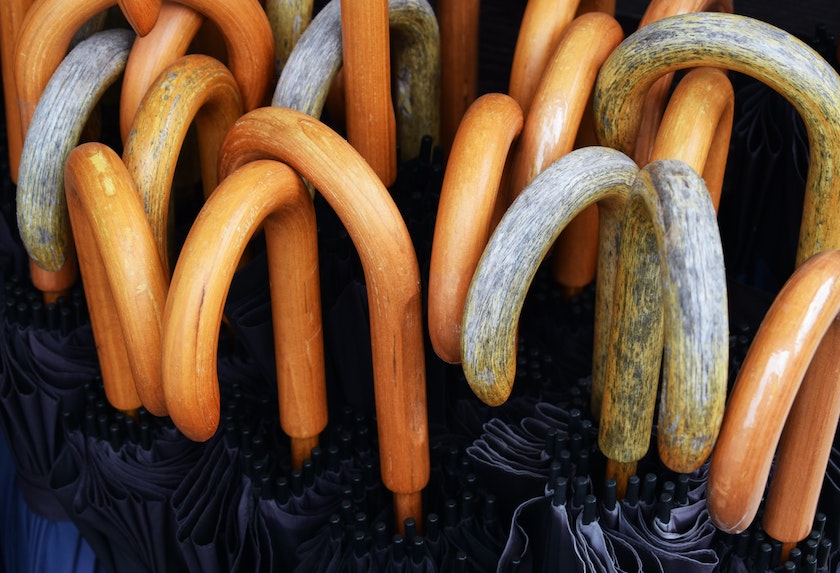 The very best mode of transport (and most cost-effective way to get around Japan), the country's domestic rail network is also sheltered. From train stations to carriages, you can sit back and relax without worrying about getting wet. You can also go straight from trains to subways and into shopping malls and many other indoor attractions – trains are not only a great way of getting around, but an excellent way to stay dry too. Other positives of visiting Japan during the rainy season are that it's generally quieter, which means fewer tourists and shorter queues for big attractions. And because it's considered low season, you might also save money thanks to better prices on accommodation and other travel expenses.
Of course, there are downsides to the rainy season too. The obvious one is the rain itself. The rain can also be accompanied by generally dark and gloomy weather and the occasional thunderstorm or downpour. However, perhaps the real hidden bugbear of the rainy season is the heat and humidity, which combined with the wet weather can be very uncomfortable and unpleasant. It's important to pack the right clothing, footwear, and accessories, seek shelter when the rain is heavy, and make sure your belongings are protected too. You'll also find a huge amount to see and do indoors in Japan, so you certainly won't be short of attractions or activities.
Best things to do in Japan's Rainy Season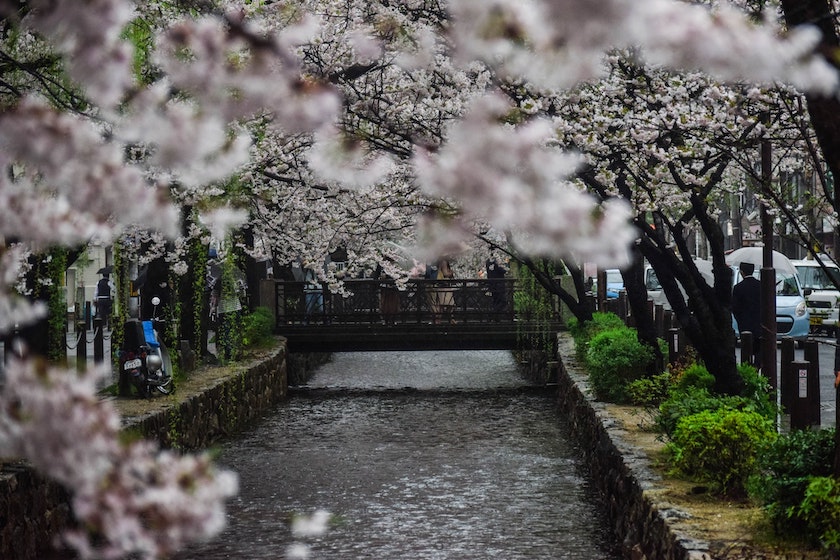 Enjoy green spaces at their greenest
The water of life truly brings out the vibrancy and colour of Japan's green spaces, parks, and flowers like never before. Hydrangea flowers are considered the symbol of Japan's rainy season (other than rain and umbrellas) and they are particularly beautiful at this time of year. There are also some spectacular places to find them such as Meigetsu Temple (nicknamed the Hydrangea Temple) in Kamakura, Hakusan Shrine in Tokyo which hosts the Bunkyo Hydrangea Festival each year, Minoyama Park in Saitama Prefecture, and Michinoku Hydrangea Garden in Iwate. Of course, it's not just hydrangeas. From city green spaces like the famous Yoyogi Park in Tokyo to Japan's wild and rugged National Parks and mysterious forests like Yakushima (the inspiration for Studio Ghibli's Princess Mononoke), everything is just a little bit greener and a little more luscious and beautiful in the rainy season, and that can't be a bad thing. From flower gazing to forest bathing, if you love the outdoors and don't mind getting wet a little, the rainy season might be for you.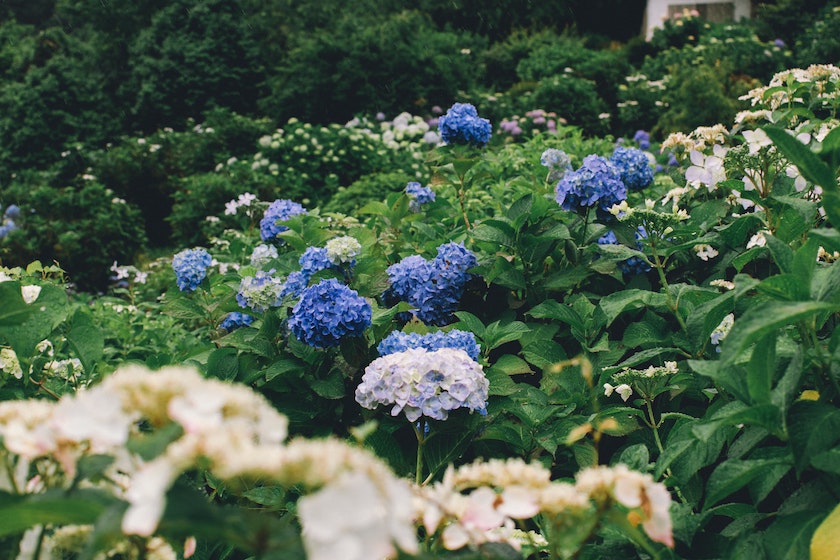 Indoor attractions
Japan has a huge amount to do indoors. From theme parks and arcades to world-class aquariums, vast shopping complexes, traditional sumo tournaments, historic kabuki theatre and relaxing onsen, there's always something to do in Japan, whatever the weather. If it does rain, why not head inside and enjoy some Kabuki – traditional and highly-stylised Japanese theatre that's as quintessentially Japanese as sumo wrestling and sushi. It's ideal for when the weather is less than perfect and you'll also get the chance to experience one of the country's most authentic and historic cultural displays. At Kabukiza in Ginza, Tokyo, you can even book a special five-hour performance which will give the weather plenty of time to improve. Ginza is also the perfect place for uptown shopping in Tokyo – another great way to stay dry.
Meanwhile, for fans of otaku and J-culture, you have huge theme parks such as the Tokyo Disney Resorts, as well as a vast array of computer game arcades and anime. Gaming, cosplay, anime, and manga are all huge pastimes in Japan – so much so that there is a word for the culture that surrounds it, Otaku. From the word for 'house', Otaku is often used interchangeably to describe geek culture, although what it actually means is someone so passionate about their hobbies or interests that they never leave the house. It was originally ascribed to manga and anime lovers, but it is regularly used to describe gamers too. And of course, one of the advantages of not leaving the house, is not getting wet! If you love gaming and don't like the rain, you might want to consider a trip to Sony's famous showroom in Tokyo, Club Sega and Sega Joypolis, or the famous Super Potato game store. For much more on computer games, anime, cosplay and more, read our guide to "Japan for gamers, ""Otaku, and J-Culture Fans":https://www.jrpass.com/blog/japan-for-gamers-otaku-and-j-culture-fans.
And remember if you're travelling around the inner districts of major cities such as Tokyo, Kyoto, Osaka, and others in search of indoor fun, then you may also need a prepaid travel card, such as ICOCA, PASMO or Suica, as well as your Japan Rail Pass.
Temples and Shrines
We don't know about you, but there's something especially beautiful about Japan's iconic temples, shrines, pagodas, and Torii gates in the rain. Even while it's raining and particularly after the rain clears, these traditional buildings look even more beguiling and mysterious. Traditional Kyoto – the cultural heart of Japan – with its Geishas with umbrellas walking the alleyways of Gion district, and its abundance of iconic temples and shrines, can look especially striking in the rain. Kyoto has so many incredible locations to visit, but Kinkakuji, the Golden Pavilion might just be the most famous. We would also recommend Tenryu-ji – an impressive temple complex in the Arashiyama district of Kyoto with a walkway through the famous bamboo grove, which looks particularly magical in the rain. Finally (and somewhat ironically considering its name means 'pure water temple'), Kiyomizu-Dera in Kyoto is a Buddhist temple and UNESCO World Heritage site with some of the best views in Japan – whether it's raining or not. For more on Japan's temples, shrines, and religious beliefs read our Spiritual Guide to Japan.
Food and Drink
When all else fails and the weather isn't behaving, there's something you can always rely on, both in life and definitely in Japan – great food and drink. A drop of rain is the ideal excuse to head indoors to one of the country's many amazing restaurants and treat yourself to some incredible food and drink. From famous dishes like sushi and ramen to lesser known regional specialties, Japan is a paradise for food lovers. It's also a great place to visit if you like a drink, with a thriving craft beer scene, world-renowned Japanese whisky, and its own homegrown favourites such as sake. Something that we recommend every lover of good food and drink (and every visitor to Japan) to try while in the country is the inimitable and unforgettable experience of eating and drinking at an Izakaya – the traditional Japanese equivalent of a 'gastropub'. Find out why it's so special in our guide to Why You Should Visit an Izakaya restaurant in Japan.
Explore the rest of Japan
It may seem obvious, but thanks to the country's expansive and super-efficient domestic rail network, high-speed trains, and your Japan Rail Pass, you don't need to stay where the rain is. Why not travel south to Okinawa after their rainy season is over, or north to Hokkaido where the rain isn't an issue? While we've talked about snowy Hokkaido's many charms above, Okinawa offers the other end of the weather spectrum, with white-sand beaches and a sub-tropical climate. It's the place to go to enjoy Japan's Best Beaches and Watersports, and a renowned location for diving enthusiasts too. Just read our Deep Dive into Japan to find out more. Thanks to the JR Pass all these locations and more are within reach. With your one ticket for all of Japan, and the country's rail network, you can stay ahead of the weather.
Bonus Tips for Rainy Season
Be prepared. The right clothing, footwear, and accessories are important during the rainy season. As well an umbrella, make sure you also pack a rain jacket or poncho, and wellies or boots with a good grip.
It's not just about staying dry. Remember to drink plenty of water if it's particularly humid, to stay hydrated, and use air-conditioning and/or a dehumidifier where available.
Trains and subways are a good way of staying out of the rain and stations often lead straight into major shopping complexes.
Don't get lost in the rain. Keep your phone connected to the internet at all times (and have directions at your fingertips) by purchasing a PocketWifi device.
Is the rainy season the right time for you to visit Japan? For more guidance on when to travel read our article that answers the question, When Is The Best Time To Visit Japan?