Table of contents:
Introduction to Aquariums in Japan
Japan's Sea Life
Best Aquariums in Japan
Creatures of the Deep
Don't Forget
Introduction to Aquariums in Japan
As an island nation and archipelago in East Asia, Japan's sea life is amongst the most spectacular, diverse, and unique anywhere in the world. As a result, the country's aquariums are also world-renowned attractions and fantastic places to see many of these incredible sea creatures up close. From whale sharks to giant spider crabs, jellyfish to luminous squid, Japan's aquariums offer the chance to view some of the biggest and most unusual sea creatures around – many of which you would be extremely hard pressed to see in the wild (unless you have your own personal submarine). We have assembled a list of the country's leading aquariums, what sea life to look out for, and how to get there with the JR Pass, during your once-in-a-lifetime holiday in Japan.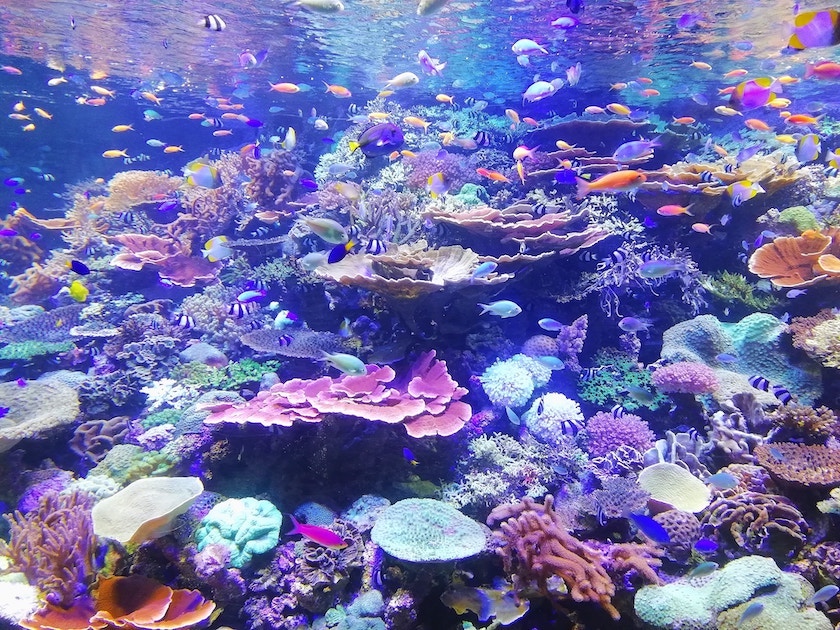 Japan's Sea Life
Why is Japan's sea life so spectacular? A lot of this has to do with its geographic location, the seas which surround it, and the variations in temperature from north to south. Japan is a stratovolcanic archipelago (a chain of islands scattered across a body of water) that extends over 3,000 km. While Japan consists of thousands of islands – an amazing 6,982 to be exact – the country is largely made up of five main island areas – Hokkaido, Honshu, Kyushu, Shikoku and Okinawa. Each island has its own unique fauna, flora and coastal ecosystems for you to discover. Your JRailPass will allow you to travel nationwide via Japan's rail network and explore all of the main islands as well as the seas that surround them. That's another of the very special things about Japan (and another big reason for its incredible sea life and the biodiversity of its waters) – the country is surrounded by several different seas, from the Okhotsk Sea in the north, the Pacific Ocean to the east, the East China Sea to the southeast, the Korean strait and the Sea of Japan, an inland sea, to the west. In many ways, it's no wonder Japan's aquariums are so impressive when they have so many diverse seas from which to gather such amazing sea life. 
Best Aquariums in Japan
Japan's aquariums are modern, welcoming, family-friendly and packed with the most spectacular sea life. Let's take a look at the very best from across Japan, and how to get there. 
Osaka Kaiyukan Aquarium
Featuring more than 11 floors, this stunning aquarium is a major attraction in Osaka and one of the best in the country (and therefore the world). There are 30-metre pools filled with the wonders of the Pacific and the other seas surrounding Japan, including whale sharks, seals, otters, fish of all varieties and much more. There are plentiful touch-pools too so you can get hands-on, and a fixed schedule of shows and events throughout the day. This huge building is located at Osaka Port – just outside the Osakako Station. Osaka is one of Japan's biggest cities and well worth a visit in itself. In particular, Osaka has a reputation as 'Japan's Kitchen', for its incredible restaurants. You can find out more and a few of our top recommendations by reading our introductory Guide to Japanese Food and Regional Dishes or our article about Japan's Michelin-starred Restaurants. Osaka is easy to reach with the Japan Rail Pass. Simply take either the Hikari or Kodama trains on the Tokaido Shinkansen lines to get from Tokyo to Osaka in 3-4 hours. 
Okinawa Churaumi Aquarium
Widely regarded as Japan's No.1 aquarium and one of the best in the entire world, Okinawa Churaumi is absolutely vast, and features displays that showcase the subtropical region's incredible sea life, flora and fauna. It's huge main tank is home to several whale sharks and is one of the biggest in the world – it's definitely the aquarium's main attraction – but there is a huge amount to see elsewhere across the park too, including bioluminescent fish, living coral, interactive animal shows, museums, exhibitions, and more. Located to the north of Okinawa, alongside a truly stunning coastline of white-sand beaches, crystal blue waters and mangrove forests, visiting Okinawa Churaumi Aquarium is the kind of day that will help make your holiday to Japan extra special.  
Tokyo Sumida Aquarium
One of the newest additions on our list, this is an extremely impressive aquarium in a unique location – on the 5th and 6th floor of the Tokyo Skytree. Its tanks are dedicated to celebrating the diverse sea life from nearby Tokyo Bay and it also boasts a 350 thousand litre open penguin pool.  
Umitamago Aquarium
A visually stunning aquarium with striking architecture reminiscent of a contemporary art museum, with 100 water tanks, dolphins and sea lion shows, Umitamago can be found near the onsen town of Beppu and the Takasakiyama Monkey Park. There are hourly shuttle buses to the aquarium from Beppu Station.  
Aquamarine Fukushima
One of Japan's largest and most spectacular aquariums, Aquamarine Fukushima features a unique triangular underwater tunnel design and stunning exhibitions of river, lake and ocean life from Fukushima Prefecture. You'll find the aquarium in Iwaki City and there are buses running from Yumoto Station. 
Nagoya Public Aquarium
Located in two separate buildings at the Port of Nagoya, this large and impressive aquarium includes sea life from the five aquatic regions between Japan and the Antarctic Ocean, including beluga whales, orca, dolphins and much more. Nagoya Port is a short walk from Nagoyako Station, which can be reached by taking the train from Nagoya Station to Kanayama Station and the Meiko Subway line.  
Kyoto Aquarium
A modern aquarium that regularly caters for educational trips for the city's schoolchildren, Kyoto Aquarium is an enjoyable day out with information about the region's sea life and local rivers. You'll find the aquarium a 20-minute walk west from Kyoto station. Kyoto, of course, is known as the 'cultural heart' of Japan and is one the cities we recommend everyone visits during a holiday to this amazing country. From the temples and shrines to the Gion district and its geishas, Kyoto is a chance to reconnect with historic Japan. It's also easy to get to using the JR Pass and the Shinkansen from Tokyo and other major cities.   
Shinagawa Aquarium Tokyo
Famous for its 20-metre underwater tunnel and spectacular dolphin shows, this is an aqua park designed for entertainment. You'll find it in a hotel complex in Shinagawa, Tokyo, just outside JR Shinagawa Station. As well as this aquarium and Sumida (mentioned above in our list) you'll also find several other aquatic attractions in Tokyo, including Sunshine Aquarium, Tokyo Sealife Aquarium and Maxell Aqua Stadium. Remember if you're travelling around inner Tokyo, or other major cities in Japan such as Kyoto or Osaka, you'll need a prepaid travel card, such as ICOCA, PASMO or Suica, as well as your Japan Rail Pass. 
Toba Aquarium
This large-scale aquarium features 12 zones dedicated to sea life from all corners of the world and is located on the Shima Peninsula. Toba is also famous as being the home of one of the largest communities of Japan's famous 'ama' freedivers.  Ama literally means 'women of the sea' and refers to an incredible community of Japanese women from coastal areas who free-dive for oysters, pearls, abalone, seaweed and shellfish, traditionally wearing nothing but a loin cloth and goggles. No oxygen, no diving equipment – just skill, determination, hard work and tradition. Around half of Japan's remaining ama population can be found in the coastal city of Toba and the surrounding islands of Tōshijima and Kamishima, and you can visit these special communities using your Japan Rail Pass. From Tokyo, take the JR Tokaido Shinkansen Line to Nagoya, using either the Hikari or Kodama trains. Continue through to Iseshi Station before arriving at Toba. As well as the aquarium, you'll also find Grand Ise Shrine nearby as well as many other attractions including Miyamoto Pearl Island, Ise Jingu Shrine, Ishigami-san – the women's shrine – Toba Sea Folk Museum, and more. You can read much more about Toba and its ama divers in our Deep Dive Into Japan guide
Hakkeijima Sea Paradise
This aquatic amusement park-on-an-island south of downtown Yokohama was built specifically to celebrate the paradise that is Japan's sea life and coastal regions. With all manner of sea life, including walruses, polar bears, whale sharks, popular dolphin shows, restaurants, exhibitions, events and activities, it's a very family friendly day out with lots of interactive elements.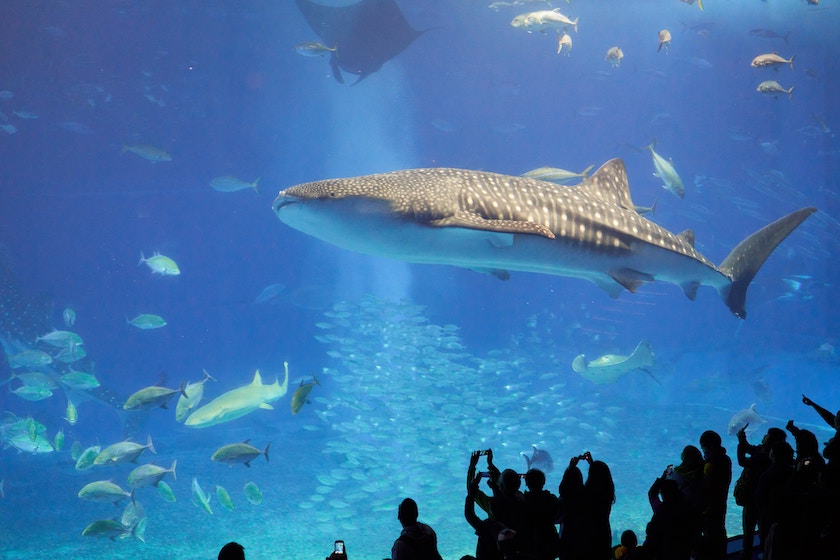 Creatures of the Deep
The seas surrounding Japan contain some of the world's most impressive and unique life thanks to the country's incredible biodiversity. From sea turtles, cuttlefish, hammerhead sharks and dolphins, to mobula and eagle rays, moray eels, sea snakes, barracuda, pygmy seahorses, crabs, shrimps, tuna, salamanders, nudibranchs and much more, there's an amazing amount to see. Aquariums are the ideal way to learn more about these amazing creatures, both big and small, and observe them up close. But just what sea life might you encounter in Japan's waters (both in aquariums and in the wild)? Here's a few selected highlights.
Japanese Giant Spider Crab 
Easily one of the most spectacular (and arguably freakiest) of Japan's sea creatures is the Japanese giant spider crab. This giant of the seas is huge and a truly remarkable sight. It's the biggest arthropod in the world with a leg span of 3.5 metres. Yikes! However, they live at depths of 50-300 metres below the sea, so you're unlikely to see one in the wild (thankfully) – making these beasts the perfect creatures to seek out on your aquarium adventure. Try Osaka's Kaiyukan Aquarium in particular. You can reach Osaka from Tokyo by using your JRailPass and taking the Tokaido Shinkansen.
Whales
Humpback whales, dolphins, sperm whales and pilot whales are all regularly spotted in the waters around Japan. The best time to see whales around Shikoku is February and March. They can also be seen earlier in the year, from December onwards, in the Ogasawara Islands. If you're particularly lucky you may even spot more rare types such as Baird's beaked whales, Bryde's whales, Cuvier's beaked whales, and Short-finned pilot whales.
Sharks
There are several different varieties of shark in Japan's waters and you'll be able to see some of them in the aquariums profiled above and many more in the seas. One of the most famous and iconic varieties is the Hammerhead shark, which can be seen swimming in huge schools of 100 or more in the waters off Yonaguni Island, Okinawa. 
Dolphins
The Izu Islands, in particular Mikurajima Bay, are home to a large dolphin population. Is swimming with dolphins on your 'bucket list'? Well, this is the place to go.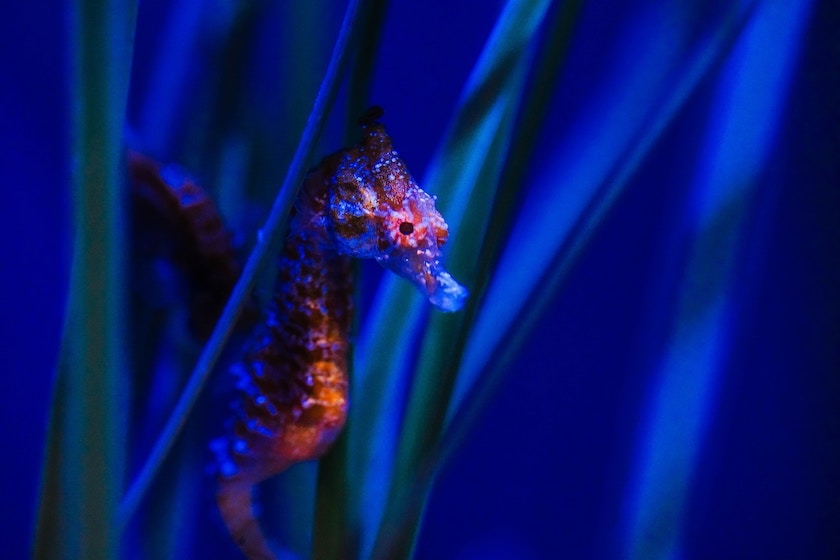 Rays
Ishigaki Island is Japan's go-to location for the world famous 'manta scramble', although technically Japan's manta rays are not manta at all, but mobula rays – a type of devil ray. 
Seahorses
Some of Japan's sea creatures are huge, some are microscopic, and some are in-between. Pygmy seahorses are certainly on the smaller side, but they are undeniably mesmerizing to look at. 
Don't Forget
Of course, it's not just amazing sea life that Japan has to offer, the wildlife across the country is just as unmissable.
Read A Wildlife Tour of Japan for a comprehensive guide to
Japan's 6,000+ islands don't just offer incredible sea life, they also feature rugged and mountainous coastlines, spectacular cliffs, white-sand beaches and crystal blue waters.
Among other things, this means that Japan is a hidden gem for diving enthusiasts, and it is considered to be one of the best places in the world for snorkelling, wreck diving and more. You can find out why in A Deep Dive into Japan.
It's also great for watersports too. And if you'd rather kick back and relax, there are plenty of chilled out beaches. Find out everything you need to know about both in our guide to Japan's Best Beaches and Watersports Destinations.