Escape from reality in the enchanted forests of Japan's Yakushima Island – the real-life inspiration for Studio Ghibli's fantasy masterpiece Princess Mononoke.
Table of Contents:
Intro
A Brief Guide to Princess Mononoke and Studio Ghibli
Visit Yakushima
Explore Shiratani Unsuikyo Ravine – the real-life Mononoke forest
Meet Jōmonsugi – one of the world's oldest trees
Kagoshima – the gateway to southern Japan
Bonus Tips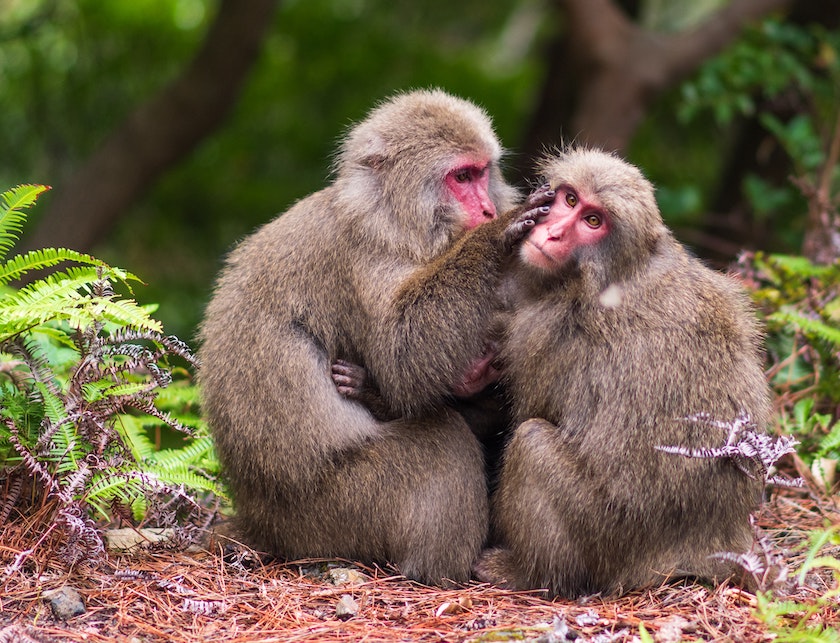 Intro
The island of Yakushima in southern Japan is home to a fairy-tale forest so magical that it inspired Hayao Miyazaki, the genius behind Studio Ghibli, to include it in one of his animated masterpieces, Princess Mononoke. This incredible forest can be found in Shiratani Unsuikyo Ravine on Yakushima and is the perfect place to escape reality and find yourself. Yakushima has been designated a UNESCO World Heritage site due to its wondrous, unspoilt landscape, ancient trees, and endangered wildlife. Whether you're a Ghibli fan in search of a real-life fairy-tale or you're looking for adventure and excitement off the beaten path, whether you need to detox the soul by returning to nature and indulging in a spot of 'forest bathing', or if you want a holiday like no other, Yakushima could be your fantasy come true. We'll tell you all about the island, how to get there with the JR Pass, and how to get the most from your enchanted forest adventure.
A Brief Guide to Princess Mononoke and Studio Ghibli
Princess Mononoke was a 1997 animated feature film by Studio Ghibli and a huge global success story. It was the highest grossing film of the year in Japan and held the all-time box office record in the country for four years until another Miyazaki film overtook it. Mononoke was also distributed in North America by Miramax, whose executives famously had a Katana sword delivered to them with a note saying 'No Cuts' from Studio Ghibli. The film tells the story of a struggle between the gods of a forest and the humans who want to exploit its resources. The 'Princess Mononoke' of the title is a human girl raised by a wolf goddess who has become a protector of the forest. The forest, which was reportedly inspired by Shiratani Unsuikyo on Yakushima, is lush and dangerous and the home of the Forest Spirit. Princess Mononoke remains one of Studio Ghibli's most beloved films and it's easy to understand why fans would want to take a pilgrimage to Yakushima. Like many of Studio Ghibli's films, Mononoke draws heavily on Japanese mythology and folklore. You can find out more about this in our guide to the Folktales of Japan.
Studio Ghibli was founded in Tokyo on 15 June 1985 by directors Hayao Miyazaki and Isao Takahata, and producer Toshio Suzuki. The company was launched after the success of the 1984 animated film Nausicaä of the Valley of the Wind, which was written and directed by Miyazaki. It is often thought of as a Studio Ghibli film, but in reality it was produced and distributed by a different company. There are several stories around the name of the studio and the world 'Ghibli'. One explanation is that it comes from the Libyan-Arabic word for hot desert wind because the studio was determined to 'blow a new wind through the film industry'. Another is that it refers to an aircraft – the Caproni Ca.308 Ghibli. The studio's mascot is a 'Totoro' – a large furry deity from one of its most famous films.
Since the studio's formation, it has created some of the highest grossing and most award-winning anime films of all time, including the aforementioned Princess Mononoke, which we've discussed above, as well as Spirited Away, My Neighbour Totoro, Kiki's Delivery Service, Howl's Moving Castle, and Ponyo on the Cliff By The Sea. In 2001, the Ghibli Museum opened in Mitaka, Tokyo, marking a new era for the studio. More on this below. Since then the studio has continued to produce award-winning films although its output has slowed down in recent years due to the retirement of Miyazaki in 2014. However, Miyazaki recently announced that he was coming out of retirement for one final film, How Do You Live? which will be released in the near future. You can find out more about another real-life location from a Ghibli film, Tomonoura, which partly inspired the town in Ponyo. Meanwhile, if J-Culture is your passion, you can find out more about Japan's love of gaming, anime, cosplay and more in Japan for Otaku (the Japanese word for geek culture).
Visit Yakushima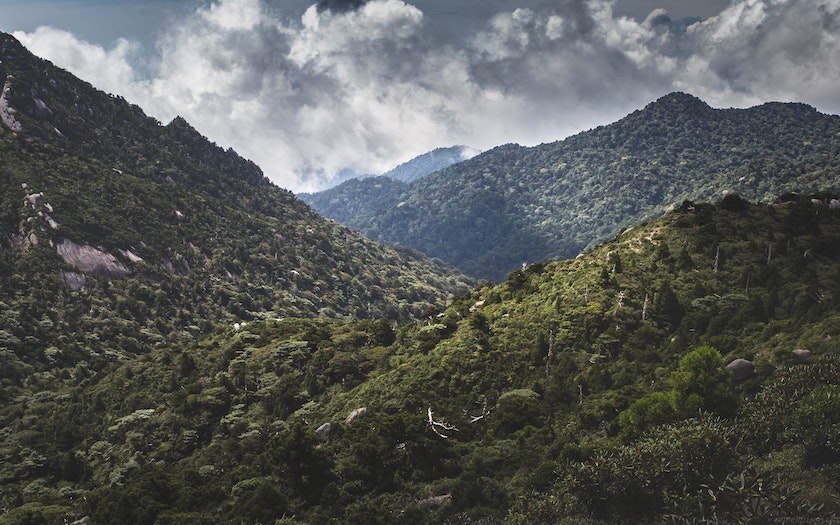 Yakushima is a small, almost round island in the East China Sea, just south of the Kyushu mainland. Its semi-tropical waters are filled with tropical fish and corals while its beaches attract endangered loggerhead turtles to lay their eggs in the summer months. The rest of this 200 square mile island is extremely mountainous and heavily forested. These fairy-tale forests, the most famous of which can be found in Shiratani Unsuikyo ravine, are home to Japanese cedar trees known as Yakusagi. The island is also dotted with geothermal hot springs (onsen), meaning that you can relax in a hot bath after climbing and hiking around this incredible landscape. You can reach the island from Kagoshima on the Kyushu mainland via two daily ferries, one docking at the port town of Miyanoura and the other at Anbo. To reach Kagoshima using the JRailPass, travel from Osaka or Hiroshima with the Sanyo Shinkansen to Hakata Station and then transfer to the Kyushu Shinkansen to arrive at Kagoshimachuo Station, the city's main station. Once you've reached Yakushima via ferry, there is a huge amount to see and do, from Princess Mononoke's forest to finding one of the world's oldest trees. As we've mentioned, there are also hot springs (onsen) to relax in and the island is famous for its climbing and walking trails. You can also go nature spotting and then return to one of the port towns or beaches for some local seafood.
Yakushima is just one of Japan's many stunning National Parks. The country has an amazing 34 from the north to the south and east to west, across the thousands of islands that make up the archipelago of Japan. You can find out more and read our recommendations in Japan's National Parks.
Explore Shiratani Unsuikyo Ravine – the real-life Mononoke forest
Shiratani Unsuikyo ravine is a real-life enchanted forest and the inspiration for the magical woodland at the centre of Princess Mononoke's plot. More than 1,000 acres of dense forest, atmospheric mist, lime-green moss, babbling streams, ancient, gnarled wood, and snaking vines, Shiratani is hauntingly beautiful and perhaps more than anywhere else in the country, truly brings to life Japan's belief in the natural world as a gateway to the spirit realm and the domain of kami and gods. There are numerous walking, hiking, and climbing trails through the forest if you're the energetic type, ranging from beginners walks through to expert level, including a three-day trek across the island's interior which includes many Yakushima landmarks such as Wilson's Stump (belonging to a long-dead cedar tree). There are also several bridges across the valley and gorge and pathways to follow. You can even trek right up the mountainous Miyanoura for a spectacular and high-altitude vantage point over Princess Mononoke's forest.
Yakushima's forests are filled with wildlife from Yaku deer (pictured below) to the famous Japanese macaque. Japan is known for its amazing and diverse wildlife and the island is an unmissable opportunity to see unique animals in their natural habitat. You can find out more in A Wildlife Tour of Japan.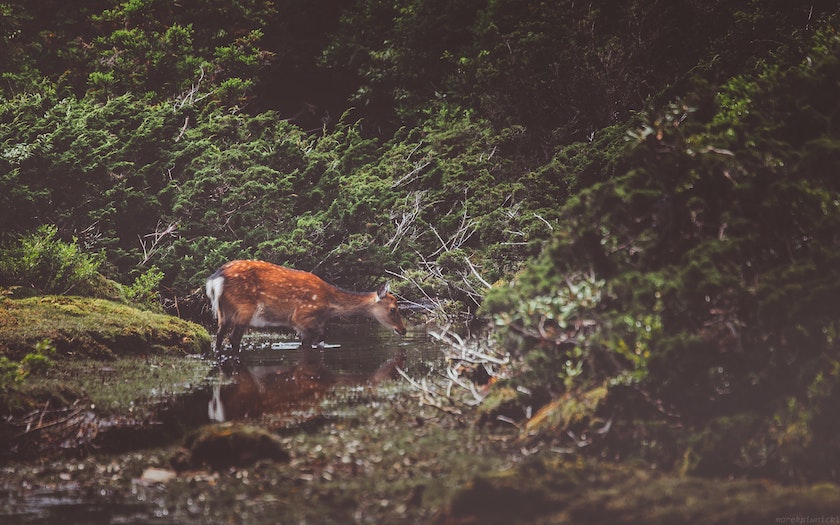 Shiratani Unsuikyo is the perfect place for the Japanese art of Forest Bathing. No, this isn't taking a bath in the forest, although you can do that in Japan. Forest bathing, or 'shinrin-yoku', is actually about basking in the wonder, natural beauty, and majesty of forests. You do this by simply visiting, experiencing, and appreciating them, which is an incredibly easy way to detox the mind, body and spirit. Flower viewing and forest bathing are closely associated with Shinto and Buddhist beliefs about the fleeting beauty of life and how it must be cherished. Shinto, in particular, also believes in forest spirits (kami), as well as deities and spirits in all things, including animals and even rocks, so for them forest bathing is about more than nature, it's deeply spiritual. Forest bathing shares many principles with hanami or 'flower viewing' which has become synonymous with cherry blossom (sakura) season in Japan, even though it originated with plum (ume) blossom (also known as the Japanese Apricot tree). You can find out more about Forest Bathing in our guide to Detox in Japan, while we explore the country's spiritual heritage in our Spiritual Tour of Japan.
Meet Jōmonsugi – one of the world's oldest trees
Yakushima is home to a remarkable species of long-lived, cedar-like trees called cryptomeria japonica, which are endemic to Japan and more commonly known as sugi. Yaku sugi are at least 1,000 years old while jomon sugi are more than 2,000. In fact, there is a famous Jomon Sugi on Yakushima that may be as old as 7,400 years old – making it one of the oldest on the planet. There is a specific walking trail to reach Jomonsugi and it is 6.7 miles – so definitely not for the faint of heart. Seeing such an amazing living entity with your own eyes would truly be the mark of the holiday of a lifetime however and it is yet another reason why Yakushima is such a special destination. If you've a love of trees and nature, you might also be interested in reading All About Ecotourism and why Japan is a great place to visit for those looking to travel ethically and responsibly.
Kagoshima – the gateway to southern Japan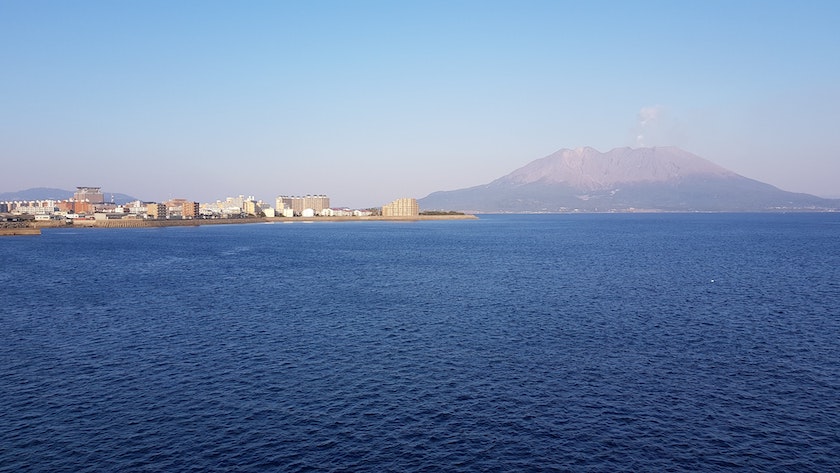 The southern island of Kyushu is home to lots of secret spots that international travellers aren't aware of. As a result, it can be a great place to visit if you're interested in seeing the 'real' Japan and avoiding crowds of tourists. Among these hidden gems is the city of Kagoshima which, as we mentioned above, you can travel to in order to reach Yakushima. Kagoshima is a lovely destination in itself and acts as a gateway to southern Japan generally. This sunny and friendly city is a genuinely beguiling destination hidden away at the southern end of the Japanese mainland. Not only is there a warm welcome waiting for those visiting Kagoshima, there's also lots of eye-catching scenery and fascinating history for visitors to take in. Whether you want the thrill of hiking up a volcano or the gentle tranquillity of gardens and parks, this vibrant city on the island of Kyushu is sure to look after you. Here's our recommendations for things to do during a visit to Kagoshima:

Sakurajima
A dynamic backdrop to the city, Sakurajima is an active volcano, complete with smoking craters, that sits across Kagoshima Bay.
Sengan-en Gardens
Dating back to the city's feudal days under the lords of the Shimazu Clan, the Sengan-en gardens showcase what the city was like at the height of its power.
Shiroyama Park
This pleasant park on the slopes of Mount Shiroyama enjoys a great vantage point at Shiroyama Observatory where you can see across the city out to Sakurajima and Kagoshima Bay.
Reimeikan Museum
Sitting within the ruins of Kagoshima Castle, the museum will take you through the history of Kagoshima.
Terukuni Shrine
Terukuni Shrine is best identified by its white torii gate that marks its entrance and the unconventional tree that has been pruned into the shape of a flying bird. You can find out more about Japan's iconic Torii gates and their significance to the country, as well as a guide to the most beautiful across Japan, in our Ultimate Torii Gate Tour.
Kagoshima City Aquarium
Located by the ferry terminal, this huge, family friendly aquarium features seven floors of exhibitions. Japan is home to some of the world's greatest and most spectacular aquariums. Read our guide to the Top Ten across Japan and how to reach them in Splash! Japan's Best Aquariums.
If you want to reach Kagoshima with a Japan Rail Pass, you're in luck. To get to Kagoshima, travel from Osaka or Hiroshima with the Sanyo Shinkansen to Hakata Station and then transfer to the Kyushu Shinkansen to arrive at Kagoshimachuo Station, the city's main station. It will take you just under 5 hours to get to Kagoshima by train from Osaka.
Another hidden gem (and arguably even more underrated than Kagoshima) is Kumamoto, which is located in the centre of Kyushu. A lovely city filled with culture and spiritual city, Kumamoto is well worth a visit. The most famous landmark in the city is Kumamoto Castle, which dates back to the 1600s and is considered one of Japan's most impressive castles. Other highlights include Suizenji-jojuen gardens, Hanaokayama viewing point, hiking up nearby Mount Kinbō, and visiting the beautiful Honmyo-ji temple. Find out everything you need to know by reading Kumamoto – A Quiet Gem on the Coast of Kyushu.
Bonus Tips
Reaching Kyushu, Japan's southernmost island, is easy with the JR Pass and the Kyushu Shinkansen. Find out more about this service in What Is The Kyushu Shinkansen?
Yakushima, like much of Japan, is known for its seafood. Discover Kyushu's favourite dishes in our Guide to Japanese Food and Regional Specialities.
It rains regularly on Yakushima (an estimated 10,000mm a year) despite the warm temperatures so be sure to dress accordingly with footwear to match, especially if you're going walking or hiking.
If you're planning on exploring off the beaten track, you will want to stay connected just in case you need directions, language tips, or other help, so be sure to invest in a PocketWifi device to avoid any unexpected data charges.
Japan is full of remote places to explore if you're in the mood for adventure. Read our guide to The Most Remote Places in Japan.
The islands of Kyushu and Okinawa in southern Japan are also famous for their beautiful beaches, water sports and diving spots. Find out more in Japan's Best Beaches and Water sports Destinations.
How can you plan the perfect trip to Kyushu and Yakushima during the lockdown? Read our guide to Social Distancing: Six Ways To Plan Your Trip To Japan Long-Term.