Table of contents:
Japan Weather
Japan Seasons 

People travel to Japan for all sorts of reasons, from trips specific to business, to a holiday focused on touring the city. The intent behind a trip can be greatly affected by and dependent on the season. If you are traveling to enjoy the craft beers of Japan you aren't necessarily worried about or trying to avoid the snow. If you are visiting Japan to see Sakura cherry blossoms in full bloom, you are going to want to go when they are in season. Knowing what the weather looks like month-to-month can help make for more rational travel plans.


Japan Weather

Just like most places, the weather varies throughout the year in Japan. Regardless of whether you are traveling to test out all of Japan's Michelin-starred restaurants, trying to visit Japan's National Parks, or simply trying to avoid a rainy season, having an understanding of the weather that is typical in Japan can help a traveler decide when the best time to go is.
While defining the best time to visit Japan in relation to weather and events changes based on the region, this article will use Tokyo as a basis since it is not only a popular destination within Japan, but it is also considered one of the most popular international tourist destinations. For a change of climate — or to get out of the city — it is always easy to take advantage of the Japan Rail Pass and get from Tokyo to many other popular sites in all corners of the country.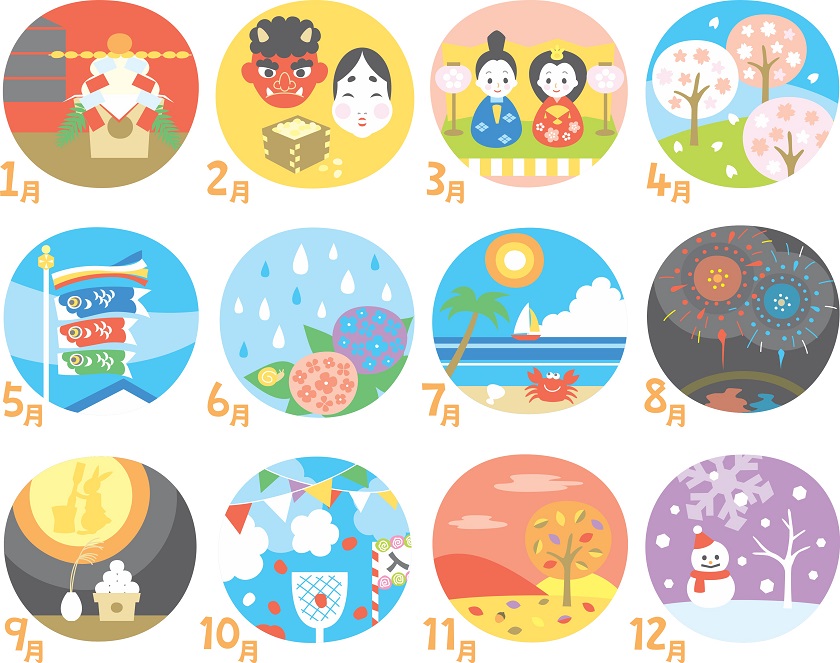 Japan Weather in January
During January, Japan typically has snow covering much of the country. According to Holiday Weather, in Tokyo, January is generally the coldest month during the year with temperatures soaring below 36°F. The article goes on to say that you can expect rain, some sunshine, light breezes, and low humidity. If you choose to travel during this time it would be good to bring warm clothing (i.e. coat, gloves, hats, pants, sweaters, etc.).
Japan Weather in February
In February, the weather doesn't vary much from January. You can expect the temperature to range between 35°F to 48°F and you can expect snow. According to Weather Atlas, in Tokyo, the snow will begin to clear out around mid-February, but you can also expect there to be more rainfall than in January. The article narrates that you can expect chilly winds, but some mild warmth from the sun during the day. When traveling during February it is still recommended to dress for the cold.
Japan Weather in March
The weather begins to warm up in Japan during March. WeatherSpark explains in Tokyo that there is about an 8°F increase from February and also indicates that typically March has increased cloud cover, but also an increase in the amount of sun. The amount of rainfall for the month decreases, but how often it occurs increases. If you are traveling in March, it is a good idea to still pack layers because in the morning and during the night it can become as cold as in colder months.
Japan Weather in April
April brings warmer temperatures than March averaging 57°F with highs of 62°F in Tokyo, as well as being the "third sunniest month of the year". Although the temperature is higher in April than in previous months, it is common to be fairly overcast. In April, Japan can start to get humid. While you may not need a jacket due to temperature, it may be good to pack a raincoat because in April you can expect afternoon showers.
Japan Weather in May
In May, the weather in Tokyo starts to look a little bit more like summer. The temperature in May rarely falls below 61°F and sometimes goes as high as 81°F. WeatherSpark goes on to say that cloud cover decreases in May from April, as well as an increase in the amount of sun per day. Typically this is when the weather is not too hot, but also not too cold. May is oftentimes one of the wettest months in Japan so pack for warm weather, but bring an umbrella.
Japan Weather in June
June brings in high heat and humidity in Tokyo. The temperature in June ranges between 65°F and 88°F and June is typically visited by the tsuyu (rainy season). Since June marks the beginning of the rainy season, you will benefit greatly from clothing that dries quickly, or keeping a rain poncho nearby.
Japan Weather in July
The weather in Tokyo during July is high in temperature and moderately rainy since it falls under the rainy season as well. Although it is not generally as rainy as June, it is still good to think about bringing ways to stay dry. Although it may not be necessary since temperatures in July can get as high as 93°F in Japan.
Japan Weather in August
With the temperature spreading throughout the 80's(°F), August in Tokyo marks the end of the summer months but during this month the percentage of humidity is fairly high. Travelers can expect clear skies and loads of sunshine with bits of rain throughout the month. Dress for warm weather in Japan during August.
Japan Weather in September
In Tokyo, September can mark the decline of temperature for the year. Trails begin to close and the month is scattered in showers. Although the month is fairly warm throughout, September "ushers in fall" in Japan. You can also expect a decrease in the amount of sunlight throughout September days. If you are traveling to Japan in September it is a good idea to pack a variety of clothes for warm and cold weather.
Japan Weather in October
While the first half of October in Tokyo is similar to September, the days get cooler and cooler as time goes on. The amount of sun decreases by the month's end and so does the humidity. There is still a fair amount of rain and, according to USA Today, the temperature drops to the 60's(°F) and down to the 50's(°F) at night. This is the time of year to start packing warm.
Japan Weather in November
November in Tokyo is welcomed by the warm colors of fall and continually falling temperatures. The average temperature is typically in the mid to lower 50's(°F) and there is a considerable amount less precipitation. The amount of daylight decreases in November, and it begins to get a bit windier. If you are traveling to Japan in November you should pack for the cold.
Japan Weather in December
In Tokyo, December marks the beginning of the winter season. The average temperature drops down to 45°F and despite the lack of sunlight and warmth, there is a minimal amount of rain. During these months it is smart to pack a coat if you are traveling to Japan since there is a possibility of snow.


Japan Seasons

There are national holidays, events, and hobbies that either occur in specific seasons, or depend on the weather in specific seasons. In order to plan best for your vacation in Japan, you must understand what the year entails by season, but also specific to the city — or ward — that you intend to travel to. To elaborate, although winter in Tokyo may have snow, other regions in Japan may not even be cold. This is the same with how summer in Kyoto is hot and humid, while the mountains can still have snow on them. Each season in Japan is different based on the location within the country. For this reason alone, it pays to rent your own portable Wi-Fi router to stay connected as you travel and explore Japan, keeping you abreast of the forecast and local conditions in any part of the country.
Spring in Japan
March, April, and May make up Spring in Japan. Since the temperatures are beginning to rise and the plants are beginning to bloom, springtime in Japan is when the Cherry Blossom Festival occurs. After tourism slows down in the winter, springtime in Japan marks the beginning of the busy touring season because the end of April marks another large event in Japan called Golden Week. April also marks the end of the ski season in Japan, so if you are traveling to Japanese snow resorts, spring is not the best time to go.
Summer in Japan
Summer in Japan is made up of June, July, and August. During the summer is the best time for rock climbing in Japan. Since the weather is warm and filled with lots of sun, this is a great time for hiking through Japan as well. There are a variety of festivals and events that occur during summer in Japan such as:
Odon: the holiday that honors the dead in Japan;
Sanno Festival: a long parade that runs for fifteen miles in Japan;
Hydrangea Festival: a variety of street vendors sell hydrangea planters and create a welcome shrine to foreigners visiting;
Sumida Fireworks Display: a massive fireworks display in July.
Fall in Japan
Fall in Japan occurs during the months of September, October, and November. Japan in autumn means colder weather and an array of fall colors. During the fall is a great time to visit Japan since it is not as busy. If you are traveling to Japan to relax and see as many sights as you can, fall may be the perfect time for you. The weather is relatively mild (while on the colder side) and offers a variety of events such as:
Meguro Sanma Festival: a fish-centered festival to mark the beginning of the fishing season;

Yanaka Matsuri: a festival surrounding dance, music, food, and a stamp rally;
Tokyo International Film Festival: a festival that screens upcoming releases from around the world;
Cheese Festa: a festival on November 11th in celebration of "Cheese Day" in Japan.
Winter in Japan
The winter in Japan occurs in December, January, and February. Since the weather is cold and snow is common, this is the perfect time to take a ski/snowboard day trip. Most of the mountains are shut down for safety reasons, so during the winter is not a good time to travel to Japan for outdoor-related activities aside from skiing/snowboarding. One other popular attraction during the cold weather is to warm up with a Japanese onsen. While a lot of winter is slow in terms of tourism, from December 29th to January 10th, there are plenty of holiday activities to bring in the new year that often creates difficulty with available flights and hotels, so it is beneficial to book early.