Table of contents:
Intro
What is Ramen?
A Brief History of Ramen
How to eat Ramen?
Best Ramen in Japan
Don't Forget
Intro
Ramen isn't just a food in Japan. It's a way of life. Japan is a world-renowned destination for food lovers everywhere, and is famous for its many specialities from sushi to tempura, pancakes to curries, but ramen might just be the most popular right now. Recently, we provided an essential guide to Japan for Sushi Lovers. Today, we're talking about the ramen renaissance.
Ramen has exploded in popularity in recent years, particularly among young and fashionable people in the UK and US with restaurants popping up almost everywhere, but if you want to find some of the very best ramen in the world then you need to go to Japan. Tokyo alone has three Michelin-starred ramen restaurants in 2019 and there are tens of thousands of ramen-ya to visit across Japan. For more on the country's restaurants read our recent Michelin-star guide.
Chefs throughout the country spend their whole careers working to perfect the art of ramen and this is one of the reasons why Japan has become synonymous with this hugely popular dish. Of course, one of the amazing things about Japan is the incredible regional variations. To discover which is your favourite you'll have to travel from north to south. As ever, the most efficient and best value way to see the whole country is using a JR Pass for unlimited train travel on the country's world-class domestic train network. Are you ready to stimulate your taste buds and nourish your soul? Get ready for the ultimate guide to ramen.
What is Ramen?
Ramen is essentially a bowl of noodles and broth. It is a relatively simple dish on the surface, but its apparent simplicity is a serious part of its genius and when prepared by masters, it is a meal full of little subtleties, expertise and incredible depths of flavour. For example, depending on the soup base, choice of noodles, toppings, and sides, ramen can have a huge number of different variations.
Types of soup base

 The most common types of bases are shoyu (soy sauce), shio (salt), miso (soybean paste) and tonkotsu (pork bone). Shoyu and Shio is usually made with chicken broth although the meat can vary by region. Miso originated in the cold Hokkaido area in the north while tonkotsu is particularly popular in Kyushu.
Noodles
Japanese ramen noodles are usually made with wheat and restaurants often allow customers to request the thickness and 'doneness' of their noodles. For instance, thick, thin or regular thickness and regular or firm in their cooking. It's largely a case of personal preference.
Toppings
While toppings can vary enormously, some of the most popular include chashu (slices of roasted or braised pork), menma (bamboo shoots preserved in salt), negi (chopped or shredded leeks or green onions), karanegi (the same as negi but cooked through with chilli oil for extra spice) moyashi (bean sprouts), tamogo (hard-boiled, soft-boiled, raw or marinated eggs are commonly used on all types of ramen), seaweed, kamaboko (steamed fish cake), corn and butter.
Regional variations
As we've mentioned, there are a considerable amount of different regional variations of ramen to try and sampling all of them may take some time (but what a treat it will be for your stomach!). Recommended regional variations include Tokyo ramen, Kitakata ramen from Fukushima Prefecture, and Asahikawa Ramen and Sapporo ramen, both hailing from Hokkaido.
You can easily reach Hokkaido (and its ramen specialities) by using the new Hokkaido Shinkansen, which is covered by the JR Pass. This line is the newest Shinkansen in Japan, starting at Shin-Aomori where it connects to the Tohoku Shinkansen. From there it goes through the Seikan tunnel to Hokkaido. You can read all about it in our special blog feature What is the Hokkaido Shinkansen?
A Brief History of Ramen
Ramen is one of Japan's most famous foods, but it wasn't always that way. In fact, ramen allegedly began as an import before becoming an integral part of Japan's food culture. As with many legends, there are multiple versions from the tale of a Japanese lord from the 1600s who received advice from a Chinese prisoner, to the influx of overseas foods (including noodles and soup from China) when Japan opened its doors to the world at the end of the Edo period. There is also a story which sees the invention of ramen attributed to a Japanese merchant called Ozaki Kenichi who served a version that sounds much more like the ramen of today in his shop Rai-Rai Ken in 1910.
Regardless of which version you believe, it is generally accepted that ramen originally came from China before being absorbed into Japanese food culture. Ramen became one of the earliest of Japan's industrialised foods, but suffered during the Second World War and didn't undergo a resurgence until the mid-1950s when the country's economy went into a boom period. As Japan prepared for the 1964 Tokyo Olympics, restaurants – including ramen-ya – began to open across the country. Ramen's popularity began to increase exponentially, and it began to evolve into the artisanal gourmet dish that it is today.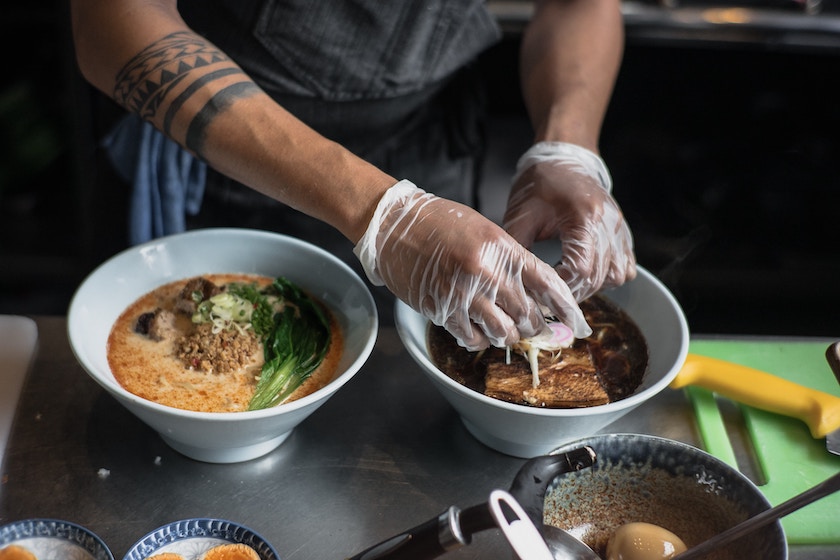 By the 1980s, ramen had shaken off any previous cultural associations it may have once had as a food of poverty and post-war hardship and instead had become highly fashionable, especially among young people who were called Shinjinrui or 'new breed'. These hugely passionate ramen lovers would happily queue for hours outside their favourite restaurants (there was even a word for this – 'rāmen gyōretsu' – and they would also travel the country just to try different regional variations. Ramen chefs became celebrities as a result, particularly in the 1990s and 2000s, often dressing in Buddhist attire (many inspired by Kawahara Shigemi, founder of the ramen shop Ippūdō) and spending years on their ramen craft. Their fans created museums and internet forums in their honour. Ramen had officially crossed over and had become a highly desirable, uber-trendy food and culinary obsession.
How to eat Ramen?
Like much Japanese food, there is an etiquette to eating ramen, but it is nothing to be intimidated about. In fact, ramen is arguably one of the most accessible gourmet foods in all of world cuisine (not just Japan). Here are a few hints and tips to get your started.
Waiting in a queue
The most popular ramen restaurants can feature some major queues, but don't worry. They tend to go down quickly and, in many ways, it's part of the experience.
Ordering
You will either be able to order directly from staff or via a vending machine-style ticket. These machines are often located by the entrance and can be used for ordering and paying. Be sure to get a ticket before taking your seat at the counter. If you're then unsure what to order, try using this phrase with staff 'osusume?', which essentially means 'recommended dish?'.
Drinking your broth
You will be provided with chopsticks for your noodles and a spoon for help with the broth, but it is perfectly acceptable (almost encouraged) to lift the bowl to your lips and drink it. Slurping is not considered rude and neither is silence. Both are fine. You don't have to drink the entire bowl, but it can be considered a compliment to the chef if you do.
Eating in a timely manner
Believe it or not, ramen is considered a 'fast food' and not a meal to spend a lot of time over, largely because the noodles are served fresh and will go mushy if left in the broth for too long. In many ways, the timeliness of eating ramen is similar to how sushi is eaten in Japan. You are expected to eat in a timely manner and then make way for the next customer, which is one of the reasons why the queues tend to go down quickly.
Paying your bill and leaving
Most ramen restaurants are cash only so make sure you have cash on you. And if you're keen to try a little Japanese, try using the phrase 'gochi-sō-sama-deshita' as you leave. This means 'Thank you for the meal'.
Best Ramen in Japan
With tens of thousands of ramen restaurants in Japan, (unbelievably, there are an estimated 10,000 in Tokyo alone!) you're going to need two things 1) A JR Pass to the best and most cost effective way to get around 2) our essential guide to ramen and 3) A big appetite!
Tokyo
Naturally, Tokyo is a paradise for ramen lovers (and one of the best food cities in the world) with thousands of ramen-ya to try and some of the very best in all of Japan. Here are a few suggestions:
Konjiki Hototogisu was only the third ramen restaurant in the world to receive a Michelin Star and is very affordable. The staff recommend the shio ramen which blends together two types of salt (Mongolian rock salt and Okinawan sea salt) for its broth. This restaurant is located at Dainijuni Kyutei Mansion, 2-4-1 Shinjuku, Tokyo, near Shinjuku-Gyoemmae Station on the Marunouchi line.
Tsuta was Tokyo's first Michelin-starred ramen restaurant and remains the cheapest Michelin-star dining in the city. Chef Yuki Onishi is a ramen master and legend, so you'll be eating the very best. The hardest part will be getting a seat with queues for time slots starting from 7am each day. Located at 1-14-1 Sugamo, Toshima-ku, Tokyo near Sugamo Station (Mita, Yamanote lines). 
Nakiryu (which means crying dragon) was Tokyo's second Michelin-starred ramen restaurant and is just as affordable. Look out for delicious shoyu and shio ramen. SKY Minamiotsuka 1F, 2-34-4 Minamiotsuka, Toshima-ku, Tokyo. 
And remember if you're travelling around inner Tokyo you may also want to invest in a prepaid travel card as well as your JR Pass for domestic rail travel. 
Osaka

Many foodies consider Osaka to be one of Japan's greatest culinary destinations, not least because of its ramen. You can use the Shinkansen to get from Tokyo to Osaka with no changes in about three hours using your Japan Rail Pass and the Hikari and Kodama trains.

Kadoya Shokudo has been described as the 'king of Osaka ramen' by one local expert. Why? Their shoyu 'wonton men' ramen is legendary to Osaka locals and a must-try. You'll find Kadoya Shokudo at 4-chōme-16-13 Shinmachi, Nishi-ku, Osaka.
Muteppo. This busy and popular ramen restaurant is definitely worth queuing up for. Try the chashumen with tamago (soft boiled egg). 1-5-25, Ebisu Hon-machi, Naniwa-ku, Osaka-shi, Osaka. 
Mankai. This restaurant's signature dish is a tonkotsu bowl, which uses the domestic pork, Waton Mochibuta, and a soup that takes 16 hours to make. Located at 1 Chome-5-9 Tanimachi, Chuo-ku, Osaka.
Ramen Jinsei JET is another Osaka ramen favourite. Try the ramen with chicken-simmered noodles. 7-chōme-12-2 Fukushima, Fukushima-ku, Osaka. 

Kyoto

Like Tokyo and Osaka, Kyoto has a huge number of highly-rated ramen restaurants to sample. You can use the JR Tokaido Shinkansen Line to get from Tokyo to Kyoto in just over two hours.

"Kyoto Gogyo":https://www.ramendining-gogyo.com/, a branch brand of Ippudo, is located in central Kyoto and is renowned for its highly distinctive ramen including its Special Kogashi Miso Noodles, which is charred over a high heat to look almost black. You'll find it near Karasuma Station.
Shinpuku Saikan Main Shop recently celebrated its 80th birthday and can be found close to Kyoto central station. It only serves one type of ramen, but it is legendary. Shinpuku Saikan is also known for its fried rice side dishes.

Sapporo

Home to some of Hokkaido's regional varieties, Sapporo is a popular destination for ramen lovers including at this time of year for the winter festivities. Read our guide to the Sapporo Snow Festival to find out more about this. To get to Sapporo from Tokyo using your Japan Rail Pass, take the JR Tohoku/Hokkaido Shinkansen from Tokyo to Shin-Hakodate-Hokuto and transfer to the Hokuto limited express to Sapporo.

Ganso Sapporo Yokochu is regarded by many as the original 'ramen alley' and was visited by the late American chef Anthony Bourdain who braved the snow to eat at the famous Aji No Karyu restaurant. You can follow in the legendary chef's footsteps by visiting 3 Minami 5-Jo Nishi, Chuo, Sapporo 064-0805, Hokkaido.

Don't Forget