Typhoons are storms that tend to form over the Pacific Ocean and move towards the coast of Asia. These storms are called taifu in Japanese, and are similar to hurricanes, which form in the Atlantic Ocean and travel toward the Americas, as well as cyclones, which form east of Africa and northwest of Australia. While these storms are all similar, they go by different names according to their geographical location and also have a few other differences.
Japan experiences a handful of typhoons each year, which bring strong winds and heavy rainfall. The monsoon season lasts from May to October, and peaks during the months of August and September. In general, you shouldn't worry if you're traveling to Japan during the monsoon season. Only a small number of typhoons hit the mainland each year, and Japan has extensive safety precautions in place in the case of a natural disaster. While a typhoon might sometimes delay transportation or put a damper on outdoor activities, your travel plans are unlikely to be significantly impacted by the bad weather.
Why Should You Be Ready for Typhoons in Japan?
Japan experiences several typhoons each monsoon season, which can be accompanied by torrential rain and hazardous winds. The island of Okinawa, which is located at the southern end of the country, may get hit with seven or eight typhoons a year, while the mainland may only be hit by two or three. While typhoons are more common in some areas than others, any region of Japan runs the risk of being hit by a typhoon during monsoon season.
Typhoons bring with them strong rains and winds, which can disrupt travel plans and delay transportation. Traveling Japan by rail is still the most convenient and practical way to get around, but trains may be delayed or canceled in extreme weather. While for the most part typhoons shouldn't dramatically affect your visit to Japan, it's always a good idea to be prepared and stay informed about local weather conditions.

When Is Typhoon Season?
Typhoon season generally lasts from May to October, although typhoons may occasionally occur outside of this time period. In the south of Japan, Okinawa tends to experience more typhoons than the mainland. Northern regions of Japan such as Hokkaido tend to experience fewer typhoons. Typhoons are particularly common during the months of August and September, when monsoon season is at its height.
How to Prepare for Typhoons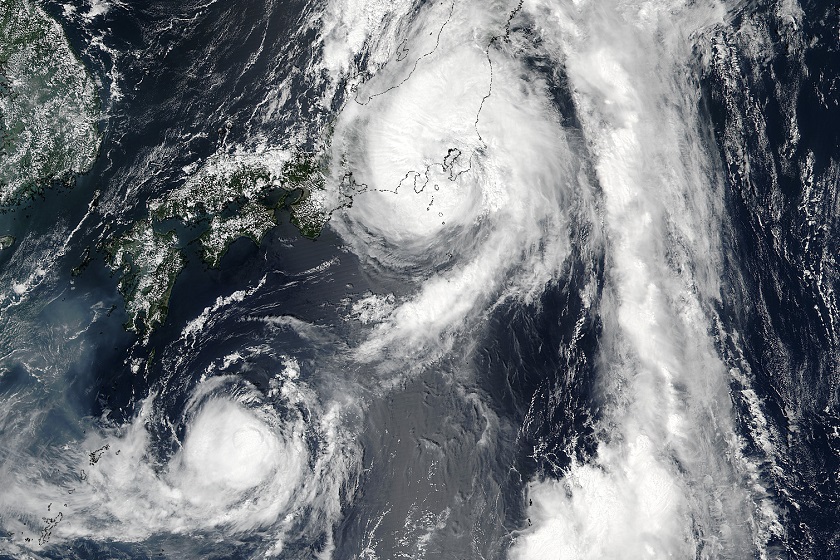 It's always a good idea to consider the local weather conditions when planning for travel. If you're thinking of visiting Japan during the typhoon season, chances are it won't affect your stay. Nevertheless, it's always good to be prepared, and to pack or purchase any necessary supplies and storm-related items.
Monsoon season often brings hot, humid weather with frequent rain, so be sure to bring rain gear including a rain jacket, umbrella, and shoes that you don't mind getting wet. It's also a good idea to wear comfortable, breathable clothing that will dry quickly on the off chance that you do get wet.
Typhoons travel slowly and are easy to predict, so there's not much chance of you being caught off guard by them. Be sure to check the weather often during your travels, and consider renting a pocket Wi-Fi in order to stay up to date while on the go. You can also tune in to local media for the latest travel advisories and transportation delays. If you're planning day trips and other excursions, it's a good idea to look up safe locations in the areas you plan to visit in the event that a typhoon strikes. Safety should always be your top priority, so make sure to steer clear of areas where there is flooding and to avoid the ocean during the duration of the storm.
Typhoons generally won't wreak too much havoc on your travel plans, but they can put a damper on outdoor activities and explorations. If you're traveling to Japan during the typhoon season, it's a good idea to plan several alternative indoor activities alongside outdoor options. If a typhoon does hit, there are plenty of museums, restaurants, and other attractions to keep you busy until the storm passes.

Typhoon Resources for Visitors
If you're planning on visiting Japan during monsoon season, there are plenty of safety resources available to help you prepare in the event of a storm:
Typhoons are relatively common during the summer and early fall in Japan, and usually aren't cause for too much concern. As Japan continues to feel the effects of climate change, however, weather events such as typhoons and associated flooding and landslides may become more severe. It's always a good idea to prioritize your own safety in the case of a natural disaster, and to come prepared for inclement weather. As long as you take the proper precautions, you can enjoy your time in Japan even during stormy weather!