The Golden Pavilion has been the postcard to send from Kyoto for more than a century. Find out why it's that iconic, and how to get there.
Table of contents:
Intro
A tale of histoy
Visiting Kinkaku-ji
Access to Kinkaku-ji
Tips for visiting
The Golden Pavilion, known as Kinkaku-ji (金閣寺) in Japanese, is one of the most famous Zen temples in the world, renowned for its two stories covered in gold leaf. Officially named Rokuon-ji, the temple today is one of the most visited attractions in Kyoto and designated as a world heritage site. It also made our personal list of the best Buddhist temples to visit in Kyoto.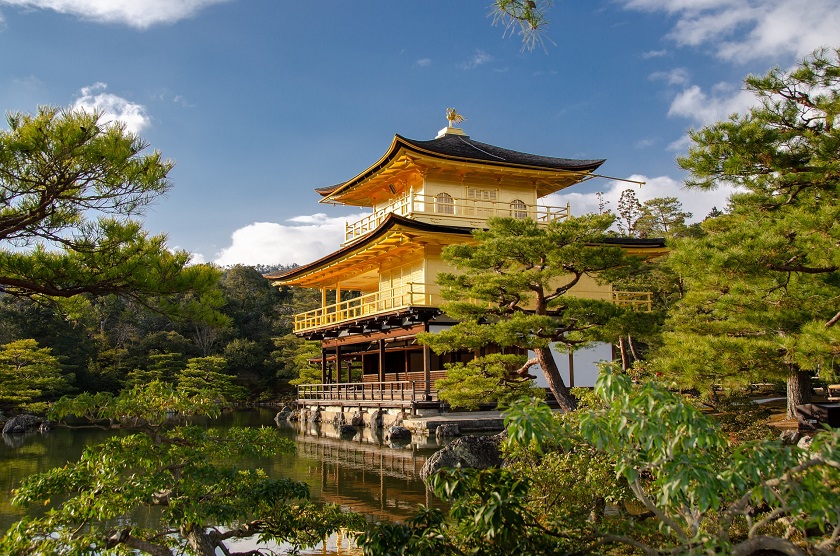 History of the Golden Pavilion: Building a temple for the man who wanted to become a god
The founding of Kinkakuji is an interesting story by itself, one you might not associate with the Zen temple it is today. Founded in 1397, when the original grounds and villa upon it was purchased by Shogun Ashikaga Yoshimitsu, a man who loved gold and vanity.
The Shogun at that time was the most powerful ruler in Japan, and Yoshimitsu by all accounts was a successful statesman. He was a skilled negotiator and made strong trade ties with China. These were so successful that he grew very rich, in fact he made the Chinese Diplomats so happy that they named him king of Japan. That may seem strange now, but at the time China was seen as the centre of the world, and he really must have been pleased with the title.
Yet, king was not good enough for Yoshimitsu as in later years he claimed the title Dajo Tenno, one reserved for retired emperors. Even more outrageous, he tried to set himself up as a cosmic-level Buddhist god-king. Neither of which worked out but a man can try, and he certainly did! One of such efforts was the building of the Golden Pavilion.
He acquired the land first, then known as Kitayama-Dai, demolished the villa already standing there, and started constructing his own villa complex, and renamed it Rokuon-ji, or "deer temple". Where better for a deity to live, than in his own temple? He must have thought something similar because the building was not constructed as a temple but as his private residence villa, and living in his own temple villa was clearly not enough for Yoshimitsu. Oh no, it had to be covered in gold – entirely!
That's how Kinkakuji was created, a private villa to a ruler who wanted to become a god.
Unfortunately for Mr. Yoshimitsu, he died quite early and closely after the completion of Kinkaku-ji. The temple was then donated as a Zen temple. Throughout the years the temple did burn down a couple of times and received a thorough renovation in the early 2000s.
Visiting Kinkaku-ji
These days the temple complex is open to the public, containing the temple grounds, a beautiful pond, Yoshimitsu's private garden, head priest's former living quarters, a teahouse and a relatively large park garden.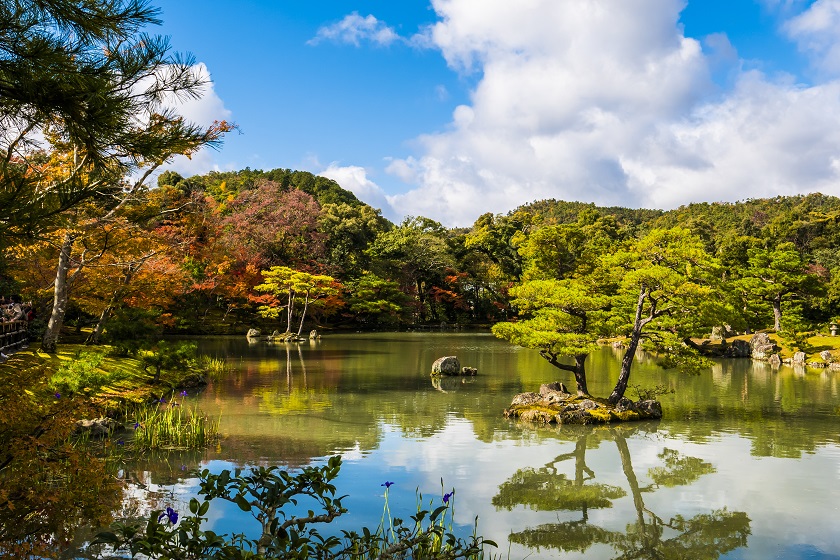 A typical visit will last around one hour, and includes a walk along the complex with different photo opportunities along the way. The most iconic being the gold-leafed building reflected across the pond.
The temple is open year round from 9.00 to 17.00.
Admission is 400yen.
Access to Kinkaku-ji
From Kyoto station, the fastest way is to travel by bus or taxi. Bus lines 101 and 205 stop in front of the temple and a one way fare will cost 230yen, or 500yen for a bus day ticket.
The closest JR station reachable with the JR Pass is called Hanazono Station, located about 40 minutes away on foot from the golden pavilion. While quite far out, it can be considered as an option as there is a temple walking route going north to Kinkaku-ji passing many lessor known temples along the way.
Tips for visiting
Come early, the temple can be extremely busy with most visitors arriving later in the day.
Due to its location, a visit to the temple can easily combined with other attractions in the area. Such as Daitoku-ji, Ryoan-ji and Ninna-ji temples.
A great alternative to public transportation, is exploring Kyoto on bicycle. Kinkaku-ji can easily be reached this way.
Finally, don't forget to bring your camera. This is a shot you do not want to miss!