Table of contents
Intro
Japanese Meditation and Mindfulness
A Very Brief History of Japanese Buddhism
What is Mediation?
What is Mindfulness?
Meditation Retreats and Sacred Places in Japan
Don't Forget
Intro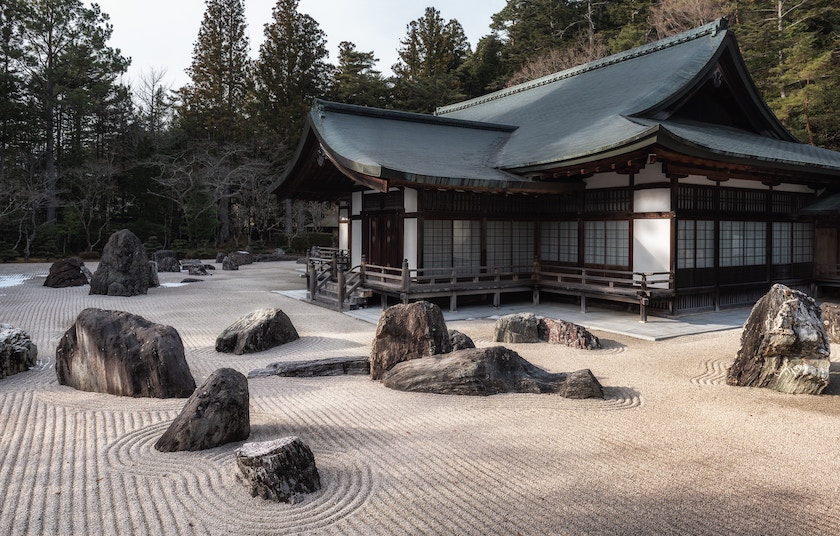 Mindfulness and meditation are more popular than ever in today's increasingly busy and fast-paced world and what better way to rediscover your inner peace and serenity than by travelling to Japan? The Japanese not only invented mindfulness, but the country is world-renowned for its spiritualism and tranquillity going back hundreds of years. We'll take your across this unforgettable country for a closer look at the many ways you can rest and recharge during your stay in Japan. From Shinto, Zen Buddhism and 'zazen' meditation, to pilgrimages and retreats at ancient temples and mountain monasteries, or simply by connecting with nature, this beautiful country is guaranteed to help you reset and relax.
Japanese Meditation and Mindfulness
Meditation and mindfulness are perfect ways to slow down, reduce stress and anxiety and experience peace of mind. Meditation has been extensively studied by medical science and has a number of demonstrable health benefits. If you're travelling to Japan to get away from a hectic and busy home life then meditation, mindfulness or simply reconnecting with the natural world is likely to be exactly what your mind and body needs. We'll look at some of Japan's most spiritual and sacred destinations and how you can get there with your Japan Rail Pass to navigate the country's rail network with the ease and calm of a Buddhist monk. First, let's go over the basics.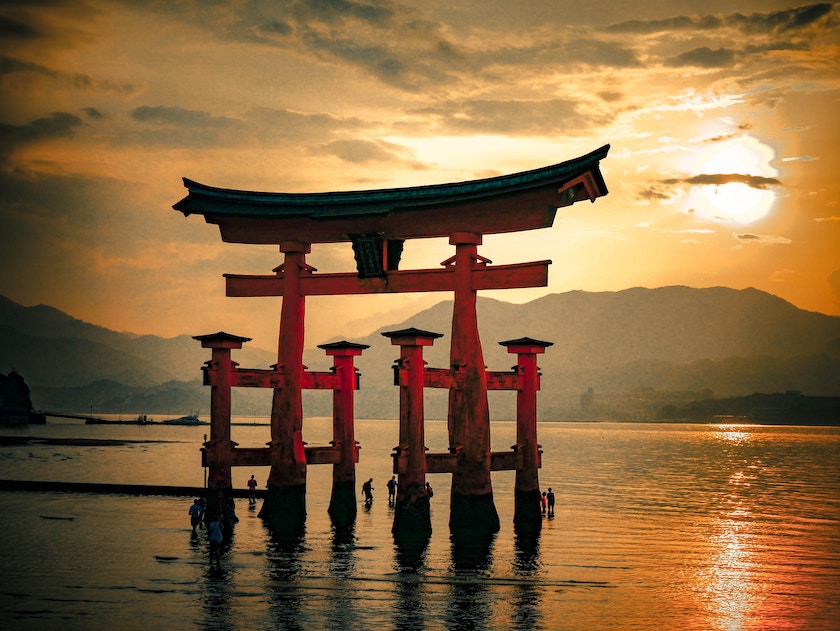 What is Meditation?
Put simply, meditation is a practice aimed at training attention and awareness on the present moment and thereby achieving a clear mental state or heightened state of awareness. Meditation has existed for thousands of years and there are many different types around the world. Some are linked to religious practice, but today a lot of meditation is entirely independent from religion and rooted in broader spiritual thinking. Japanese Meditation is particularly associated with Zen. If you've ever heard the term 'zazen' this simply means 'seated' mediation.
What is Mindfulness?
Mindfulness can be defined as 'moment to moment awareness'. Meditation is often confused with mindfulness (and vice versa) – possibly because the latter was invented by the Japanese. However, mindfulness was originally a distinct practice more associated with slowing down and purposefully paying attention to the present. These principles can be seen throughout many aspects of Japanese culture, from tea ceremonies and zen gardens, to haiku, calligraphy and the tradition of viewing the sakura (cherry blossom). You find out more about 'hanami' in our comprehensive guide to Visiting Japan to View the Sakura. In summary, the people of Japan have mastered the art of slowing down to fully appreciate the little moments. This is at the heart of mindfulness.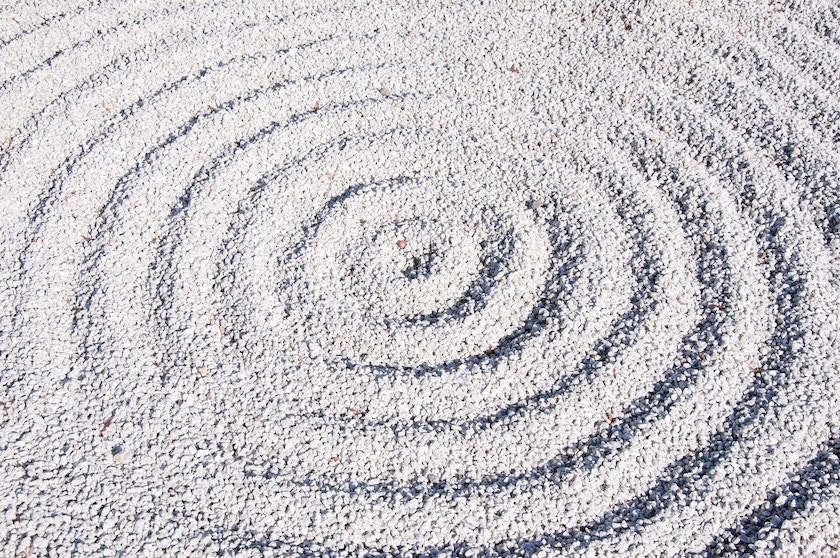 A Very Brief History of Shinto and Japanese Buddhism
Shinto and Buddhism are the two main religions in Japan and have existed in relative harmony for more than a thousand years. Shinto is as old as the Japanese culture itself while Buddhism was imported from China (via India) in the 6th Century. Today, Shinto and Japanese Buddhism exist side by side and have many similar principles, although they are distinct and separate practices. One of the main differences between the two is that Shinto is animistic (a belief in animal and natural gods and spirits) and polytheistic (the worship of multiple deities) whereas Buddhism is monotheistic and an organised religion whose rules and doctrines can be traced back to the Buddha (otherwise known as Siddhartha Gautama) in the 5th Century BCE. Shinto's origins are less linear and it's practices are more open to interpretation. The concept of purity is at the centre of its beliefs, but it has also been said that Shinto can be anything you want it to be and many don't consider it to be a religion at all (at least not in the traditional sense). Needless to say, you'll encounter both Shinto and Buddhism and you don't have to be religious to benefit from their peaceful traditions and practices.
Meditation Retreats and Sacred Places in Japan
There are many sacred places across Japan, from the cold and mountainous north to the subtropical southern islands, and thanks to the nation's fast and efficient rail network (which is the envy of the rest of the world), even the most remote corners of this beautiful country can be reached with relative ease. Here is a selection for you to consider.
Koya-san
It is difficult to say what Japan's number one most sacred location is, but Koya-san would certainly be very high on the list. Koya-san is a holy mountain in Shikoku and is the home and birthplace of Shingon Buddhism, which built its temples on Mt Koya in the 9th Century. The town of Koya-san is a UNESCO World Heritage Site and is also home to Japan's largest cemetery, the beautiful and atmospheric Onku-in cemetery, where some of the country's most prestigious people are laid to rest.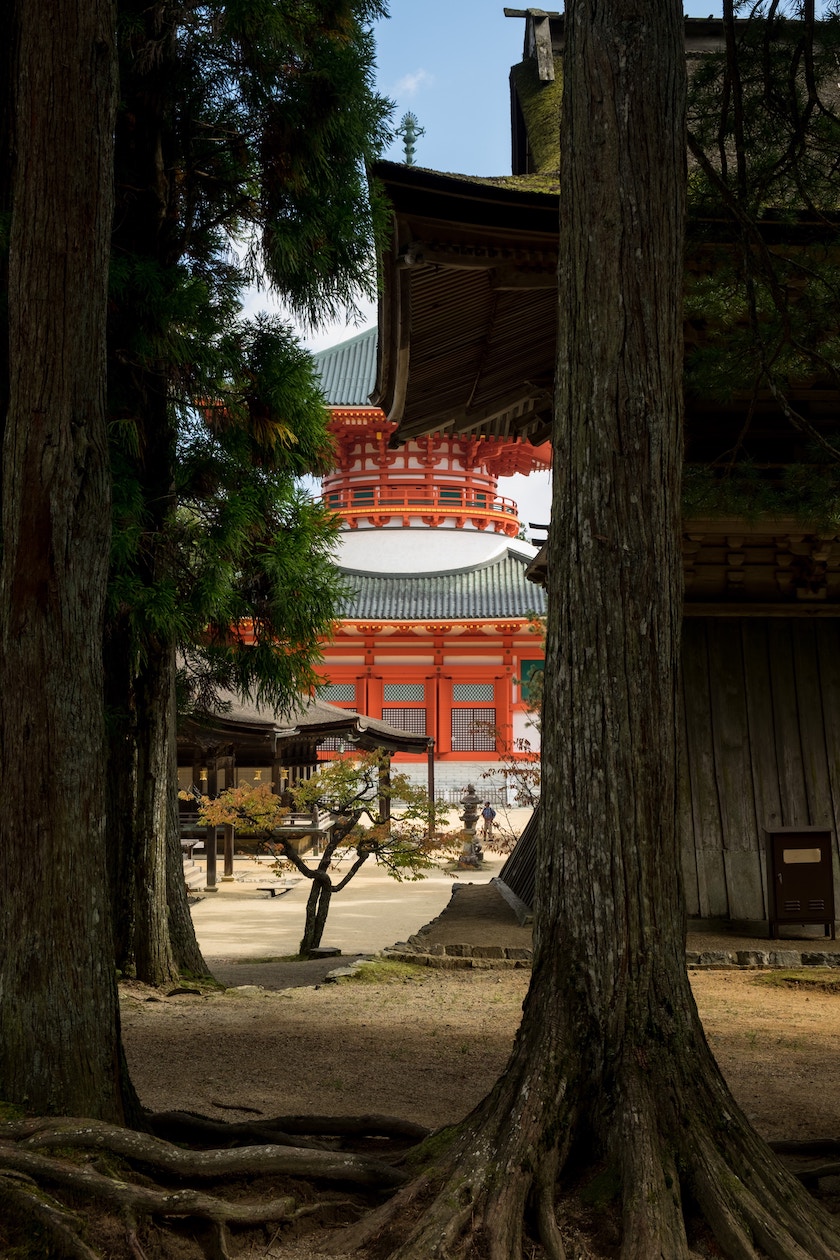 Koya-san is also the beginning and end of the Shikoku Pilgrimage, which features 88 temples and shrines and can take three months to complete on foot. Even if you don't have time for all 88, you can book a Shukubo (a 'temple stay') in Koya-san (which has more than 100 temples to choose from, many with their own onsen and zen gardens for maximum relaxation). Temples such as Eko-in and Muryoko-in are 1,000 years old and allow guests to meditate, practice calligraphy, take part in morning chanting and other rituals, and much more. It's possible to stay for weeks to fully immerse yourself in the spiritual life.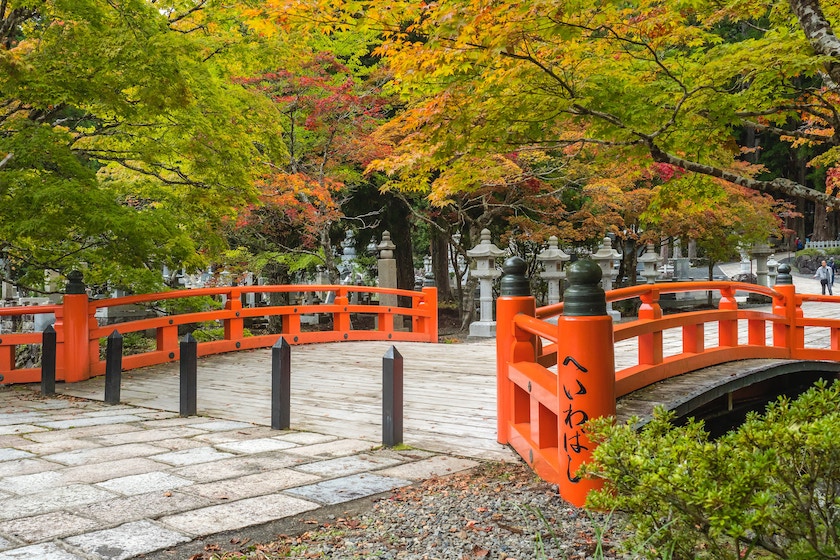 Alternatively, you could just visit for the day from Kyoto or Osaka. For a more detailed guide to visiting Koya-san, read our Itinerary Tip: Koya-san guide. Koya-san is most accessible from Shin-Osaka. You can use the JR Pass to travel to Shin-Osaka by Shinkansen bullet trains from nearly anywhere in Japan, such as Tokyo, Kyoto and Hiroshima. Access detail's for Koya-san are below.
The fast route
Take the Midosuji Osaka Subway from Shin-Osaka to Namba station (¥280), then transfer to the Nankai Namba station (about 5-10min walk). There, board the Nankai Express to Gokurakubashi station (¥1650), it is also possible to take a local Nankai service to Gokurakubashi (¥870), taking 20 minutes more. From Gokuraku-bashi, you can use the Cable car up Mt. Koya (¥390). This route takes about two hours, including transfer time or two hours and 20 minutes when using local Nankai trains.
The economic route
Using the JR Pass you can save some of the fare to Koya-san by using JR trains to Hashimoto station (in Wakayama) and use a local Nankai train from there to Koya-san. This will bring the fare down to only ¥440 for the Nankai train. The travel time is about 220 minutes to reach Koya-san this way (including travel time for the ropeway). For the most comfort, use the Ltd. Exp Kuroshio train from Shin-Osaka to Wakayama and then the local JR Wakayama line to Hashimoto.
Once you reach the top of Koya-san, buses will take you from the cable car station into the town. As there are no walking paths between the cable car and the town, it is mandatory to use the bus. One-way fares cost ¥300-400, there's also a day ticket available for 830 yen that includes discounts to various attractions.
Kamakura and the 'Big Buddha'
Kamakura was the ancient capital of Japan in the 12th Century. Today it is famous for its many temples and for being home to the Big Buddha (or Daibutsu in Japanese). This colossal statue is part of Kotokuin Temple and is considered to be a must-see and awe-inspiring sight. For many, going to Japan and not seeing the Big Buddha up close would be like visiting the country without seeing Mount Fuji.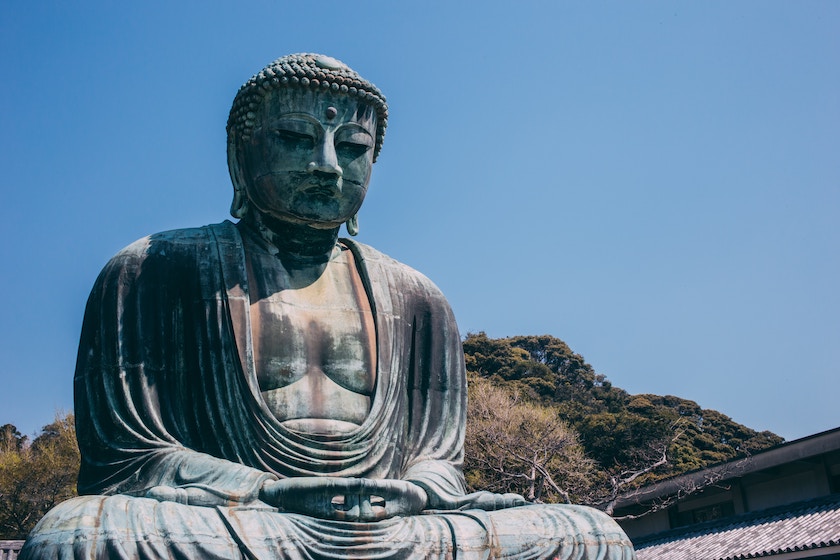 Kamakura can be directly reached in less than one hour from Tokyo on the JR Yokosuka line (bound for Zushi). Fully covered by the JR Pass and Green Seats (1st Class) are available if you have a Green JR Pass. Alternatively, coming from Shinjuku, the JR Shonan-Shinjuku Line takes you from Shinjuku (JR) station to Kamakura in little less than one hour. Green seats are available here too. Read our guide for more information on Visiting Kamakura.
Mount Fuji
Mount Fuji is not only beautiful and iconic, but it is also considered a centre of sacred spiritual power in Japan.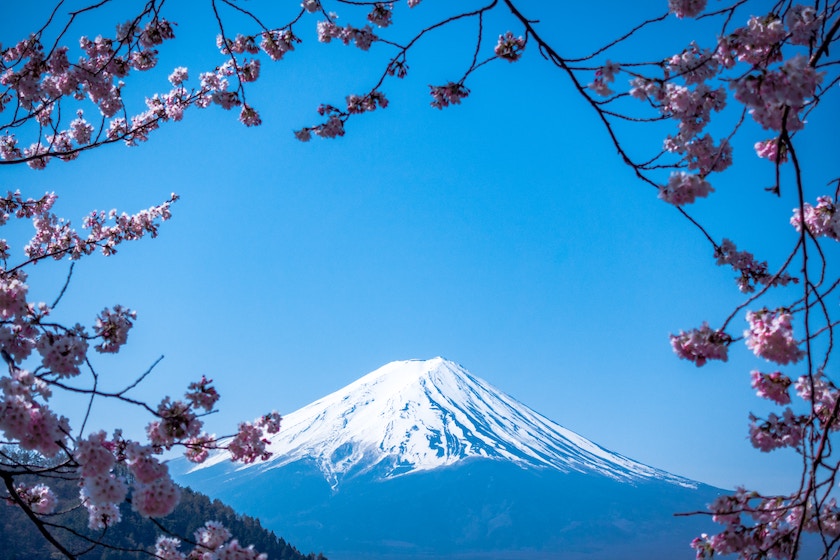 While travelling to Mount Fuji, don't miss Chureito Pagoda which is considered to be one of Japan's Most Instagrammable Locations.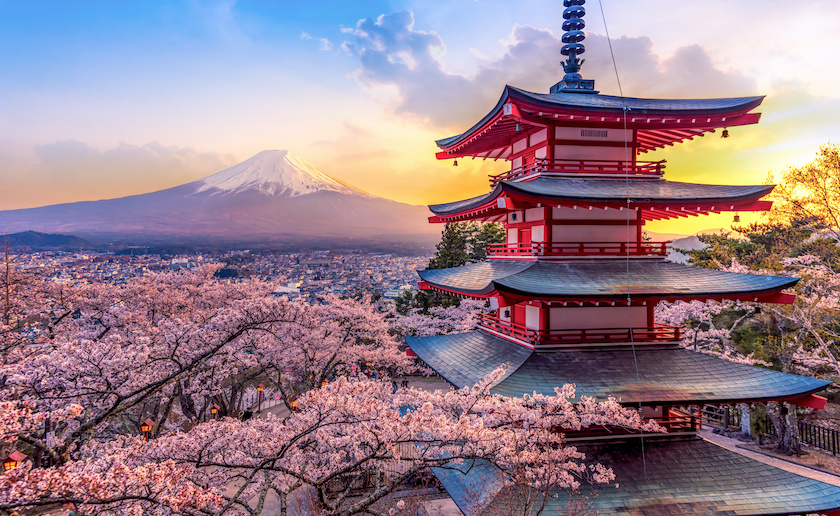 Mount Fuji is also the perfect place to combine the spiritual with the physical by embarking on some climbing or hiking while you're in this amazing location. You can find out everything you need to know in our comprehensive guide to climbing and hiking Mount Fuji.
Kyoto
Kyoto is world famous for its shrines, temples and zen gardens and is arguably the city most commonly associated with 'ancient' Japan. However, it can also be very busy and standing in a huge queue for the Golden Temple may not be the most spiritual experience. Other than getting there super early and/or doing your research to find the quietest times to visit, you can also experience the spiritual side of Kyoto by seeking out some of it's less famous temples and shrines (such as the highly recommended Shunko-in, which includes a 90-minute tour of 'The Temple of the Ray of Spring Light'.). Most offer meditation lessons, zazen session, and much more including tours of serene zen gardens. While in Kyoto, don't miss the Ryoanji Temple Gardens, which are now a UNESCO World Heritage Site.
Toba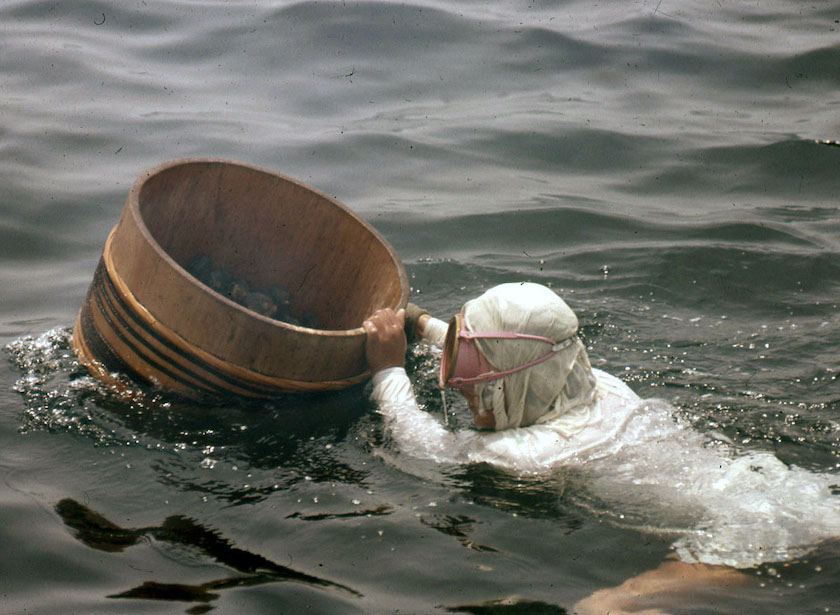 The Mie Prefecture region is home to the Grand Ise Shrine including Ise Jingu Shrine – one of the holiest of all Shinto shrines in Japan – and also Ishigami-san – the women's shrine. The coastal town of Toba, close to where these shrines are located, is also the birthplace of Japan's ama divers (or women of the sea) who free dive for pearls and shellfish. The origins of this tradition is stepped in spiritual beliefs and the history of the sun goddess Amaterasu and you can read about it in our Deep Dive into Japan guide.
Miyajima
Miyajima (the popular name for the island of Itsukushima) is known as 'shrine island' and is located in the bay of Hiroshima. It is famous for the stunning and massive Torii gate, which rises out of the sea. At the right tide, it appears as if the Torii is floating on the water. It is considered one of the most beautiful and iconic views in Japan as well as a key spiritual destination.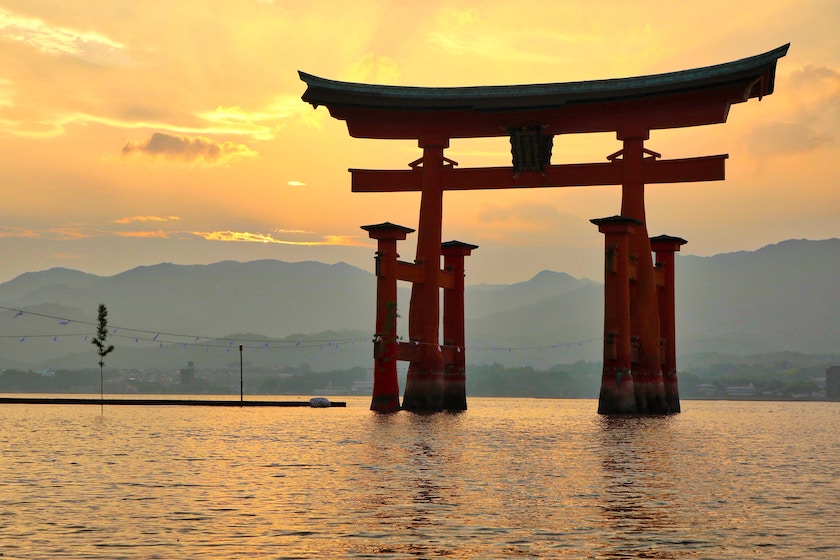 You can reach Hiroshima using the Shinkansen (fast bullet train) from cities such as Kyoto and Osaka. At Hiroshima station, take a local JR train on the JR Sanyo line to Miyajima-guchi station. From there it is 5 minutes or less to the JR Ferry. There are two Ferry companies going from Miyajima island, be sure to pick the one with the big JR sign. When arriving at the ferry terminal, all you have to do is show your JR Pass to board the ferry. The ferry will make around-about approach to the island and circle past the Torii gate. For more information read our Visiting Miyajima guide.
Of course, this is just scratching the surface. As well as those mentioned above, you'll find temples and shrines in Nikko and Nara and meditation centres in both cities (including Tokyo) and more remote locations. Japan is overflowing with spiritual and sacred places as well as a huge variety of ways to help clear your mind.
Alongside these renowned spiritual destinations and the country's numerous temples and shrines, Japan has many other ways for you to relax and slow down. It is famous for its many zen gardens, onsen (hot springs), beaches and diving spots, and its beautiful and diverse National Parks (many are UNESCO World Heritage sites) which you can read all about in our recent guide and which boasts some of the world's most stunning wildlife in Japan for you to observe and interact with.
Don't Forget
Shinto shrines have a water basin where visitors wash their hands and mouth before entering. This is called harai.
Most meditation lessons require advance booking, and not all will offer English speaking classes, so always contact a centre or temple in advance to reserve a place and ask questions.
Japan is perfect for combining the spiritual with the physical in the form of invigorating outdoor activities, such as climbing or hiking or diving.
As an alternative to a temple stay, a Ryokan – a traditional Japanese inn – could be the perfect way to connect with the country's ancient culture during your spiritual journey. Here's our guide to Everything You Need To Know About Staying In a Ryokan.
Another way to practice mindfulness and enjoy the present moment is through the pleasure of food and Japan, of course, is one of the best culinary destinations in the world and home to dishes such as sushi, ramen and many other delicacies.
Japan also has one of the highest number of Michelin-starred restaurants in the world and cities like Tokyo and Osaka in particular are a must-visit for foodies. Find out everything you need to know in Guide to Japan's Michelin-starred Restaurants.
Tea isn't the only drink to be savoured by the Japanese. While it may not be surrounded by the same ceremonial mystique, Japan is also world-famous for producing some of the world's finest whiskey. Read our Japan for Whiskey Lovers guide and appreciate the present moment by slowly savouring a glass.