Tokyo Disney resort is home to the twin theme parks of Disneyland, and unique to Japan – DisneySea. Visit for an unforgettable experience and enjoy the entertainment, shopping, attractions and hotels.
Learn everything you need to know about visiting Disney resort Tokyo, what to do, what attractions to enjoy, how to buy a ticket and how to access the park.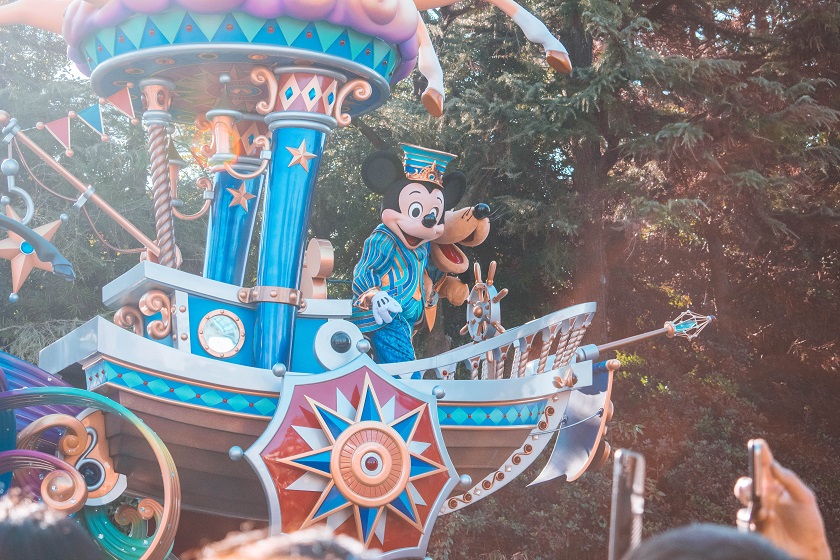 Table of contents:
Intro
Disneyland
DisneySea
Buying tickets to Disney resort Tokyo
How to travel to Disneyland and DisneySea Tokyo
Tips for visiting Disneyland Tokyo
Intro
Tokyo Disneyland was the first Disney resort to open outside the United States, and opened its doors in 1983. The park has been immensely popular by locals and visitors alike and as such, the park expanded and added DisneySea in 2001 – a park unique to Japan that has a nautical exploration theme.
Disneyland
Disneyland Tokyo was originally based on Disneyland in California and the Magic Kingdom in Florida and has a general western feel to the park. Attractions are based on a mix of classic and modern Disney films and is spread over 7 themed lands.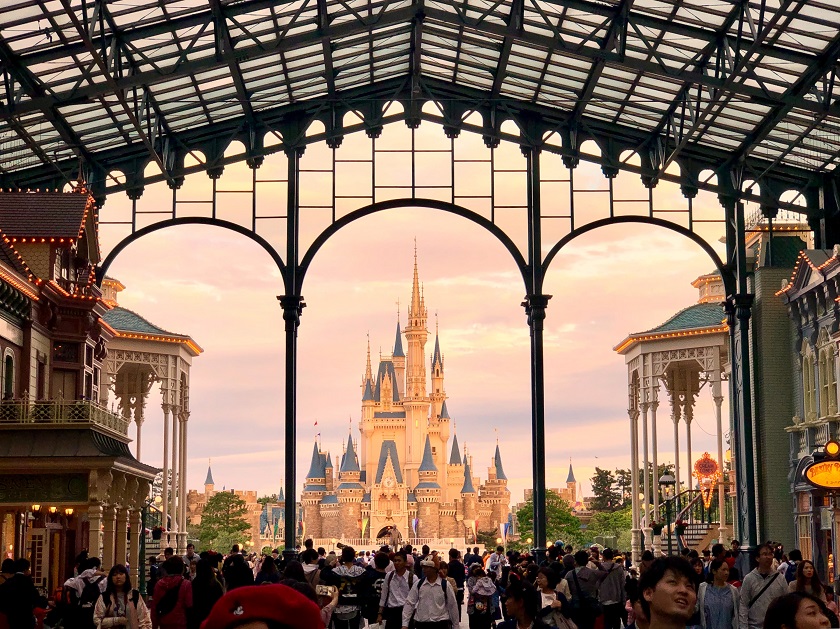 World Bazaar
The entrance and central area of Disneyland, World Bazaar is a western style village where the streets are covered by restaurants and shops. It is the main shopping area for visitors entering and exiting the park.
Adventureland
Venture into the jungle and in this themed land. Cruise along tropical jungle rivers, and enjoy the Pirates of the Caribbean inspired attractions.
Tomorrowland
Fly out to outer space and technology of the future. Tomorrow land is all about Sci-Fi and hosts the famous attractions of Space Mountain, Star Tours, Stitch Encounter, Buzz Lightyear's Astro blasters and The happy tide with Baymax.
Toontown
The special place for the kids, Toontown is the suburban town where Disney characters live and come to life. Ride Donald's boat, visit the house where Mickey lives and visit the Chip 'n Dale's Treehouse.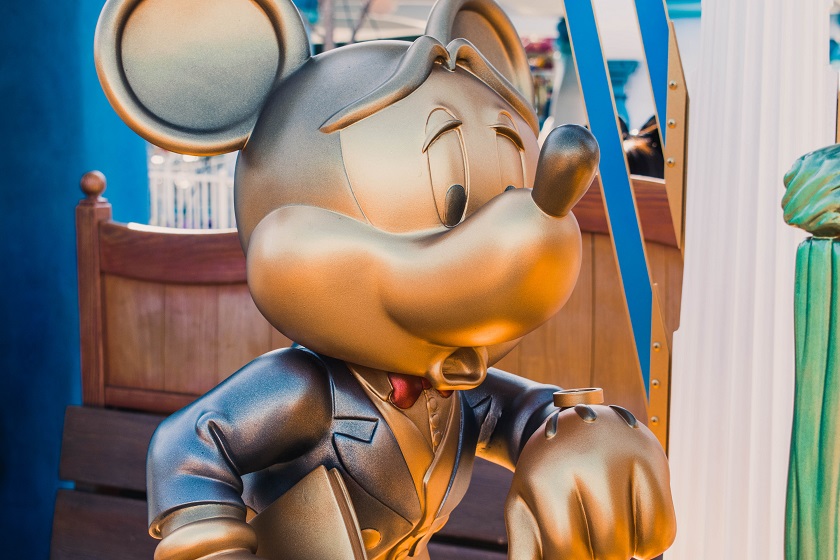 Fantasyland
Home of Peter Pan, Fantasyland is where the classic moves of Disney are featured. Think of Alice in Wonderland, Beauty and the Beast, Winnie Pooh and many others. Attractions include Alice Tea Party, Snow White's adventure, Cinderella's Fairy tale hall, Pinocchio's Daring Journey and recently new addition of the Enchanted tale of Beauty and the Beast.
Critter Country
This land is themed after "Song of the South" where visitors meet bears and critters. Rides include the popular Splash Mountain and Beaver Brothers Explorer canoes.
Westernland
The name gives it away, themed after the western frontier along the Rivers of America. Attractions include the Mark Twain Riverboat, Big Thunder Mountain and the Westernland Shootin' Gallery.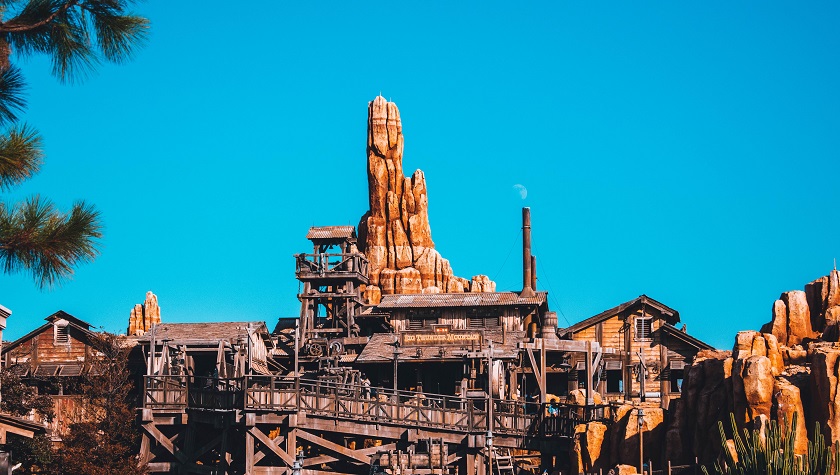 DisneySea
The twin park to Disneyland is DisneySea, and is considered a separate park from DisneyLand. The park offers more than enough for a full day of entertainment and is worth visiting on its own. Due to its unique nature, it is the recommended park for visitors with limited time and who already have been to a different Disney resort. Like Disneyland, the park has 7 themed areas.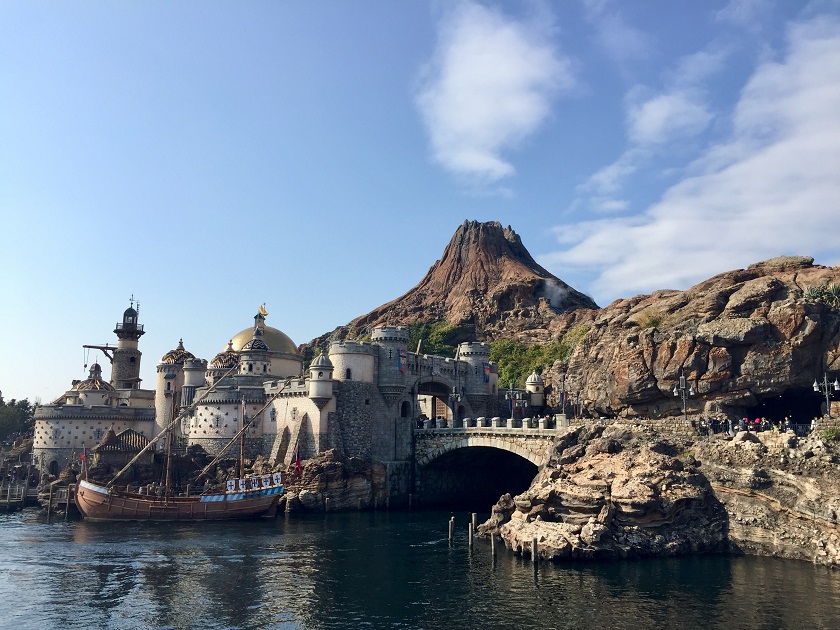 Mediterranean Harbour
The Mediterranean Harbour is the entrance and central hub of DisneySea, and themed as the Venetian port-of-call where visitors can ride gondolas and eat at a variety of Mediterranean restaurants. This is also where resort hotels are located, that overlook the harbour and further add to the port town atmosphere.
Mysterious Island
Mysterious Island is home of Mount Prometheus, the mythical volcano that DisneySea is built around. The volcano will erupt occasionally and is visible from all over the park. The main attractions of Mysterious Island include 20,000 Leagues Under the Sea, and Journey to the Centre of the Earth, both inspired by the story telling of Jules Verne.
Mermaid Lagoon
Mermaid Lagoon is home to the characters of The Little Mermaid, with all kid friendly attractions. Visitors can meet Ariel and her friend, and join her in one of her songs. Attractions include Flounder's Flying Fish Coaster, Scuttle's Scooters, Jumpin' Jellyfish, Blowfish Balloon Race, The Whirlpool, and Kids playland.
Arabian Coast
Themed after Aladdin and 1001 Arabian Nights, attractions include Caravan Carousel, Jasmine's Flying Carpets, Sindbad's Storybook Voyage, The Magic Lamp Theater.
Lost River Delta
Set foot in the world in the world of the lost Aztec civilization, the Lost River Delta is home to the ruins of an ancient Aztec pyramid and surrounding jungle. Attractions include: Indiana Jones® Adventure: Temple of the Crystal Skull, DisneySea Transit Steamer Line, and Raging Spirits.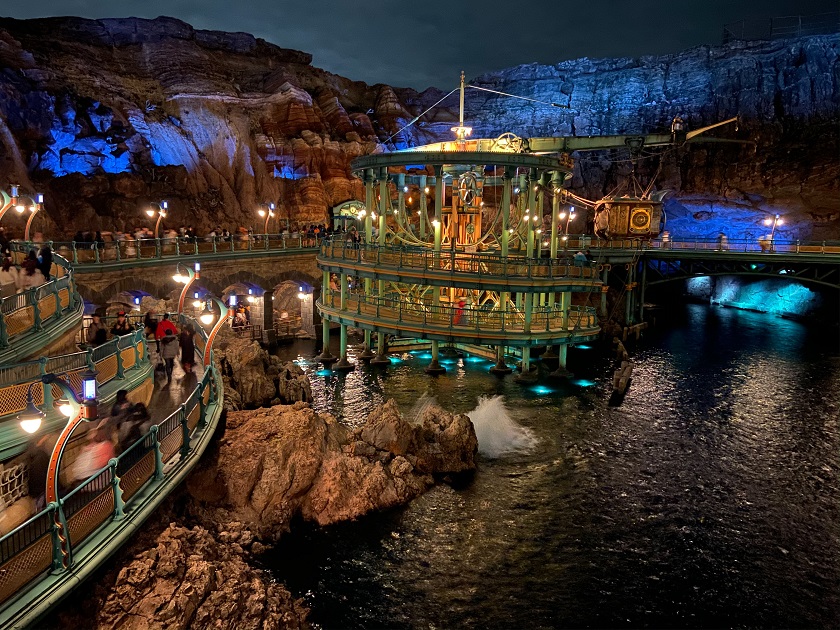 Port Discovery
This part of the park is home to the fictional 'Marine Life Institute'. It represents Future Marina with the design of Retrofuturism, Port Discovery is home to two fictional societies, 'Center for Weather Control' and 'Marine Life Institute' from Pixar's Finding Dory. Attractions include Aquatopia, DisneySea Electric Railway and Nemo & Friends SeaRider.
American Waterfront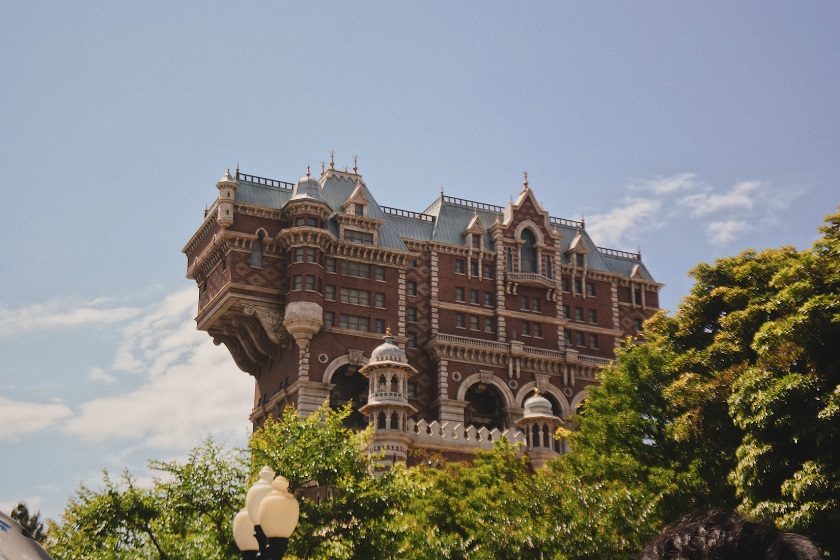 Representing the northeastern seaboard of the United States in the early 20th century, and has two themes: the "Old Cape Cod" section, and a "New York Harbor" section. Part of the decor is a massive steamer called the SS Columbia. Attractions include Turtle Talk, Tower of Terror, DisneySea Electric Railway, Toy Story Mania!
Buying tickets to Disney resort Tokyo
Park tickets can be bought in advance online or in person at the park gate. Prices at time of writing are as follows:
1-Day Passport, including Disneyland and DisneySea.
¥8000 Adult (18 and above), ¥6,900 junior (12-17) and ¥4,900 for children (4-11).
Discount tickets are available for late entry. Because slots may be limited, prior reservation is highly recommended. Due to the current world heath situation, other kinds of tickets are currently not sold. We will update this page once the situation changes.
How to travel to Disneyland and DisneySea Tokyo
Tokyo Disney resort is closely located to JR Haihama station, located on the JR Keiyo and JR Musashino Lines, and directly reachable from Tokyo station. The trip is fully covered by the Japan Rail Pass, normal fares cost 220 yen / one way.
From Maihama the ticket booths can be reached on foot in 10-15 minutes. Alternatively, visitors can use the Disney Monorail that travels around the park, stops at the entrance of Disneyland, DisneySea, and Bayside where hotels and shopping parks are located. The Disney Monorail is not covered by the JR Pass.
Best time to visit Disney resort Tokyo
The park can be busy year round but is especially so during weekends, national holidays in Japan, and school holidays (Spring holidays (mid March to early April) Summer holidays (late July through August) Winter holidays (late December to early January). During these days a fixed amount of tickets is sold and only visitors with a fixed date ticket will be allowed access.
The best time to visit is during off-season period and during normal week days.
Tips for visiting Disneyland Tokyo
The park operates a fastpass system, where visitors can register for a ride and be guaranteed a slot at a specific time, without any wait and completely for free.
It is possible to only have one fastpass reservation at any given time, make sure make your reservation first thing when entering the park and again after finishing the chosen ride.
Both Disneyland and DisneySea are amazing parks and very different from each other, if you have enough time, consider spending one day in each park.
Many hotels within the Tokyo Bay Area offer a free shuttle bus service to the park.
There's a huge shopping complex just outside the park called Ikspiari Shopping Mall, and a good shopping location, restaurant prices are also generally lower than inside the park.