Find out the best things to do in Ueno with our top picks, shopping recommendations, how to get to Ueno and expert tips for the Ueno ward in Tokyo.
Ueno is a well-known leisure spot in Tokyo, both for locals and tourists alike. It offers a wide variety of things to do, from shopping, to street food, traditional temples and some of the best museums in Tokyo. Not to mention Ueno park, which is pleasant to visit year round and super popular for Hanami (cherry blossom viewing) in the Sakura period.
Unlike most of Tokyo, Ueno does not have high-rising buildings, plus most shops and restaurants are smaller establishments, often run and owned by locals. As a result, Ueno is fondly referred to as Shita-Machi in Japanese, or freely translated as "down town" in English.
You don't just come to Ueno for one reason, or a single highlight. Instead, Ueno is best visited to enjoy the variety on offer and take your time to explore and partake in everything Ueno provides. To help you get the most out of visiting Ueno, here is our top 10 of things to do in Ueno.
Top 10 things to do in Ueno
1.) Meander through Ueno Park
Ueno park is a large city park, right outside Ueno station. Ueno park is a very popular spot during the Sakura season for picnicking and enjoying the spring festivities but is welcoming the whole year round and offers a nice break from the busy city life of the Tokyo metropolis. Within the park grounds there are many interesting museums, traditional temple buildings, in addition to Ueno Zoo.
2.) Go for a bargain at Ameyoko shopping street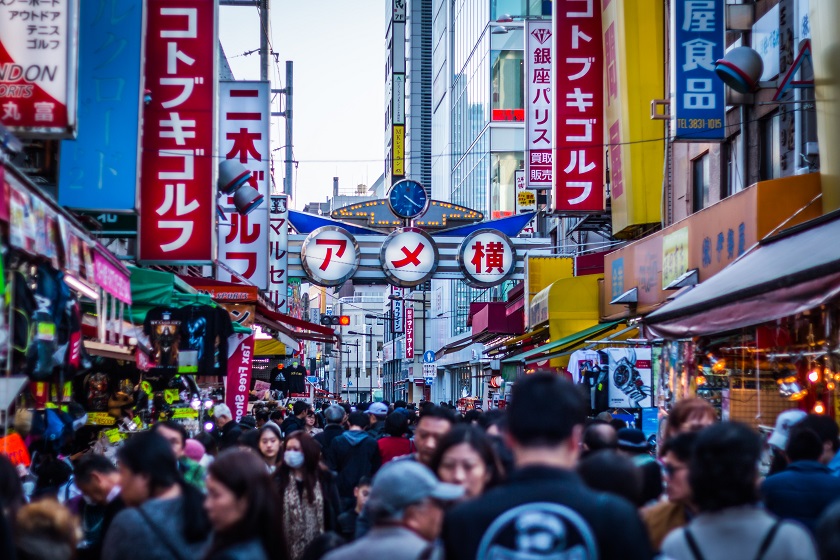 Ameyoko is a mix of a half open market and a boutique shopping street. It's known as the place where you can get good deals and low prices on many items like clothing, cosmetics, shoes, souvenirs, travel accessories and a wide range of (street) food.
3.) Visit the Hanazono Inari Shrine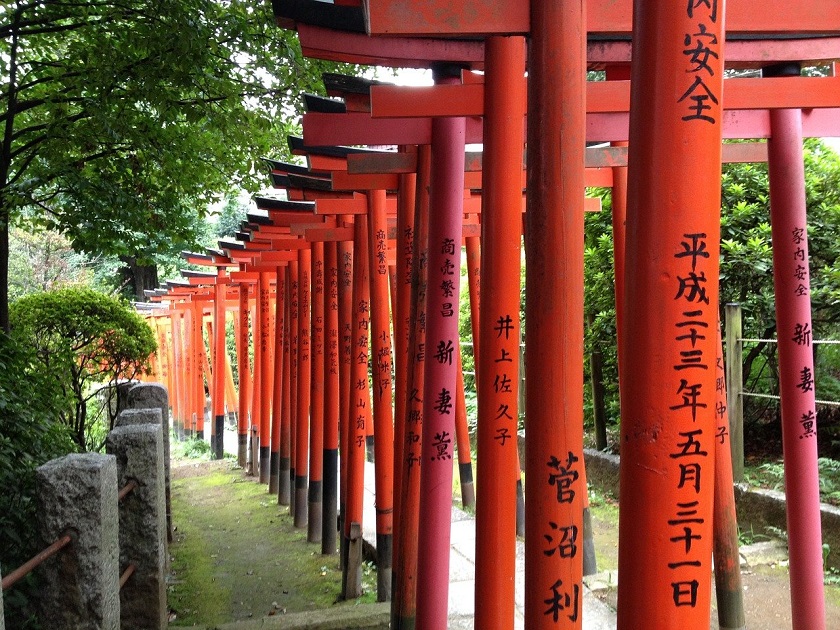 The Hanazono-inari Shrine has red torii gates lined up welcoming the visitor to enter the temple grounds. Take a moment to wander the temple grounds, smell the incense and pray for good fortune. The shrine also makes for a great photo opportunity.
4.) Walk around Shinobazu Pond
Historically a prominent feature in Ueno, often appearing in history and works of art. It's like a micro ecosystem within Tokyo, with many kinds of wild birds. The pond is divided into three smaller sections. The lotus pond, famous for the many lotus plants that cover the entire surface, the Cormorant Pond, named after the birds that inhabit it and thirdly the Boat pond, when it's possible to rent a small boat and enjoy some water fun.
5.) Become a local at the Shitamachi Museum
A surprisingly interesting museum, where visitors can learn about the local history, traditions and culture. The museum includes a display of how common people would live in the Edo period (1603 and 1868). A very informative and complete recommended visit to make.
6.) Learn about history at Tokyo National Museum
Going by the label of: "If you visit one museum in Tokyo this should be it." the Tokyo National Museum is the largest museum in Japan and has comprehensive collection of artwork, that show the history of Japan from ancient times, through medieval times.
7.) Have family fun at Ueno Zoo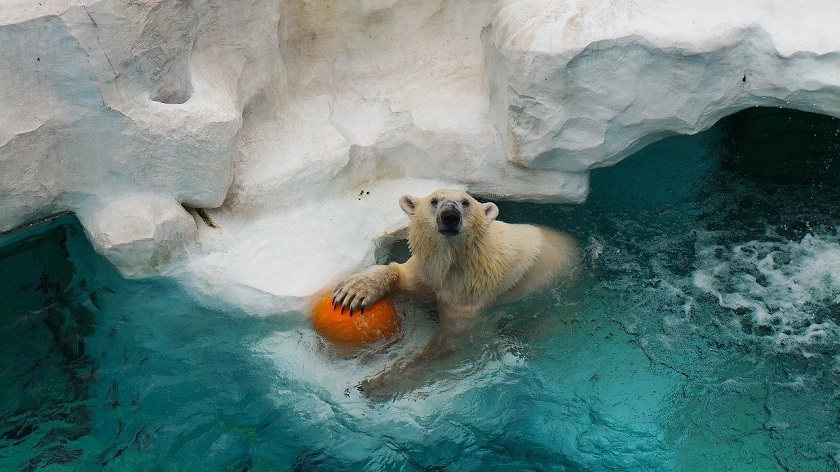 Great for a fun day out, Ueno zoo is loved by families and couples alike. Ueno zoo is Tokyo's oldest zoo and the most famous in Japan, mostly so for its giant pandas. Many other wild life can be seen as well, including the polar bears, Galápagos tortoises, elephants and many more. The zoo is located near the far back of Ueno park.
8.) Be amazed at the National Museum of Nature and Science
It's easy to spend the entire day at the National Museum of Nature and Science, as it's that extensive. Especially good for kids, the museum starts with the formation of life and the journey it when through until today, including some massive dinosaurs!
9.) Explore Ueno station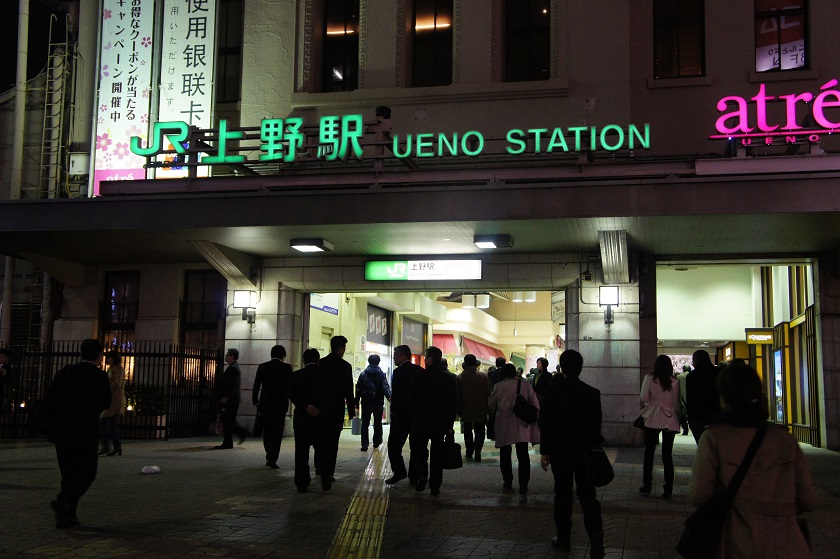 Ueno station is one of the oldest stations in Japan and both has local lines and high speed Shinkansen. The station complex is like a small city on its own, including many shops, restaurants and other establishments. Take some time to see the station for yourself and grab something sweet. Using the JR Pass you can also go to the Shinkansen tracks and go train spotting.
10.) Kappabashi – The one street in Japan for everything kitchen
Kappabashi is a street close to Ueno, which is almost entirely populated with shops supplying the restaurant trade. How it came to be is a bit of a mystery but somewhere in the 19th century many kitchen related shops decided to open all in the same street. Today it's a place where restaurant owners come to buy anything they may need for their trade. The shops are open to anyone and you can score some really handy items yourself and even if you're not looking to buy, it's a fascinating piece of Tokyo to discover.
How to get to Ueno using the JR Pass?
Ueno is a major hub within Tokyo and easily connected by Shinkansen, local JR trains, metro and more. For easy access we recommend using the JR Yamanote loop line, that stops at most important stations around Tokyo.
Once at Ueno station, it is easy to access the entire area on foot.