Table of Contents
1. Intro
2. A Brief History of Film in Japan
3. From James Bond to The Wolverine
4. Samurai, Geisha and The King of the Monsters
5. Japan's Underworld on Film
6. Lost in Translation
7. Don't Forget
1. Intro
If you're a film lover and you're planning a trip to the beautiful, unforgettable and unique country of Japan, there is a huge amount to see and do. From the hollowed-out volcanoes of You Only Live Twice to Hugh Jackman's adamantium-clawed 'Wolverine' and Bill Murray's washed-up actor finding himself 'Lost in Translation', Japan has a history of attracting Western cinema's most colourful heroes and villains. Of course, the country also has a proud cinematic heritage of its own and has successfully exported many classic Japanese films around the globe, perhaps most famously Akira Kurosawa's Seven Samurai. Using your JR Pass on Japan's excellent domestic rail system (and if you keep reading, this handy guide), you'll find it easy to track down your favourite movie locations during your visit to Japan, giving you the unique and once-in-a-lifetime chance to follow in the footsteps of your big screen idols.
2. A
BRIEF

HISTORY

OF

FILM

IN

JAPAN

Although Japanese cinema can be traced back to the dawn of the 20th Century and was heavily influenced by Kabuki and Bunraku, film historians generally agree that the country's cinematic Golden Age was in the 1950s. Three Japanese films from this decade appear in Sight and Sound's 'Best Films of All Time' poll – Rashomon, Seven Samurai and Tokyo Story – and this was also the decade that introduced Godzilla to the world. The decades that followed saw many peaks and troughs in Japan's film industry (with a second Golden Age being declared in the 1990s and 2000s). However, the country isn't just famous for making its own films, but for playing host to some of the biggest films and film franchises of all-time. If you're a film lover planning to visit Japan from overseas it's likely that you're a fan of Western cinema, as well as Japanese films, and the country has certainly attracted its fair share of big Hollywood names over the years.
3.
FROM

JAMES

BOND

TO

THE

WOLVERINE

James Bond may 'only live twice' but he has come to Japan more than once – and in various different incarnations from Sean Connery to Daniel Craig. His first and arguably most famous appearance in Japan was, of course, in 1967's You Only Live Twice, which saw James Bond visiting locations in Tokyo, Kagoshima and training as a ninja at Himeji Castle. Who could forget the scene where Bond visits Osato Chemicals building (which is secretly in league with the villainous SPECTRE organisation)? That building was in fact, The New Otani Hotel at 4-1 Kioi-cho, Chiyoda-ku. This is located near Akasaka-Mitsuke station and you can visit it today. It has even retained its 1960s charm. Later in the film, Bond goes undercover at a ninja training school at Himeji Castle before his final showdown with arch-nemesis Blofeld in his iconic hollowed-out volcano hideout.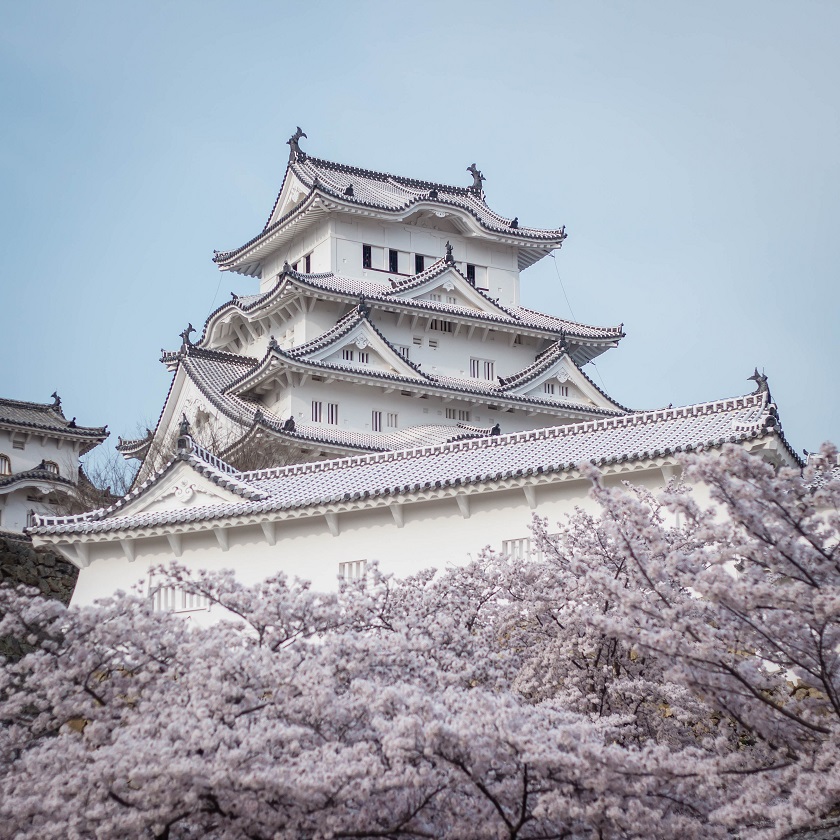 Himeji Castle, of course, is considered to be one of Japan's greatest and most spectacular castles and is top of the list of many travellers lists for its 17th Century Japanese architecture – and that's even without Sean Connery having filmed there. Travel to Himeji Station using your JR Pass and the castle is a 15-20 walk or a five-minute bus journey. Blofeld's hollowed-out volcano is actually the extinct volcano in Kirishima National Park in Kagoshima. You can reach Kagoshima using your JR Pass and the shinkansen from major cities such as Tokyo and Osaka.
Bond returned to Japan decades later and looking decidedly different, in the form of Daniel Craig, in Skyfall. In the film, Bond's first confrontation with Javier Bardem's villain takes place on the spectacular ruins of Hashima Island, Nagasaki. This is a heritage site which you can visit thanks to regular tours from Nagasaki Harbour. To reach Nagasaki, use your JR Pass to travel to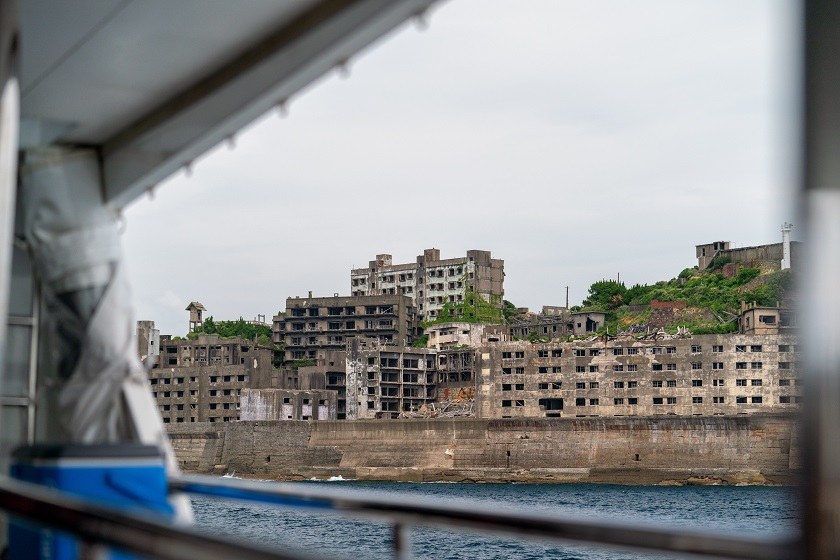 Bond may be a legendary hero, but for a superhero, look no further than Hugh Jackman's The Wolverine. This famous Marvel character has a long and celebrated connection with Japan in the comics and it was inevitable that the X-Men film series would focus on Logan's time in the country during one of the spin-off movies. While the film doesn't quite live up to the comics, it does have some very memorable scenes shot on location in Japan. A key funeral scene early in the film sees Wolverine battle thugs at Zojoji Temple in Minato, Tokyo, with the iconic Tokyo Tower in the background. He is then chased across the city before jumping on a bullet train at Ueno Station. You can retrace Hugh Jackman's footsteps and use your JR Pass to catch a train to your next movie destination.
4.
SAMURAI

,

GEISHA

AND

THE

KING

OF

THE

MONSTERS

Of course, no mention of Japanese cinema would be complete without talking about Kurosawa's Seven Samurai. Described by many as the quintessential samurai movie, one of Japan's greatest films and arguably one of the best films of all time, Seven Samurai is loved by generations of cinemagoers and critics alike. Legendary director Akira Kurosawa chose a location in Tagata on the Izu Peninsula, Shizuoka, to build the village which his samurai heroes would defend with their lives from villainous bandits in the classic film (which was famously remade in the 1960s as The Magnificent Seven). The Izu Peninsula is part of the Fuji-Hakone-Izu National Park and Seven Samurai was filmed in the Tagata District very close to the Atami Hot Springs. This is the place to go if you're looking for iconic Seven Samurai locations. The Izu Peninsula can be reached by Tokyo using your JR Pass and the Tōkaidō Shinkansen that connects the capital to the Atami and Mishima stations. When you arrive in the Izu Peninsula simply travel along the east coast with the JR Itō Line and the Izu Kyūkō Line until Shimoda. A more recent samurai film was also filmed on location in Japan. Tom Cruise's The Last Samurai. You can visit the same temple where Tom Cruise meets Ken Watanabe's samurai by visiting Engyoji Temple on Mount Shosha in Himeji, Hyogo, near Kyoto. Almost as famously Japanese as the samurai are the geisha. In the film, Memoirs of a Geisha, one of the most famous scenes sees the character Sayuri running through red torii (Shinto shrine archway) gates. This tunnel is the iconic Fushimi Inari Shrine in Kyoto. It leads to a mountain and can be accessed 24 hours a day. Kyoto, of course, is Japan's ancient capital and very much worth a visit with your Japan Rail Pass.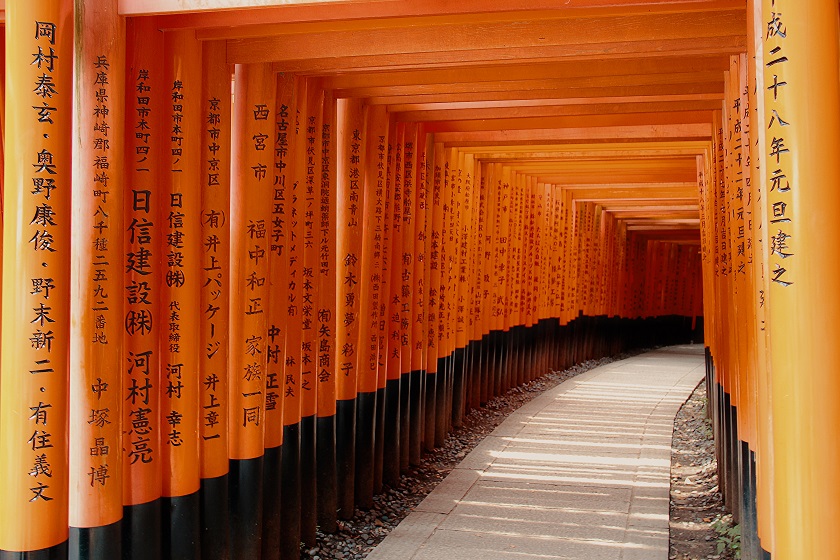 Last, but not least, we can't talk about Japan film icons like samurai and geisha without briefly mentioning the king of the monsters himself – Godzilla. It's hard to pick out just one location from Godzilla's many rampages across Japan, but if you're in Tokyo the iconic Hattori Clock – as featured in the king lizard's 1954 film debut – could be an ideal first destination.
5.
UNDERWORLD
Hollywood has long since had a fascination with Japan's futuristic urban environments, often using the stylish neon skyline as a backdrop for crime and action movies. From Robert Mitchum's 1970s thriller The Yakuza, to Ridley Scott's Black Rain with Michael Douglas and Andy Garcia, to more recent outings like The Fast and The Furious: Tokyo Drift and Quentin Tarantino's Kill Bill, Japan is regularly chosen as the country for choice for stylish thrillers and spectacular action movies.
You can follow in the legendary Robert Mitchum's footsteps by visiting one of the key locations in his film The Yakuza, which was written by Taxi Driver screenwriter Paul Schrader. The film – a thriller set amongst the Japanese underworld – was one of the first ever internationally financed films shot in Kyoto and features the architecturally stunning Kyoto International Conference Center on Lake Takaraga-ike as a key backdrop in the film. To visit this striking building, head north of Kyoto Station on the Subway Karasuma Line for 20 minutes and the final stop is Kokusaikaikan station. The exit will lead you directly to the International Conference Center.
Visionary director Ridley Scott, fresh off the successes of Alien and Blade Runner, chose Osaka as the location for his thriller Black Rain, which also saw an American protagonist taking on Japanese underworld figures. Scott, of course, is well known for his love of futuristic urban cityscapes illuminated by neon signage and for Black Rain he chose the Dotonbori district in Namba, Osaka. Check out the iconic Glico neon sign in the image below. The city itself is highly accessible using your JR Pass.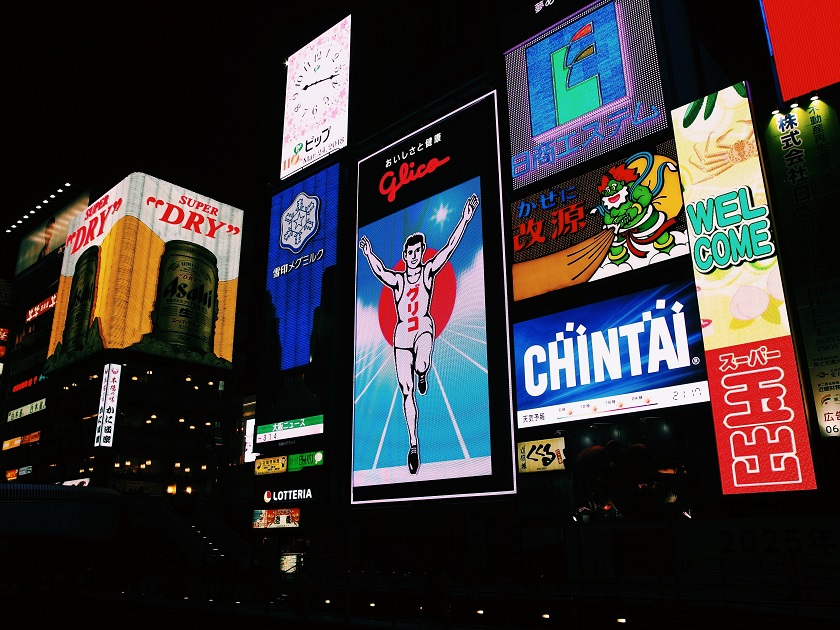 Quentin Tarantino's Kill Bill may have only filmed in Japan briefly, but one well-known location in Tokyo was the basis and inspiration of arguably the film's most famous chapter – 'Showdown at House of Blue Leaves'. Gonpachi Nishi-Azabu is a real-life soba and kushiyaki restaurant in Tokyo and was the inspiration for the 'House of Blue Leaves' restaurant in Kill Bill where Uma Thurman's The Bride takes on The Crazy 88 in a spectacular and epic bloodbath. While the actual scene may have been shot on a specially built set in a movie studio, the restaurant proudly displays a photo on the wall showing Tarantino himself visiting to get inspiration for the scene. Gonpachi – known to tourists as 'The Kill Bill Restaurant' – is about a ten-minute walk from Roppongi station and is definitely worth visiting for movie and food lovers.
6.
LOST

IN

TRANSLATION

Sofia Coppola's Oscar-winning drama Lost in Translation led to a whole generation of movie-goers falling in love with Japan (not to mention Scarlett Johansson and Bill Murray!). There are many famous Japanese locations included in the film, which was largely filmed in the Shinjuku and Shibuya districts, but arguably the most iconic in the film is the Park-Hyatt Hotel where Johanssen's character Charlotte and Bill's character Bob meet during their stay in the city. You can visit this hotel, admire the stunning view of the city immortalised in the film and even dine at the 52nd New York Bar & Grill where Charlotte and Bob hang out. Other locations from the film, which you can easily visit include Karaoke Kan (30-1 Udagawacho, Shibuya-ku) and Shabuzen (10-8 Kamiyamacho, Shibuya-ku) restaurant in Tokyo. You can also follow Charlotte on her brief escape from Tokyo to Kyoto when she visits Heian Jingu shrine. Finally, also featured in the film, is Tokyo's world-famous Shibuya Crossing. From Shinjuku you can take the JR Yamanote line to Shibuya station to see the famous scramble crossing.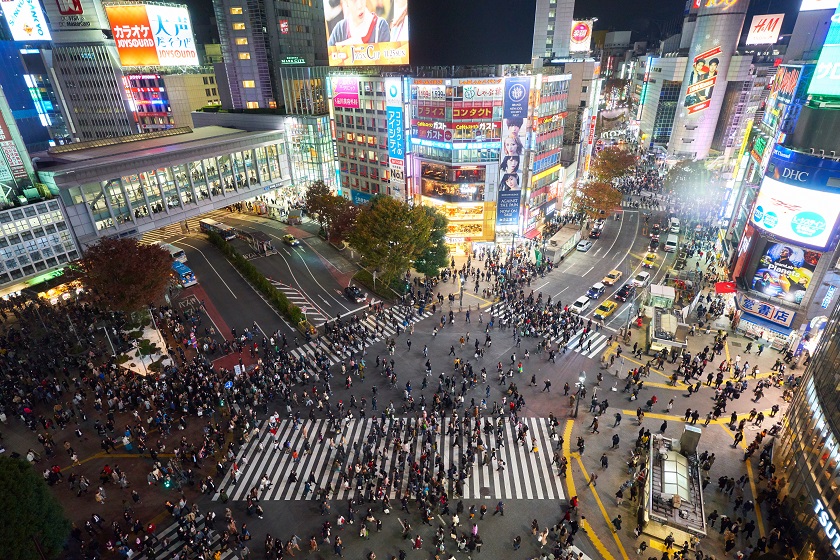 If you're doing the lost in translation tour in Tokyo specifically then make sure you invest in a prepaid travel card for the city's Metro system. And if you're travelling further afield, such as Kyoto, then don't forget your JR Rail Pass. It's the best value method of seeing this amazing country. In Lost in Translation, Bill Murray's character is a film star who has flown to Japan to film a whiskey commercial. Japan is world-famous for the quality of its whiskey and you can read all about it in our special guide to Japan for Whiskey Lovers.
7. DON'T
FORGET
The best way to get around the whole of Japan is by using the JR Pass to travel the country's domestic rail network.
Need to stay connected while you're on the move? Make sure your purchase Pocket

WIFI

before you arrive.
Read more about Japan's different regions and discover our Regional Passes.
Planning to travel around Tokyo visiting movie locations? Why not book a prepaid travel card alongside your JR Pass?
First time in Japan? Read our top tips for first-timers.
If you see an Adamantium-clawed mutant battling evil villains on the streets of Tokyo, or a giant lizard taller than a skyscraper, maybe look for the cameras before fleeing – it might be a movie! ;)