Asakusa is where the vibe of older Tokyo lingers, small craft stores and restaurants line the streets. Then there is the ancient Sensō-ji temple, featured on many postcards from Tokyo. Asakusa is built on the banks of the Sumida river, which nowadays is a trendy upscale dining scene. In the evening, the area comes to life with countless Izakaya and entertainment venues opening.
Historically, Asakusa was one of the more rough and less developed parts of Tokyo. It used to be the area sailors and merchants used to frequent, with everything that comes with that. Today Asakusa is completely safe and the lively atmosphere of times past still persists. Tokyoites come to Asakusa for the food, boutique shops, entertainment and nightlife. For outside visitors Asakusa is a great place to stay due to low accommodation prices as there is a wide range of cheaper hostels, business hotels and guest houses.
Whether you come to Asakusa for a couple of hours or longer, the area is unique and a must-visit when visiting Tokyo. The area can be easily explored on foot, which by far gives the best experience.
There's a lot to do, taste and explore around Asakusa. Here are our top picks:
Top 10 things to do, see and eat in Asakusa.
Kaminarimon
Kaminarimon, or "thunder gate" is the entrance to Senso-ji and the most iconic point of Asakusa.
At the front of the gate, two great sculptures of the Shinto gods Fūjin, god of wind and Raijin, god of thunder are said to protect the entrance. A giant red lantern hanging below the entrance reads 雷門, the kanji for thunder gate.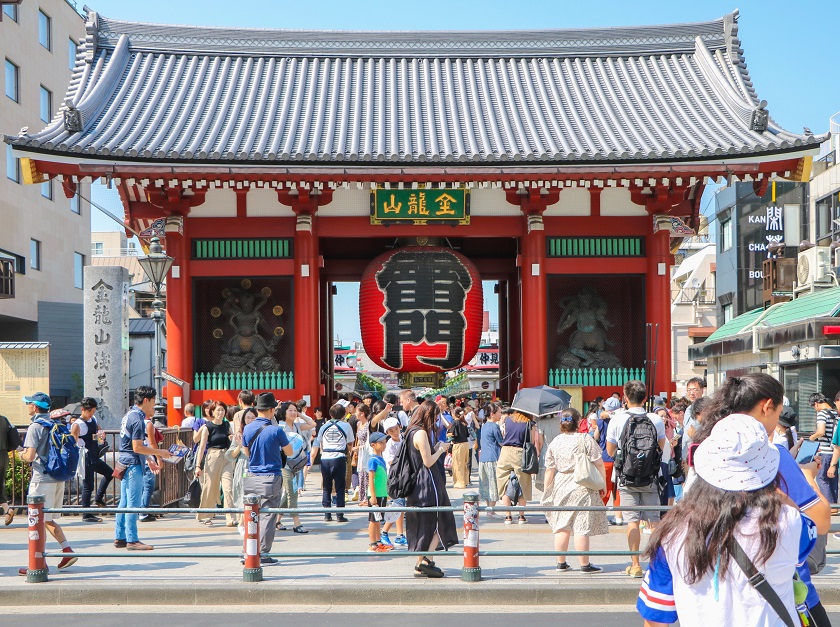 The gate is also the entrance to Nakamise-dōri and Sensō-ji temple which are the next recommended stops.
Nakamise-dōri
One of Japan's oldest shopping streets, dating back to the 17th century runs up to Senjo-ji temple. Many shops in this arcade have been run by the same families for several generations, on sale is a variety of novelties, local street food and souvenirs.
Sensoji temple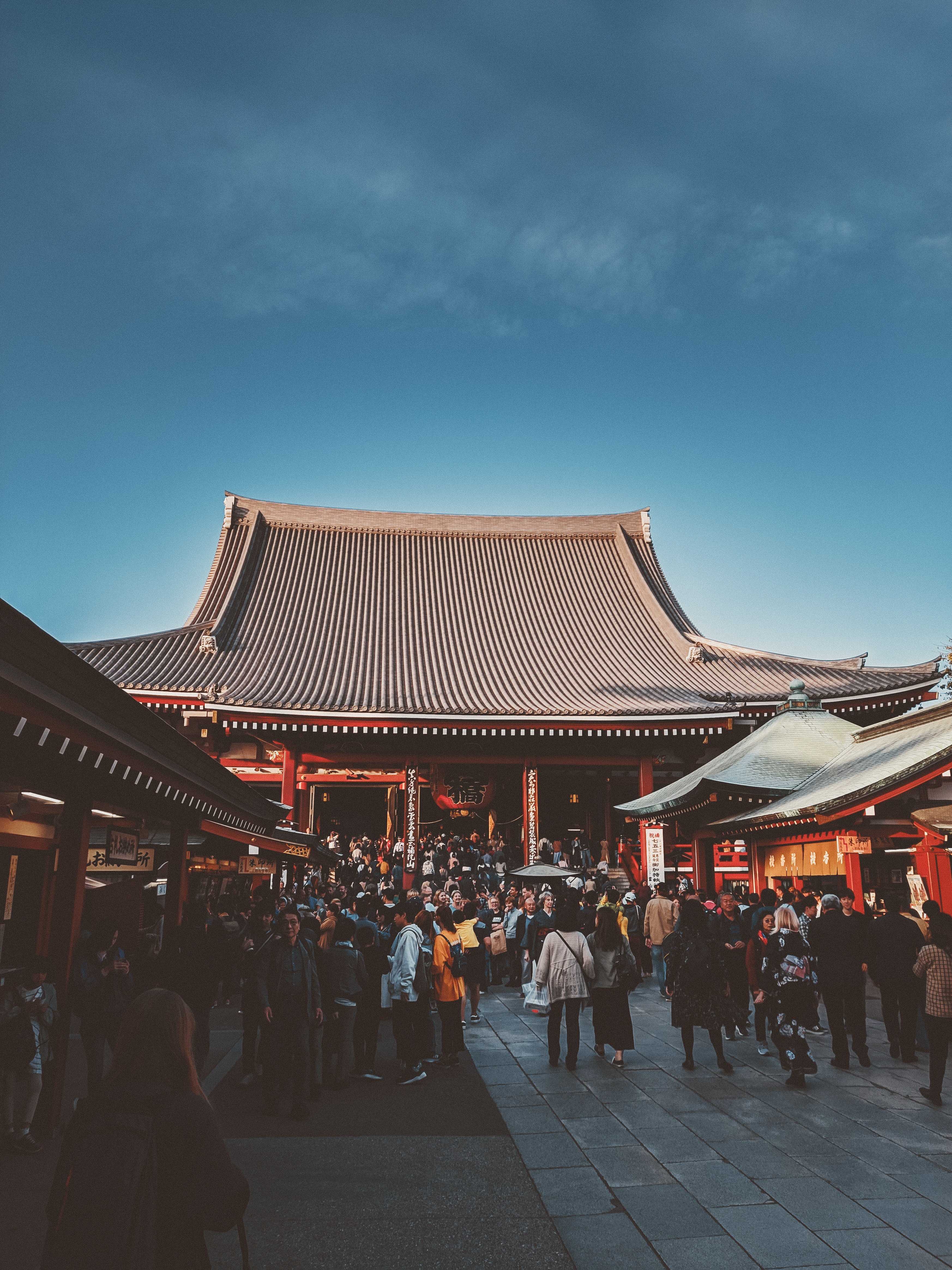 Sensoji, also known as Asakusa Kannon Temple is the oldest temple in Tokyo, dating back to 645. It was founded by a Buddhist sect to honour the god of mercy. Today Sensoji is well-loved by both locals and tourists. It is one of the most popular spots in Asakusa and crowds can be massive during the weekends.
Shin-Nakamise Shopping Street
Running parallel to Nakamise-dōri, Shin-Nakamise (or New Nakamise) is a shopping street arcade that is filled with small restaurants and stores. Unlike Nakamise, it caters more to locals than tourists and retains the feel of older Tokyo. As such the experience is more authentic and a great price to have lunch or dinner.
Sumida River Cruise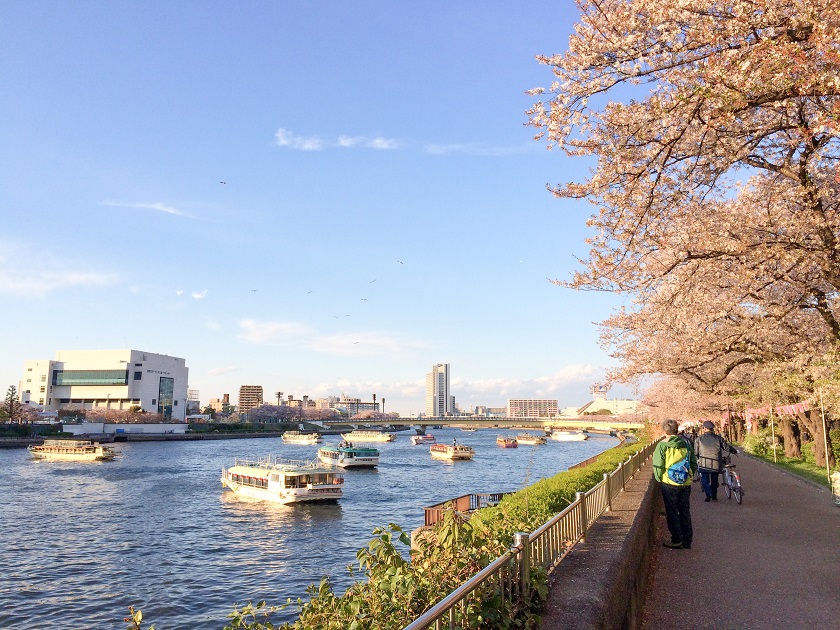 Asakusa is the base and one of the main stopping points for the Sumida river cruises. Going on a cruise will take you from Asakusa to Tokyo bay, with beautiful views of Tokyo all around. Special options are available for dining cruises and after dark. Doing a cruise is a highly recommended way to see Tokyo in a relaxed manner.
Asahi Beer Tower

One of the unique landmarks in Tokyo, the Asahi beer tower is the HQ of the Asahi beer brewery. On top of the building is a golden sculpture that looks like a drop of beer. Within the building is a viewing deck, and different restaurants to try. Of course, you can do beer tasting as well!
Kamiya Bar
Established in the late 1800s, the Kamiya Bar is the oldest western style bar in Japan and well known country wide. Even today it remains true to its heritage, serving low cost drinks to the locals. One sale is a special "Denki Bran" or electric brandy, which is only sold and brewed at Kamiya.
Street Food
There is plenty of street food in Asakusa to try, all at very good prices. Being on the Sumida river and close to Tokyo bay, there's a good amount of street food based on freshly caught fish. Favourites include Takoyaki, Tempura and smoked Unagi.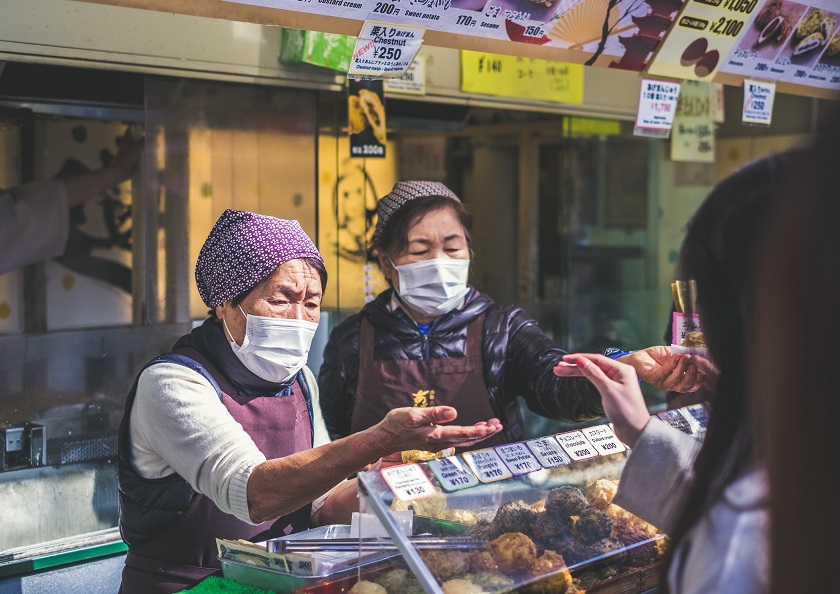 Alternatively try some of the local breads or cookies, like Taiyaki. There's an old bakery called Asakusa Kagetsudo that makes some of the best melon pan ever – being very scrumptious sweet buns.
Taikokan, the Drum museum
Drums are an integral part of Japanese festivals and parades. The Drum museum, or Taikokan has over 800 drums on display, there's both a traditional Japanese drum and a world wide collection. The best part, you can play some yourself!
How to access Asakusa
Asakusa has easy access on the Tokyo Metro with the Asakusa line and Ginza line.
The JR Pass does not include the Tokyo Metro, if you want to save on transport use the JR Pass to travel to Ginza station and transfer to the JR Ginza line there, or if you don't mind a 20 minute walk, take a local JR line to Asakusabashi station and walk from there.