Though commonly thought of as a city, as it is the capital of Japan, Tokyo is actually governed as a prefecture. Tokyo is comprised of twenty-three city wards, each with local autonomy, a directly elected mayor and assembly, though they do share public services and function as a single entity.
Today, the wards of Tokyo refer to themselves as "cities" in English. Exploring Tokyo is an exploration of the cities' diverse cultural roots, forms of living, and environments such as National parks while still claiming the most densely populated cities in the world.
One of the most iconic places to go in Tokyo is the city-ward Shibuya. Shibuya, Tokyo is famous for a multitude of archetypical urban sights to see including Shibuya Station and Shibuya Crossing. There is also a large draw for the youth fashion and culture, with an itinerary list of popular destinations for shopping, entertainment, nightclubs, and world-class dining.
Shibuya Station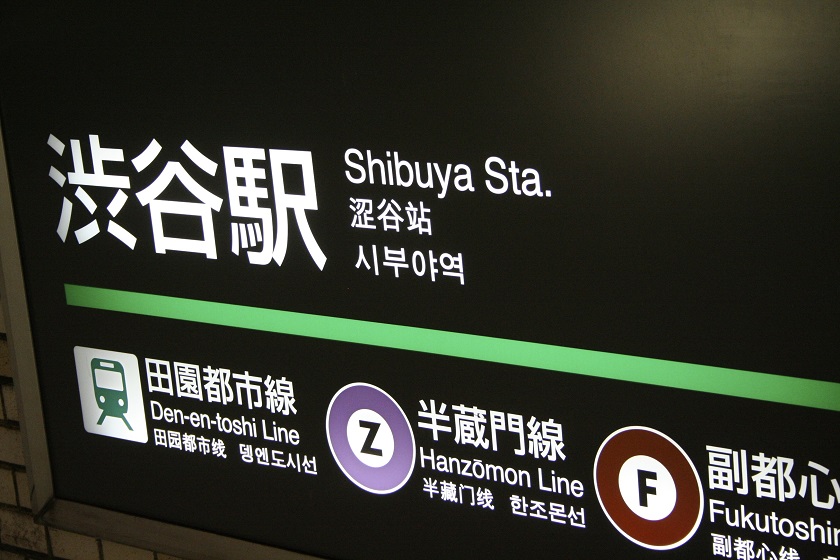 Shibuya station is a complex transportation hub where a variety of railway and subway lines come together. The Japan Rail Shibuya Station, a station that connects the high-speed trains available to those with the Japan Rail pass, has eight floors of shopping as well as dining, and is next to the Shibuya Mark City mall, with six floors of restaurants and shops.
Hachiko Square is on the northwest side of the JR Shibuya Station and is famously named after the faithful Akita dog Hachiko. Hachiko, a national hero, showed extraordinary devotion by walking to the station every day to meet his owner, even ten years after the owner had died
Shibuya Crossing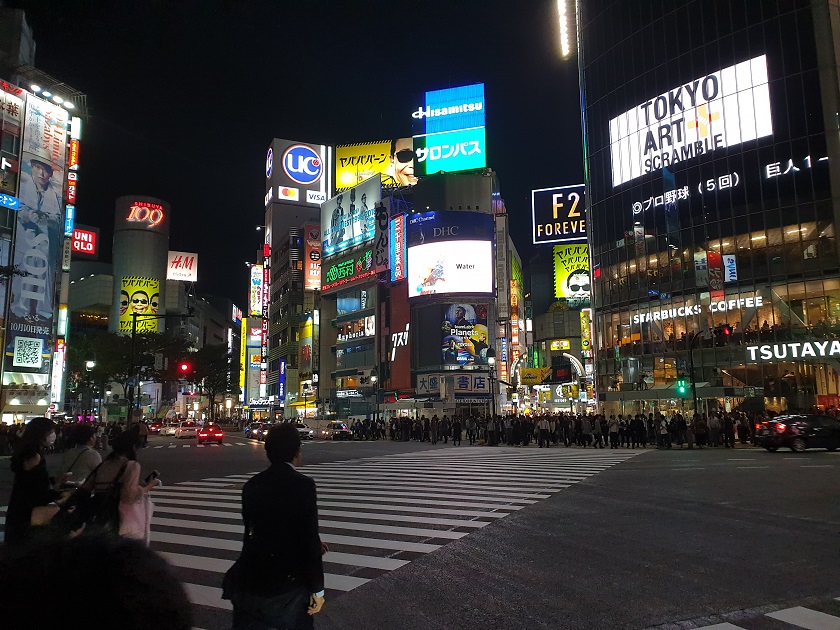 Shibuya Crossing is a landmark of Tokyo and Japan. It is a popular place for movies and media. This highly urban and metropolitan ward is notable for its futuristic look of large mounted TV screens and sky-high neon buildings. The densely populated yet fluid motion of pedestrians and vehicles navigating Shibuya Crossing's 10 lanes of traffic and five major crosswalks in one intersection, is fed by Shibuya station — one of the world's busiest train stations. While visiting Shibuya Crossing can be done at any time of year, the warmer months may hold a greater opportunity to see the variety of urban Tokyo.
Shibuya 109
This popular ten-story shopping mall is notorious in the fashion community, especially for its influence as a haven for young women in the "gyaru" subculture in the early 2000s. The iconic mall is built as a large cylinder, with an obvious and massive sign on the front stating "109," visible from Hachiko Square and in easy access to Shibuya Station.
With ten floors of shopping dedicated mostly to young women interested in the latest Japanese fashion, and a variety of restaurants, it is easy to feel lost and lose track of time immersed in the shopping experience of one of the largest department stores in Shibuya, Tokyo.
Shibuya Sky
Atop Tokyo's tallest skyscraper, Shibuya Scramble Square — at a height of 230-meters — are two floors dedicated to observation, known as the "Shibuya Sky." The 45th floor, known as the "sky gallery" is an enclosed observation area that hosts cafes, bars, and souvenir shops. Artistic video installations with accompanying sound offer a sense of modern Shibuya while enjoying the view. The 46th floor, known as the "sky stage" is an outdoor rooftop observatory that has an area of 2,500 square meters and includes a helipad, lounging area, and multiple spots for photo opportunities with great views of Tokyo Tower, Tokyo Skytree, the whole Shibuya district, and on a clear day, Mt Fuji.
What to Do in Shibuya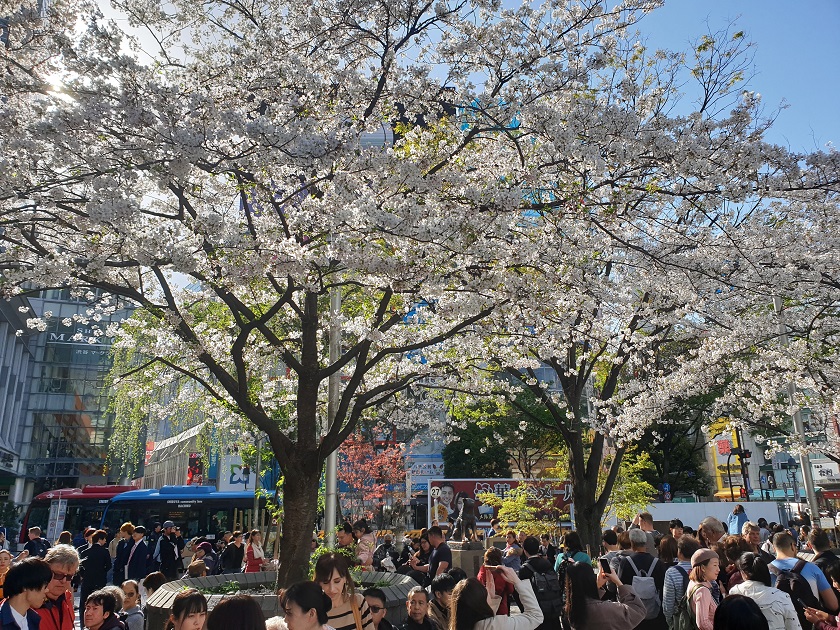 Shibuya draws people for entertainment, food & drink, sightseeing, nightlife, and niche entertainment with blossoming art and tech scenes.
Shibuya Nightlife
Womb




A venue that offers the latest in electronic music to fans in Tokyo from local DJs to DJs from around the world.
Door prices and tickets vary per show.
Address: 2-16 Maruyama-cho, Shibuya-ku, Tokyo 150-044, Japan.
One of the most popular and largest nightclubs in Shibuya.
Door prices vary by time, day, and gender.
Address: 13-8 Chitosekaikan B1F, Udagawa-Cho, Shibuya-ku, Tokyo 150-0042, Japan.
Sound Museum Vision offers a variety of music on different floors.
Prices vary by time, day, and show.
Address B1f 2-10-7 Dogenzaka, Shibuya 150-0043 Shibuya, Tokyo.
Shibuya Bars
Zubar offers a full food menu with a variety of Taiwanese delicacies, and a range of eclectic music.
Door prices vary by show.
Address: 2-24-1 Higashi, Shibuya-Ku, Tokyo, Japan.
Bar Music is a place to relax, enjoy a variety of music, and discover classic vinyl and sip wine or coffee.
Prices vary.
Address: 5F, 1-6-7 Dogenzaka, Shibuya-ku, Tokyo, Japan.
Playing a variety of house, breakbeats, and jazz, you can either find a place on the dance floor or enjoy the small bar along the concrete wall.
Prices vary by night and show.
Address Daihachi-Toto Bldg B1F, 15-19 Sakuragaokacho, Shibuya-ku, Tokyo.
This famous Izakaya alley known as Nonbei Yokocho, literally translated to "drunkard's alley". The alley is lined with small bars, pubs, and restaurants.
Address: 1Chome-25 Shibuya, Shibuya City, Tokyo 150-0002.
Shibuya Shopping
Easily accessible via a pedestrian bridge from the second floor of the JR Shibuya Station on the east side.
The high-rise complex consists of 11 above-ground floors, and three underground. Shopping is primarily focused from floors 1-5 and the first underground floor. The second and third basement, as well as floors 6-11 are more food-focused. The 11th floor also contains a theatre and stage for other live entertainment.
Seibu is a large complex comprised of five buildings: The A and B buildings which are divided by Center-Gai Street, and the P (parking) building.
Differing floors focus on food, men and women's fashion, interior goods, handcrafted tableware, a pet shop, and there is even a tax refund counter on the seventh floor of A building.
Seibu is located across the road from the Hachiko exit of Shibuya Station.
South of Yoyogi Park is the Jinnan shopping district located on Park Street and Fire Street.
While Jinnan is focused on shopping, much like the rest of Shibuya, but is generally more fashion designer oriented with a more elegant experience.
Shibuya Sightseeing and Entertainment
Dev Japan




Though not always available in Shibuya, it is often that tech development meetups do occur. These meetups can be an enjoyable experience for the tech-focused to meet like minds and enjoy the atmosphere of programming and development. If you are planning to attend, it may be helpful to bring your own Wi-Fi access with a pocket Wi-Fi device.

Tokyo Startup Events

Cosmo Planetarium




The planetarium makes for a nice break from the chaos of the crowds and neon lights. The narration is in Japanese, but there is an English guide for buying tickets. Tickets are reasonably priced at 600 yen.
Yoyogi Park




A great place to picnic, rent a bike, or relax after a hectic day of exploring the bright and vast Shibuya.
Cost: 210+ yen to rent a bike
Address: 2-1 Yoyohikamizonocho, Shibuya City, Tokyo 151-0052, Japan

Meiji Jingu Shrine




Visiting Meiji Jingu Shrine offers a true taste of history and Japanese culture. The shrine is dedicated to Emperor Meiji, the first modern emperor of Japan, and the Empress Shoken. Visitors can partake in traditional and typical Shinto activities such as making offerings, buying charms and amulets, or writing out a wish on an ema.
Address 1-1 Yoyogikamizonocho, Shibuya City, Tokyo 151-8557, Japan.
Shibuya Hotels
Capsule hotels, or pod hotels, are a unique experience for those out on the town for a night. The hotel room is a small bed-sized room known as a capsule that is meant specifically to accommodate a single overnight sleep.
Cost: 1,300+ yen.
Ryokan are traditional Japanese inns that typically feature matted rooms, communal baths, and other public areas in which to relax and visit with other travelers, or the owner. There are a variety of types and luxury levels of Ryokan across Japan.

Shibuya Restaurants
Shibuya Onsen
Onsen, or natural Japanese hot spring baths, are a traditional way to relax in Japan. There are many Onsen in Tokyo. A few are centrally located, or accessible with light travel, or Japan Rail travel from Shibuya. Fees will depend on the length of time for bathing, as well as other offers from the facility.