Table of contents:
Intro
Romance in Japan
Japan's Most Romantic Locations
Don't forget
Intro
Japan can easily compete with Paris, Rome or Venice in the romance department, and what's more, it's a lot cooler. While many of the world's most famous romantic destinations have become a bit clichéd and old school, Japan is your 21st Century choice for modern-day and alternative romantics everywhere. From temples, shrines and snowy mountains to cherry blossom, glamorous neon cities and white-sand beaches, Japan is both a country to fall in love with, and a place to fall in love in general. Another great thing about Japan is that while it's heart-achingly romantic, it's also super practical, organised and efficient. If you want to travel from one side of the country to the other to seek out the most romantic locations then Japan's excellent domestic rail network will make your dreams come true. Using the JR Pass for unlimited travel, you can sit back and relax – romance and true love are just a train ride away.
Romance in Japan
Every country has its own rules and rituals around romance, and Japan is no different. However, it does have its own quirks, as you'd expect. Valentine's Day for instance is celebrated every February in Japan and comes with many of the same customs as other countries, with one very notable exception. In Japan, Valentine's is the day a woman gives a present to the object of their affection. It's very much a one-way transaction and the recipient doesn't return the gesture until a month later on White Day. The gift is often chocolate or sweets called 'honmei choco', and they are sometimes handmade. This is given to someone a woman is romantically interested in, while she can also give 'giri choco' or obligatory chocolates to male friends and co-workers. On White Day, the object of her affection has the chance to reciprocate with a gift of their own, although rules state it must be worth three times the value of her present. This gift is known as 'sanbai kaeshi'. Of course, if you're just visiting Japan then you don't need to worry too much about all of this and can instead enjoy a hugely romantic getaway in one of the world's most beautiful, interesting and historic countries.
Japan's Most Romantic Locations
If you're planning a romantic getaway in 2020, Japan is the place to go. Here's our pick of the most romantic places to take the person you love and how to get there with your Japan Rail Pass.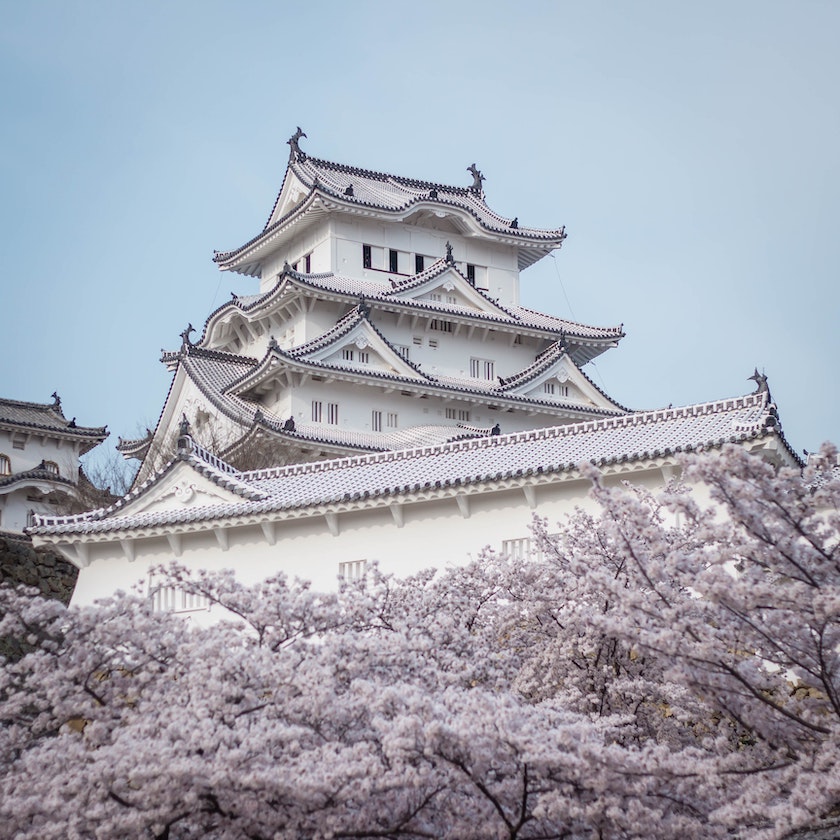 Himeji Castle
Japan is famous for its beautiful and architecturally unique castles – read our Top 5 Incredibles Castles in Japan to find out more – and one of the most beautiful of all is Himeji Castle. Known as 'White Heron Castle' (Shirasagi-jo) because of the colour and shape of its walls (like a bird taking flight), Himeji Castle and the surrounding Kokoen gardens make for an incredibly romantic place to explore. Kokoen Garden consists of nine separate walled gardens designed in different styles resembling the Edo Period, and also includes a koi pond, tea house and flower garden. It's the perfect place to walk hand in hand with the person you love, while looking up at the breath-taking Himeji Castle. The castle itself dates back to 1333 and is an excellent example of prototypical Japanese castle architecture and feudal defence. It has been recognised by UNESCO as a world heritage site and national treasure thanks to the quality of its architecture and cultural significance. For a more detailed guide to the history of Himeji City and Castle, including what to do in the city and nearby attractions such as Mount Shosha, read Visit Himeji: Home to the Most Beautiful Castle in Japan.
It's easy to reach Himeji using the JR Rail Pass. If you take the the Sanyo Shinkansen, Himeji is the stop directly between Hiroshima and Shin-Osaka. Alternatively you can get to Himeji using the JR special rapid service (Shinkaisoku in Japanese) that runs all the way from Kyoto to Himeji, this service is covered by the Kansai Area Pass.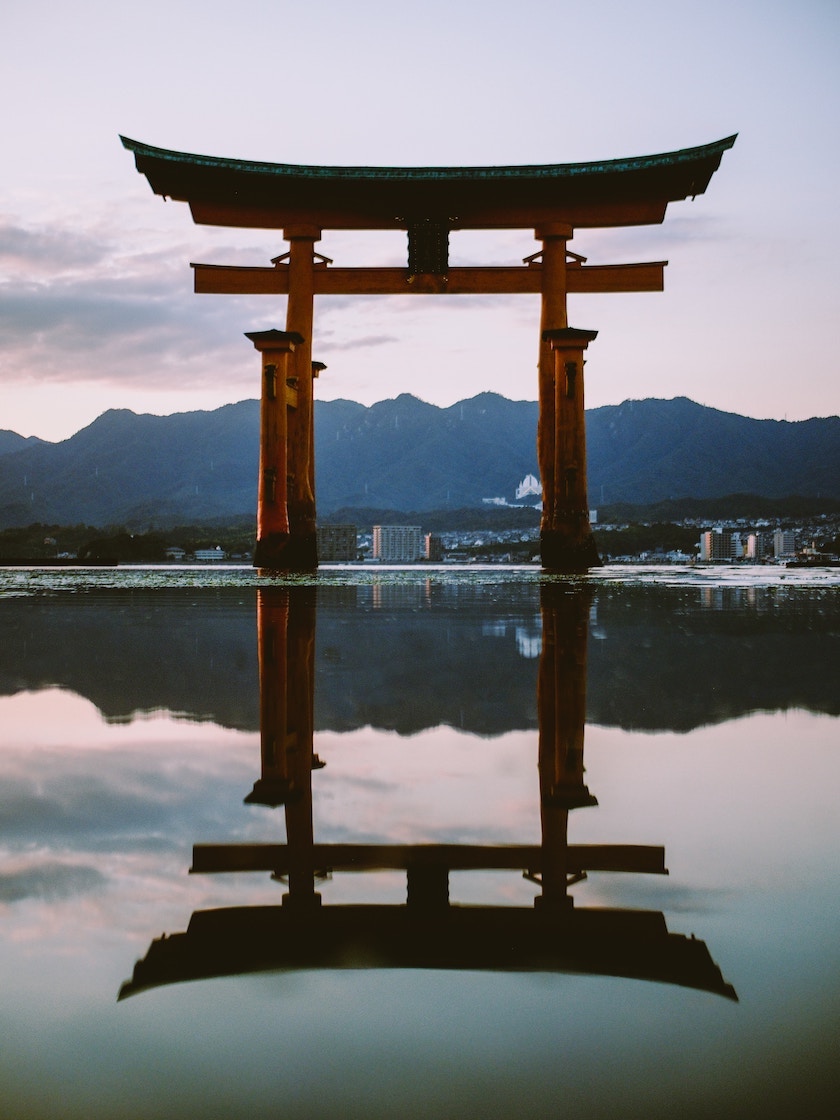 Miyajima
Torii gates are just as famous, beautiful and romantic as castles in Japan, and the 'floating' gate at Miyajima is one of the most iconic. A small island in the bay of Hiroshima, Miyajima is famous for the massive Torii gate rising out of the sea. At the right tide, it appears as if the Torii is floating on the water. It is considered one of the most beautiful and iconic views in Japan and is part of the Nihon Sankei. The name of the island is technically Itsukushima, but it's more commonly known as Miyajima, or simply 'shrine island'. Miyajima is inhabited by domesticated deer and you'll find them all around the island, which is perfect for a half-day visit. There's also a ropeway up the island for a breath-taking panoramic view of Hiroshima city and surrounding bay. To reach Miyajima using your Japan Rail Pass, take a local JR train from Hiroshima station on the JR Sanyo line and get off at Miyajima-guchi station. From there it is five minutes or less to the JR Ferry, which will take you to the island. Just make sure to show your JR Pass. For more information read our guide to visiting Miyajima with The JR Pass.
Kyoto
When it comes to sampling 'old Japan' as part of a romantic getaway, it's hard to look past Kyoto. It is everything you think of when you imagine historic Japan and is easily one of the romantic places in the whole of the country. Remember Scarlett Johansson's character Charlotte visiting the temples and shrines in the film Lost in Translation and how beautiful it looked? Kyoto has more than 1,600 temples and is considered by many to be the cultural and historic capital of Japan.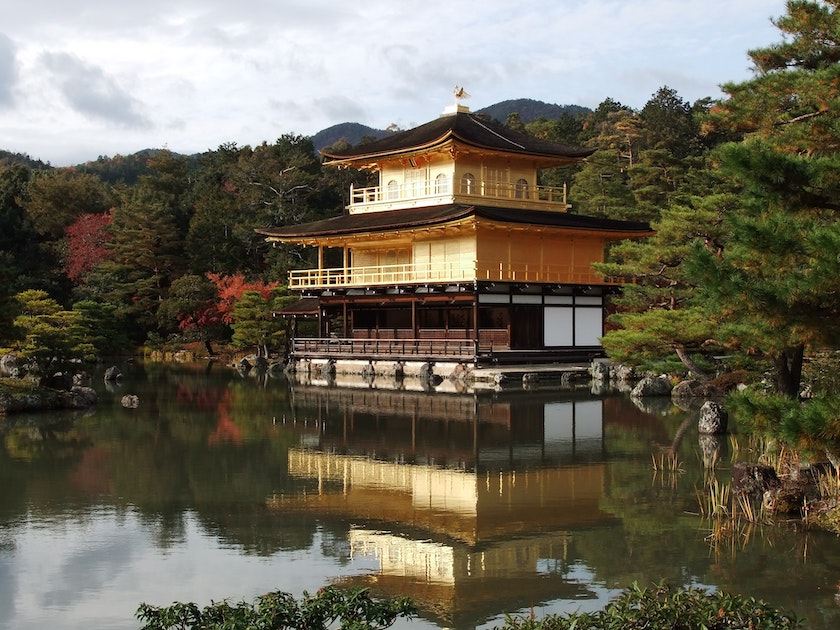 Two of the most romantic and must-see shrines are the famous 'Golden Pavilion' of Kinkaku-ji and Kiyomizudera 'Pure Water Temple' with its incredible veranda. The latter even features the 'Stone of Love', which can tell if you will ever find true love. There's more to Kyoto than just temples and shrines too. It is an incredibly romantic city. Just imagine walking through the cobbled streets of the traditional geisha district of Gion, staying at one of the city's many Ryokan inns, holding hands in the zen gardens or along the Path of Philosophy, or sampling Kyoto's kaiseki fine-dining. There really is something for every couple here.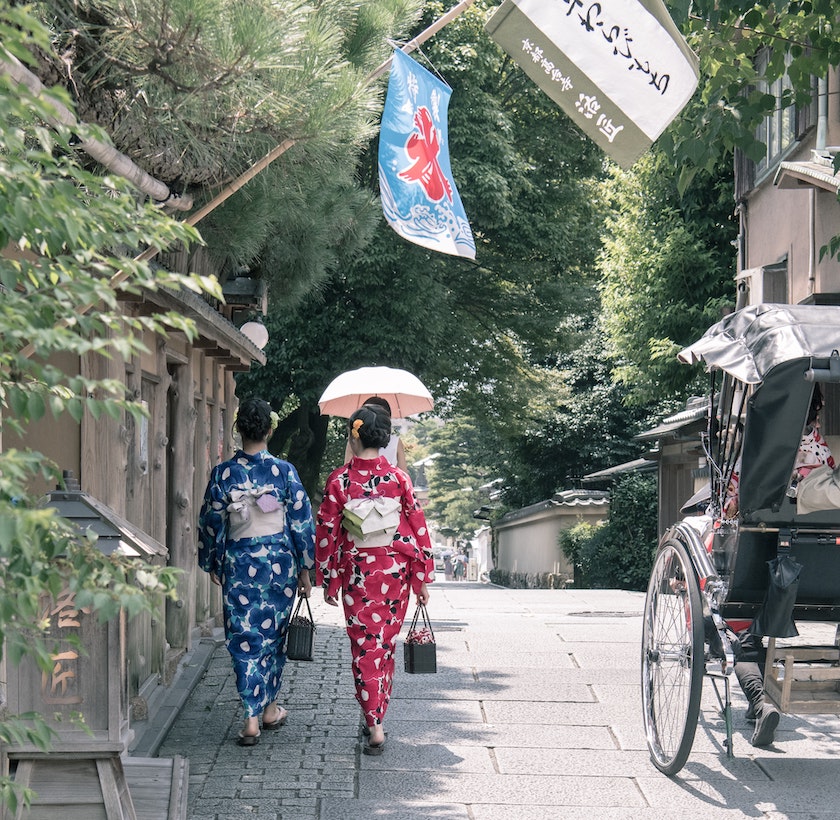 Kyoto is easily accessible from most cities using your Japan Rail Pass. You can also read an extensive guide to the city's temples and shrines in our guide, Best Buddhist Temples in Kyoto to Visit.
Arashiyama Bamboo Forest
Located in north-western Kyoto, near the base of the 'Storm Mountains' in the Arashiyama district, this spectacular bamboo forest (or grove) is a wonder to behold, and one of the most famous and beautiful forests in Japan. If you're traveling from Tokyo, first take the JR Tokaido Shinkansen from Tokyo to Kyoto station. Once in Kyoto, take the JR Sagano or San-in lines to Saga-Arashiyama Station. Once you get off at the station, you have a couple of options to complete the final leg of the trip to the bamboo grove. You can either take a bus, which departs from the station every few minutes, or you can get there on foot after a short fifteen-minute walk. Arashiyama Bamboo Grove is also perfectly located for another romantic highlight – the famous Sagano Romantic Train. This picturesque journey is a great way to take in the natural beauty of the Arashiyama region and is particularly popular during cherry blossom season in March and April.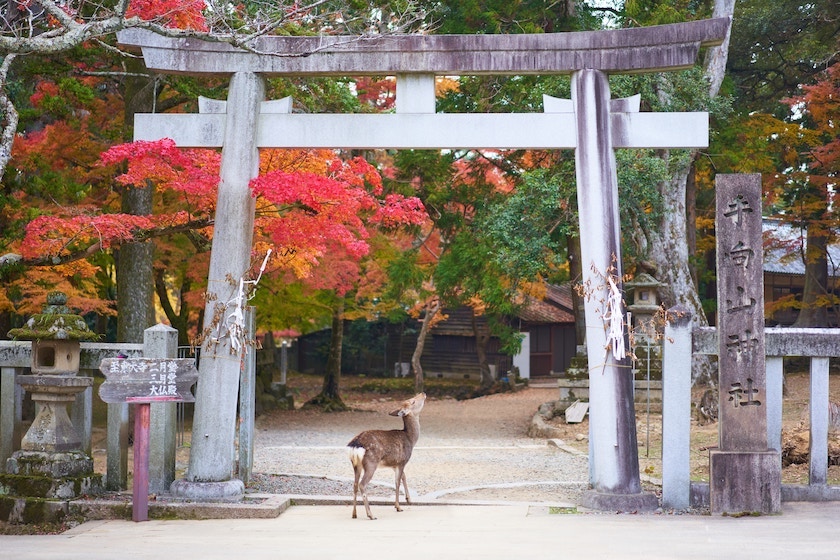 Todai-Ji Temple, Nara
Nara is another beautiful destination for romantics. Famous for both its historic temples and the many deer that freely roam in the city parks, this small town is located in the Kansai Region and makes for a great day trip from Kyoto or Osaka using the JR Nara line. What could be more romantic than exploring Nara's serene and tranquil parks, temples and shrines while beautiful wild deer pass by? And when it comes to romantic temples, we recommended Todai-Ji. You can find out more about why Nara is such a good place for a short and hugely romantic visit in our Day Trip to Nara guide.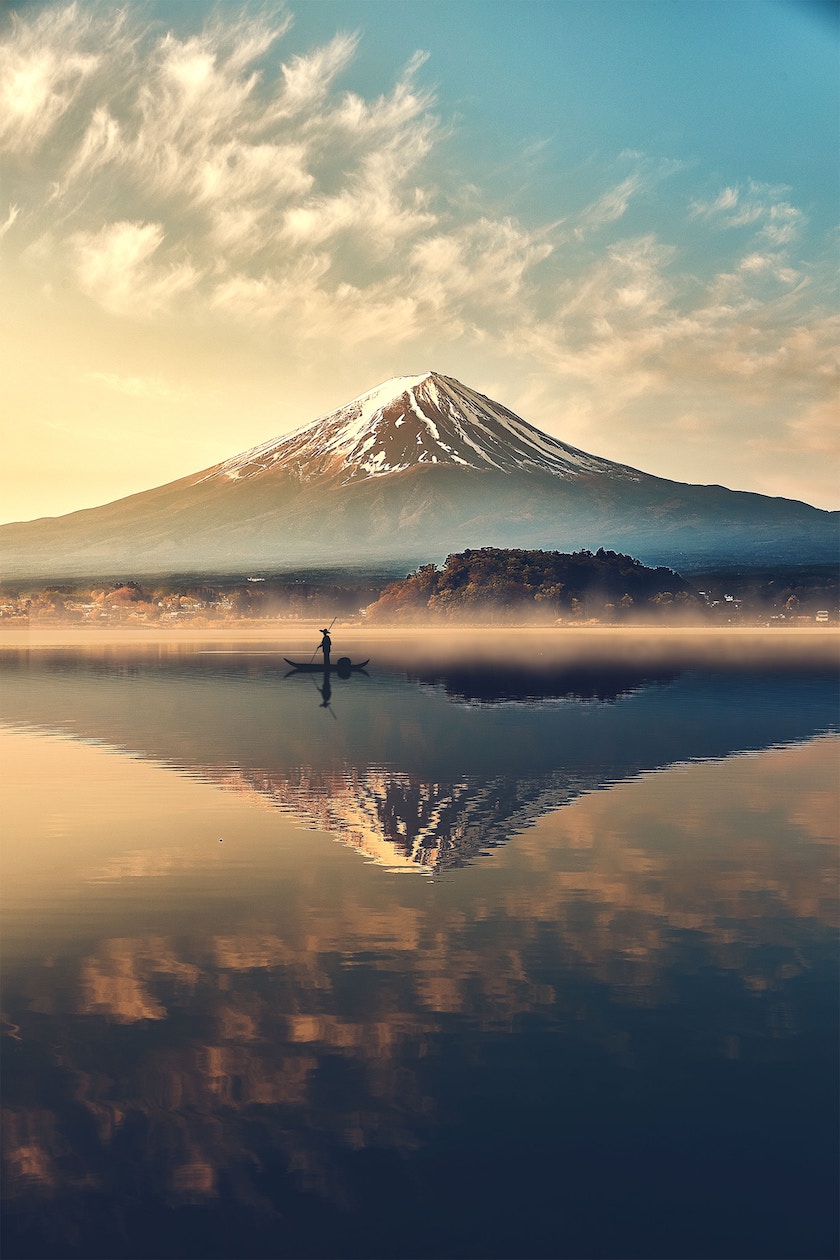 Mount Fuji and Chureito Pagoda
Of course, no list of the most romantic spots in Japan could be complete without the legendary Mount Fuji. The famous mountain, more commonly known as 'Fuji-san', is one of Japan's most iconic sights and provides arguably the most romantic backdrop. Fuji Five Lakes offers one of the best vantage points from the mountain, which is best appreciated from afar unless you're an avid climber. Another popular place to view the mountain is from the beautiful and picture perfect Chureito Pagoda. With Mount Fuji in the background, this stunning building is one of Japan's most photographed and Instagrammable locations,
and easily one of the most romantic, especially during plum and cherry blossom season, autumn and winter (so basically all year round!).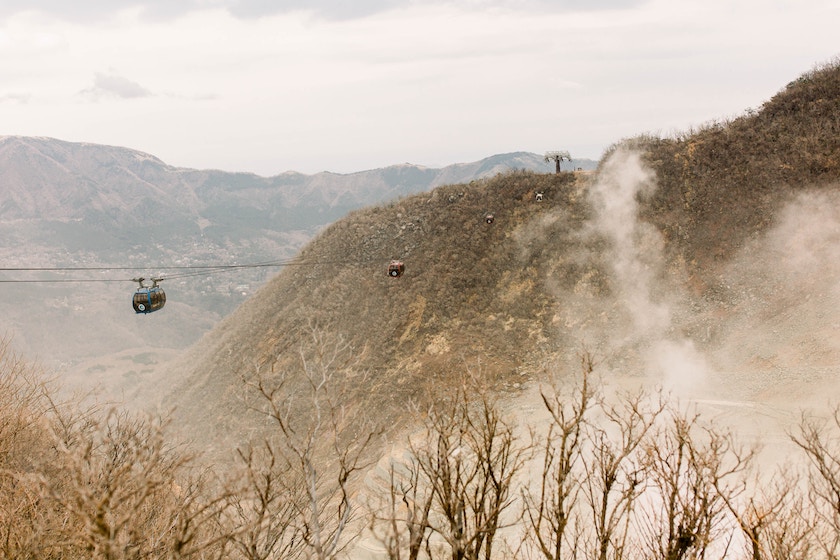 Hakone
An hour and a half north from Tokyo by train, Hakone is a beautiful mountain onsen town with traditional Ryokan and spa resorts, and offers spectacular views from the cable car and ropeway that go up the mountain. Hakone would make a gorgeous and romantic weekend getaway destination. To reach Hakone from Tokyo using your Japan Rail Pass, take the bullet train on the Tokaido Shinkansen line to Odawara station and then catch a bus up to Hakone. There's also Mt Ashi in the Hakone area with lake cruises and views of Mt Fuji.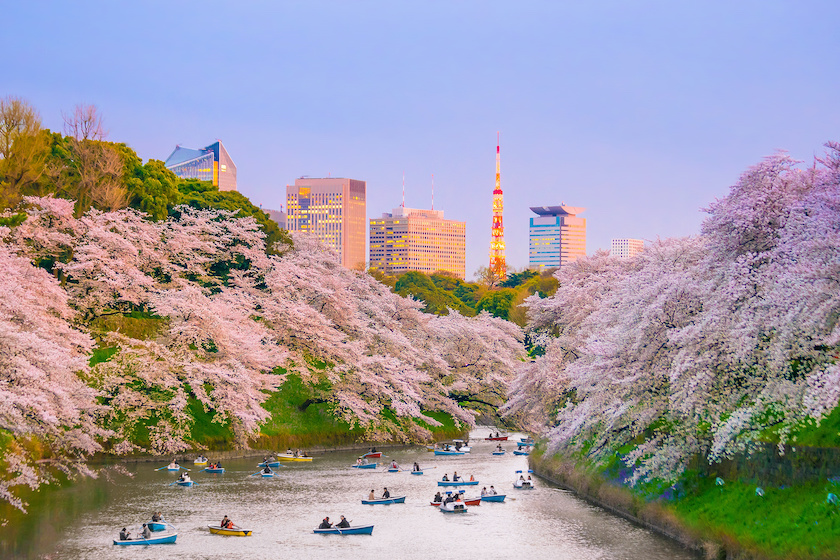 Tokyo
You might not naturally consider a huge city like Tokyo to be romantic, but it's glamorous, cosmopolitan, stylish, and there's always something to do. Most of all, it's fun. Whether you're singing karaoke together like Bill Murray and Scarlett Johansson in Lost in Translation, enjoying the cherry and plum blossom in the city's many parks and green space, looking out over the city from the heights of the illuminated Tokyo Tower at night (a perfect proposal spot), dining at Michelin-starred restaurants together, or taking a romantic boat trip along the Chidorigafuchi canal, there's almost an endless amount for couples to do. Remember if you're travelling within Tokyo itself, you'll need to purchase a prepaid travel card alongside your JR Pass.
Hitachi Seaside Park and Hitsujiyama Park
Imagine walking hand in hand with the person you love through fields of purple and red flowers. This is what Hitachi Seaside Park and Hitsujiyama Park can offer couples who visit for a romantic day out. Hitsujiyama Park in Saitama prefecture is famous for its sea of pink and purple Moss Phlox Flowers, while Hitachi Seaside Park in Ibaraki, northeast of Tokyo, is a must-see romantic destination for its incredible red kochia, cosmos and pampas grass, which bloom around May. You can reach the park via the JR Joban Line from Shinagawa, Tokyo or Ueno stations to Katsuta Station, using your Japan Rail Pass, followed by a short 15-minute bus ride.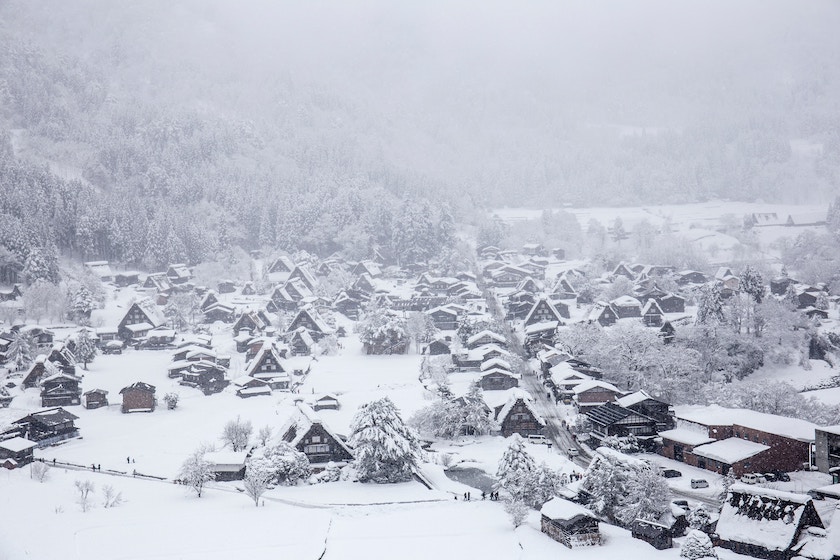 Shirakawa-go
This real-life winter wonderland looks like something from a Christmas card and is so picturesque that it has been designated as a UNESCO World Heritage site. Japan has several other small villages elsewhere around the country that provide a similar 'step back in time' aesthetic that's incredibly romantic. You could also try Karuizawa, which is known as a picturesque honeymoon destination, or Hida-Takayama, a remote mountain town with a historic and quaint 'old-town'. Both would make romantic alternatives to the winter wonderland of Shirakawa-go depending on your itinerary, and Hida-Takayama isn't far from the latter so you could even visit both. You can reach Shirakawa-go by using your JRail Pass to take the Hokuriku Shinkansen from Tokyo to Shin-Takaoka Station and then getting a ticket for the Kaetsuno Bus, which will take you to the village.
Hokkaido
For adventurous couples who enjoy climbing, hiking and experiencing the great outdoors together, Hokkaido is the perfect place to go. Japan's northernmost island is as rugged as it is beautiful and will suit couples who like to get out and do things together. It boasts mountains, forests, and national parks that are ideal for a wide range of outdoor activities, unmissable wildlife, and a busy calendar of events for couples to enjoy. These include the famous Sapporo Snow Festival, Otaru Snow Light Path Festival, and many more, plus amazing opportunities for skiing and snowboarding enthusiasts to find romance on the slopes. You can find out much more about the latter by reading our Starting Guide to Skiing and Snowboarding in Japan. Meanwhile, if Hokkaido sounds like the perfect place for romance to you read more about the region in our Five-Day Rail Itinerary Tip: Hokkaido.
Naturally, this list is just a small selection from a country filled with romantic locations. You'll find many more idyllic destinations by reading about Japan's National Parks. Of course, if sun, sea and sand are more your style then you might want to consider our Itinerary Tip: Beaches. Either way, there is something for every romantic in Japan.
Don't Forget