Table of Contents
1. Intro
2. What is the sakura?
3. How to celebrate cherry blossom season?
4. When is the best time to visit?
5. Where are the most beautiful locations to view the sakura?
6. Cherry blossoms in Tokyo
7. Don't forget
1. Intro
Imagine sitting on the grass, in a Japanese garden, looking up at the boughs of countless cherry blossom as iconic pink-white petals fall faintly around you. This is hanami, which translates as 'flower viewing' – the tradition and art of watching and appreciating the sakura (Japanese cherry blossom) when it blooms each Spring. If you're planning to visit Japan next year, this transcendent vision of natural beauty and inner peace could be yours. We have helpfully compiled everything you need to know for a visit to Japan to view the cherry blossom, from the best dates to go – based on the sakura forecast 2020 – to the must-see locations to explore and, of course, how to get there using the JR Pass on Japan's excellent domestic rail system. The sakura are far more than beautiful trees, they represent the transience, fragility and miracle of human life and, as such, a visit to see these unique flowers bloom in their native Japan is likely to be a once-in-a-lifetime experience.
2. What is the Sakura and why is it important?
Sakura means cherry blossom, specifically the prunus serrulata, or Japanese cherry, which is native to Japan as well as Korea and China. These beautiful trees produce round pink-white petals that flutter gracefully to the ground after they bloom. The cherry blossom season is hugely important to Japanese culture and attracts visitors from all over the world. Each winter, the Japanese Meteorological Agency, Japan Weather Association and other companies track the 'cherry blossom front' and release the official sakura forecast for the coming year.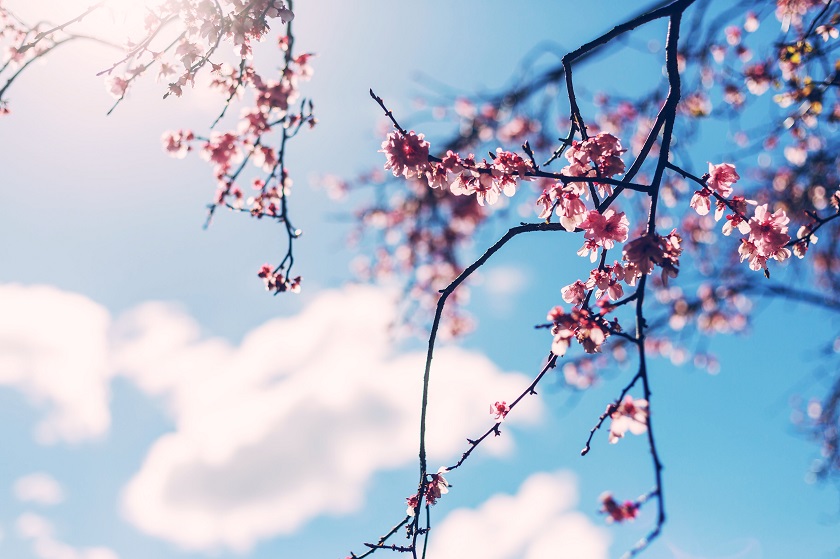 Of all the natural beauty and wonder that Japan has to offer international visitors, cherry blossom season is one of the most famous, economically important, and culturally significant attractions. Viewing the sakura dates back many centuries and is thought to have begun during the Nara Period (710-794). In ancient Japan, the arrival of the sakura meant the beginning of spring and with it, the rice-planting season. Therefore, it was essential for planning the year's harvest. Beyond its practical importance however, sakura was, and remains, spiritually significant. The trees were believed to contain spirits and offerings were traditionally made with rice wine. There are varying stories about how the tradition developed from here. Some historians say that hanami began in the Imperial Court of Emperor Saga before filtering down through the Samurai classes to regular people, while others say it wasn't until Tokugawa Yoshimune planted sakura in cities across Japan that it caught on with the general populace. An interesting fact is that all of these trees were planted using the same technique, Tsugiki, and share the same DNA, which is one of the reasons why they all bloom around the same time, year after year. Over time, these country-wide celebrations became the hanami parties, picnics and gatherings we know today.
3. How to celebrate cherry blossom season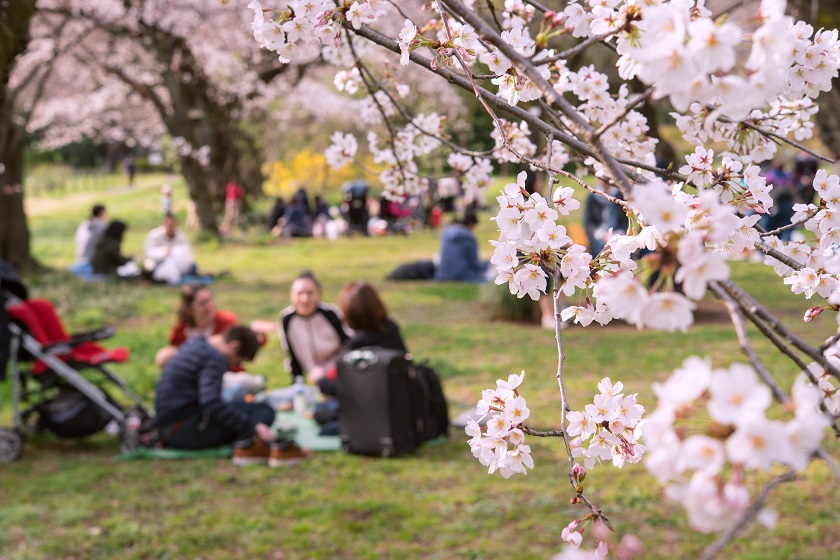 Hanami, or flower-viewing, is directly associated with the sakura and involves much more than gazing at the beauty of these iconic trees. It regularly involves picnics, parties and gatherings in parks, gardens, temples and at well-known sakura viewing spots. Cherry blossom season is a time to celebrate and socialise with friends, family, colleagues and visitors from around the world, gathering together under the bough of the cherry blossom tree. You're likely to hear more than a few cries of 'kampai' (cheers) during the day at hanami parties as people bring out bento food, beer and sake, play music, read poetry and dance to celebrate. Bigger venues will often have food and drink stalls too. You may even find yourself being sold special sakura infused products from sakura chu-hai (alcoholic drinks), sakura chocolate, beer, crisps and coffee. There are also traditional foods served at hanami such as the tri-coloured (pink, white and green) 'dango' dumpling snack.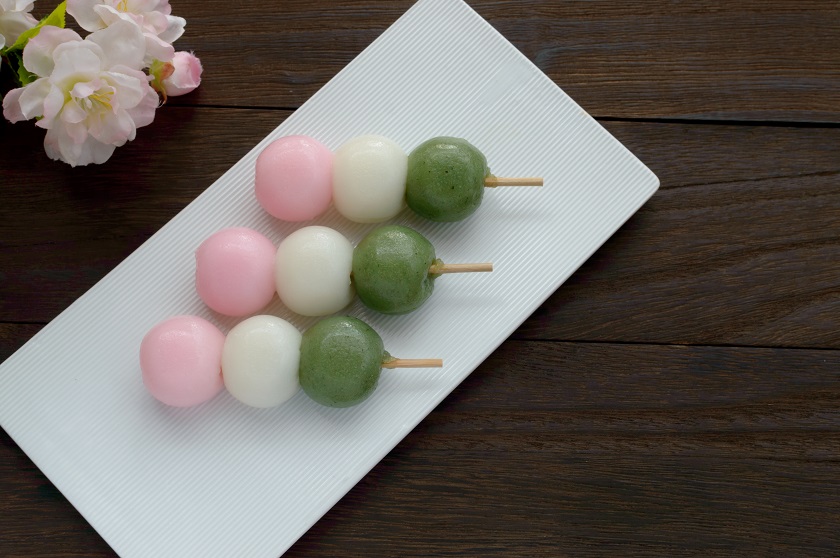 At night, the act of viewing is called 'yozakura' and sees the appreciation going on into the night under the glow of traditional lanterns and candles.
4. When is the best time to visit?
It has been said that 'a thing is not beautiful because it lasts'. In many ways, the sakura brings this expression to life as they only bloom once a year and each tree is usually only in full bloom for a week or two. This is the true meaning and the true beauty of the sakura, which has become a symbol of Japanese culture's appreciation and understanding of life itself; in particular Wabi-sabi philosophy and Shinto ideals of impermanence as well as the Buddhist concept 'mono no aware' which links the beauty and value of an experience with a sense of its fleeting, transient nature. On a practical level, this is one of the reasons why the Sakura forecast 2020 is so important. If you're travelling to Japan next year and hope to view the cherry blossom, you will need to check the forecast as the timing each year is slightly different. The start of the blooming season can vary as much as two weeks depending on weather conditions. Experts say that the blooming of cherry trees requires two things – coldness in winter and warmness in spring, with the temperature dictating the timing of each season.
Generally speaking, cherry blossom season takes place in March and early April and announces the arrival of Spring in Japan. This is the best time to travel, but the dates can vary significantly by region, with Japan's southern sub-tropical islands blooming first and the colder northern region considerably later, so it's definitely best to plan ahead. Remember to check the sakura forecast 2020 when booking your trip.
5. Where are the most beautiful locations to view the cherry blossom?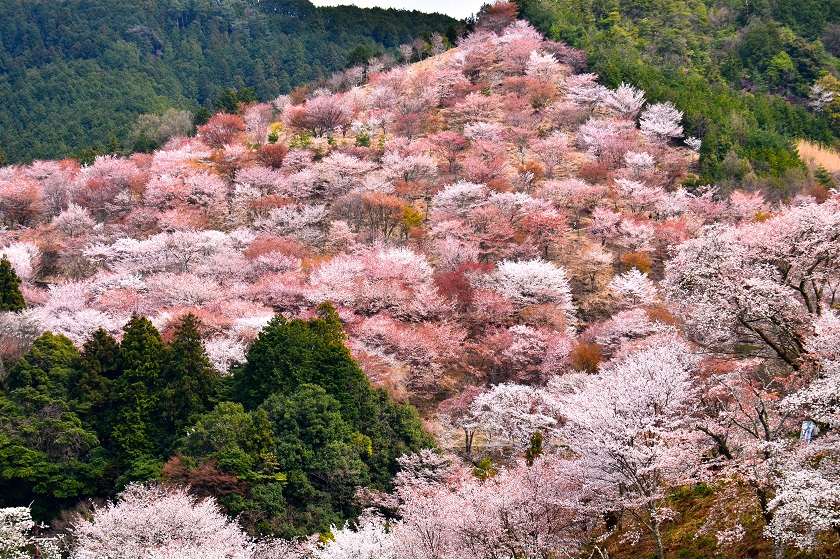 There are more than 1,000 places to view the sakura in Japan. However, some are more famous and spectacular than others. We have put together a list of must-see cherry blossom viewing destinations, including a few lesser known beauty spots so you can avoid the crowds.
Mount Yoshino: Arguably Japan's most famous cherry blossom viewing location, the beautiful Mt Yoshino is carpeted with 30,000 sakura trees. Unmissable. You can visit the mountain by taking a shuttle bus from Yoshino Station.
Fuji Five Lakes: With a backdrop of Mt Fuji, these stunning lakes are worth seeking out by anyone visiting Japan and also boast some of the country's best cherry blossom locations. These include:
The Northern Shores of Kawaguchiko. Here you'll find cherry blossom trees along the shore and the incredible Mt Fuji in the distance. An almost unbeatable combination. You can find this stunning location about 15 minutes bus ride from Kawaguchiko Station.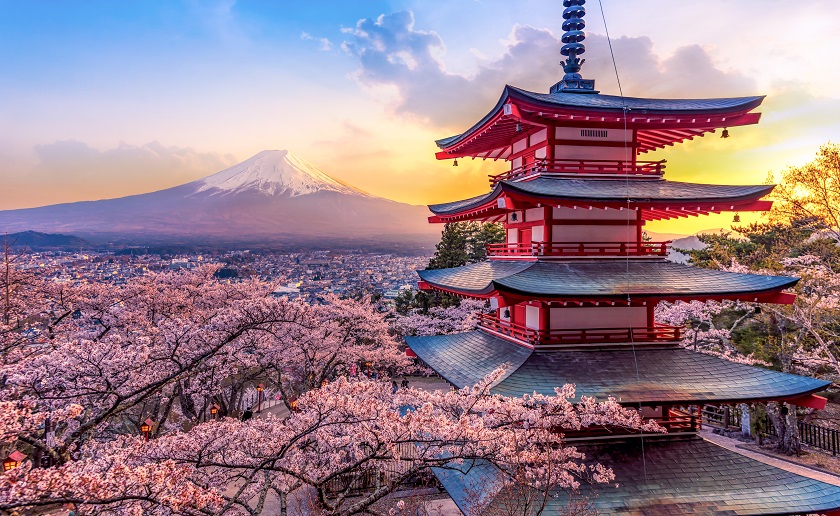 Chureito Pagoda. This newly built pagoda has become a must-visit destination for photographers and cherry blossom enthusiasts for its magical appearance – floating on a sea of pink-white flowers. This spot is a short walk from Shimo-Yoshida Station.
Hirosaki Castle Park: If Mount Yoshino is the most famous, this might be the most beautiful and spectacular. Hirosaki Castle Park in Aomori Prefecture, in the far north of Japan's main island, boasts 2,600 sakura trees, evening illuminations and the backdrop of the three-storey traditional castle.
Nara Park: For an alternative cherry blossom destination, try the beautiful Nara Park. It also has two of Japan's UNESCO sites, Todai-ji temple and Kasuga Taisha shrine. A five-minute walk from Kintetsu Nara Station
Kyoto's Philosopher's Path: This beautifully named canal is lined with cherry blossom trees and is one of Kyoto's many sakura viewing locations. Also highly recommended is Maruyama Park next to Yasaka Shrine which features a huge (and famous) tree that is illuminated at night. The weeping cherry trees (yaebeni shidare) of Kyoto's Heian Shrine are also worth a visit.
Takato Castle Ruins Park: One of the country's top three cherry blossom locations (alongside Mount Yoshino and Hirosaki Castle), the castle grounds are covered with 1,500 sakura trees. You can reach Takato Castle Ruins Park in Nagano using your JR Pass by travelling from Tokyo via either Chino Station or Inasha Station.
If you're planning a trip across the entirety of Japan using the JR Pass, it might make sense to fly into Tokyo then travel south to Kagoshima via the Shinkansen (high-speed bullet train) before working your way from south to north across the whole country via all of the most famous sakura viewing locations – this would be an epic and spectacular journey but very achievable using your JR Pass.
6. Cherry blossoms in Tokyo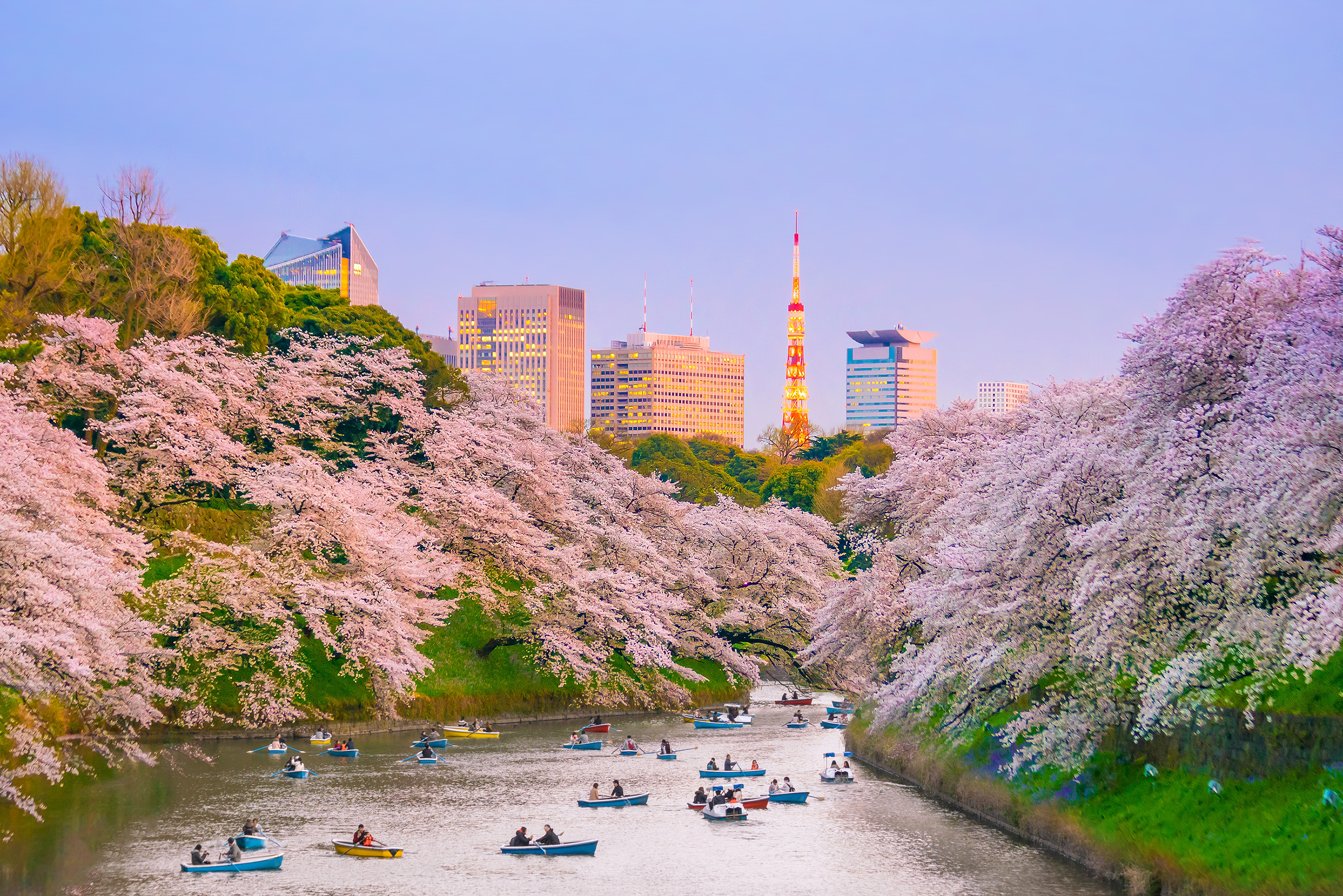 To get the most out of cherry blossom season (and your trip to Japan) you should travel the whole country using the rail system and a JR Pass. However, if you're just visiting Tokyo, you can still enjoy the sakura. Tokyo might be a mega-metropolis, but it has a lot of green space and it has several famous sakura viewing locations (including some of the busiest and prettiest spots). These include:
Shinjuku Gyoen: A calm and peaceful hanami destination in the heart of Tokyo. Alcohol is prohibited so it's a much more chilled and family affair destination than Ueno Park.
Ueno Park: One of Tokyo's liveliest and popular cherry blossom party locations featuring more than 1,000 sakura trees. This is the place to be if you enjoy socialising and festivals. You'll find the park a few steps from Ueno Station.
Chidorigafuchi: The moats of the former Edo castle at Kitanomaru Park are lined with hundreds of cherry blossoms trees, making for one of Tokyo's most picturesque locations for viewing the sakura. This is close to Kudanshita Station
---
7. Don't forget
Check the Cherry Blossom Forecast 2020 for the latest information. The Japan Meteorological Agency are the first to release it each year. Check their website for the latest forecast.
Remember: the Sakura blooms later in the colder Northern regions of Japan. You may still find cherry blossoms in Hokkaido and Sapporo in late April or early May.
Japan's domestic rail system is the best way to get around the country. Use your Japan Rail Pass to visit the must-see Cherry Blossom destinations.
Buy Pocket WiFi to ensure you're always connected to the Internet while on the move.
Top tips for your first time in Japan.
Read up on specific regions of Japan with our super useful guide. You can also buy specific regional train passes if you plan to visit just one or two regions.
Get your very own tour guide by arranging for a meet and greet at the airport when you arrive via JR Pass.
Make sure 'Cherry Blossom Girl' by Air is on your playlist for the journey.
If you're travelling in and around Tokyo, save money by investing in a prepaid travel card.
And if you can't travel to Japan during peak sakura season (March to May), don't despair as you can sometimes view some blossoms in February too, particularly the equally beautiful (if less celebrated) plum blossom.