When sightseeing in Japan, there is a great variety in the types of attractions that tourists have to look forward to. You could be interested in Japan's temples, food or pop culture and find plenty to entertain you. But one of the most underrated features of Japan is the country's castles. Across the islands of Japan there are many castles that highlight Japan's feudal past, while also being beautiful landmarks in their own right.

Table of contents:
Himeji Castle
Osaka Castle
Matsue Castle
Matsumoto Castle
Hirosaki Castle 
Some of Japan's castles have managed to survive to this day, but most are now faithful reconstructions after damage due to fires and the events of WWII. While fun, it would be tough to visit all the castles in Japan, so we've put together a shortlist of the country's best that you can visit while travelling about with your Japan rail pass.
Himeji Castle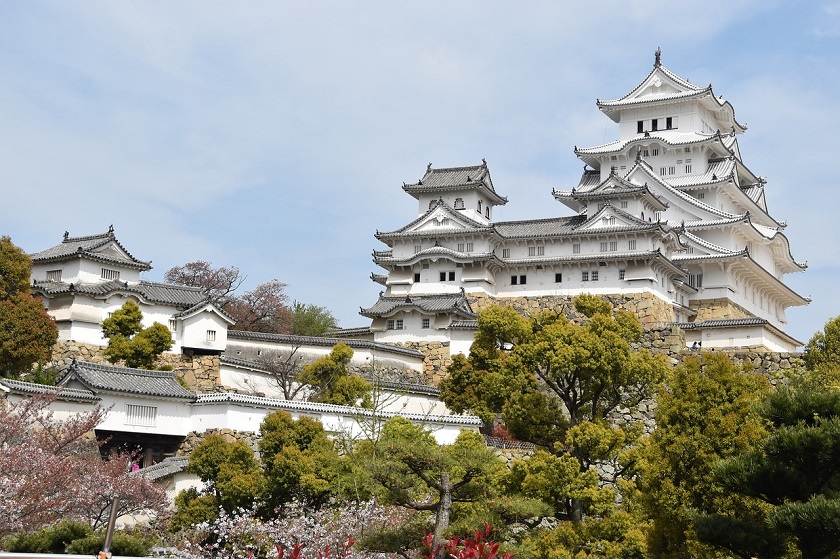 No matter whom you ask, Himeji Castle is definitely one Japanese castle you need to visit. Located in the city of Himeji of the Hyōgo prefecture, this castle is one of just a few that have earned their way on to the UNESCO world heritage list
But that doesn't quite do Himeji Castle justice, as it is not only the largest castle in Japan but also one of the country's oldest. On top of that, it's considered one of the best-preserved examples of traditional castle architecture from feudal Japan. Himeji Castle is also extremely pretty, thanks to the gleaming white of its walls and roof, plus the surrounding cherry blossom trees. Simply put, if you could only visit one castle in Japan, this would be the one to see.
Himeji Castle as it stands today dates from 1609 and is made up of 83 buildings surrounded by moats and fortifications. After walking through its maze of gates, shrines and paths, you'll want to visit the six-story keep at its centre. Climbing up through the main keep you get to admire the historic architecture and design inside before reaching a shrine with views at the top.
Getting There
To reach Himeji, you have your pick of train connections from Kyoto, Osaka or Kobe using the Kansai Area Pass.


Osaka Castle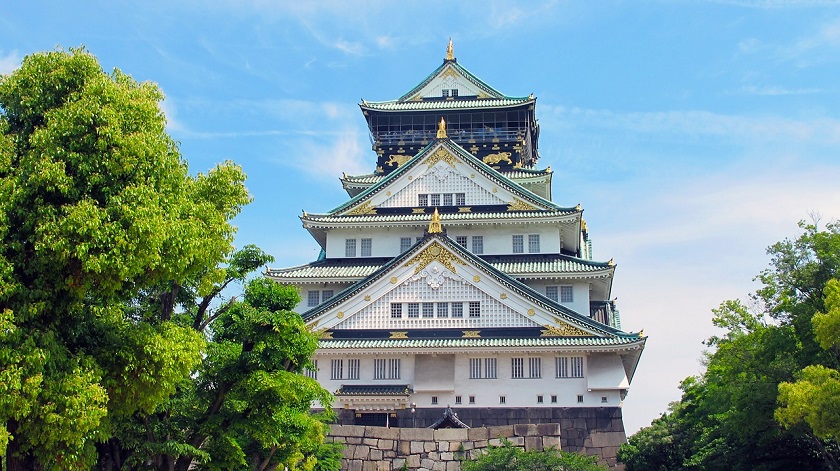 Osaka is one of Japan's most popular destinations and if you don't see Osaka Castle while they're there you're surely missing out. While it is an icon of the city and of Japan, what many people might not realize about Osaka Castle is that this incredible landmark is actually a reconstruction.
The original castle, built in 1583, had some pretty rotten luck and never actually saw much use. Destroyed several times through war and lightning, it wasn't until 1931 that the castle was rebuilt to its current state. Still, the destruction in 1615 at the hands of Tokugawa helped unify the country at the time, cementing the castle's place in Japanese history.
Visiting Osaka Castle, you'll first need to walk through the Osaka Castle Park, past its many cherry blossom trees. Once you've finished admiring and photographing the eight-story main tower, head on inside to explore its museum on the castle's history and founder, Toyotomi Hideyoshi
Getting There
Since the castle is in Osaka, one of the main tourist destinations, it's certainly an easy castle to visit. You won't have any problems getting there from Kyoto while there are also regular high-speed trains to Tokyo.
Matsue Castle

Given Japanese history, it's a minor miracle that castles like Matsue Castle have survived intact all this time. Found on Honshu's north coast in the city of Matsue, this is one of Japan's oldest castles and is still in its original wooden form.
Thanks to its uncommon but striking dark exterior, Matsue Castle is often nicknamed the "Black Castle". Because it was built in 1611 just after the last great feudal war, the castle never actually saw battle. Despite this, it's still impressive that the main keep and parts of the old walls have survived all these years. Combined with the fact that it's the second largest castle in Japan, it's no wonder that it was made a national treasure in 2015.
As you near the main keep of Matsue Castle, you should spot boats floating about the castle's moat and connecting canals. Lastly, inside the renovated keep you'll find a museum with items and weaponry from the feudal period.
Getting There
Not the easiest destination to reach, you're best to travel from either Hiroshima, Kobe or Osaka, making the most of a Sanyo-San'in Area Pass as you travel.


Matsumoto Castle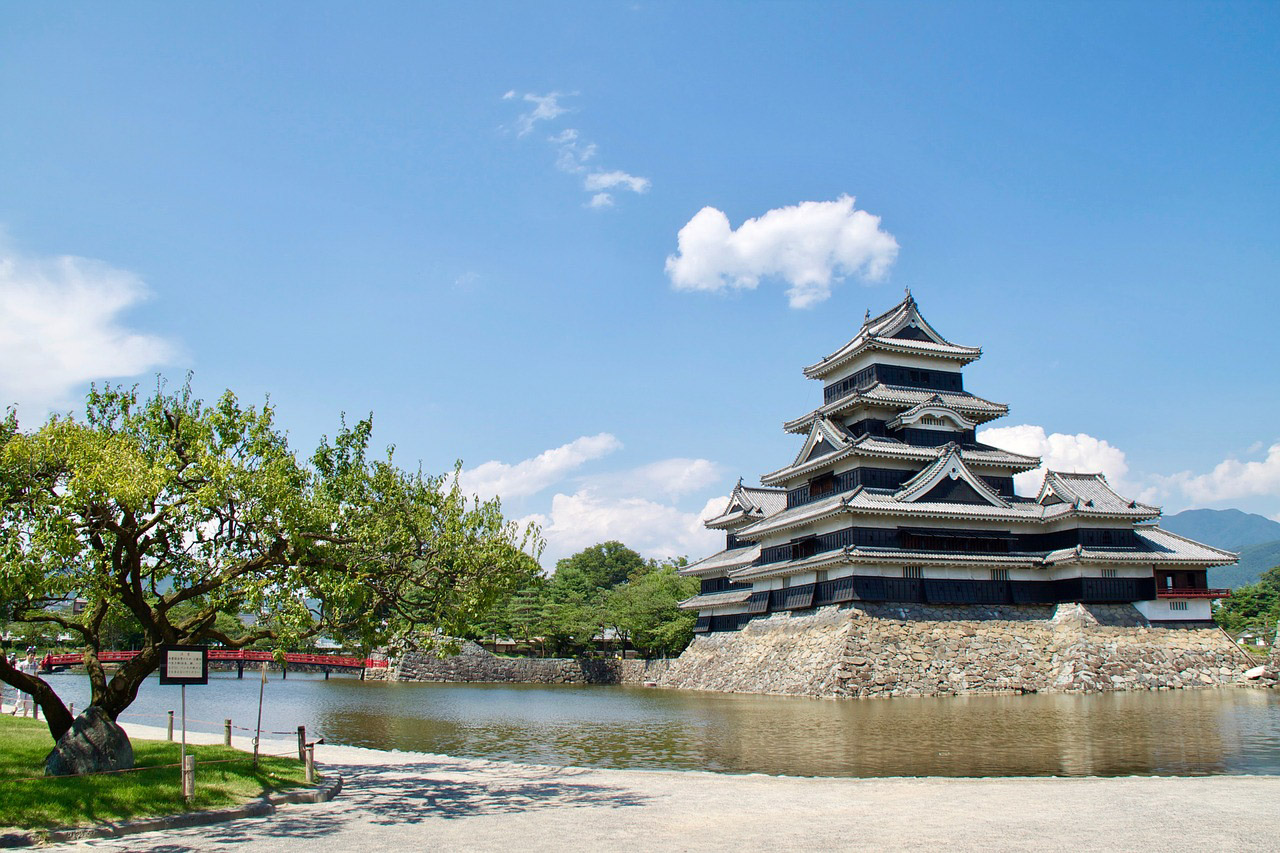 Another of Japan's finest castles can be found in the city of Matsumoto in Nagano prefecture. Thanks to its imposing frame, original structure and unusual flatland surroundings, Matsumoto Castle is a fascinating castle to visit.
Built throughout much of the 16th century, the castle's stone foundations and wooden interior are still preserved today. Given all that, it makes sense that Matsumoto Castle is another national treasure of Japan. The black exterior and the shape of its roofs earned Matsumoto Castle the affectionate nickname of the "Crow Castle".
Visitors to Matsumoto Castle are able to enter inside and explore the castle's six floors. The interior here is especially interesting, as you get an authentic look at what a feudal castle was like in Japan. Plus, the city views from atop the sixth floor are pretty wonderful.
Getting There
Found in the country's interior, Nagano is the nearest city to the castle. Beyond that, you can travel from Nagoya using the Alpine-Takayama-Matsumoto Area Tourist Pass) and from Tokyo using the Osaka-Tokyo Hokuriku Arch Pass.
Hirosaki Castle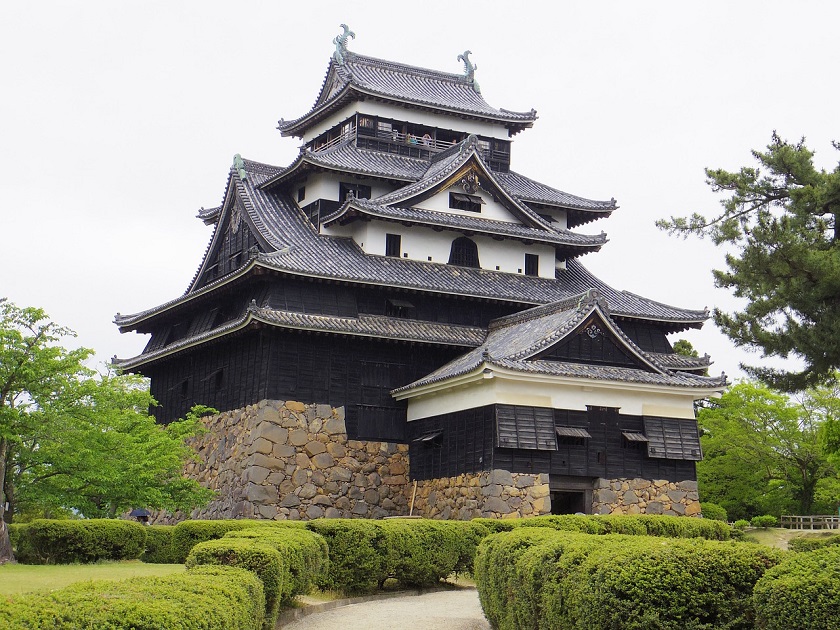 Some castles look like they've been pulled straight from a fairytale or anime. That's the kind of enchanting effect that Hirosaki Castle has on its visitors. Situated in Hirosaki city in the far north of Honshu, this is a sight worth travelling for.
One of the many interesting facts about Hirosaki Castle is that it's one of the oldest rebuilt castles in Japan. Originally built in the early 1600s, it was struck by lightning in 1627 not long after. It would have to wait until 1810 for the now three-story castle to be rebuilt. Right now the castle is going through another phase of repairs and they've actually moved the entire tower off its original base to do work on the stone foundations.
Much like other Japanese castles, Hirosaki Castle sits in the middle of a large park with cherry blossom trees, shrines and moats full of boats. As such the castle and its surrounds get very busy during the vivid spring bloom.
Getting There
As Hirosaki is off in the north, your best bet is to get a train from Sendai or even Tokyo and connect through Aomori using the JR East-South Hokkaido Rail Pass.