Table of contents:
What is the Sapporo Snow Festival?
International Snow Sculpture Contest
Sapporo Snow Festival Venues
Tips for Visiting the Sapporo Snow Festival
Winter can be a tricky time of year to visit Japan if you're not into skiing and snowboarding. Thankfully, festivals like the Sapporo Snow Festival make it completely worthwhile with their spectacle and atmosphere of fun.
What's not to like about gigantic ice sculptures, vivid illuminations and lots of yummy Japanese food to keep you warm?
You may already know of Sapporo for its beer and nearby ski fields. After seeing this winter festival, it will become the thing you think of when you think of Sapporo.  So, if you're going to Japan at this time of year, you need to be adding Sapporo to your itinerary. Here is everything you need to know about the Sapporo Snow Festival for a fun winter trip to Japan.
What is the Sapporo Snow Festival?
One of the best known winter festivals in Japan, 2020 will see the 71st Sapporo Snow Festival take over the city of Sapporo in Hokkaido Prefecture. Since it started in 1950, it has become a massive winter carnival that revolves around snow sculptures, ice statues, illuminations and other seasonal activities.
Given that the snow festival, known as Yuki Matsuri in Japanese, now attracts over two million visitors every year, it's hard to believe its humble origins. Back in 1950, the first Sapporo Snow Festival was simply a small group of high school students making six snow statues. Incredibly, this small display amassed a crowd of fifty thousand people and so a Sapporo tradition was born.
The 2020 Sapporo Snow Festival officially runs from February 4 to 11, with additional activities beginning earlier on January 31. Best of all, entry to the festival is completely free to the public, so there's no reason not to stop by if you can.
International Snow Sculpture Contest
Perhaps the most important part of the snow festival nowadays is the International Snow Sculpture Contest. With the 47th International Snow Sculpture Contest being held in 2020, no longer is it just a few local students putting together their own snow sculptures. Instead, nine teams from around the world will come to Sapporo to compete.
It's important to make clear that this contest is only one part of the Sapporo Snow Festival. While the international teams will each be making their own sculptures, there will be hundreds of other snow sculptures and ice statues found throughout the city.
The 47th edition of the Sapporo snow sculpture contest will be held at International Square in the chome 11 of the Odori site. Opening Ceremony of the competition begins on February 3 and the awards ceremony takes place February 7.
Sapporo Snow Festival Venues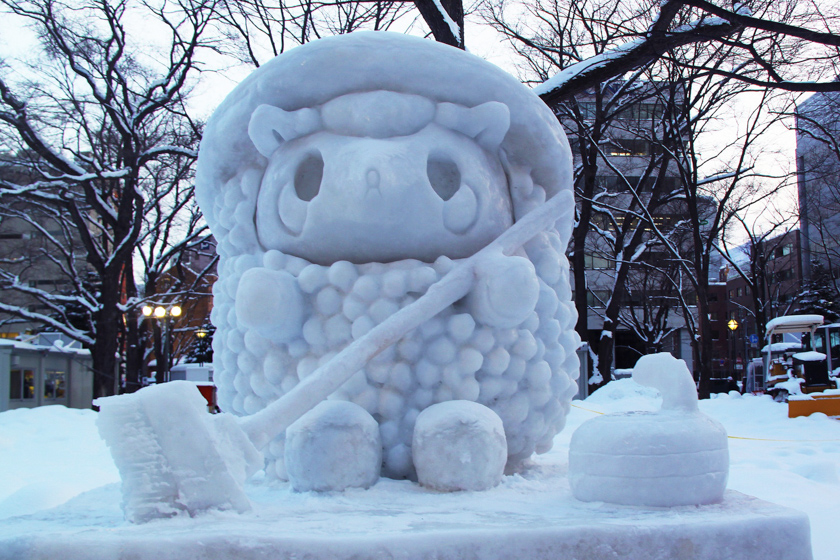 To help you plan your visit to the Sapporo Snow Festival, you'll need to understand how the festival is set out. Across Sapporo there are three main sites, each with their own activities and appeal. So, if you want to see or experience something in particular at the festival, you best know where you need to go.
Odori Park
The traditional home of the snow festival, Odori Park is where the first festival took place some 70 years ago. Positioned in the heart of the city, the park stretches for 1.5 km and is packed to the brim with a sea of hundreds of snow sculptures, some that reach as high as 15 metres.
Then there are the illuminations that go on late into the evening and clever projection mappings that add another element to the wonder. If you didn't know, Japan really loves its illuminations and usually they're pretty phenomenal. You'll also find a large ice skating rink in chome 1, as well as the snow sculpture contest previously mentioned over in chome 11.
While walking through Odori Park lets you see the incredible sculptures one at a time, there is a way to see them all at once. For a stunning view of the festival, head up the nearby TV Tower, which has extended opening hours specially for the festival.
Susukino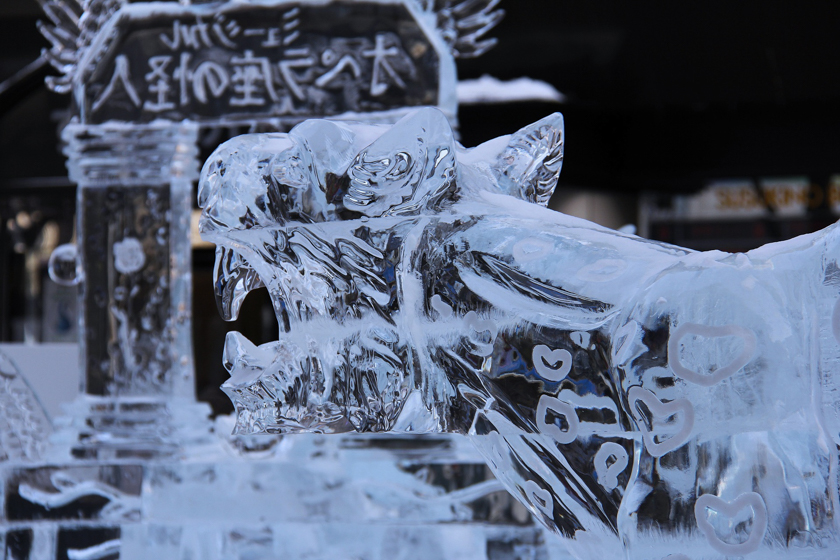 Although smaller than the site at Odori Park not far away, Susukino is a no less magical place to visit. Whereas snow is the focus over at the Odori site, here at Susukino it's all about the ice. In 2020 the Susukino Ice Festival has 'Enjoy the Ice' as its theme and will feature all sorts of creative ice sculptures, plus the Ice Sculpture Contest. If you head over to Fureai Hiroba plaza, it may be possible to touch and even ride on some sculptures.
As for other activities at Susukino, there's been a Queen of the Ice beauty contest held as part of the event in the past. Much like Odori Park, you'll also find illuminations here, as well as other food and drink facilities.
Tsudome
Before all of the above takes place, we have the Tsudome site that is designed to be fun for the whole family. While the Sapporo Snow Festival is technically seven days long, this site opens a little earlier in the lead up to the festival. Housed inside the Sapporo Community Dome, this site is open 9am-5pm from January 31 to February 4.
What makes the Tsudome, as it's affectionately known, so popular is the family-friendly activities offered inside this indoor hall. Gentle snow slopes have been constructed here so that kids can slide down on sleds and snow rafts to safely play around in the snow. The site also offers other activities for kids and has rest areas and food stalls to keep everyone happy.
Tips for Visiting the Sapporo Snow Festival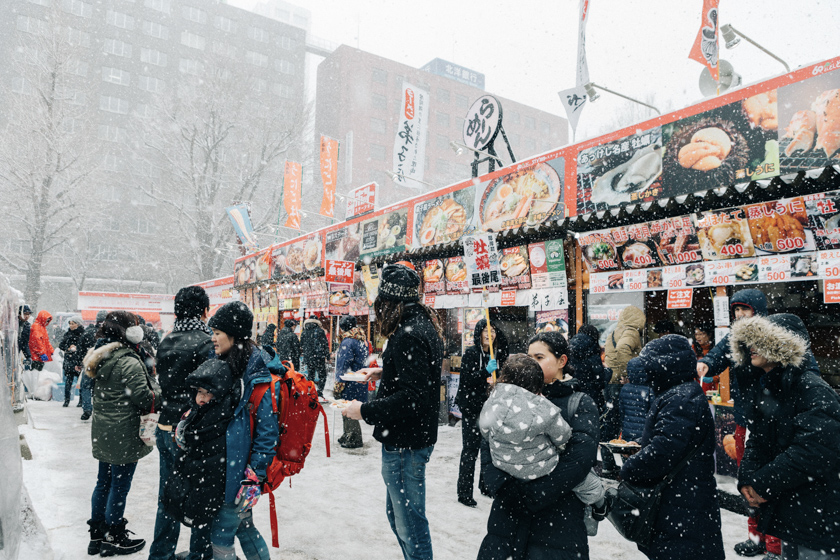 To get the most out of you time at the Sapporo Snow Festival, there's definitely a few things to keep in mind, such as:



If you're visiting Sapporo as part of a larger Japan trip, think about getting a Japan rail pass to help save on transport costs.


It's wintertime and you're in northern Japan so it's going to be really cold. With temperatures that can include highs of -2 °C (28 °F) and lows of -7 °C (19 °F), you're really going to need to rug up and wear appropriate footwear.


The festival will be at is busiest over the weekend, so try to aim for earlier in the week if at all possible.


Don't miss out on enjoying other aspect of Sapporo, including the local food. The festival will have stalls dishing out plenty of regional dishes, but you can also pay a visit to the city's dedicated ramen street, not to mention the Sapporo Beer Museum.