Table of contents:
Buddhism in Japan
Kinkaku-ji Temple
Kiyomizudera Temple
Saiho-ji Temple
Kennin-ji Temple
Tofuku-ji Temple
Nanzen-ji Temple
Ginkaku-ji Temple
Ryoan-ji Temple
Many travellers come to Japan to experience the country's vibrant culture and the city of Kyoto is often considered Japan's cultural capital. One of the largest cities in the country with plenty of history, Kyoto is a destination filled with attractions and curiosities that visitors won't want to miss. It's safe to say that right at the top of that list of attractions are many of the Buddhist temples in Kyoto.
However, with over 1600 temples in the city, knowing which temples you should make time to see can be hard. To ensure you don't miss out, below is a selection of the best Kyoto Buddhist temples to visit. And since the famous Fushimi Inari-Taisha is a Shinto shrine, you won't see it listed here. Still, after seeing the temples Kyoto has to offer, you'll no doubt want to make a stop as you travel around using your Japan Rail Pass.
Buddhism in Japan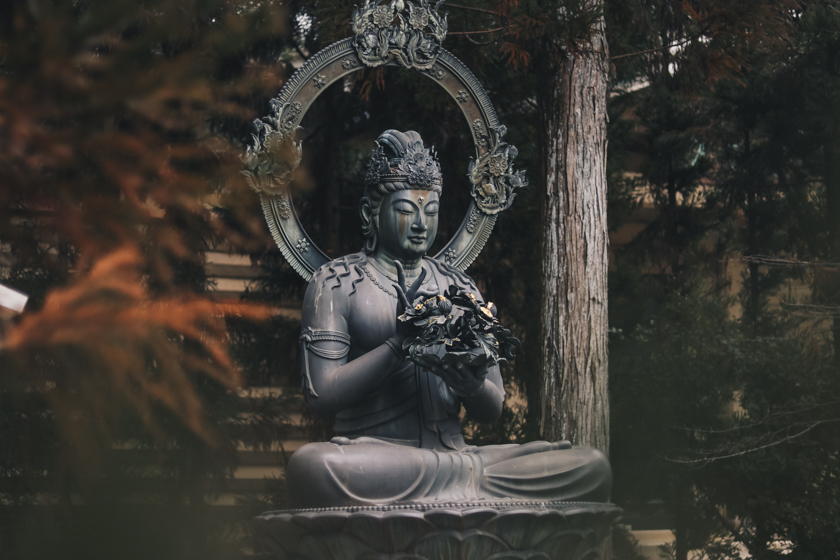 Religion and spirituality has long been an important part of Japanese society. In Japan, the two main religions are Shinto and Buddhism, both of which have been practiced for more than a thousand years. Buddhism came to Japan via China and India in around the 6th Century and many schools of Buddhism are still widely practiced today. One that you might be familiar with is Zen, a form of Mahayana Buddhism. Zen is closely linked to meditation, which is why you'll often come across quiet, contemplative gardens at Japanese Buddhist temples.
Kinkaku-ji Temple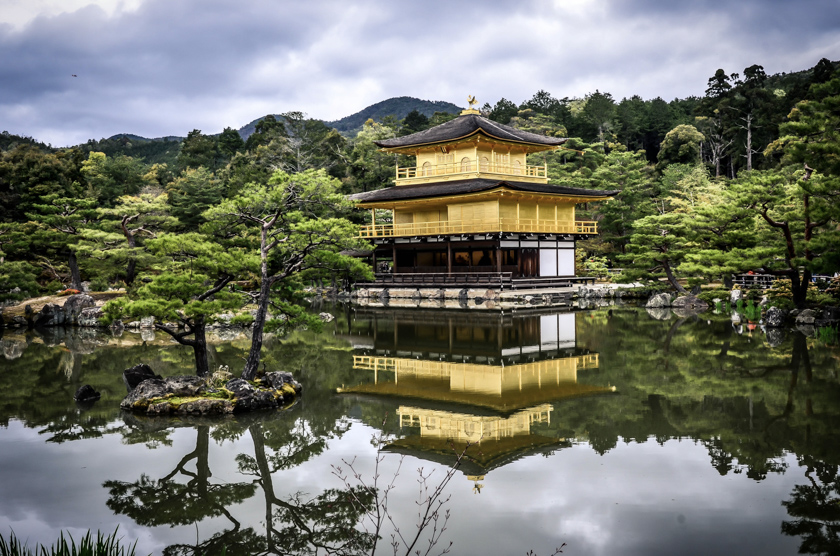 Perhaps the most iconic temple in Kyoto is the "Golden Pavilion" of Kinkaku-ji. Its nickname is not hard to work out when you see the gleaming golden colour of the temple, given to it by the gold leaf that covers the walls of its second and third stories. While Kinkaku-ji was founded in 1397, the temple had to be rebuilt in 1955 after a devastating fire. Despite that, it is one of many temples on this list that make up the Historic Monuments of Ancient Kyoto recognised by UNESCO as a World Heritage Site. While the classic view of Kinkaku-ji is looking at it across the small lake there, you won't want to miss the temple's interior, with each story featuring a different style.
Kiyomizudera Temple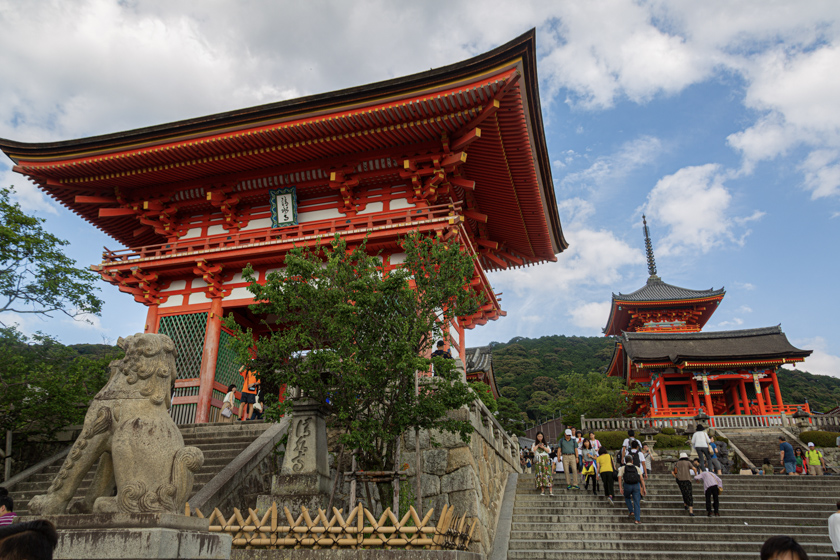 Also vying for top spot among Kyoto's temples is Kiyomizudera and its magnificent verandah. Kiyomizudera is found on Mt. Kiyomizu overlooking the city and is devoted to the goddess Kannon. The original temple here dates back to 798 although what you'll see now is the version that was rebuilt in 1633.
The temple's name translates as "Pure Water Temple" and comes from the pure waters flowing over the Otowa Waterfall close by. But it's really the immense wooden stage, said to have been built without a single nail, that is the star attraction here. Seeing the historic temple will leave you with little confusion as to why it's also one of the Historic Monuments of Ancient Kyoto.
Saiho-ji Temple
The atmosphere at temples is often what makes them feel so mystical and it's hard to beat the atmosphere at Saiho-ji temple. That's because Saiho-ji is set within a dream-like moss garden, creating a perfectly peaceful mood for this treasured Zen Buddhist temple. Depending on the season, this incredible garden with over 120 kinds of miss varies in colour from verdant green to pretty autumn colours. The temple you see there today is from 1339 and was built when the old temple from the 700s was destroyed. Important to note is that Saiho-ji is only able to be visited by making a booking in advance.
Kennin-ji Temple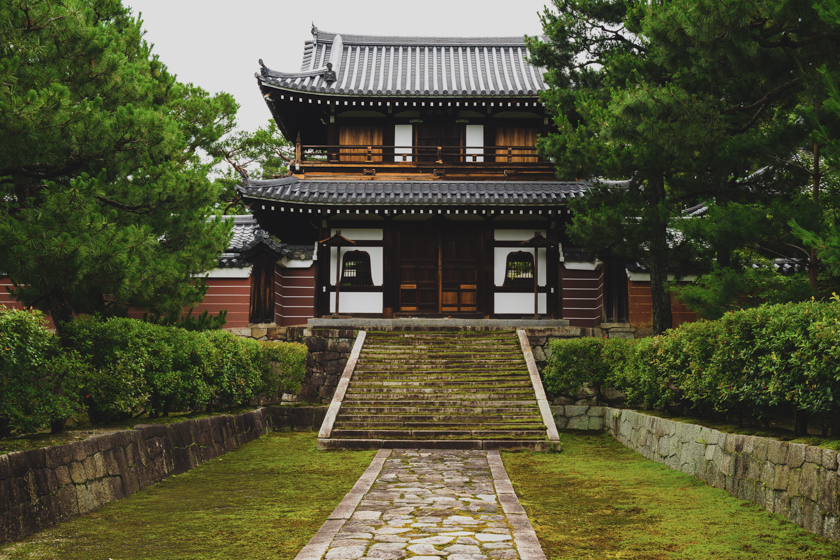 Of Kyoto's many historic temples, Kennin-ji has the honour of being the oldest surviving Zen temple in the city. Located in the famous geisha district of Gion, Kennin-ji dates back to 1202. In fact, the temple had its 800th anniversary in 2002 and received a stunning painting of twin dragons on the dharma hall ceiling to commemorate the moment. Just outside the temple you'll spot gravel and moss gardens that give Kennin-ji an air of tranquillity and contemplation.
Tofuku-ji Temple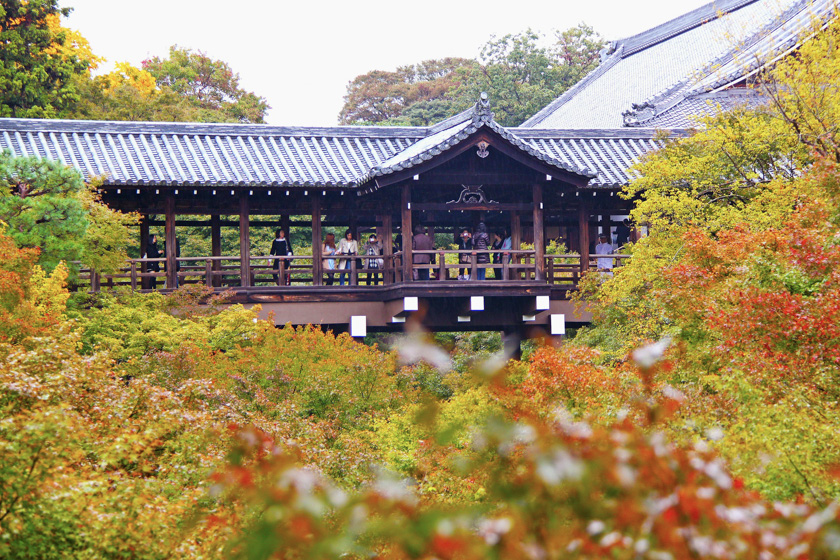 Few temples in Kyoto are as important, large and beautiful as the Tofuku-ji Temple. A little less busy than other spots in the city, except for in autumn, Tofuku-ji has long been one of Kyoto's main Zen temples. Regularly renovated since it was first built in the 13th century, the temple is home to many sub-temples and an elegant, historic sanmon gate. Many of these buildings and structures have been designated national treasures, highlighting the great cultural significance of Tofuku-ji. Also not to be missed is the temple's rock gardens, including the swirling "Big Dipper" garden, created by artist Shigemori Mirei in 1939.
Nanzen-ji Temple
Japan is known for the incredible way the seasons of autumn and spring transform the scenery into something even more magical. In Kyoto, this is best seen at Nanzen-ji Temple, where you can enjoy both wonderous cherry blossoms and vivid autumn colours. Visiting Nanzen-ji really emphasises the importance of nature in Japanese Buddhism thanks to the peaceful nature of the surrounding hills. But this historic temple is also a tribute to man-made creation, thanks to impressive landmarks like the 22-metre-high sanmon gate and the nearby aqueduct. Best of all, you get superb views of Kyoto from the balcony up on the sanmon.
Ginkaku-ji Temple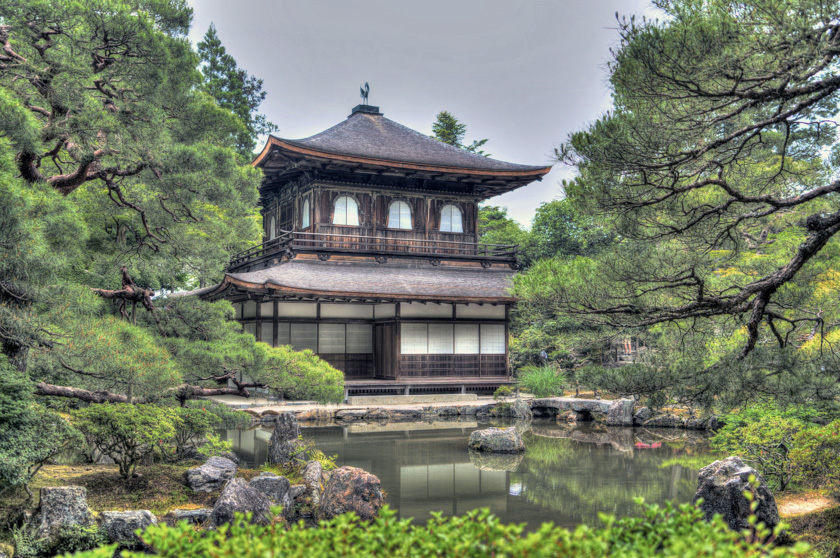 Upon learning that the "Golden Pavilion" of Kinkaku-ji has a sibling Ginkaku-ji Temple called the "Silver Pavilion", you're bound to want to see both. What's strange is that Ginkaku-ji doesn't live up to its name in the same way, with no walls of silver in sight. And yet, the temple is well worth your time, especially thanks to the lovely gardens that surround it. That is meant literally by the way, as the temple is concealed behind hedges, making it feel like some special secret. Besides its beauty, Ginkaku-ji has great cultural value, as it has preserved the style of the Muromachi period in which it was built.
Ryoan-ji Temple
It should be clear now that gardens are an important component of Japanese Buddhist temples, but if not, Ryoan-ji will make that perfectly clear. This temple that was established in 1450 is best known for a single Zen rock garden, simply known as the Ryoan-ji Rock Garden. Within the garden are 15 small boulders, arranged in very deliberate groups such that only 14 are ever visible at one from the verandah. This example of kare-sansui or "dry landscape" has made this temple famous in Japan, with its unknown origins and multiple interpretations adding to its mystique.