Famous for both its historic temples and the many deer that freely roam in the city parks. This beautiful small town is located in the Kansai Region, and makes for a great day trip from Kyoto or Osaka with your JR-Pass.
Nara with a Japan Rail Pass
Getting to Nara is fairly easy, from Kyoto take the JR Nara line, from Osaka take the JR Yamatoji line, both will take you directly to Nara. Opening hours for most attractions in Nara are between 9 and 16.30 so be sure to leave early to make the most of your day.
The first thing to do when you arrive is to pick up a free map over at the tourist information centrer just outside of the JR Station. Nara is only a small town and makes for a great walk, the route is about 6-8 KM depending on the attractions you choose to visit, alternatively buses run frequently through the city from just outside the station and connect to all the main sights.
A walk through the city
With a full day ahead, start with a visit to Heijo Palace site, remaining from the time when Nara was the Capital of Japan, it has become a World Heritage site. From here go to the city centre for a visit to Kohfukuji and its three story pagoda. This is one of the most famous pagodas of Japan.
From here, it is only a 5-minute walk to the Nara National Museum. The museum houses a magnificent collection of Buddhist art and historic national treasures.
A great place to eat lunch is in one of the city parks to relax a little from sightseeing and view the deer, just don't let them steal your lunch. :)
After lunch head east through the deer park to the Kasuga Taisha Shrine, known for the many stone lanterns donated by worshippers, a profound atmosphere of calm can be felt. After visiting the shrine, take a walk through the forest and soak in the peaceful atmosphere surrounding the place.
The last and most famous of our recommendations is Tōdai-ji the crown jewel of Nara, this Buddhism temple complex houses the Great Buddha and its guardians. Even though it was completed in 752 A.D., it remains as one of the national masterworks of Japan.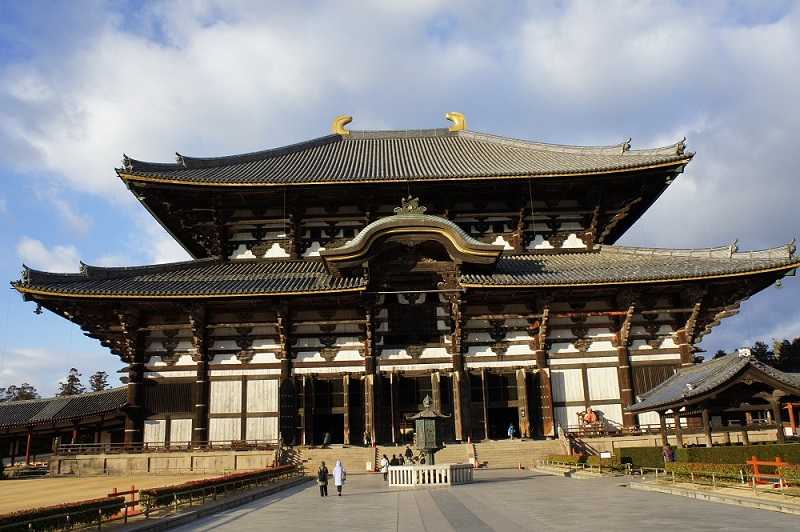 After completing the visit to Tōdai-ji consider a visit to the town of Nara itself. The city has a nice range of small local shops and restaurants, great for souvenir hunting.
Expert Tip: Visit the Todaji Temple 45 minutes before closing time, most of the visitors may already be heading back by this time, and you can enjoy the temple while it is relatively quiet, after that head up east to Wakakusayama hill, and with a little bit of luck, you may experience a beautiful sunset over Nara city.