Table of contents
Intro
Why Visit Japan?
A (Very) Brief History of Instagram
Visit Japan's Most Instagrammable Locations
Instagram and Japanese Food
Top Tips for the Most Instagrammable Photos
Don't Forget
Intro
Are you always looking for the best places to take photos of your travels and experiences? If so, you're probably very familiar with Instagram. This app, originally based around taking and sharing square photos (and videos) via your smartphone and adding one of Instagram's patented films, has gradually transformed from an up-and-coming craze to a worldwide phenomenon with some of the world's biggest celebrities (think Dwayne 'The Rock' Johnson, Kim Kardashian, Selena Gomez, Kylie Jenner and Cristiano Ronaldo) choosing to communicate with their fans (and the world) through their carefully curated photos. You can even become a celebrity yourself these days just through the quality of your Instagram output – this is known as becoming 'Insta Famous' or Instagram Famous":. This has spawned the word Instagrammable, which essentially means something so beautiful, visually unique or just downright cool that it needs to be photographed and made part of your feed. And if there was ever a country that was perfect for Instagram it is Japan. Not only is Japan one of the most spectacularly beautiful and diverse countries in the world, but its unique culture and traditions and combination of ultra-modern, neon metropolises, ancient temples and shrines, and natural wonders (mountains, forests, beaches, waterfalls, blue lakes, and much more) make this country an absolute must-see for travellers with a love of photography.
Why Visit Japan?
Could Japan be the world's most Instagrammable country? It's quite possible! This incredible country has something for everyone and so many eye-popping beautiful locations, from natural to urban, that it is very hard to say which are the absolute best (and very hard to see them all in one visit). A list of Japan's must-see locations could run into the hundreds, but we've tried to narrow it down for you. The best and most cost effective way of seeing the whole country (and stopping off at all of these locations to take photos for your Instagram feed) is, of course, by using Japan's world renowned domestic rail system and your Japan Rail Pass for unlimited travel. From castles, temples and shrines to forest, waterfalls and mountains, from tiny rural villages and fishing towns to cities with more than 40 million people, from ancient statues to modern landmarks, from hot springs (onsen) and more than 100 volcanoes to snow monkeys and the land of heavy snow in the north, Japan is a country like no other and impossible to truly experience without seeing it for yourself.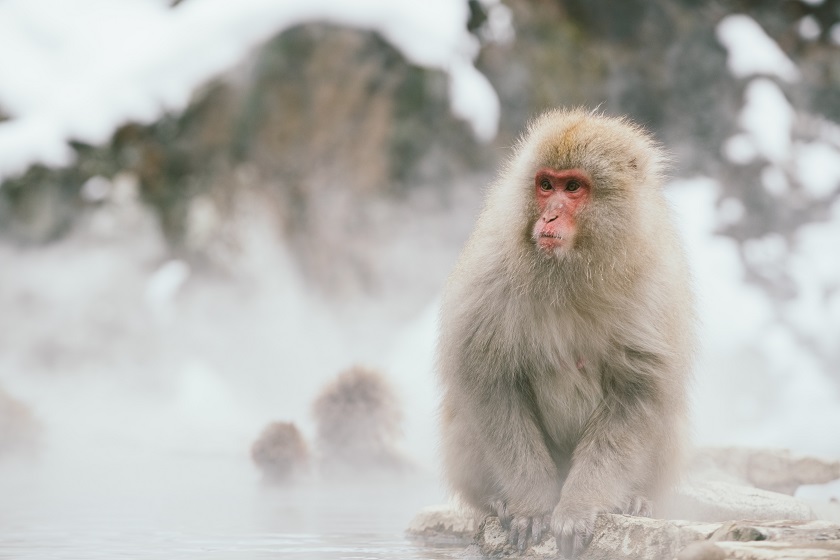 A (Very) Brief History of Instagram 
Instagram was launched as an app in October 2010 by creators Kevin Systrom and Mike Krieger and managed to gain a million users within its first three months. Before long, this became two million and then 10 million. In 2012, the app was bought by Facebook and it has continued to grow exponentially over the seven years since then. Today, Instagram is one of the world's biggest social media platforms with more than a billion active users.
Visit Japan's Most Instagrammable Locations 
Japan has so many beautiful and unique locations that it would be almost impossible to actually rank them (it really depends on what you like) but here are a selection from across the country which you could visit and take photos of while travelling by train using your JR rail pass.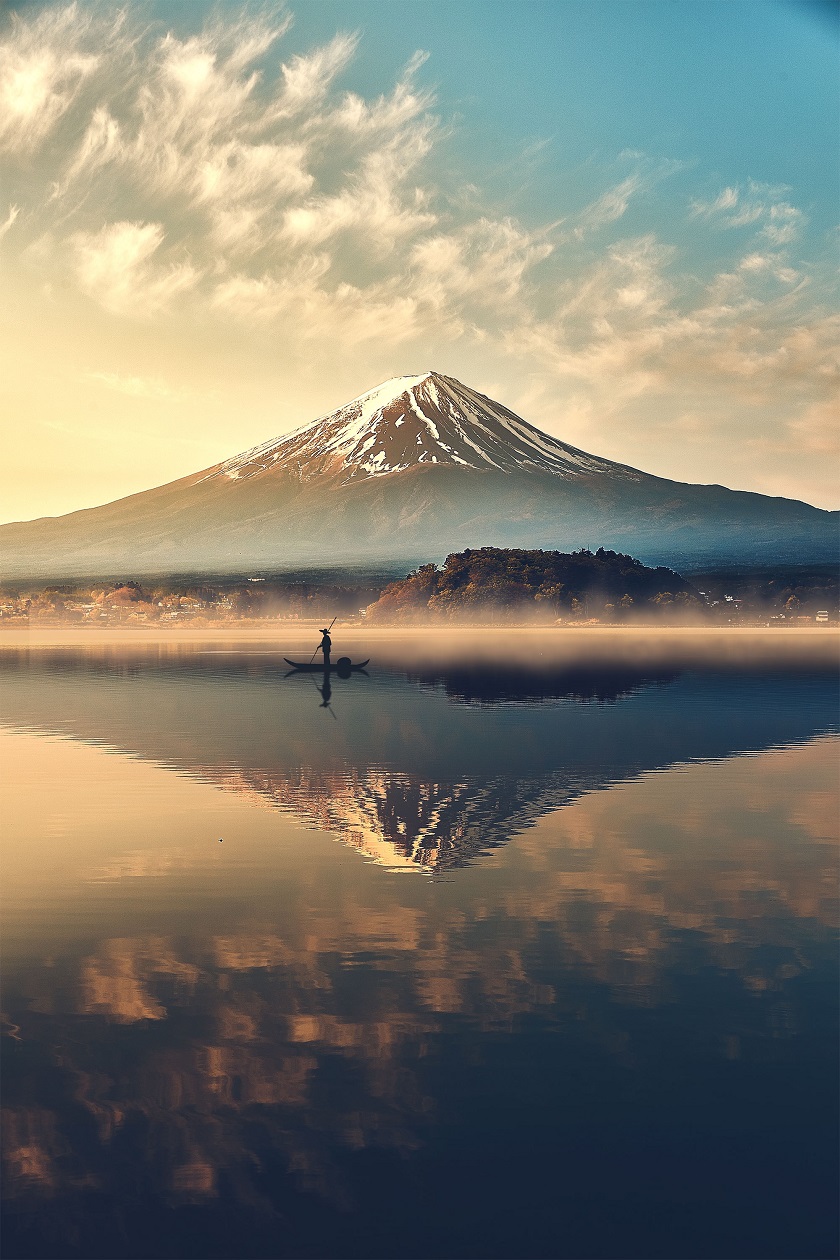 Mount Fuji and the Fuji Five Lakes
Mt Fuji itself is one of Japan's most beautiful and iconic images. Nearby, there's Chureito Pagoda (see below) and you also have the Shibazakura festival at the base of the mountain. This sees glorious pink, purple and white moss planted at the base of Mount Fuji, three km south of Lake Motosuko in the Fuji Five Lakes area and causes thousands of Instagrammers to descend on the location each year to take photos of this colourful carpet of plant-life.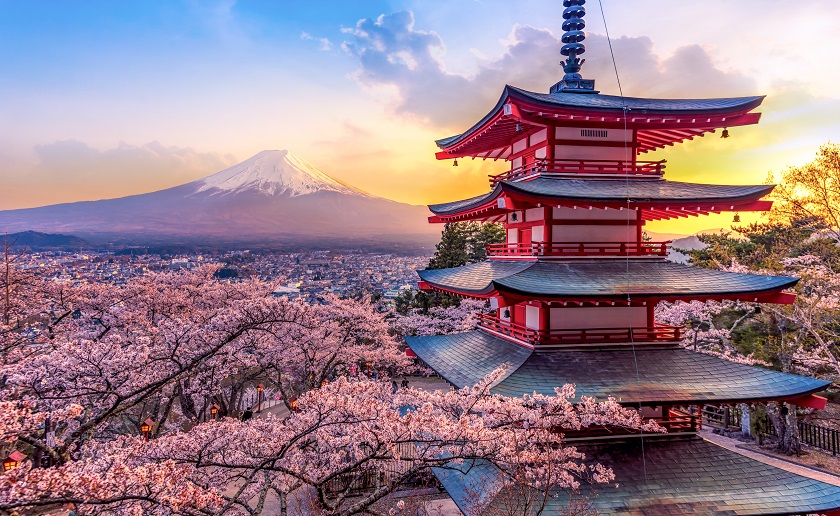 Chureito Pagoda is not only quintessentially Japanese, but also boasts views of Mt Fuji, and if you go at the right time of year, an abundance of cherry blossoms too. Find out when the right time is by reading our comprehensive guide to Visiting Japan to View The Sakura. 
Itsukushima Shrine
 This iconic floating torii gate in Hiroshima may be one of Japan's most famous images, and you can see why from the photo above. Don't miss your chance to add this to your Instagram feed.

Hitachi Seaside Park
Every autumn, this beautiful park is blanketed with a unique bush called Kochia scoparia, which turns red and pink like Japanese maple between October and November. You can visit the Kochia Carnival on Miharashi Hill at Hitachi Seaside Park. You can reach the park via the JR Joban Line from Shinagawa, Tokyo or Ueno stations to Katsuta Station, using your Japan Rail Pass, followed by a short 15-minute bus ride.
Otaru, Hokkaido
The port town of Otaru in Hokkaido, in the north of Japan, boasts beautiful traditional buildings, cobbled streets, cafes, and stunning semi-frozen waterways at certain times of the year. If you love snow, ice and the beauty of winter, this is the town for your Instagram feed. You'll find multiple trains per hour between Sapporo and Otaru along the JR Hakodate Main Line.
Gotokuji Temple
The legendary lucky cat temple is famous for the thousands of waving cat statues and makes an incredibly 'Japanese' photo opportunity. Don't miss it if you're in Tokyo and have a soft spot for cats! 
 
Fushimi Inari-Taisha
This iconic and stunning path of over 5,000 vibrant orange gates is a shrine to the god Inari and is located in the Fushimi Ward of Kyoto. You may recognise the shrine from the film Memoirs of a Geisha. For more iconic Japan filming locations read our Japan on Film blog. Fushimi Inari Shrine is located near JR Inari Station, the second station from Kyoto Station along the JR Nara Line.




 


Shibuya Crossing
The famous scramble crossing in Tokyo is one of the busiest crossings in the world and therefore, completely spectacular. Try Instagramming from an aerial viewpoint such as the free viewing deck on the roof of Magnet shopping centre. 


Higashi Chaya
 Located in Kanazawa (Ishikawa Prefecture), this former geisha district is like stepping back in time to ancient Japan. It's wood-panelled buildings and quaint streets are perfect for Instagram.
Nara
Deer roam freely in beautiful Nara providing numerous photo opportunities against a beautiful and traditional backdrop of temples, gardens and shrines. You can use your JR Pass to visit Nara by taking the Shinkansen from Tokyo to Kyoto Station, and from there to Nara Station via the JR Nara Rapid Line.




 


Jigokudani Monkey Park in Yamanouchi
Inhabited by Japanese Macaques, which are also known as Snow Monkeys, this amazing park gives visitors the unique experience of seeing wild monkeys bathing in a natural hot spring and features Instagram opportunities in abundance. A picturesque way to get to and from the park and Nagano is by train. From JR Nagano Station, you can take the Nagano Dentetsu train line which will bring you to Yudanaka Station, the nearest station to the park.


Arashiyama bamboo grove, Kyoto
This 500-metre path of bamboo is located in a beautiful park on the western edge of Kyoto. Take the JR Train from Kyoto Station on the JR Sagano/San-in Line to Saga-Arashiyama Station. From there, walk for 10 minutes and follow the signs to Arashiyama bamboo grove.




 
The Blue Pond
 On the bank of the Biei River near the town of Biei on Hokkaido Island, you'll find the mysterious and beautiful blue pond. No one knows why it has this amazing colouration, but it certainly makes for an incredible Instagram photo against a backdrop of green trees. To discover this wonder for yourself, take a JR limited express train from Sapporo to Asahikawa and transfer to a local train to Biei./li>
 



 

Instagram and Japanese Food

From sushi to ramen, 3D latte art to rainbow pasta, matcha ice cream to fish-shaped Taiyaki pastries, Japan's wondrous and creative culinary delights will have you taking Instagrammable photos left, right and centre during your trip. There is even a dedicated hashtag for using when taking photos of Japanese food. You guessed it, it's #japanesefood <
If you're in Tokyo, don't miss Le Shiner cafe which specialises in rainbow-coloured food. This includes unicorn coloured ice cream, rainbow light bulb juice and even a rainbow cheese sandwich! You'll find this cafe five minutes from Harajuku Station.
Also try Shirohige's Cream Puff Factory for a Studio Ghibli My Neighbour Totoro shaped cream puff. You'll find this super cute cafe two minutes' walk from Setagaya Daita Station.
And remember, if you're Instagramming in Tokyo don't forget a prepaid travel card for getting around the city in addition to your Japan Rail Pass for countrywide travel.
And it's not just food that's worth a photo, Japan is world-famous for its whiskey too. You can read our comprehensive guide to Japan for Whiskey Lovers for everything you need to know, including which whiskeys to try and the best distilleries to visit across the country. Grab your JR Pass, head out to a distillery for a whiskey tour, raise a glass of Suntory or Nikka (or one of our other recommendations) and remember the moment forever by capturing it on Instagram.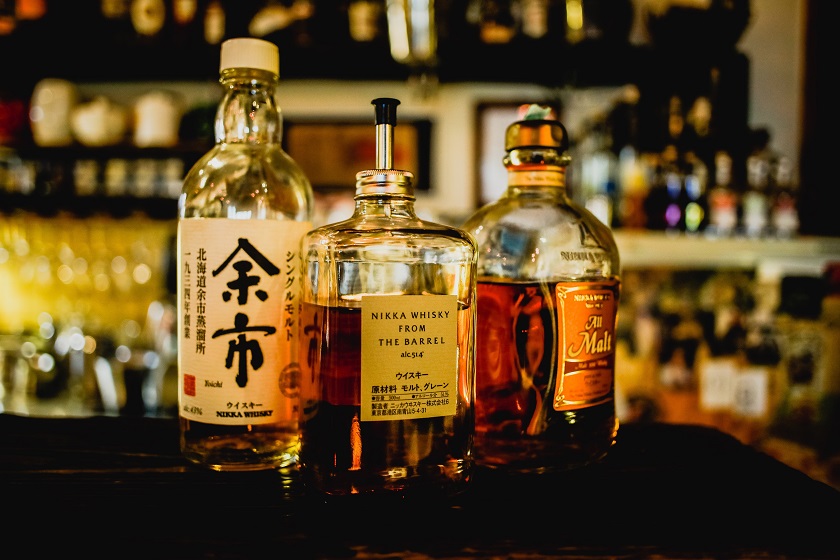 Ten Tips for the Most Instagrammable Photos (from the pros)
Use natural light.
Add depth to your images.
Frame your subject matter.
Turn on Instagram's grid feature to help position your shots.
Don't worry too much about 'likes'.
Embrace bad weather. 
Use your eyes before you use the lens.
Keep your Instagram feed consistent – what is it about? Who is your audience?
Quality over quantity.
Practice makes perfect.
Don't Forget (from the pros)
Remember to bring your smartphone, a charger and, of course, ensure you've downloaded and signed up to Instagram (if you're not already an addict that is!)
Japan's domestic rail system is the best way to get around the country. Use your Japan Rail Pass to visit the must-see literary locations.
Buy a Pocket Wifito ensure you're always connected to the Internet while on the move – essential to ensure you have access to Instagram when you need it! Don't miss out on any once-in-a-lifetime photo ops.
Watch out for photo-bombers (people getting in the background of your shots) from ruining your carefully staged images.
Read up on specific regions of Japan with our super useful guide. You can also buy specific regional train passes if you plan to visit just one or two regions.
If you become a celebrity thanks to the Japanese locations in your Instagram feed, please don't forget us when you become super rich and famous!
Get your very own tour guide by arranging for a meet and greet at the airport when you arrive via JRail Pass. 
If you're travelling in and around Tokyo, save money by investing in a prepaid travel card. 
and lastly, don't forget to follow JR Pass on Instagram