Japan's beautiful and historic palaces are a popular destination all year round and offer a fascinating insight into the country's heritage and culture.
Table of contents:
Intro
A Brief History of Japanese Palaces and Japan's Imperial Family
Are Japanese Palaces open to the public?
Tokyo Imperial Palace
Kyoto Imperial Palace
Heijo Palace
Tamozawa Imperial Villa
Bonus Tips for Travellers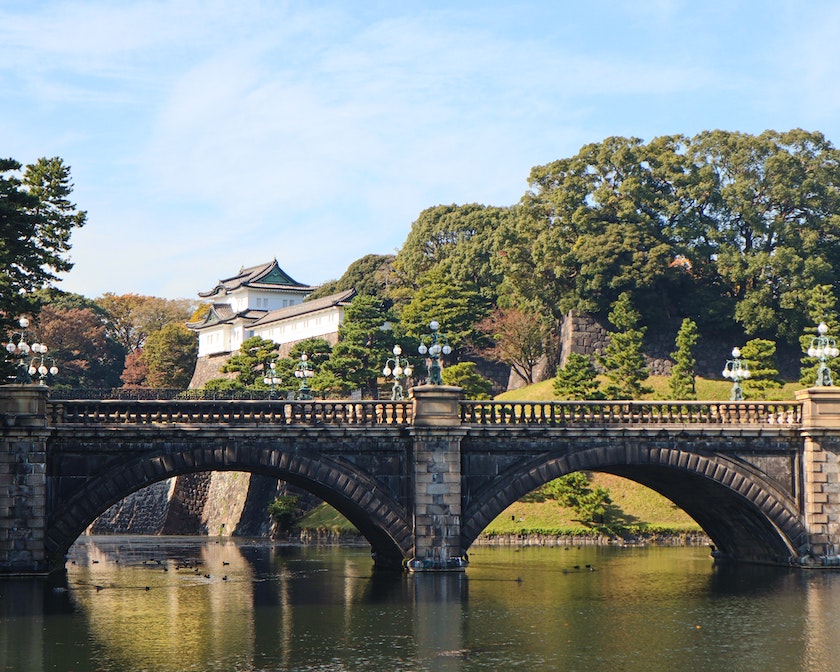 Intro
The beautiful country of Japan boasts some of the world's most spectacular palaces, from current and former Imperial residences to historic homes and buildings preserved as unique heritage sites. Alongside the country's stunning castles, serene temples and tranquil shrines, Japan's palaces are a wonderful way of learning more about the nation's history and culture, as well as a spectacular sight for anyone with an appreciation of traditional Japanese architecture. Thanks to the JR Pass and Japan's world-leading domestic rail network, you can travel the length and breadth of this unforgettable country with a single ticket, visiting Japanese palaces, and much more, along the way. We'll tell you everything you need to know about Japan's palaces, what to look out for, how to get there with your Japan Rail Pass, related attractions, etiquette, and more. If you're interested in visiting Japanese palaces, you've come to the right place.
A Very Brief History of Japanese Palaces and Japan's Imperial Family
When people talk about Japanese Palaces, they are generally referring to the Imperial Palaces in Tokyo and Kyoto. These are the official residences of the Imperial House of Japan – the country's royal family – which is led by Emperor Naruhito. Tokyo Imperial Palace is the main residence of the Imperial Family, while Kyoto Imperial Palace was used previously during the period up until 1868 when the city was the capital of Japan. Alongside the two main Imperial Palaces there are also former Imperial residences, such as the former Imperial Palace in Nara, as well as notable villas and mansions across the country, several of which can also be visited. The Imperial House of Japan has a long history. The current Emperor of Japan, Naruhito, is officially the country's 126th emperor. The first, Jinmu, was said to be a descendent of the legendary sun goddess Amaterasu, who bestowed three treasures upon him – a sword, a mirror, and a jewel. The sacred mirror of the Emperor is said to be stored inside Ise Grand Shrine – a complex of 125 shrines across Ise City that is Japan's most sacred Shinto shrine and spiritual home of Amaterasu. The shrine dates back 2,000 years and attracts millions of visitors and pilgrims every year. Read our comprehensive guide to Ise Grand Shrine for everything you need to know about this fascinating place.
Japan's Imperial Palaces in Tokyo and Kyoto are steeped in history and popular places to visit thanks to their magnificent architecture, beautiful gardens and expansive walled grounds with trees, moats, ponds, bridges, and more. They also offer a unique insight into the country's Imperial history and culture.
Are Japanese Palaces open to the public?
Yes, you can take guided tours of Japan's Imperial Palaces all year round, although there are different rules for visiting the Imperial Palaces in Tokyo and Kyoto. In Tokyo, guided tours must be pre-booked and only include the exterior of the palace. The inner grounds are only opened up to the public annually on special days of the year, such as the New Year's greeting on 2 January and the Emperor's birthday on 23 February. On these occasions, the public can go inside the inner grounds for a glimpse of the Imperial Family. One of the key reasons for the extra restrictions in Tokyo is that it is the main and current residence of the Imperial House of Japan. In Kyoto, guided tours are also available, but it is possible to turn up on the day without booking in advance – and the full grounds are accessible.
Tokyo Imperial Palace
The current home of Japan's Imperial Family, Tokyo Imperial Palace, has been the official residence of the Emperor since the city became the capital in 1868. The new Imperial Palace was constructed in 1888, and while it was destroyed in World War Two, it has been rebuilt exactly as it was. The palace was built on the former site of Edo Castle in the centre of Tokyo, which was the seat of Tokugawa Shogun from 1603 to 1867, and before that the home of legendary warrior Edo Shigetsugu. At the height of its power, Edo Castle had the tallest tower in Japan, but it was destroyed by fire in 1657. If you're interested in finding out more about the Edo period, you could also visit the Tokyo-Edo Museum to discover what life was like for people from different walks of life in Medieval Japan. Read our Tokyo-Edo Museum guide for more information.
Today, Tokyo Imperial Palace has many famous landmarks on its grounds such as Kokyo Gaien, Japan's National Garden with an expansive plaza at the front of the palace, and the Nijubashi bridges, which consist of Meganebashi (a stone bridge called eyeglass bridge for its distinctive shape) and the wooden Nijubashi (double bridge). Also close by is a famous bronze statue of samurai Masashige Kusunoki and the iconic Sakuradamon Gate, which has been designated as a national cultural asset.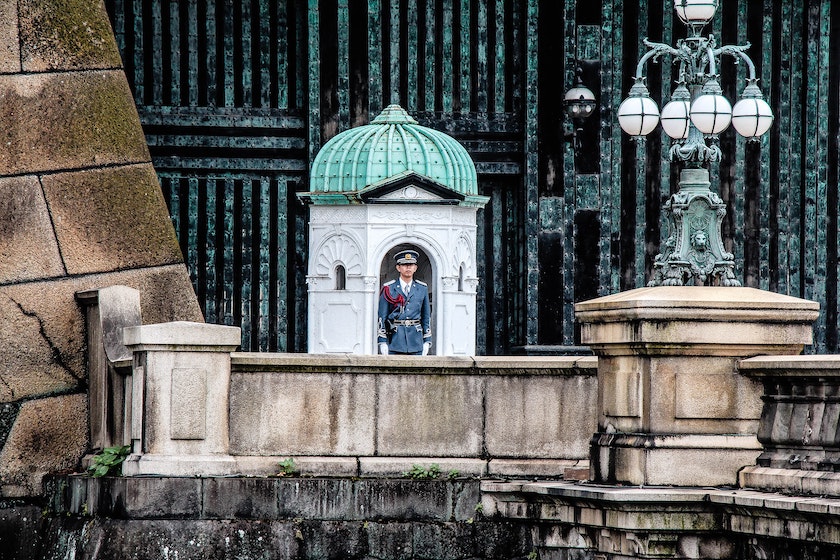 There are usually two guided tours a day in both Japanese and English at Tokyo Imperial Palace. The tours must be pre-booked through the Imperial Household Agency, which controls entrance, and we would recommend booking at least three weeks in advance. For more details, read our comprehensive guide to Visiting Tokyo Imperial Palace and Garden.
Alongside the palace itself, The Imperial Palace East Gardens are a beautiful attraction, and are open daily all year round. The gardens are free to visit and include the Museum of Imperial Collections. The East Gardens are located within the circle of the former Edo Castle grounds – two areas known as Honmaru and Ninomaru. These special areas are among the last Edo gardens in Japan and also contain the ruins of Edo Castle itself, including the moat walls and guardhouses. Also nearby is the serene Kitanomaru Park, a former medicinal garden, which was once part of the Edo Castle grounds, but has been open to the public since 1969 to commemorate the 60th birthday of Emperor Showa. Japan's National Museum of Modern Art, Science Museum, and Nippon Budokan Martial Arts Centre are all based in the park, which offers a huge amount to see and do as a result. It's also a famous location for hanami (flower gazing) during Cherry Blossom season each spring, particularly the Chidorigafuchi walking path with its romantic moat, where you can hire paddle-boats between April and November. For more on Japan's world-famous Cherry Blossom season read our guide to Visiting Japan to "View The Cherry Blossom";https://www.jrpass.com/blog/japanese-cherry-blossom-festivals-everything-you-need-to-know-while-traveling-for-hanami.
Tokyo Imperial Palace is a 10-minute walk from Tokyo Station. Top tip: you'll want to invest in a prepaid travel card such as an ICOCA, PASMO or Suica card for Tokyo's public transport, as well as a JRailPass for getting around the rest of Japan. Check out our Top 30 Tips for Using Japan's Metros for advice and guidance on using the city's subway network. Meanwhile, while visiting Tokyo, you should also read our helpful guide for Activating the JR Pass at Tokyo Station.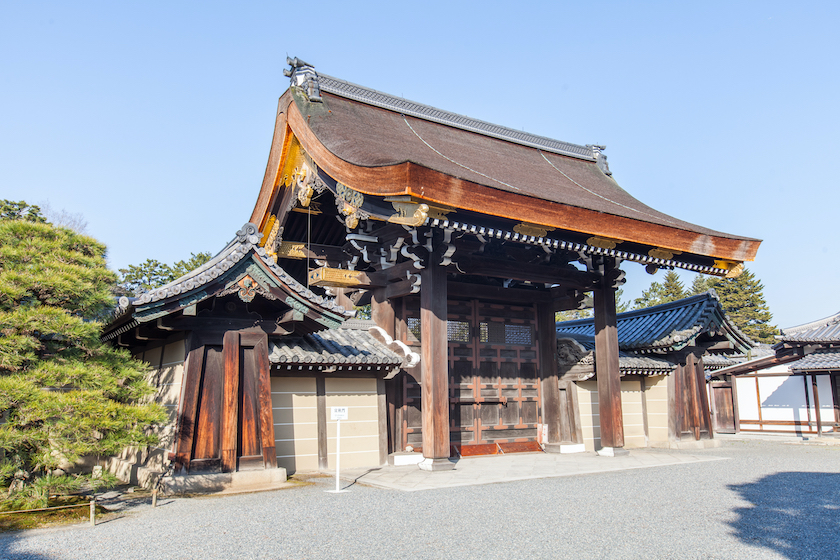 Kyoto Imperial Palace
Known as Kyoto Gosho, the Kyoto Imperial Palace was the residence of Japan's Imperial Family until 1868, when the shogunate was overthrown and the capital was moved to Tokyo. The palace can be found in Kyoto Imperial Park in the centre of the city, a large and attractive green space that is also home to Sento Imperial Palace and Kanninomiya Mansion, where court nobles once lived. Kyoto Gosho is a beautiful walled compound resplendent with traditional buildings, tranquil ponds, serene gardens, and centuries of Japanese history. Inside the grounds are the Seiryo-den (Palace Hall) and Kogosho (Minor Palace). Just like Tokyo, Kyoto's Imperial Palace grounds are also well-known for being a great place to see the Cherry Blossom and also the Plum Blossom, which blooms earlier in February. If you're on a hanami mission while visiting Kyoto Imperial Palace, be sure to check out the trees standing beside Konoe Pond in the north-western corner of the gardens – it's a particularly pretty spot. Also located on the grounds is Sento Imperial Palace, a secondary palace built in 1630 as the retirement home of Emperor Gomizuno. Although the original Sento Palace was destroyed by fire in 1854, a replacement known as Omiya Palace was built in 1867 and today this is used as the official residence for the prince and princess of Japan when they visit Kyoto. Guided tours of Kyoto Imperial Palace are available all year round, with more of the grounds open to the public as standard than in Tokyo, and it is also possible to join a tour on the day without having booked in advance.
You can reach Kyoto Imperial Palace via a short subway ride on the Karasuma Line from Kyoto Station. You can get off at either Marutamachi station or Imadegawa station, although the latter is close to the palace entrance. As in Tokyo, we would recommend a prepaid travel card for Kyoto's subways alongside your Japan Rail Pass for getting back and forth between major cities and exploring the rest of the country.
Also in Kyoto, the Imperial Katsura Villa (Katsura Rikyu) is an exceptional example of early 17th-century Japanese architecture and garden design. The villa dates back to 1645 and was the residence of the Katsura family who were part of the Imperial House. It remained in the hands of the Katsura family until 1881, before becoming the property of the Imperial Household Agency. Today, Katsura Villa remains one of Japan's most important open-air cultural treasures, and is renowned for its beautiful garden, traditional structure and historical importance. Among the many beautiful highlights Kyoto has to offer, Katsura Villa stands out as a must-visit. Read our guide to Katsura Villa, Kyoto, for everything you need to know about visiting, including information on how to get there and guided tours. In total, Kyoto has four Imperial properties, Kyoto Imperial Palace, Sento Palace, Katsura Villa, and Shugakuin Rikyu, another Imperial villa in the northeast of the city near Mt. Hiei.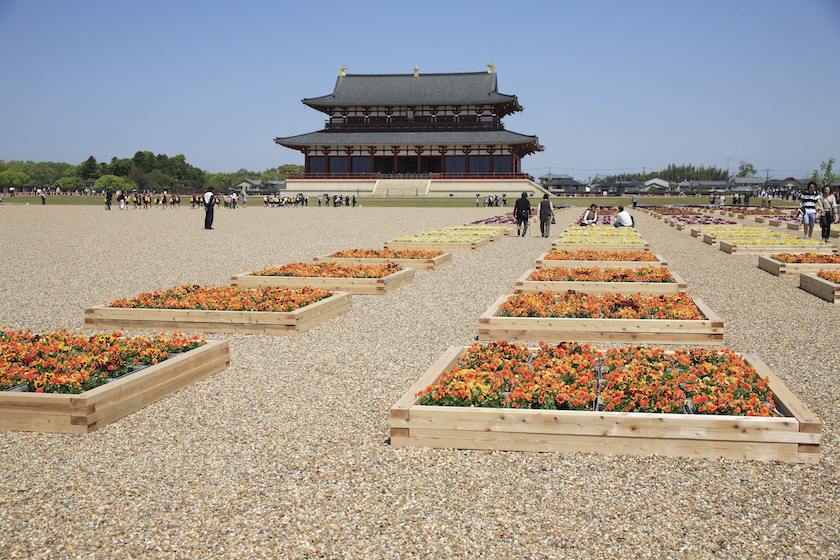 Heijo Palace, Nara
Before Tokyo and Kyoto, Nara was the ancient capital of Japan and had its own Imperial Palace – Heijo Palace. Beautiful Nara is well worth visiting and has become a popular destination thanks to its beautiful architecture, temples, shrines, parks, and its famous free-roaming deer. The grounds of the former Heijo Palace can be visited, and a number of spectacular buildings have been reconstructed on the grounds in recent years, including Daigokuden, the former audience hall, which was rebuilt and reopened in 2010 to mark the 1300th anniversary of Nara Capital. Nara was the capital of Japan from 710-794, which has become known as the Nara Period. During that time, Heijo Palace was the home of the Emperor and the location of his government offices. Although the original buildings were lost, Heijo Palace became an important architectural site and, as Nara prospered in later centuries, there emerged a desire to celebrate its historic past and restore its palace buildings. In the 1990s, Suzaku Gate and the East Palace Gardens were both reconstructed, with work currently taking place to open a rebuilt South Gate in 2022. Heijo Palace features a tourist information centre, sightseeing facilities, restaurant, cafe, gift shop, and virtual reality theatre and is a great place to visit for anyone interested in Japan's history. Nara is popular all year round and is a great day trip from Kyoto using the JR Pass. Read our guides to Nara City Park and our Day Trip to Nara itinerary tip for more.
Tamozawa Imperial Villa, Nikko
While not technically a palace, we have included Tamozawa Imperial Villa on the list for several reasons. It was the former summer residence of the Imperial family, it is one of the largest remaining wooden buildings of its type in Japan, and it is located in Nikko – the location of Japan's most lavishly decorated shrine and the mausoleum of Tokugawa Ieyasu, the founder of the Tokugawa shogunate. Nikko is the perfect place to learn more about Japanese history and culture, and a great day trip from Tokyo using the Japan Rail Pass. Read our guide to Nikko: The Perfect Balance of Nature and Spirituality for everything you need to know. Tamozawa Imperial Villa has been open to the public since 2000 and can be reached by taking a short 10-minute bus ride from JR or Tobu Nikko Station. It's also just 20-minutes from Nikko's Toshogu Mausoleum and Shrine.
Bonus Tips for Travellers