The Edo-Tokyo Museum
A visit to the Edo-Tokyo museum is to learn what life was like living in Tokyo through past centuries. From the Japan medieval era, when Tokyo was called Edo (up to 1869), to recent decades. The museum vividly retells and illustrates the lives from different walks of life, from the Samurai in Edo to the post-war salaryman.
Table of contents:
Introduction to the Edo-Tokyo Museum
The permanent exhibition of the Edo-Tokyo Museum
Special exhibitions and events
Free guide service
Tickets and admission
Access details to the Edo-Tokyo Museum
Tips for visiting the Edo-Tokyo museum
Introduction to the Edo-Tokyo Museum
The museum exhibition starts with the founding of Edo by the Shogun Tokugawa Ieyasu, in 1603. By the early 18th century, Edo had become one of the largest population centres in the world, similar to cities like Paris and London, with over a million inhabitants. At the same time, culture flourished and many of the arts, events, and cultural products Japan is world-famous for today have their origins in Edo-Tokyo. Think of kabuki theatre, ukiyo-e woodblock printing and festivals like the Sanja Matsuri found their origin or at least shape as we know them today in early Edo.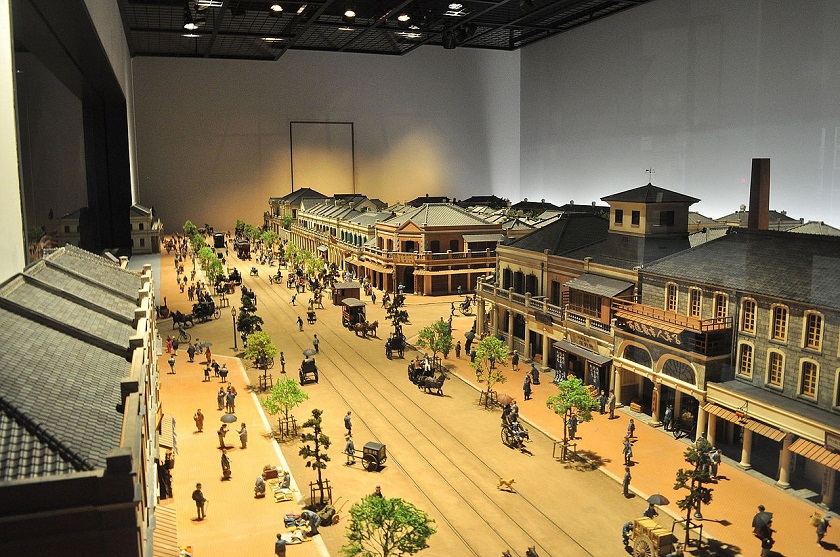 Onwards in the 19th century and Edo was booming, with a quickly growing population and as well culturally, it was only a matter of time before the rest of the world took notice. It is in this time that Edo first saw international, contacts and influence. That contact ultimately led to the Meiji Restoration in 1868, many cities and regions were renamed, and it is here that Edo became known as Tokyo. It is here to that Tokyo began its path to the modern metropolis we know today.
The permanent exhibition of the Edo-Tokyo Museum
Within the Edo-Tokyo Museum, the permanent exhibition takes visitors through the ages of development of Tokyo, there are over 800.000 pieces of art and history on display. The exhibition is grouped in 22 stages, and located on the 5th and 6th floor of the museum.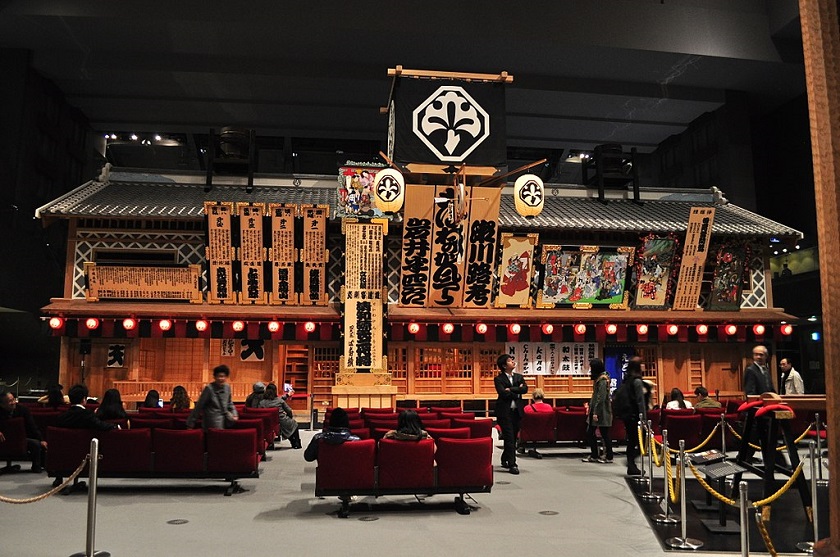 Each stage is set at a certain point and time, and focused on different parts of daily life. For example (in chronological order): Edo Castle and City views, Life of townspeople in Edo, Theatres and Pleasure Quarters, Tokyo in the Age of "Civilization and Enlightenment", Tokyo and the Industrial Revolution, Tokyo Revived (post-war).
Special exhibitions and events
The museum has a changing special exhibition space and hosts different kinds of events throughout the year. It's worth checking beforehand what might be going on. For example, most Wednesdays and Saturdays special dance performances called Edohaku Yose are performed.
Free guide service
The museum provides free guided tours and service in different languages each day between 10:00 and 15:00. Languages include: Japanese, English, Chinese, Korean, French, German, Spanish and Italian. Reservations should be made at least 14 days in advance and by phone (+81-3-3626-9974). There is no minimum group size.
Tickets and admission
Tickets can be purchased at the entrance, and admission fees are as follows:
Adult: 600Yen
Child: 300Yen
Over 65 years old: 300Yen
A 20% discount applies for groups over 20 people, and extra fees may apply for temporary exhibitions.
Access details to the Edo-Tokyo Museum
The Edo-Tokyo Museum can be reached on foot from JR Ryogoku station within 3-5 minutes, with is located on the JR Sobu line which runs through central Tokyo towards Chiba and stops at important stations like Shinjuku (JR) and Akihabara and is covered by the Japan Rail Pass
From Tokyo station take the JR Yamanote line to Akihabara station, and their transfer to the JR Sobu line. Directions to the museum are well posted within the station.
Tips for visiting the Edo-Tokyo museum
Bringing your photo camera is allowed, however some parts of the museum however to not allow photography.
Tripods and selfie sticks are banned!
Coin lockers are available at no additional charge.
Free Audio guides are available, in Japanese, English, Chinese(Simplified), Chinese(Traditional), Korean, French, Spanish, German, Italian, Russian, Thai, Portuguese and Malay. A 1000yen deposit is required, and returned upon return of the audio guide.
The Edo-Tokyo museum is in the same area as Tokyo Skytree, and can easily be combined as a day trip.
Edo-Tokyo Open Air Architectural Museum is the sister museum of the Edo-Tokyo Museum and houses 30 historic buildings that are representative of Japanese architecture from the 17th century to the 20th century, and could be of interest to those wanting a real life like experience of living in Edo.
Photo © and credit: Edo-Tokyo Museum (banner) Wiiii / WikiCommons under CC BY-SA 3.0.
Tokyo Museum – 'Ginza Bricktown' model – detail 07Joe Mabel / CC BY-SA
Edo-Tokyo Museum – lifesize replica of the Nakamura-za kabuki theater. Joe Mabel / CC BY-SA