Osaka Castle is a must-visit on any trip to Kansai. Learn a bit about its history, how to access Osaka Castle, how to buy tickets and more.
Why visit Osaka Castle
Osaka castle (大阪城), pronounced as Ōsakajō was built around 1583. At the time of construction it was the largest and most prestigious castle in Japan. Meant as the new seat of power for Toyotomi Hideyoshi, the then de-facto ruler of Japan.
The castle saw a massive renovation in 1997 and has since become one of the most modern castles in Japan, complete with elevators, outside light show and Wi-Fi. The castle today is an experience where you learn about the castle's history, the unification of Japan and its founder Toyotomi Hideyoshi. In addition, visitors can go up the castle tower for a magnificent view of the Osaka skyline.
Visit the Osaka castle garden and park
Osaka castle would not be an authentic Japanese castle without its own castle garden. Known as Nishinomaru Garden, the garden is private but accessible for a small fee. Inside the garden are over 600 cherry blossom trees, a traditional tea house and there are plenty of great photo opportunities.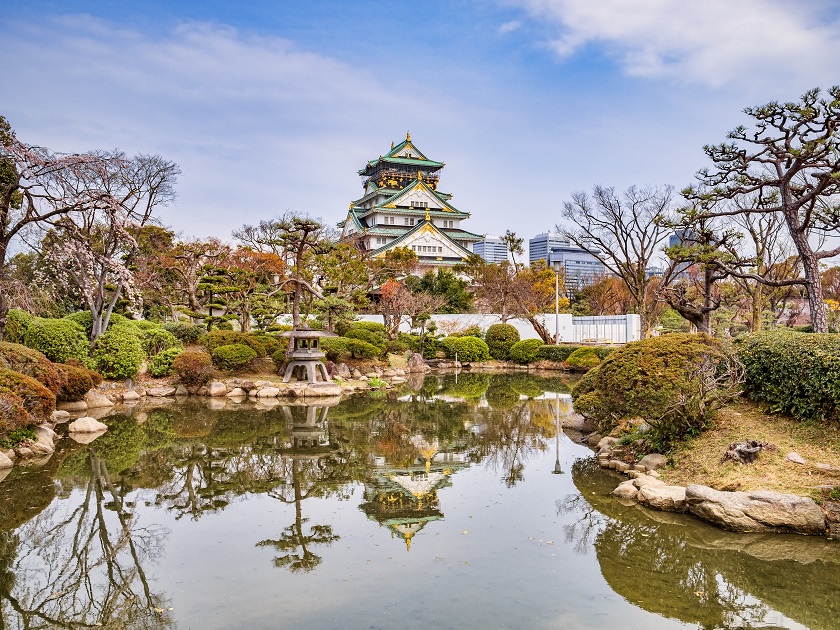 Around the castle complex is Osaka Castle Park (Osaka-jo-koen), it's the largest city park of Osaka with lots of activities in the area and certainly worth exploring on its own. The park is especially beautiful during the Sakura period. Highlights include: Hokoku Shrine, Illusion Museum, castle gate and the Peach Grove. Many festivals are held year round in the castle park and you might find yourself partaking in one of the many festivities during your visit.
How to reach Osaka Castle
Osaka Castle can be reached from Osakajou-koen station, on the JR Osaka Loop line. You'll step right into the castle park from the station, from where it is about 10 minutes on foot to the castle itself. The JR Osaka Loop line is covered by the JR Pass and JR-West Passes.
Tickets to Osaka Castle
Ticket price for adult is 600 yen, children below the age of 15 can enter free of charge. Tickets are purchased at the entrance. The additional cost for Nishinomaru Garden is 200 yen. The castle park is completely free of charge.
Tips for visiting Osaka Castle
The castle has different opening hours depending on the season, be sure to check the times when planning your visit.
The castle is closed during the new year period, from December 28th to January 1st.
The castle park has quite few romantic spots, it's a great place to bring your date.
If you're interested in visiting more castles in Japan, be sure to check out Himeji castle.