Japan arguably boasts the most beautiful and iconic pagodas in all of Asia. Here's our top five to visit while you're discovering this unforgettable country.
Table of contents:
Intro
A Brief History of Japanese Pagodas
Top Five Pagodas in Japan
Unmissable Temples and Shrines
Bonus Tips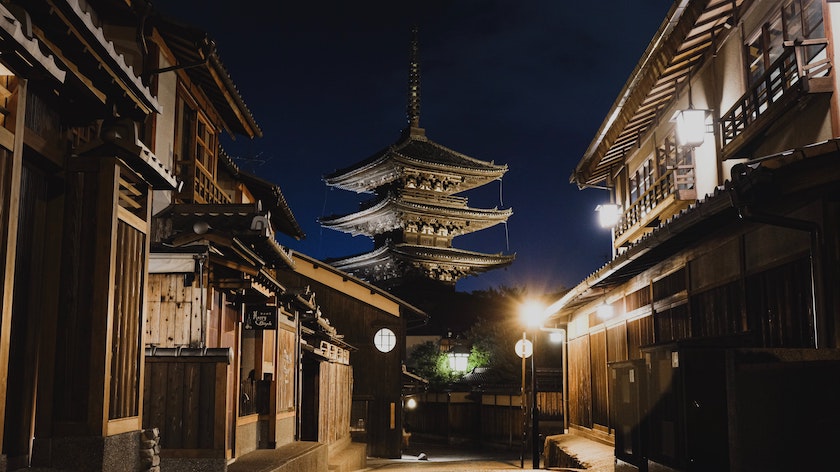 Intro
Pagodas are beautiful, tall, multi-levelled structures, with a square base, tiered, sloping roofs, and a spire. While pagodas can be found throughout Asia, Japan has a strong case for having the most beautiful in the world. Over the centuries, the pagoda has become one of the symbols of Japan and a visit to this unique and unforgettable country wouldn't be complete without seeing at least one of these architectural wonders in person. Naturally, we can do better than that. We've put together a list of the top five. These distinctive and elegant structures have become synonymous with Japanese iconography. Alongside samurai and sushi, they are part of the Japan of your imagination. We'll tell you about the history and origins of pagodas, their cultural and spiritual significance within Japan, and how to visit our top five using your JR Pass – one ticket for all of Japan's excellent domestic rail network. The iconic shape of a tall, multi-tiered pagoda with cherry blossom trees all around is one of those images you see in your mind when you dream of Japan and the real thing is even more beautiful and spectacular in person.
A Brief History of Japanese Pagodas
Japanese pagodas are closely based on their Chinese counterparts, although both can be traced back to the Indian 'stupa' – essentially a burial mound used to house the remains of rules, leaders and holy people. From 5th Century BCE and the death of Buddha, 'stupa' were used to enshrine the ashes and bone fragments of Buddha. As Buddhism spread around the world, so did the 'stupa', or structures inspired by it. This was the birth of the pagoda. Whereas the 'stupa' was a dome-shaped structure, the first pagodas in China were tiered. Japanese pagodas were also based on this new design. The big difference between Chinese and Japanese pagodas is in the materials used. Almost all Japanese pagoda are made of wood. In Japan, the roof overhang on each tier is also much larger and more pronounced than elsewhere in the world, which may be one of the reasons they have become so synonymous with the country despite originating elsewhere. From an architectural standpoint, the choice of wood constructions makes Japan's pagodas more resistant to earthquakes, which is important given the country's history. However, it does make Japanese pagodas more at risk of fire and this has resulted in the loss of several of the country's tallest and most historic pagodas which were destroyed this way. The tallest was said to be more than 350 feet before it burned down.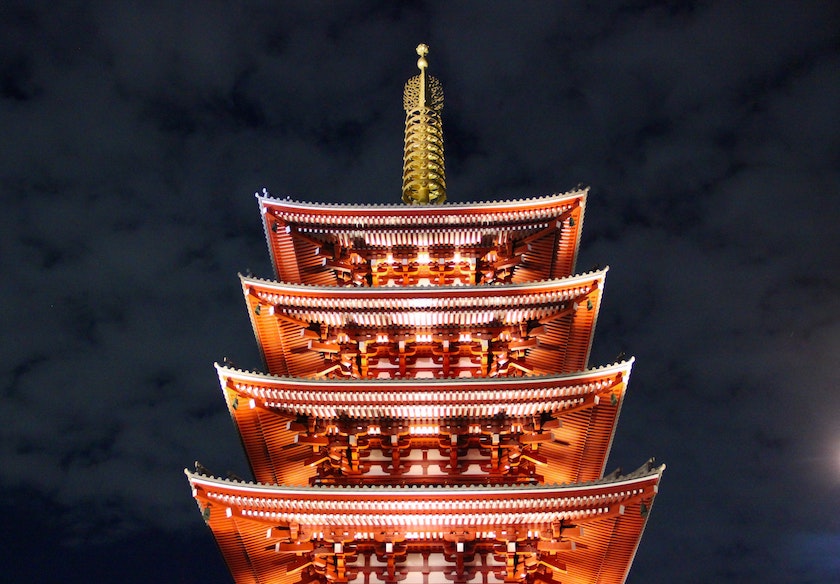 Pagodas often have five storeys to represent the fundamental elements of the universe – earth, water, fire, wind and space (or the void). Earth is the lowest level and space is the highest. Each floor is smaller than the last and each sloping roof is much larger than the floorspace of the corresponding level to create the pagoda's distinctive outline. The spire at the top is called a 'sorin'.
Today, pagodas can often be found connected to temples and shrines and remain culturally significant in Japan, where Buddhism is still one of the country's two main religions (the other being Shintoism). To find out more about Japan's beliefs read our Spiritual Guide to Japan.
Top Five Pagodas in Japan
There are beautiful pagodas throughout Japan, each with their own unique qualities, so we've had to be ruthless when selecting just five to recommend. Here's our list of the very best and how to get to each one with the Japan Rail Pass: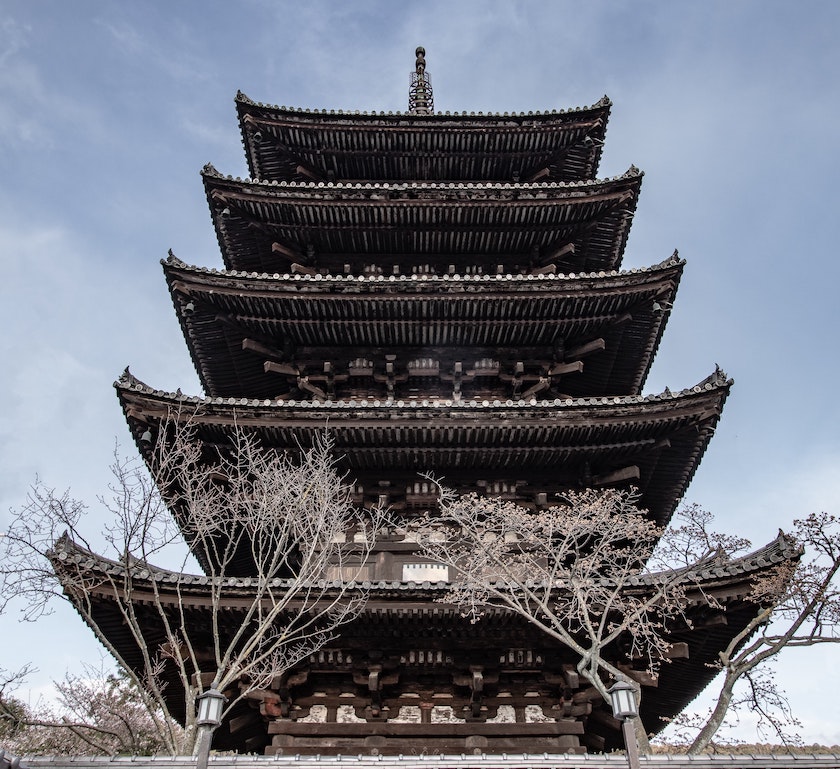 The Toji Pagoda, Kyoto
The tallest pagoda in Japan at 55 metres and definitely one of the most beautiful. Toji Pagoda is also located in Kyoto – the cultural heart of Japan – which is filled with temples, shrines, and the architecture of 'old Japan'. Built during the time of Kobo Daishi – founder of Shingon Buddhism – the temple's iconic five-storied pagoda was originally built in 826 but has burned down several times during its history. It was last rebuilt in 1644 and has remained standing ever since. At 55 metres tall it is the highest wooden tower or pagoda in Japan and its stature has made it a familiar part of the city's skyline. When it is open to the public, you'll see the famous Buddha statues that occupy its ground floor.
Kofuku-ji Temple Pagoda, Nara
Nara is famous for the beautiful sika deer that roam freely around the area, but it also boasts stunning and historic pagodas, temples and shrines. Tōdai-ji Buddhist temple complex is considered one of the masterworks of Japan. Kofuku-ji pagoda is on the eastern side of the complex, near the deer park and is part of the temple founded by the Fujiwara clan in the Heian period. Like Nikko, Nara is an excellent day trip from Japan's major cities. The best way to reach Nara from Tokyo using your Japan Rail Pass is via the Shinkansen, at around 2.5 hours from Tokyo to Kyoto Station, and then about 50 minutes from there to Nara Station via the JR Nara Rapid Line. Alternatively, from Osaka take the JR Yamatoji line. Find out more in our Day Trip to Nara guide.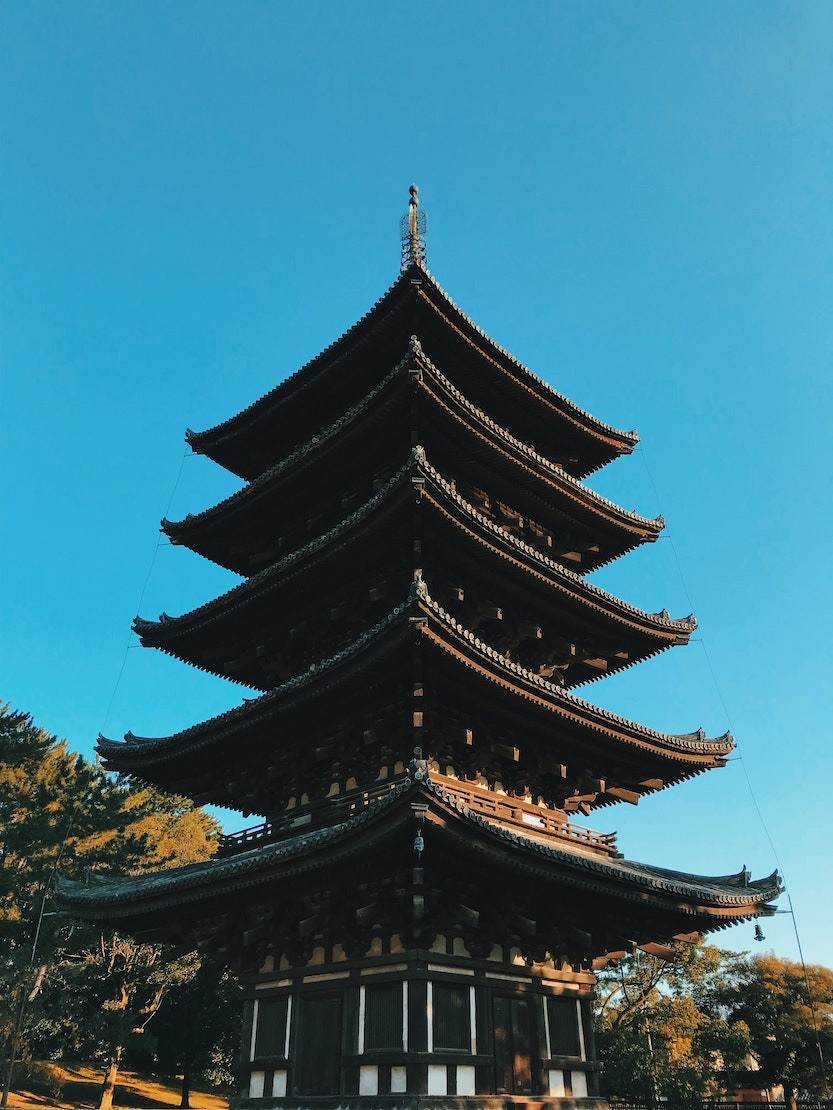 Ruriko Temple Pagoda, Yamaguchi Prefecture
Built in 1442, the roof of this spectacular five-storey pagoda was built using the bark of cypress trees known as hiwadabuki. Surrounded by mountains and trees and with a serene pond at its base, Ruriko pagoda is a treasure of the Muromachi period. You can reach Shin-Yamaguchi Station on the JR Sanyo Shinkansen bullet train.
Tokugawa Pagoda at Tosho-gu Temple, Nikko
This stunning pagoda is located at the Toshogu Shrine in Nikko. This incredible and glamorous complex of shrines was built around the mausoleum of Tokugawa Ieyasu. During the 1600s, Ieyasu's grandson Iemitsu renovated what was a humble mausoleum within the forest, turning it into a stunning and opulent display of reverence. Across the buildings you'll notice intricate wood carvings, generous use of gold leaf and a mix of both Shinto and Buddhist elements, including the impressive pagoda. You can get to Nikko by taking the train from Tokyo to Utsunomiya, where you can connect to the Nikko line. The entire trip is possible with the JRailPass.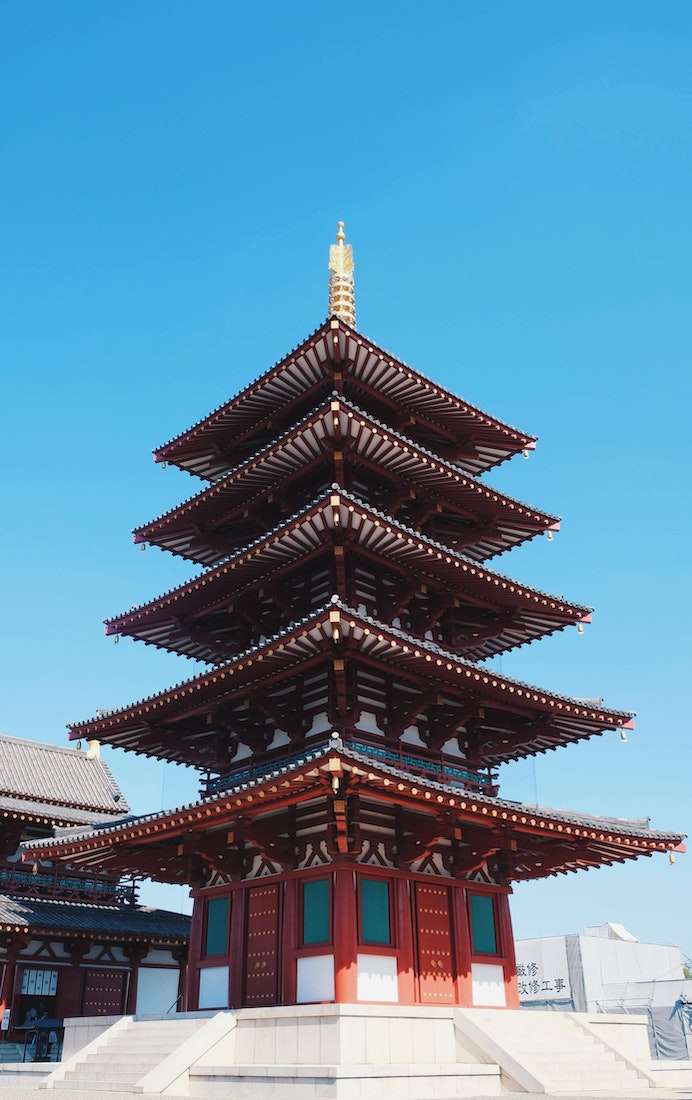 Shintenno-ji Pagoda, Osaka
Buddhism is said to have first reached Japan in Osaka in the 6th Century so this pagoda and temple complex is of particular historic significance. This striking red five-storey pagoda is one of the few that you're still able to climb and is definitely worth a visit for that unique experience alone, as well as being beautiful to admire and historically important. Osaka – known as Japan's kitchen for its famous seafood and street food – is easy to reach with the JR Pass. Simply take either the Hikari or Kodama trains on the Tokaido Shinkansen lines to get from Tokyo to Osaka in 3-4 hours.
We've also got a couple of other very honourable mentions including the famous Chureito Pagoda (which would have made the list, but it gets more than enough publicity elsewhere), Sensoji Temple pagoda in Tokyo (and many others in Tokyo), Daigo Temple pagoda in Kyoto and the orange pagoda at Kiyomizu-dera. Chureito Pagoda has become world famous as one of the best places to view Japan's iconic Mount Fuji as well as a beautiful structure in its own right. It's also one of the most photographed locations in Japan thanks to the combination of the pagoda, the cherry blossom that surrounds it, and snow-capped Mount Fuji on the horizon. You can find out everything you need to know in our Guide to Chureito Pagoda.
Remember, if you're travelling within major cities such as Tokyo, Osaka and Kyoto (where several of the best pagoda are found) then you'll want to invest in a prepaid travel card such as an ICOCA, PASMO or Suica card for Tokyo's public transport, as well as a JRailPass for getting around the rest of Japan. Check out our Top 30 Tips for Using Japan's Metros for advice and guidance on using the city's subway network.
Unmissable Temples and Shrines
As well as pagodas, Japan's serene temples and shrines attract millions of people from around the world each year. Just as you can't go to Japan without seeing a pagoda in person, you can't experience this amazing country without visiting some of its temples and shrines. Here is a selection:
Fushimi Inari Taisha Shrine
With its seemingly endless vermilion red Torii gates, Fushimi Inari Shrine in Kyoto has rightly become one of Japan's most iconic and popular spiritual attractions. You can find out much more about it by reading our Ultimate Guide to Fushimi Taisha Inari Shrine. Kyoto is easily accessible from Tokyo (and other major cities) with the JRailPass. From Tokyo, just hop on the JR Tokaido Shinkansen to Kyoto station. It takes about 160 minutes.
Toji Temple
This Shingon Buddhist temple is one of Kyoto's oldest temples and rightfully one of Kyoto's many proud UNESCO world heritage sites, particularly because the founder of Shingon Buddhism, Kobo Daishi, was head priest here and the site is steeped in history. As we mentioned above, the temple is also home to Japan's tallest pagoda. Read more about visiting this historic temple in our guide to Why You Can't Miss Toji Temple.
Kinkaku-ji Temple
Kyoto's world-famous 'Golden Pavilion' of Kinkaku-ji gets its name from its beautiful gold exterior and is one the Historic Monuments of Ancient Kyoto recognised by UNESCO as a World Heritage Site. It also has a sibling, Ginkaku-ji Temple, which is called the 'Silver Pavilion'.
Ise Grand Shrine
Among the thousands of Shinto shrines in Japan, one of the most significant is the Ise Grand Shrine in Ise City. The ancient shrine was built to worship the sun goddess Amaterasu and was said to have been built 2000 years ago. The nearest big city to reach Ise from is Nagoya. Travelling with a Japan Rail Pass, you'll want to take the train to Kameyama and then connect to Iseshi Station.
Floating Torii gate at Itsukushima Shrine
This popular Shinto shrine sits on the island of Miyajima in Hiroshima Bay and has many tourists come through to admire its scenic setting. To visit, first travel to the city of Hiroshima, from which you can take the ferry across to Miyajima for free, as it's included in the Japan Rail Pass.
Koya-san
Koya-san is a holy mountain in Shikoku and is the home and birthplace of Shingon Buddhism, which built its temples on Mt Koya in the 9th Century. The town of Koya-san is a UNESCO World Heritage Site and is also home to Japan's largest cemetery, the beautiful and atmospheric Onku-in, where some of the country's most prestigious people are laid to rest. Discover more (and how to get there with the JR Pass) in our Itinerary Tip: Koya-san.
You can find many more temples and shrines to visit in our guides to Five Shinto Shrines You Have To Visit and our list of the Best Buddhist Shrines in Kyoto.
Bonus Tips
Torii gates are just as iconic as pagodas and you'll find them all over Japan. These beautiful gates are found at the entrance to Shinto shrines. Read our Ultimate Torii Gate Tour of Japan for our guide to the most beautiful.
Japanese castles are another of the country's architectural wonders. Japan has some of the most spectacular and unique castles to be found anywhere in the world and they are guaranteed to transport you back to the samurai era. Find out more by reading our guide to Five Incredible Japanese Castles to Visit.
If your heart yearns for the Japan of old, you should also add the 'samurai city' of Aizuwakamatsu to your must-visit list. Read our Guide to Aizuwakamatsu for more.
As we've explained above, the JR Pass is the best way to travel around Japan. Want to know more about the benefits? Read our guide to Why The Japan Rail Pass is Worth It for all you need to know.