Furano is a famous winter ski resort, but thanks to its flowers and lavender fields, it is a beautiful and lively destination all year round.
Table of contents:
Intro
Welcome to Furano
Furano Ski Resort
Lavender Fields and Summer Flowers
Furano's Famous Food and Drink
Getting to Furano
The Blue Pond
You Might Also Be Interested In…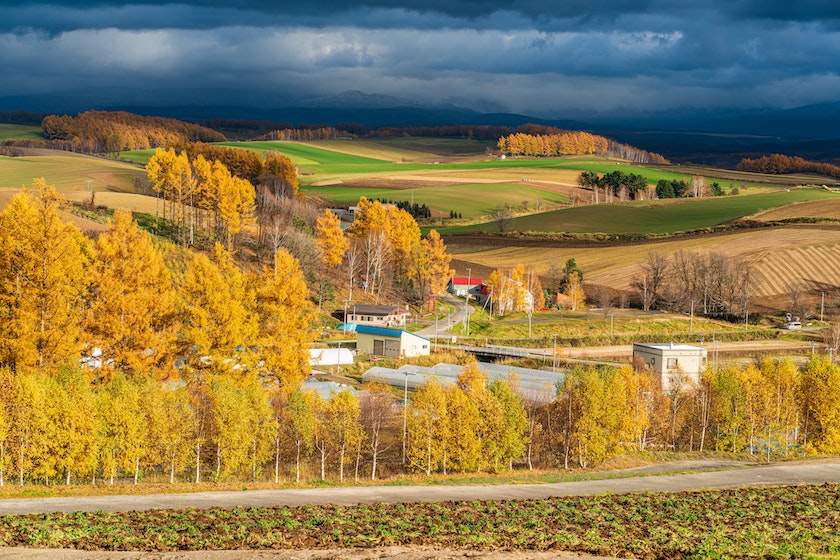 Intro
Furano in Hokkaido is arguably most famous as a winter sports resort, but the town is also well known for its stunning purple lavender plantations, multi-coloured summer flowers, and for having a huge amount to see and do in the local area, from farms and food producers, to wineries and festivals. Furano is truly a great place to visit all year round and not just for skiing and snowboarding enthusiasts, but for everyone. Known lovingly as the 'belly-button town' or 'naval town' because of its location directly in the middle of Hokkaido, Japan's northernmost island, Furano has lots to offer visitors looking for something a little different.
Hokkaido offers an alternative experience of Japan to famous cities such as Tokyo, Osaka and Kyoto, as well as a very different climate to the country's subtropical south. It is famous for its food, winter sports, culture, snow festivals, rugged landscape, onsen and lots more. Furano brings together many of the things Hokkaido is best known for in one charming and picturesque area, and is an ideal introduction to the rest of the island. We'll tell you all about Furano, what to do, where to go, and how to get there with the JR Pass. Winter or summer, autumn or spring, rain or shine – Furano is a beautiful place to visit and explore.
Welcome to Furano
The 'belly-button' town might not sound the most attractive name, but in both winter and summer, Furano is known for its beauty. The town is situated on the Sorachi River, and its surrounding hills in central Hokkaido lead up to Mt. Tokachi, which is within the Furano-Ashibetsu Nature Park. Furano is famous for its winter resort and its breath-taking lavender fields, but it has much more to offer beyond this too. The word Furano meets 'fragrant' but it is not believed to refer to the stunning lavender or the town's fields of multi-coloured flowers. In fact, it is more closely translated as 'stinky flame' from the word 'furanai' and refers to local volcanic activity. Every summer, Furano's light-hearted nickname of the 'Belly-button' town is celebrated in a festival where locals and visitors come together – sometimes with funny faces painted on their tummies around their belly button. This is known as the Hokkai Heso Festival (or Belly-button festival), and has been celebrated each July since 1969.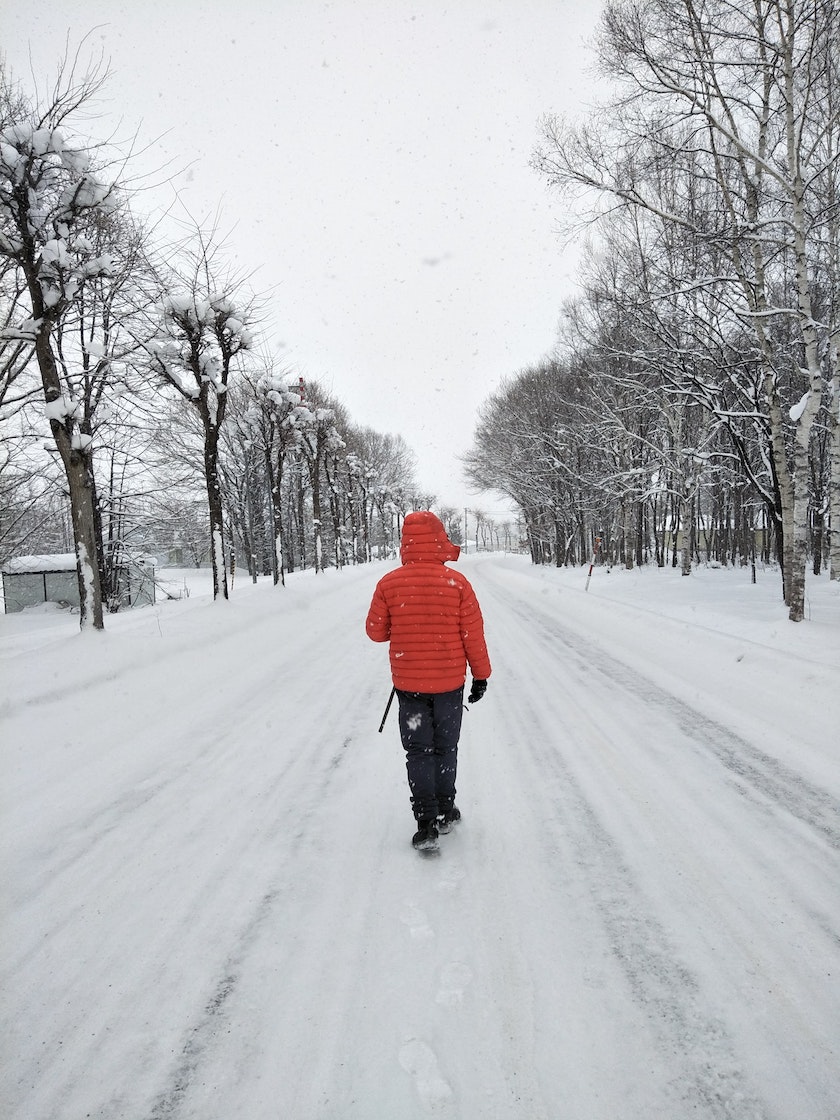 Furano Ski Resort
Let's start with what Furano is (arguably) most famous for – at least among fans of winter sports such as skiing and snowboarding. The Furano Ski Slope has hosted the Skiing World Cup more than 10 times and is a leading national, and international, ski slope. Featuring two connected peaks with long, exciting slopes as well as a number of gentler and easier courses, Furano Ski Resort is a winter wonderland for both beginners and advanced skiing and snowboarding enthusiasts. It's also great for families, with a Family Snowland that features attractions such as dog sledding, parasailing, snowmobile driving and snow rafting. There are two main hotels to choose from as well as a wide range of traditional inns known as Ryokans and more Western-style B&Bs. The ski season runs from late November to early May each year. Naturally, alongside beautiful winter weather, Furano and wider Hokkaido are well known for deliciously hot and steamy onsen hot springs, and warming regional wholesome foods (particularly seafood such as crab, soups, broths, and stews, and ramen).
Japan is world-famous for the exceptional quality of its ski conditions and snow resorts. This still comes as a surprise to many people because winter sports aren't always something typically associated with Japan, but those in the know rate the country as having some of the best slopes in the world. Why is Japan such a great place for skiing and snowboarding? Well, Japan can receive as much as 15 metres (600 inches) of snowfall during winter, and thanks to winds blowing across the Sea of Japan from Siberia, the snow is both deep and super fine, making for excellent skiing conditions. The other great thing about travelling to Japan to ski is the unusually long length of the Japanese ski season. For much more on this and a list of other recommended slopes and resorts, read our Starting Guide To Skiing and Snowboarding in Japan.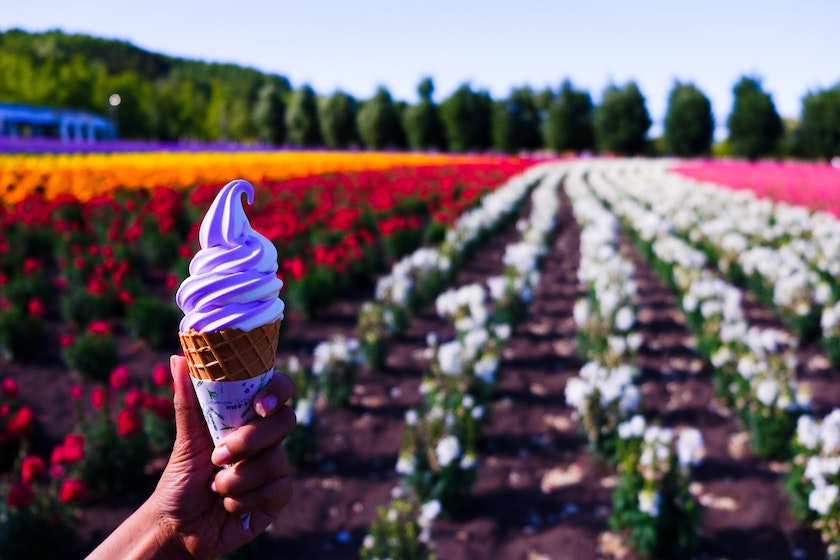 Lavender Fields and Summer Flowers
You've heard about Furano in winter, but what about summer? Well, one look at the incredible purple lavender fields will make you forget all about the snow. The vivid purple truly is a spectacular sight to behold and definitely worth making a trip to Furano in the summer months. Lavender has been cultivated in Furano for more than half a century and the fields begin to bloom from around June each year, reaching their peak in July and continuing until the end of August. Furano's famous lavender is used in all sorts of foods, perfumes, soaps and other products – even ice cream! Just see the photo above.
Furano is famous for many other types of flowers too and boasts several striking multi-coloured fields with poppies, blossoms, lupins, lilies, salvias, sunflowers, cosmos and more. One of the best-loved places in Furano to view the region's lavender and other flowers is Farm Tomita. It has gorgeous fields against the jaw-dropping backdrop of Tokachi mountain range. It also offers a cafe, farm shop, tractor rides, fruit picking and more. It's a wonderful day out for the whole family. Popular seasonal fruits in Furano include melons, berries, and pumpkins. Farm Tomita received so many visitors that it opened a second farm, Lavender East, in 2008, which offers visitors a 15-minute ride on the 'Lavender Bus' – on a tractor through its purple fields, which are said to be the largest in all of Japan. Lovers of seasonal flowers should also add the aptly-named Flower Land Kamifurano to the list, which combines sightseeing, tractor rides and hands-on activities (such as harvesting, flower pressing and fruit-picking) for visitors all year round. It's hard to imagine a better place than Furano to enjoy the Japanese art of 'flower gazing'. Alongside farms and fields, Furano's scenic landscape is also ideal for climbing, walking, hiking, cycling and a wide range of other outdoor activities, from hot-air balloons to river sports on the Sorachi River. Also check out Furano Ropeway if you're into climbing.
Furano's Famous Food and Drink
As well as snow, lavender and flowers, Furano is well known for high-quality local produce, particularly wine and cheese. You can visit Furano Cheese Factory (which produces a range of dairy products) and sample regional favourites such as squid ink cheese. The local cheese is even used in a regional variation on Hokkaido's ramen – Chizu Ramen-no-mise – topped with Furano cheese. Other local favourites include omu-kare – rice with an omelette covered in Japanese curry. The town also boasts local jam farms and melon farms. If you're looking for a single place to pick up several of these Furano favourites, try the famous Ningle Terrace – a collection of small shops stocking local produce.
In addition to food, Furano has a winery overlooking the town that has been producing wine since 1972 and celebrates with a wine festival (Furano Wine Matsuri) each year in September. At the festival you can even help make wine the traditional way by grape stomping with bare feet! Alongside wine, Furano also carries on the island of Hokkaido's love of beer. Japan has a thriving craft beer industry and Hokkaido in particular is well known for its appreciation of this popular beverage – it's the home of Sapporo beer and has several festivals dedicated to enjoying beers of all kinds. Furano Brewery can be found near the Kitanomine Ski area, and regional specialities include pils, light ale and dark ale. You can find out much more about Japan's love of beer in Kanpai! A Craft Beer Tour of Japan.
Getting to Furano
Hokkaido can be reached directly by rail from Tokyo, with a one-way trip taking roughly four hours using the Hokkaido Shinkansen. The trip is fully covered by the JRailPass. Once in Hokkaido, there are a number of ways to reach Furano. If travelling from Tokyo, you can transfer at Sapporo (Hokkaido's capital), Shin-Hakodate-Hokuto, or Takikawa, The JR Furano line connects the town with Asahikawa and Biel. In the summer months there is also a special train for tourists called the Furano-Biei Norokko featuring a nostalgic carriage and extra-large windows for sightseeing. The Furano Ski Resort is about 5-10 minutes away from Furano Station in a car, bus or taxi. There are regular tourist buses running in the area too.
The Blue Pond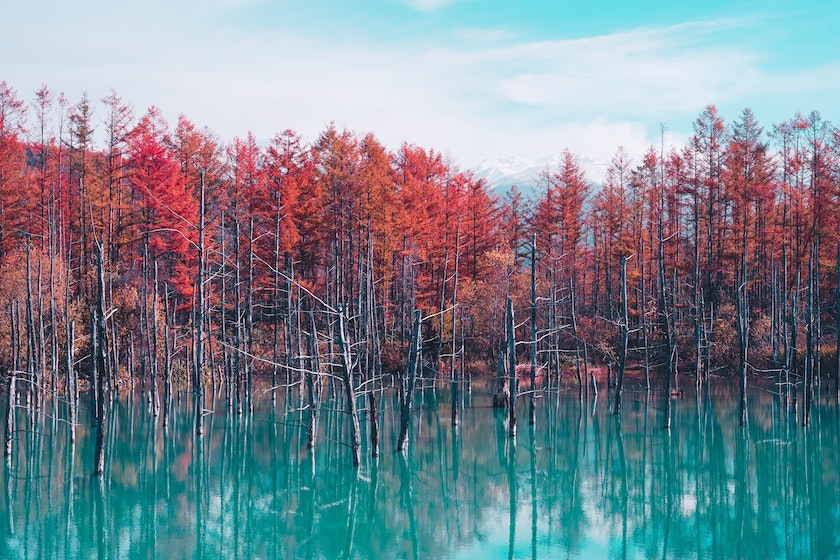 Located north of Furano, near the river Biel, the famous Blue Pond is well worth a visit. Just look at how beautiful it is in the photo above and you'll understand instantly why it's become such a tourist attraction (and one of Japan's Most Instagrammable Locations). No one knows the exact reason for its incredible blue colouration (although it is apparently due to natural minerals dissolved in the water) but what's certain is that it makes for a beautiful and enigmatic location to visit during May. The pond was created as part of erosion control plans to protect Biel from Mount Tokachidake's eruptions, but unexpectedly became a tourist destination because of its unique colour. You can find 'The Blue Pond' near the hot spring town of Shirogane Onsen, which is well worth a visit in itself and also boasts a beautiful waterfall. Hokkaido is known for its onsen and hot springs generally and for good reason. What can be better after a day out in the snow, than sinking into hot, relaxing water? From winter snow to summer flowers, Furano, and the surrounding area in Hokkaido, has something for everyone.
You Might Also Be Interested In…
As we've mentioned above, Furano is located in Hokkaido, Japan's northernmost island. There are many more cities, towns and other attractions to enjoy in Hokkaido. Here are a few ideas…

Firstly, there's the world famous Sapporo Snow Festival in Hokkaido's capital, Sapporo. The 'Yuki Matsuri', as it's called, attracts more than two million visitors a year. Our comprehensive Guide to the Sapporo Snow Festival has everything you need to know.


Sapporo is almost famous for being home to the original ramen alley. To find out more about this delicious dish read our Beginner's Guide to Ramen.


Asahikawa is Hokkaido's Snowy Second City. Read our guide to Things to Do in Asahikawa to find out more.


Visit Hakodate, Hokkaido's scenic merchant city. You can find out more in our guide to What To Do in Hakodate.


Hokkaido is a destination that's popular all year round, but it is particularly in-demand amongst those who love snow, cold climates and winter weather. Read our guide for What To Do in Hokkaido During Winter for our top recommendations.


For Hokkaido travel advice, check out our helpful year-round Hokkaido Five-Day Rail Itinerary with the JR Pass.