Table of contents:
Intro
A Brief History of Studio Ghibli
Ponyo – Japan's Modern Day Little Mermaid.
A Guide to Tomonoura
Studio Ghibli Museum
Bonus Tips for Ghibli Fans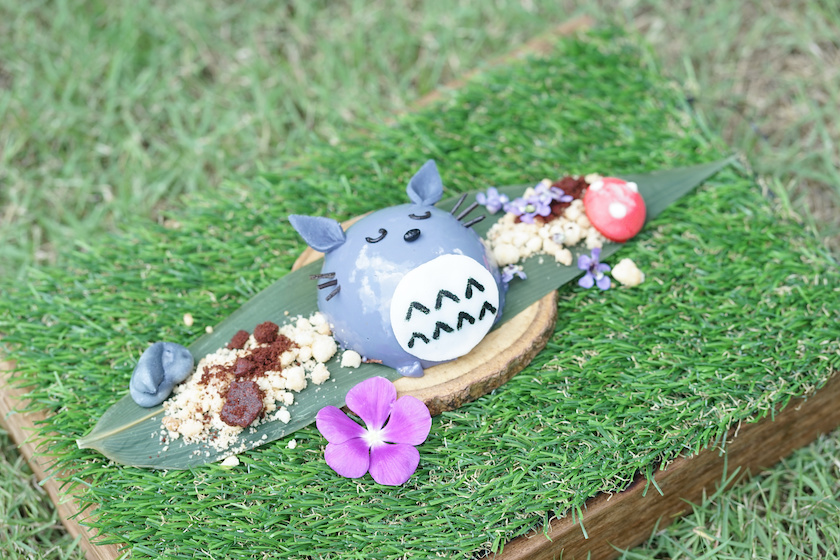 Intro
Japan is famous for many things, but it's fair to say that Studio Ghibli's animated films have been one of the country's most famous exports in recent years and have helped introduce and beguile a whole new generation of fans to the country. Studio Ghibli's films have left an indelible mark on world culture over the last 35 years and today, millions of tourists and visitors come to Japan to experience the country that is imaginatively depicted in the films, and to seek out locations that inspired founder and director Hayao Miyazaki and his colleagues. The studio has become so in demand that it opened a museum in Mitaka, Tokyo, which is one of the most sought after ticket attractions in the country. One of the studio's most successful and best loved films from recent years is Ponyo On The Cliff By The Sea and rumour has it the setting of the film was heavily inspired by the beautiful port town of Tomonoura. If you're a fan of Studio Ghibli and Ponyo in particular, a visit to this scenic seaside town is unmissable. We'll tell you how to get there with your JR Pass, what to see and do, and much more.
A Brief History of Studio Ghibli
The legendary animation studio was founded in Tokyo on 15 June 1985 by directors Hayao Miyazaki and Isao Takahata, and producer Toshio Suzuki. The company was launched after the success of the 1984 animated film Nausicaä of the Valley of the Wind, which was written and directed by Miyazaki. It is often thought of as a Studio Ghibli film, but in reality it was produced and distributed by a different company. There are several stories around the name of the studio and the world 'Ghibli'. One explanation is that it comes from the Libyan-Arabic word for hot desert wind because the studio was determined to 'blow a new wind through the film industry'. Another is that it refers to an aircraft – the Caproni Ca.308 Ghibli. The studio's mascot is a 'Totoro' – a large furry deity from one of its most famous films.
Since the studio's formation, it has created some of the highest grossing and most award-winning anime films of all time, including Spirited Away, My Neighbor Totoro, Kiki's Delivery Service, Howl's Moving Castle, Princess Mononoke, and Ponyo on the Cliff By The Sea, which will be discussed below.
In 2001, the Ghibli Museum opened in Mitaka, Tokyo, marking a new era for the studio. More on this below. Since then the studio has continued to produce award-winning films although its output has slowed down in recent years due to the retirement of Miyazaki in 2014. However, Miyazaki recently announced that he was coming out of retirement for one final film, How Do You Live? which will be released in the near future.
Ponyo – Japan's Modern Day Little Mermaid.
Ponyo or Ponyo on the Cliff By the Sea to give the film it's full title, is a 2008 animated movie from Studio Ghibli and tells the story of a goldfish who is transformed into a human after meeting a little boy. The plot of the film has led to comparisons with The Little Mermaid by Hans Christian Andersen (featuring a mermaid who falls in love with a prince) although there are a range of other theories about its origins. In the Ghibli film, the fish is the daughter of a once human wizard called Fujimoto. She is called Brunhilde and is one of his many fish daughters. One day, she sneaks off from her father and is rescued by a boy from a small Japanese town. He cuts his finger in the process of rescuing Brunhilde, and when she licks his finger, she begins the process of her transformation into a human. The little boy is called Sosuke and he names the fish-girl Ponyo. Studio Ghibli's films draw on a wide range of sources and inspirations, from literature and history to mythology and folktales, spiritual beliefs, and real-life locations (as we'll see below). If you'd like to know more about Japan's long and storied history of mythology, read our guide to the Folktales of Japan.
The A Guide to Tomonoura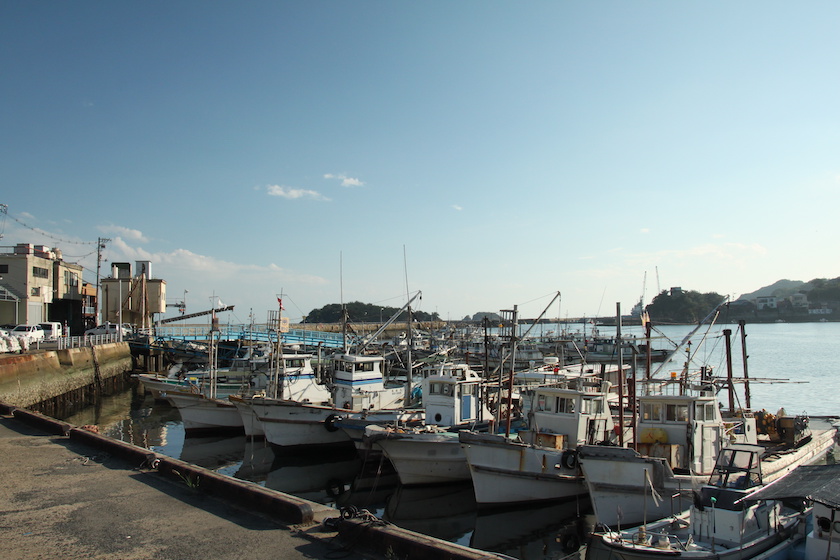 The scenic port town featured in the film, Ponyo, is said to be based on and inspired by the equally scenic town of Tomonoura, located at the top of Numakuma Peninsula in Setonaikai National Park, south of Fukuyama City in Hiroshima Prefecture, Japan. The film's director, Hayao Miyazaki visited the town of Tomonoura in 2005 and loved the location so much he stayed for two months and decided to include it as the main setting in the film he was working on at the time (Ponyo). One of the many theories about why Miyazaki chose Tomonoura is because as well as being incredibly pretty, it is also famous for its sea life, particularly red sea bream. Tomonoura is known for its history, ranging back a thousand years, and for its picturesque harbour, which was built during the Edo period (1603-1867) and earned the town a reputation for its views. Famously, a Korean envoy staying in an Edo period guest house overlooking the Seto Inland Sea claimed that Tomonoura had 'the most beautiful view in Japan' – high praise indeed. Let's take a look at some of the highlights from a visit to Tomonoura for any Studio Ghibli fans who are planning a visit:
Scenic harbour and a rich history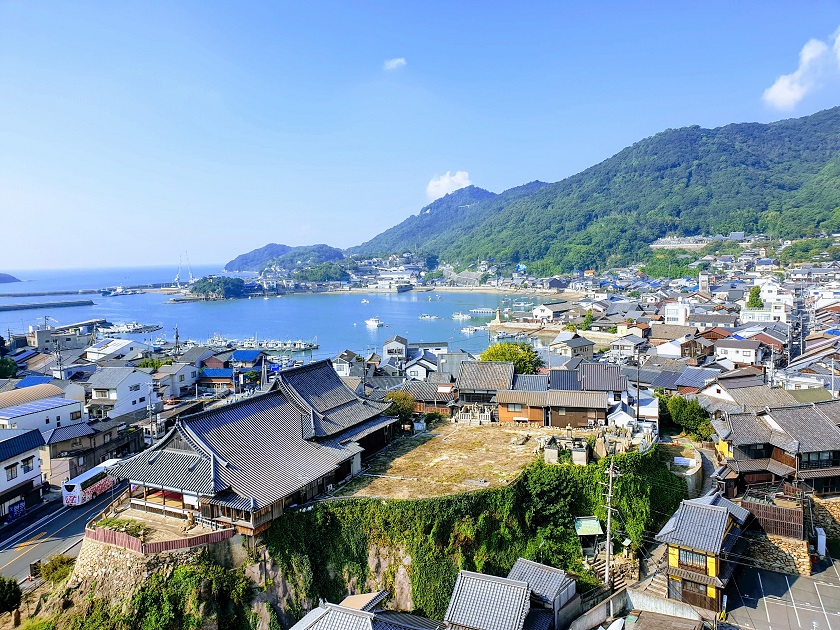 Miyazaki spent two months staying at a house overlooking this beautiful harbour which inspired a Korean ambassador to describe Tomonoura as having the most beautiful sea views in all of Japan. The same view also famously inspired blind musician Michio Miyagi to compose 'Haru no Umi' (The Sea in Spring) in 1929. The house where the Korean ambassador stayed, Taichoro Guesthouse, was built in 1690 near the Fukuzenji Temple and is now a National Historical Landmark.
Edo-period buildings and landmarks
Tomonoura is famous for its Edo-period buildings, wooden houses, temples, and narrow, labyrinthine streets that evoke the days of old Japan. The town is known for its laid-back and old-fashioned atmosphere. Local landmarks we recommend you visit include the Joyato Lighthouse, an 11-metre stone structure that is a symbol of Tomonoura; the Ota residence, which dates back to the Meiji Period; and Irohamaru Museum, which was named after a ship that sank in 1867. Tomonoura also has several temples and shrines including Fukuzenji Temple, which offers beautiful views of Bentenjima Island and Sensujima Island, and Nunakama Shrine, which boasts a stone Torii gate.
In the movies
As well as Ponyo, Tomonoura was also featured as a location in Hugh Jackman's The Wolverine – the second spin-off solo movie from the X-Men series of films. The film was a loose adaptation of the classic Chris Claremont and Frank Miller graphic novel which saw Wolverine take on the Japanese underworld to save the woman he loves. In the film, director James Mangold shot several scenes in nearby Hiroshima and both he and star Hugh Jackman reportedly visited and filmed footage in picturesque Tomonoura. Mangold chose Tomonoura out of more than 50 potential filming locations in Japan because of all the towns and villages he visited, he felt this one most evoked
Setonaikai National Park
Japan's biggest national park, Setonaikai is famous for its fishing villages, rugged and spectacular coastline, its long and colourful history, and for being home to one of the world's greatest cycling routes, the Shimanami Kaido. You can find out more about this subject in I Want To Ride My Bicycle: Japan's Best Cycling Routes.
Local liqueur
Home is where the liqueur is! Tomonoura is also famous for a local liqueur called 'Homeishu'. This delicious local drink is a must-try when you're in the area and is made from 16 local herbs. Homeishu has a sweet liquorice taste and is renowned for helping with fatigue and cold – apparently one of the reasons why Tomonoura's older people seem to be in great health. For more on Japan's love of drinks read our guide to Japan for Whisky Lovers or Kanpai! A Craft Beer Tour of Japan.
Fukuyama City
Just 20 minutes away from Tomonoura is Fukuyama City. The second largest city in the prefecture, it's an excellent destination if Japan's biggest cities (we're looking at you, Tokyo) seem a little too big, busy and crowded for you. Fukuyama has lots to offer and it's just a short distance from beautiful Tomonoura. Slightly further afield, Hiroshima is also home to Miyajima Bay, Itsukushima Shrine, and the famous 'Floating Torii Gate' or 'Grand Torii Gate' – one of the most famous in all of Japan. Read our Ultimate Torii Gate Tour of Japan to find out more about this torii gate and the locations of many more spectacular gates that are worth a visit across the country.
Getting to Tomonoura with JR Pass
You can reach Tomonoura by taking a 20-minute bus journey from Fukuyama train station. To get to Fukuyama, take the JR Shinkansen from Tokyo. This journey is fully covered by the JRailPass and takes about 3.5 hours. The bus has English signage and depart right in front of Fukuyama station.
Studio Ghibli Museum
Arguably one of Japan's most in-demand attractions in recent years, the Studio Ghibli Museum is notoriously difficult to get tickets for, and they must be booked in advance. Located in Mitaka, Japan, the museum opened in 2001 and quickly became an integral part of any anime tour through Japan. Characteristics of the building's design — such as the maze of spiral staircases, bridged passages, and overhanging terraces — often reflect storyboards of Hayao Miyazaki's films. Widely considered "Japan's Walt Disney" by westerners, Miyazaki is Ghibli Museum's director and designer as well. The museum's storybook-like world exhibits an uplifting experience that will leave all who enter with an enriched feeling that may not have been there when they first entered. Although currently closed, the museum should open as normal again in the near future. To find the Ghibli Museum by rail, take the JR Chuo Line from Shinjuku Station to Mitaka Station. From the south exit of JR Mitaka Station, it's a 15-minute walk to the museum. A community bus runs from JR Mitaka Station to the museum. Travelers can purchase bus tickets at the vending machine by bus stop No. 9. For more read our guide to Studio Ghibli Museum Tour, Tickets, and Travel Information.
Bonus Tips for Ghibli Fans
If you love Studio Ghibli, there's a very good chance you enjoy all things anime and cosplay too. You can find out lots more about everything related to this in our guide to Japan for Games, Otaku and J-Culture.
Speaking of computer games, April 2020 sees the release of the Final Fantasy

VII

Remake in Japan. Sony and Square have opened a special remake cafe in Tokyo to mark the occasion and if you happen to be visiting Japan (and you love classic games), it could be an amazing opportunity to experience the excitement of the global launch.
If you're a film lover generally (as well as a fan of animation), be sure to check out our guide to famous locations around the country used in some of your best-loved movies, Japan on Film.
Another source of inspiration for Studio Ghibli is the world of literature. Japan is famous for the world's first novel and has a rich literary history up to the present day with successful novelists such as Haruki Murakami, Banana Yoshimoto, Hitomi Kanehara and Hiromi Kawakami, among others. You can find out more in A Literary Tour of Japan.
Tomonoura isn't the only Studio Ghibli location in Japan of course – far from it! Another destination worth a visit for fans is Yakushima National Park – the inspiration for the forest in the animated film Princess Mononoke. We'll be covering this and other key locations that inspired these wonderful films in future blog posts.