Table of contents:
Intro
A Guide to the Japanese Macaque (Snow Monkey)
A Brief History of Jigokudani – The Valley of Hell
Jigokudani Monkey Park
Bonus Things To Do in Nagano
More Monkey Business
Japan's Best Animal Experiences
Making the Most of your Monkey Park Adventure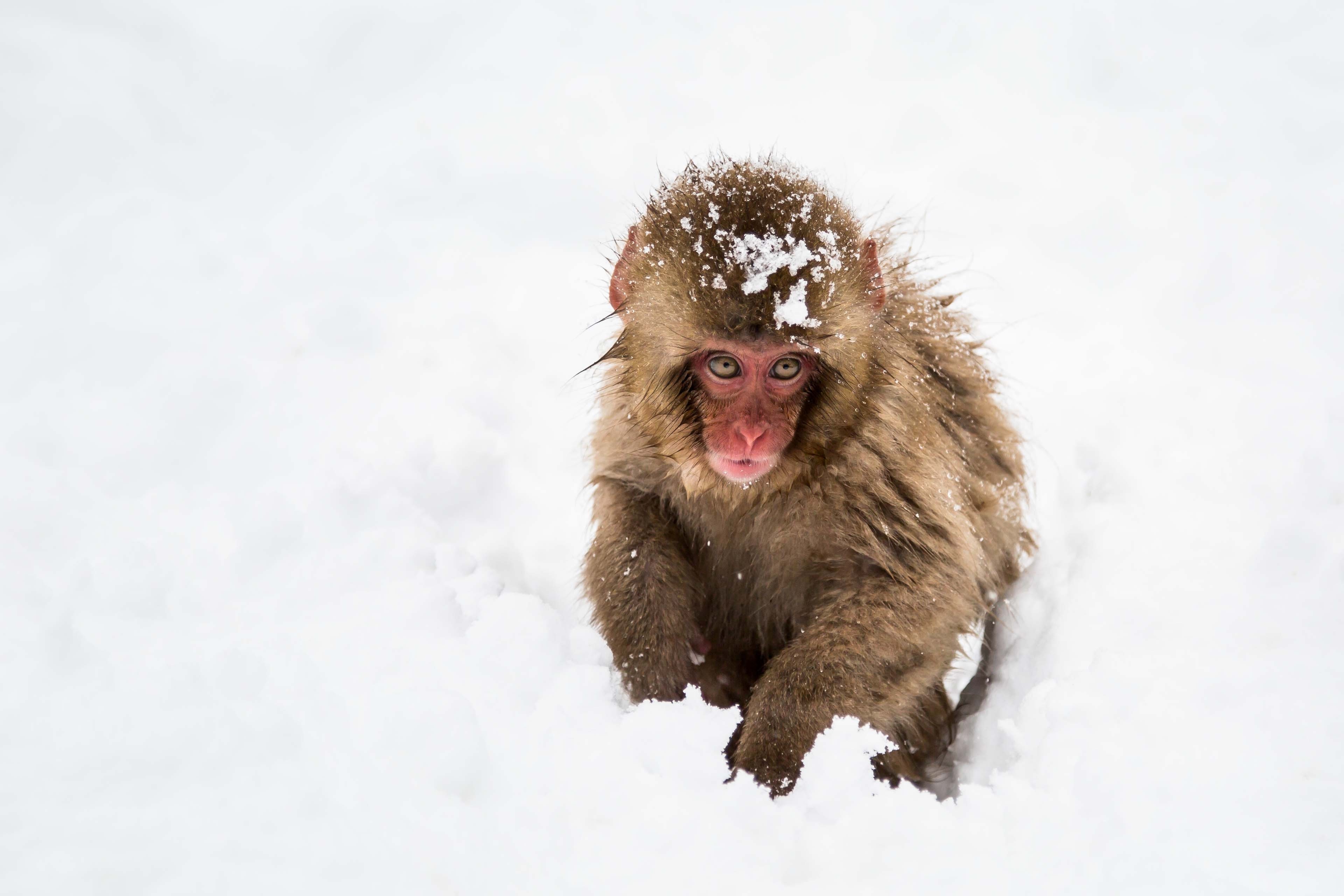 Intro
Japan's Snow Monkeys bathing in mountain hot springs is nearly becoming as famous an image of this amazing country as samurai and sushi. And when it comes to seeing these amazing animals in person, there's one place that's at the very top of everyone's list – the famous Jigokudani Monkey Park in Nagano. We'll tell you everything you need to know about visiting this world-famous attraction, how to get there with your JR Pass, what else to see and do in the Nagano Highlands region, how to get the most out of your trip to Japan, and much more. Time to monkey around!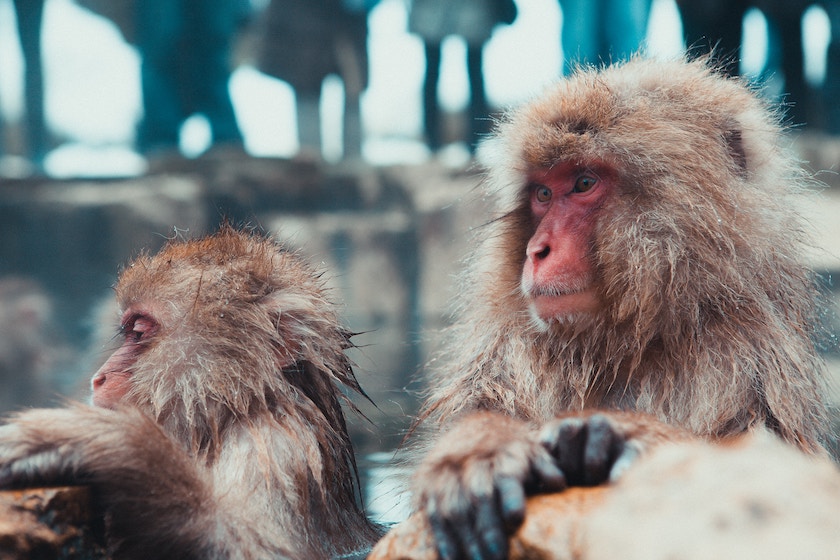 A Guide to the Japanese Macaque (Snow Monkey)
The world's most northerly monkey, the Japanese Macaque (Macaca fuscata), or 'snow monkey' as it is more commonly known, is native to Japan and can be found throughout the country's main islands, from the coldest parts of Hokkaido and Nagano to subtropical islands like Yakushima where the subspecies, Macaca fuscata yakui, make their home. They are the only monkey in the world to live so far north, and that's not all that makes them unique. Sociable, hardy, and adaptable, they have expressive pink faces with thick fur coats that can be particularly dense if they are living in cold, northerly regions. They have become increasingly famous for the pleasure they get from bathing in Japan's natural outdoor hot springs, which are the result of the country's geothermal and volcanic activity. And who can blame them when they often live in such cold climates? Hot springs are famously relaxing and once the snow monkeys discovered this (perhaps they knew before humans did?), there was no parting the two. Japanese macaques tend to spend their days sunning themselves, bathing, and foraging for food. Although technically omnivorous, their diet mainly consists of fruits, seeds, nuts, bark, and leaves. They will also on occasion eat insects, crabs and birds eggs.
A Brief History of Jigokudani – The Valley of Hell
Jigokudani means 'Hell Valley' and refers to the bubbling, steaming hot landscape created by geothermal activity from active volcanoes. There is more than one 'Jigokudani' in Japan, and they sometimes get confused. The Jigokudani in Hokkaido near the onsen town of Noboribetsu is frequently referred to as 'The Valley of Hell' and it is very aptly named. It even has a shrine dedicated to Enma, the King of Hell, and each August there is a festival of Hell featuring demonic fireworks. However, the Jigokudani we're more interested in today is in Yamanouchi in the Nagano Highlands. It has the same steam vents, hot springs, and geysers, but it's also home to our furry friends, the Japanese macaques.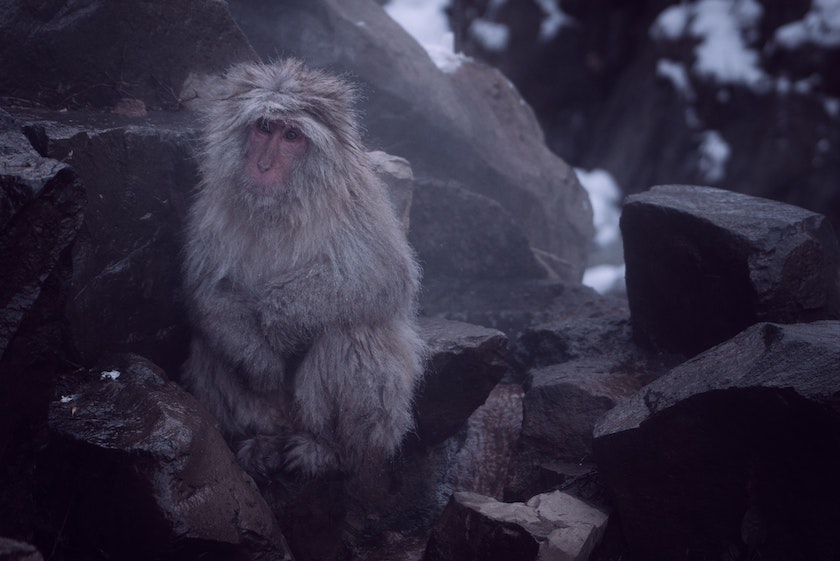 Jigokudani Monkey Park
Known as the 'Paradise of the Monkeys', the world-famous Jigokudani Monkey Park is located in the Joshinetsu Kogen National Park in Yamanouchi, northern Nagano. It is a large park that is best known for its open-air hot spring bath, which was built for the snow monkeys to bathe in. Each year, millions of people travel to Japan just to see this incredible sight. Jigokudani Monkey Park was established in 1964. The story goes that a local ryokan manager had begun feeding the monkeys a few years earlier and they had gradually become accustomed to people. One day, an apple about to be given to a monkey fell in the onsen and when one of the monkeys jumped in to retrieve it, they enjoyed the warm water so much they decided to stay and bathe and their friends soon followed suit. Today, the park is particularly popular during the snowy winter months, anytime from December to March in Nagano, but it can be enjoyed all year round. Soaking in the hot springs is a big part of the monkeys' daily routine and it is believed to have major stress relieving properties (in both monkeys and humans!). As well as the attraction of the main pool, visitors will encounter large numbers of monkeys along the main paths. There is also a visitor information centre on site which provides further insight into the monkeys' behaviour, habitat, diet and much more. The monkeys are used to human visitors and interaction so they can come quite close. Even the park's sometimes large crowds (up to 500 visitors-a-day during peak season) don't faze these confident and fun-loving creatures. You'll have a great time, just remember not to touch or feed the monkeys. Jigokudani Monkey Park opens at 9am daily and closes at 4pm with extended hours from 8.30a to 5pm seasonally.
It's easy to reach Jigokudani using your JRailPass. If you're travelling from Tokyo, take the Hokuriku Shinkansen bound for Kanazawa. From Kyoto, take a Hikari train on the JR Tokaido Shinkansen from Kyoto station to Nagoya then switch to the JR Shinano express to Nagano. Once at Nagano, from whichever direction you've travelled, you'll need to take a shuttle bus to the monkey park.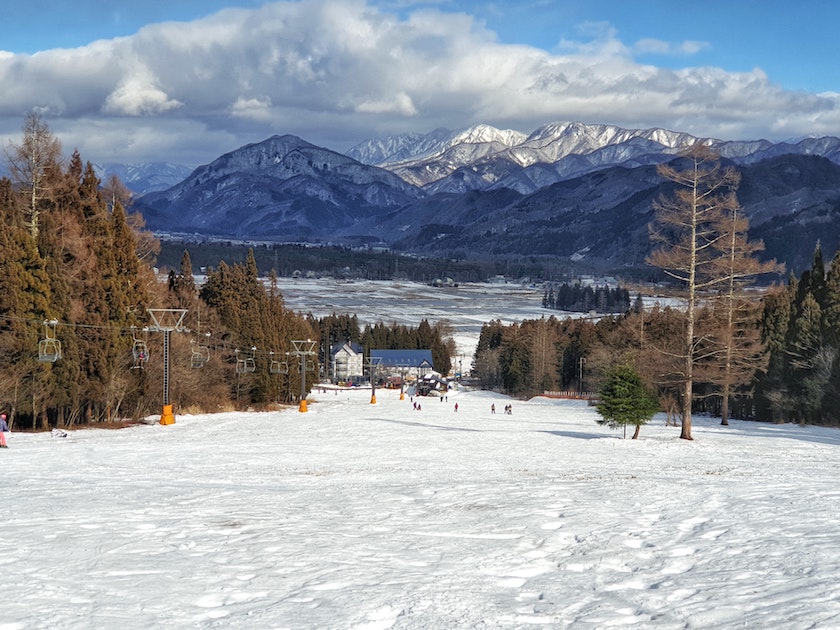 Bonus Things To Do in Nagano
Nagano is known as the capital of winter sports in Japan and there is lots to see and do in the area aside from visiting the famous Jigokudani Monkey Park. As well as winter sports such as skiing and snowboarding, there are shrines and temples such as Zenkoji, attractions such as Togakure Ninja School, Olympics facilities, traditional ryokan (inns) such as Korakukan, and several nearby onsen resorts and towns including Shibu and Yudanaka. Shibu is very traditionally Japanese and is like stepping back in time, while Yudanaka is more modern and contemporary, so there is something for every taste. Find out more about the main trains that take you to and around Nagano in our guide to the Nagano and Hokuriku Shinkansen.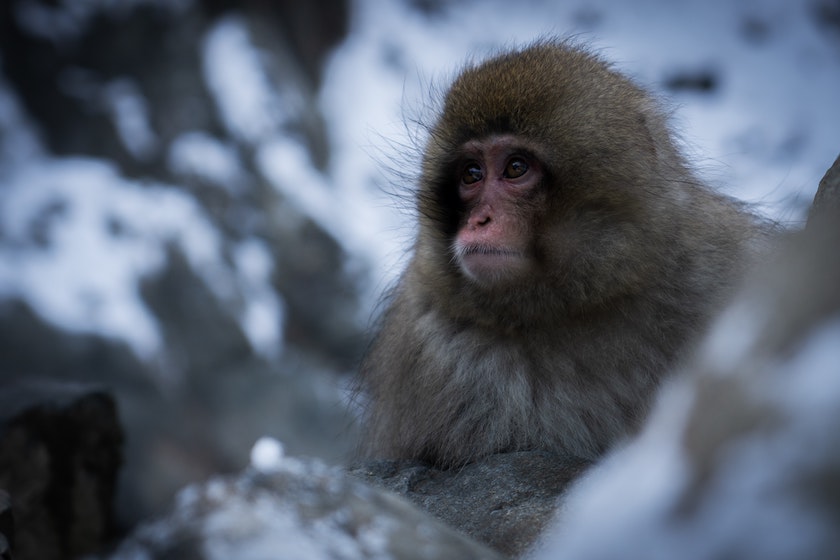 More Monkey Business
Jigokudani may be Japan's most famous snow monkey park, but it isn't the only one. Here is a list of other recommended monkey park experiences in Japan.
Mt. Takao Monkey Park
While only 60 Japanese macaques live at this monkey park on Mt. Takao, the beauty of this is in the intimacy of the experience. All 60 monkeys have a name (to which they often respond). There is also a picturesque wildflower garden. The park is around an hour from Tokyo by train and the nearest station is Takaosanguchi on the Keio Takao line.
Arashiyama Monkey Park
Located in Kyoto near the Togetsukyo Bridge, about 120 wild macaques live in this monkey park which features an elevated viewing platform. Although it's a 15-20 hike up to the platform, it's definitely worth it for views of the monkeys and across Kyoto. You can walk to this park from JR Saga-Arashiyama station.
Mt. Takasaki Wild Monkey Park
One of the biggest on our list, this large park is home to almost 1,4000 wild macaques who live in a dense forest on the steep slopes of Mt. Takasaki, which is in Oita Prefecture. There are shuttle buses to this park from JR Oita station and JR Beppu station.
Japan's Best Animal Experiences
Snow monkeys might arguably be Japan's No.1 animal experience, but it has some fierce competition from the country's incredible wildlife. From the amazing and diverse sea life showcased in Japan's world-leading aquariums to the beautiful Sika deer of Nara Park and elsewhere, to a wide range of other amazing animals living in the forests, mountains, coastal regions, and national parks, Japan has an incredible amount to offer wildlife lovers.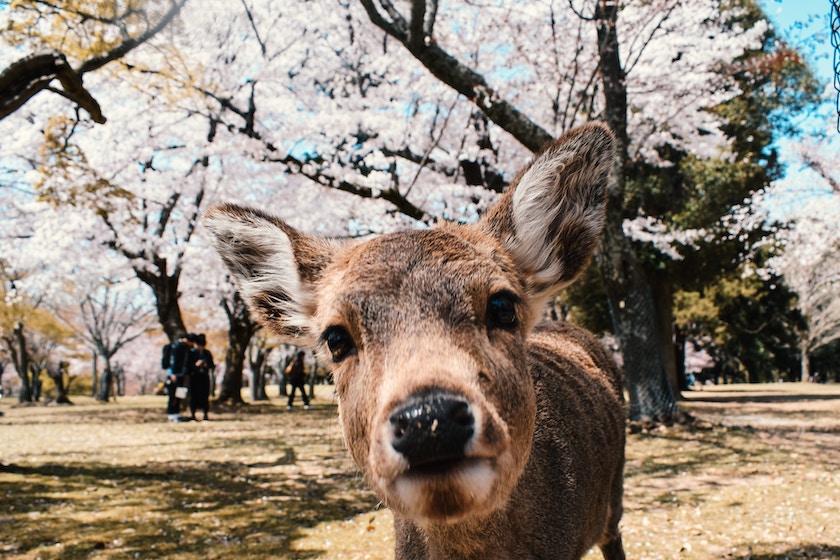 Nara Deer Park
Deer are a national treasure in Japan (and were once considered sacred). They're also officially overabundant so you have a very good chance of seeing them. One of the best places to find them is by visiting Nara where they roam freely in the city and park. The best way to reach Nara from Tokyo using your JRailPass is via the Tokaido Shinkansen, taking around 2.5 hours from Tokyo to Kyoto Station, and then about 50 minutes from there to Nara Station via the JR Nara Rapid Line. Read our Day Trip to Nara guide for more information.
Amazing Aquariums
Japan boasts some of the world's best aquariums so if you'd rather view the country's incredible sea life while keeping dry, this is the best way. From whale sharks to giant spider crabs, jellyfish to luminous squid, Japan's aquariums offer the chance to view some of the biggest and most unusual sea creatures around – many of which you would be extremely hard pressed to see in the wild (unless you have your own personal submarine). We have put together a list of our top aquarium experiences across Japan in our guide, Splash! Japan's Best Aquariums.
Swimming with sharks, dolphins, whales, and rays
Thanks to Japan's marine biodiversity, the country boasts some of the world's most spectacular ocean life for you to get up close and personal with (although we wouldn't recommend getting too close to certain creatures!). From sea turtles, cuttlefish, hammerhead sharks and dolphins, to mobula and eagle rays, moray eels, sea snakes, barracuda, pygmy seahorses, crabs, shrimps, tuna salamanders, nudibranchs and much more, there's an amazing amount to see. Read more about Japan's underwater world in A Deep Dive into Japan.
Mother Farm
This family friendly farm is the perfect destination for animal lovers if you prefer the more fluffy and cuddly, farmyard variety, such as lambs, chicks, ducks, pigs, cows and even alpacas. You'll find Mother Farm in Chiba Prefecture. The farm is so big that there are very cute animal-themed sightseeing buses to help you get around and as well as petting animals you'll also get to pick your own fruit including strawberries, blueberries and kiwi. There is also a spectacular flower trail including 25,000 petunias. It really is the perfect spring day out. To get there using your Japan Rail Pass, take the JR Uchibo line to JR Kimitsu Station and then the free shuttle bus to the farm itself.
You can find out even more about Japan's animal experiences by reading A Wildlife Tour of Japan.
Making the Most of your Monkey Park Adventure
Jigokudani Monkey Park and the Nagano Highlands of Japan are a great destination at any time of year, so if you're not planning to travel for a few months, this is a perfect place and must-see attraction to add to your itinerary.
Depending on your travel plans for seeing the rest of the country, you may also want to consider a JR East Rail Pass for Nagano and neighbouring Niigata only, instead of a countrywide Pass. You can read more about Regional Passes on our website.
As we mentioned in our main article above, Nagano is famous for its winter sports so if you're planning a visit to Japan for later in the year or early next year, why not consider combining an animal experience with skiing and snowboarding?
Wrap up warm and dress appropriately. The hot springs at Jigokudani may be warm, but the snowy mountains can be very cold.
Keep your phone charged (for all those photos of snow monkeys bathing in the hot springs) and stay connected by investing in PocketWifi. This will help you avoid any unexpected data charges if you're posting photos on social media or sending monkey pics to family and friends.
Finally, if you'd like to experience hot springs and onsen in a different kind of setting, read our guide to The Top Five Onsen in Tokyo for a luxurious and authentically Japanese experience.