Table of contents:
Intro
Japan in February
Things To Do in Japan during February
Don't Forget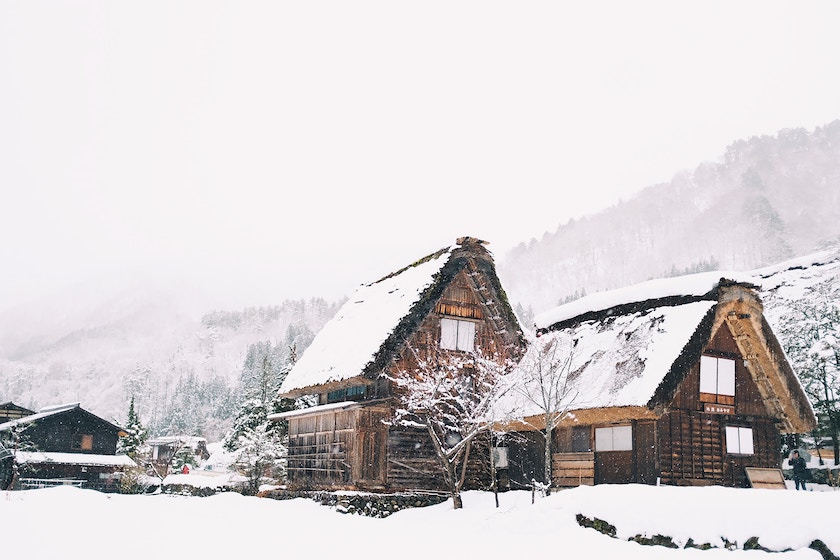 Intro
February is the month when we all get a little happier. January is over and we can actually look forward to the New Year. Even better, if you're planning to visit Japan in February you'll discover it's a surprisingly fantastic month to spend time in this incredible and unique country. What makes February so good? Read on to find out. We'll give you advice on what to do, where to go, and how to get there using Japan's excellent domestic rail network. February in Japan brings together the best of winter and spring in one month plus a whole lot more.
Japan in February
There's a huge amount to see and do in February. It's a month packed with events, activities, celebrations and more, from scaring off demons with beans to naked festivals, Valentine's Day to Chinese New Year. The only problem will be fitting it all in! As ever, the best way to get around Japan, especially if you're from north to south and east to west (or vice versa) is using the country's super-efficient trains. And the JR Pass is the most cost effective choice for train journeys as it provides unlimited travel. February is also relatively (and surprisingly) dry and sunny depending on where you're travelling, and while it can get cold, especially in northern Japan where you will also see plentiful ice and snow, the month is technically the beginning of spring in Japan and the time of year when the first ume (plum) trees blossom.
Things To Do in Japan during February
You certainly won't be short of things to do if you visit Japan in February. Here is a specially curated list of February recommendations to get you started.
Setsubun
To mark the end of winter, it is traditional to gather at shrines and throw soybeans at people dressed as 'demons' or 'bad spirits' to banish the past and look forward to the new year beginning with the spring. This ritual is called 'mamemaki'. There are also traditional foods associated with the event such as the 'lucky sushi roll'.
Setsubun events take place across Japan at the beginning of February. Setsubun Mantoro in Nara prefecture is among the most popular and features a beautiful candle-lit lantern parade. You can reach Nara from various cities using your Japan Rail Pass to travel on the JR Nara line. Nara is also known for its beautiful parks, temples and shrines, and free-roaming deer. You'll also find popular Setsubun festivals at Yasaka Jinja and Heian Jingu shrines in Kyoto and Senso-Ji temple in Tokyo.
Otaru Light Festival
Every February, the snowy town of Otaru in Hokkaido puts on Japan's most beautiful candlelight festival. If you visit Otaru during February you'll find the snow-covered streets aglow with more than 120,000 candles. And to make it even more magical, the flames from each candle are protected by hand-made snow lanterns that line Otaru canal and decommissioned railway lines.
There can be few more beautiful sights in all of Japan in February. Otaru is also a picturesque Japanese town with a 1950s aesthetic. To reach Otaru using your JR Pass, take the JR Hakodate Main Line from Sapporo which in turn is accessible from Tokyo using the JR Tohoku/Hokkaido Shinkansen to Shin-Hakodate-Hokuto and then the Hokuto limited express. You can find out much more about the region of Hokkaido in our guides, What Is There To Do in Hokkaido during the Winter and Five Day Hokkaido Rail Itinerary.
Valentine's Day
Japan celebrates Valentine's Day in February like most of the world, although it does have its own unique traditions. If you're visiting Japan in February, you might see women giving men chocolates or other gifts, whereas men don't reciprocate until the following month on White Day. In 2020, White Day will take place on Saturday 14 March.
Visit a Winter Wonderland
During winter, Japan often enjoys plentiful snowfall, particularly in the North, but even in cities like Tokyo and Kyoto. However, for a true winter wonderland experience try visiting the impossibly beautiful village of Shirakawa-go in Gifu Prefecture (in the Japanese Alps), whose gasshō-zukuri style thatched roof houses make it look like something out of a Christmas card. You can reach Shirakawa-go by using your JRail Pass to take the Hokuriku Shinkansen from Tokyo to Shin-Takaoka Station and then getting a ticket for the Kaetsuno Bus, which will take you to the village.
Ice Sculptures and Frozen Waterfalls in Sounkyo
Like Sapporo, which is famous for its annual snow festival, Sounkyo in Hokkaido also has an ice sculpture event and matsuri. This one was founded in the 1970s by artist Takenada Toshiro and it is a truly spectacular sight with 10,000 square metres of colourfully-illuminated sculptures that combine to form a magical land of ice and snow for visitors to explore. Sounkyo is also notable for Sounkyo Gorge and its waterfalls, which freeze solid in winter – the Ginga no Taki (Milky Way Waterfall) and Ryusei no Taki (Shooting Star Waterfall). There are even expert ice climbers who can take you on a climbing tour of these frozen wonders.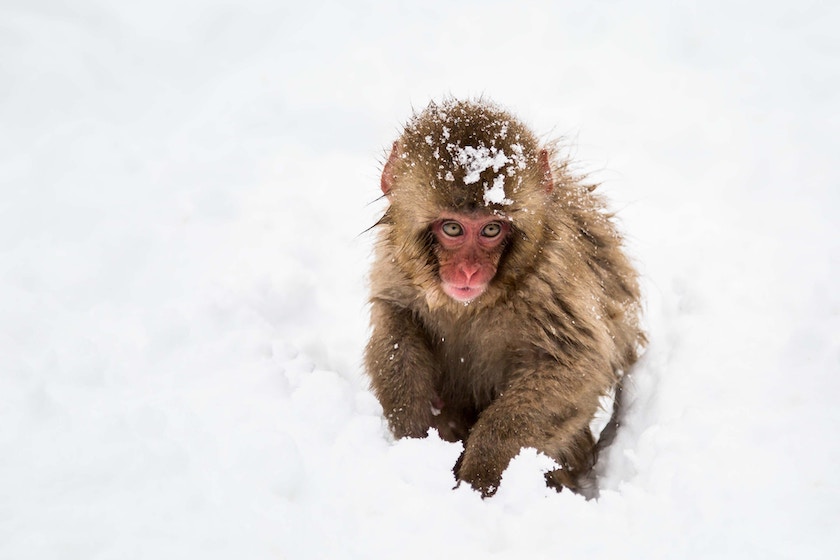 Snow monkeys
Technically you can visit the Japanese macaque or 'snow monkeys' at Jigokudani Park (and other places in Japan) at any time during the year. However, February (and also December-January) is a great time to visit as there is something extra special about seeing these beautiful animals bathing in the mountain onsen when surrounded by snow. To get there from Tokyo, take the Hokuriku Shinkansen to Nagano Station using your Japan Rail Pass, then take the Nagano-sen (Nagaden) train to Yudanaka Station, and it's a short bus ride from there to Jigokudani.
Yokote Kamakura Festival
Kamakuras are small domed-shaped shelters made out of snow and ice (almost like an igloo). Each February, the people of Yokote in Akita Prefecture stage a festival filled with these creations and invite visitors to come and sit inside their kamakuras with them. Guests are invited to drink a sweet sake called 'amazake' and eat rice cakes. The festival was traditionally to honour the Japanese water deities. Take the Akita Shinkansen from Tokyo and get off at Omagari station for Yokote.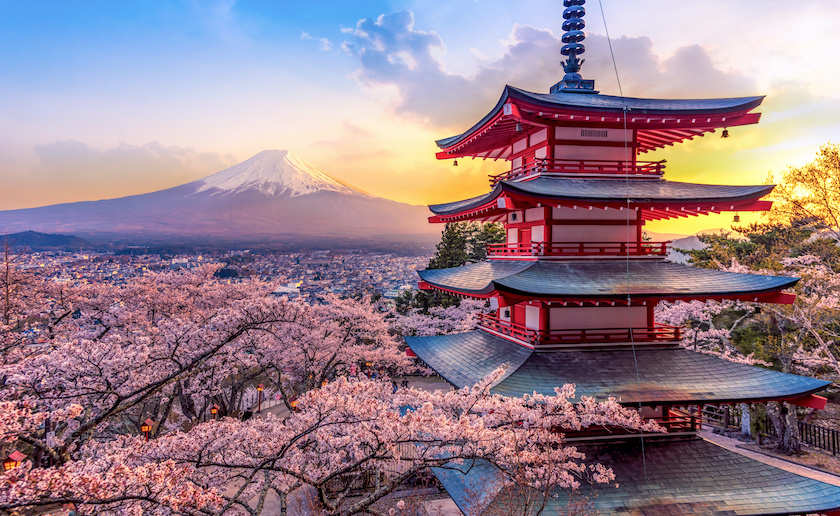 Mount Fuji Day
February is also Mount Fuji Day in Japan. The iconic mountain is one of Japan's most famous and celebrated landmarks and most visitors plan to see it during their visit to Japan. Mount Fuji and the Fuji Five Lakes area has a huge amount to offer and is also popular if you enjoy climbing and hiking. Read our Comprehensive Guide to Climbing and Hiking Mount Fuji to find out more. Mount Fuji is one of the most Instagrammable spots in all of Japan. Try viewing the mountain from Chureito Pagoda (pictured above).
The 'Naked' Matsuri
Hadaka matsuri takes place in Okayama and sees men wearing traditional white underwear called 'fundoshi' (so not entirely naked) battle it out to catch a sacred stick thrown into the crowd. The festivities make for quite a spectacle for onlookers on a cold February night and are associated with rituals of purification. To visit Okayama from either Tokyo or Kyoto, use the Hikari train on the JR Tokaido/Sanyo Shinkansen Line and get off at Okayama Station.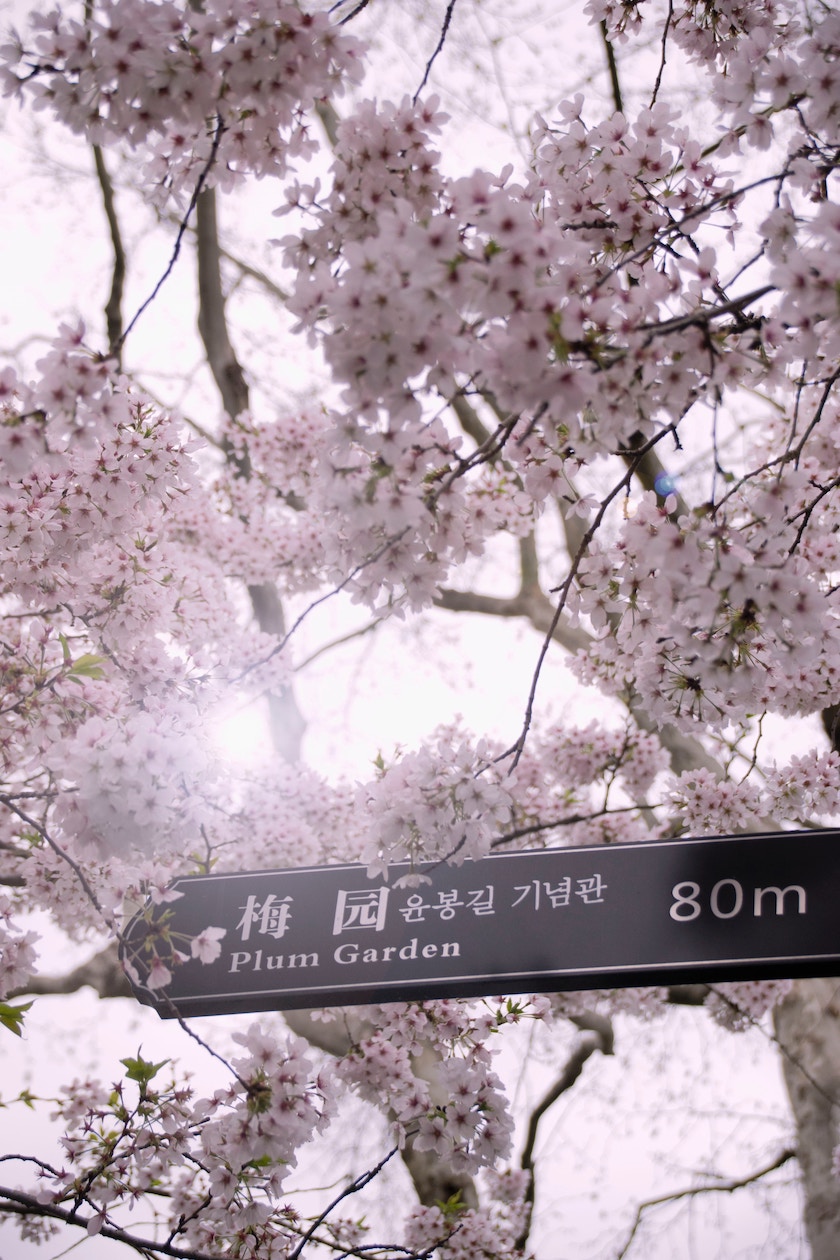 Plum Blossom Season
February is plum blossom season in Japan. The trees were first introduced in the 8th Century and legend has it that plum trees were planted near doors to ward off evil spirits. Hanami or flower viewing, which has now become synonymous with the cherry blossom (sakura) actually began with plum trees and February is a great time to see them and experience their beauty while avoiding the crowds and queues associated with viewing the sakura a month or so later. There are ume matsuri (plum blossom festivals) across Japan during February. One of the most famous is at Tenmangu Temple in Dazaifu, Fukuoka. To reach Tenmangu Temple take the Tokaido/Sanyo Shinkansen train from Tokyo to Shin-Osaka Station, then transfer trains before continuing to Hakata Station. You can use the JR Pass on either the Sakura or Hikari trains. You can find out everything you need to know about ume (plum) trees (also known as the Japanese apricot tree) in our dedicated Guide to Viewing the Plum Blossom.
Winter Sports
Winter sports are huge in Japan and the cold winter months are the perfect time to hit the slopes. Having hosted the Winter Olympics twice in 1972 and 1998, as well as the Asian Winter Games, it's probably not surprising to find out that winter sports are hugely popular in Japan. As a result, Japan has more than 500 ski resorts with some of the best slopes and winter sport infrastructure anywhere in the world. Try Sapporo Teine, Niseko and Rusutsu, all in Sapporo, Furano, Asahidake and Tomamu in Hokkaido, or Hakuba Valley in Nagano. The latter has 11 ski resorts and is also home to onsen towns like Yuzawa and Nozawa. Find out much more about Japan's love of winter sports and where to go in our Starting Guide to Skiing and Snowboarding in Japan.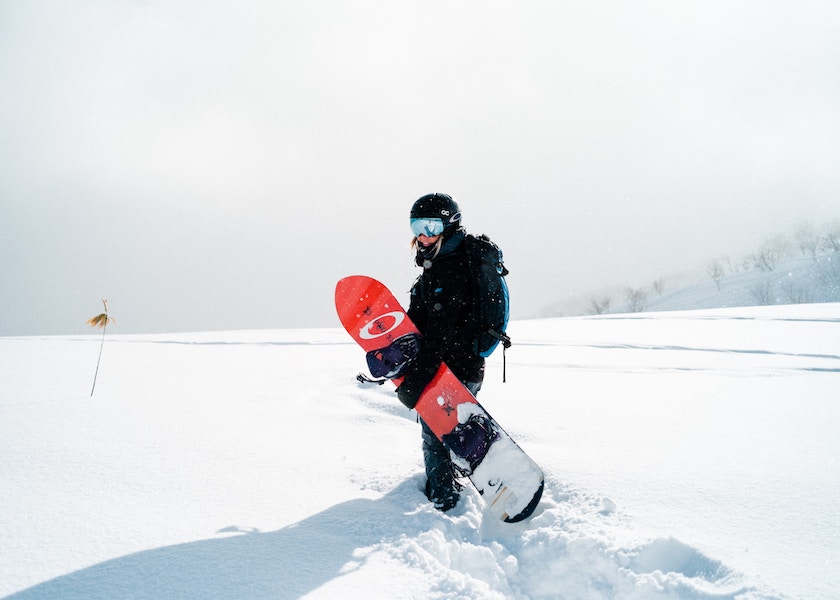 Chinese New Year
Yes, you read that right – Chinese New Year. It is celebrated in Japan and takes place in February (depending on the lunar cycle). In 2020, an estimated 1.3 billion people will celebrate Chinese New Year, and there are many 'Chinatowns' across Japan where it will be marked. One of the biggest celebrations is in Nagasaki City, which hosts a 15-day lantern festival for Chinese New Year each year. From Tokyo, take the JR Tokaido/Sanyo Shinkansen to Hakata Station in Fukuoka, followed by the JR Kamome Limited Express bound for Nagasaki.
National Cat Day
Japan loves cats and celebrates National Cat Day in February. You'll find cat souvenirs, sweets, merchandise and charms on sales. If you're an animal lover more generally, check out our Wildlife Tour of Japan.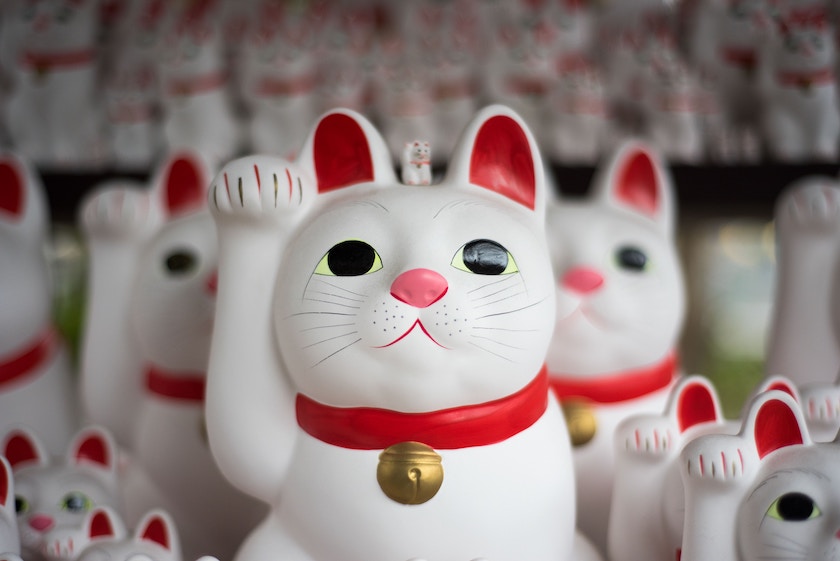 Don't Forget
Many of the snow festivals and winter illuminations that begin in the run-up to Christmas continue right through to February, especially in the north of Japan.
Why not enhance your trip with a stay in a traditional Ryokan inn? You can find out more about what makes this Japanese accommodation so special by reading our guide to "The Best Ryokan in Japan":"https://www.jrpass.com/blog/the-best-ryokan-hotels-in-japan.
If your February holiday takes to northern Japan, be sure to wrap up warm and pack appropriately. It may technically be closer to spring than winter, but in the north temperatures can still get very cold.
Winter is a surprisingly great time of year to visit Japan. Find out all you need to know in Spending Winter in Japan.
And remember, if February's temperatures are still a little cold for you, you're only a train ride away from the south of Japan and its other regions. Try Kyushu's beaches for a touch of winter sun to warm yourself up. They're beautiful even in winter.
Alternatively, a wee dram (i.e. a drop of whiskey) is sure to warm you up. Why not combine your February holiday with a visit to one of Japan's renowned whiskey distilleries? All you need to know is in Japan for Whisky Lovers.
Depending on when in February you visit you may also see some early cherry blossom (sakura). Everything you need to know is in our guide to Visiting Japan in 2020 to View the Sakura.
Finally, if you can't make your mind up about when to visit Japan, our handy guide to the country's weather and seasons, Deciding on the Best Time To Visit Japan, might provide the answer.