When people think of visiting Japan during winter, thought usually goes to skiing the slopes or soaking in the warm waters of an onsen. But going in search of enchanting Christmas lights in Japan? Not really. After all, celebrating Christmas isn't exactly a tradition in Japan. But even though December 25th is just another day of the year in Japan, it does bring with it something special – winter illuminations.
Japan has a real love affair with winter illuminations and it has become an annual fixture during the holiday period. Considering how beautiful and romantic it can be when a city or park is transformed with lights, it's easy to see why. So, rather than being another tourist that misses these wonderful light displays, we've put together some Japan illuminations so you won't miss out.
Visiting Japan Illuminations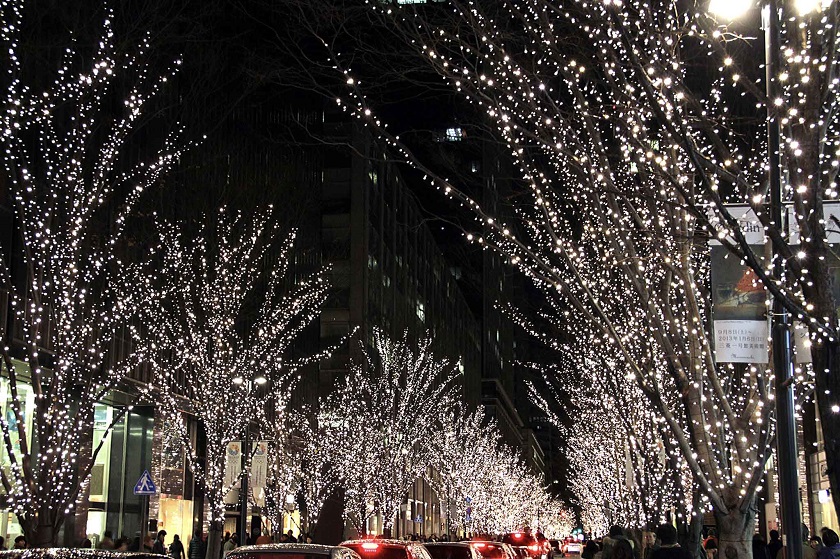 Illuminations in Japan are still a relatively new phenomenon and still a nice surprise for many tourists. With illuminations found right across Japan, it helps to have a Japan Rail Pass if you want to see as many as possible. It's not like they're expensive either as many illuminations are free to see, making them another great thing you can do for free in Japan.
Typically, the best time to visit illuminations in Japan is during the lead up to Christmas in November and December. However, some of the more popular illuminations operate for as long as 6 months, so timing your visit isn't such a big deal. Every year the dates will change, much like the illuminations' themes, although Disney and fairy-tales are often popular choices.
Tokyo Winter Illuminations
Photo by Marufish used under CC
Much like Christmas markets in major European cities, Tokyo is home to countless different illuminations. They can range from major illuminations that dominate a neighborhood or park, to smaller setups that simply light up a few streets. Regardless, they make winter a magical time to visit Tokyo. Popular Tokyo illuminations include:
Caretta Shiodome
Of Tokyo's many illuminations, the Caretta Shiodome has regularly ranked the best Christmas lights in Tokyo. That it's not even the only illumination in the district of Shiodome makes it even all the more impressive. Caretta Shiodome's highlight is its vast sea of blue lights, completely distracting from the usually luxurious surroundings. To give you some idea of its popularity, the illumination now lasts until Valentine's Day because of its reputation as an ultra-romantic spot.
Shinjuku Terrace Illumination
Just near the ever-busy Shinjuku station, you'll find the illuminations throughout the Shinjuku Terrace City shopping complex. For the 13th year running, the Shinjuku Terrace Illumination will transform the area with beautiful light displays following each year's theme. What's great about this illumination is that it is in an easily reachable public space, so you're free to check it out whenever.
Marunouchi Illumination
Photo by OiMax used under CC
Just as Marunouchi is one of Tokyo's more distinguished business districts, so too is the Marunouchi Illumination that arrives in winter. Looking much closer to the Christmas lights found in Europe, lights here line the trees of the district and blend in more than most displays. The effect though is magical, with Marunouchi awash in a gentle golden glow. A real bonus is that the display is environmentally friendly too thanks to the use of low-energy LED bulbs.
Midtown Christmas
Even among Tokyo's competitive selection of light displays the Midtown Christmas event is super popular. Spanning through the Midtown complex, there are several different illuminations to see. Best of all is the Starlight Garden, a web of blue lights that covers the park there, aided this year by 100 glowing balloons. Considered quite a romantic spot, Midtown Christmas gets especially busy on December 24th with couples flocking here.
Kobe Luminarie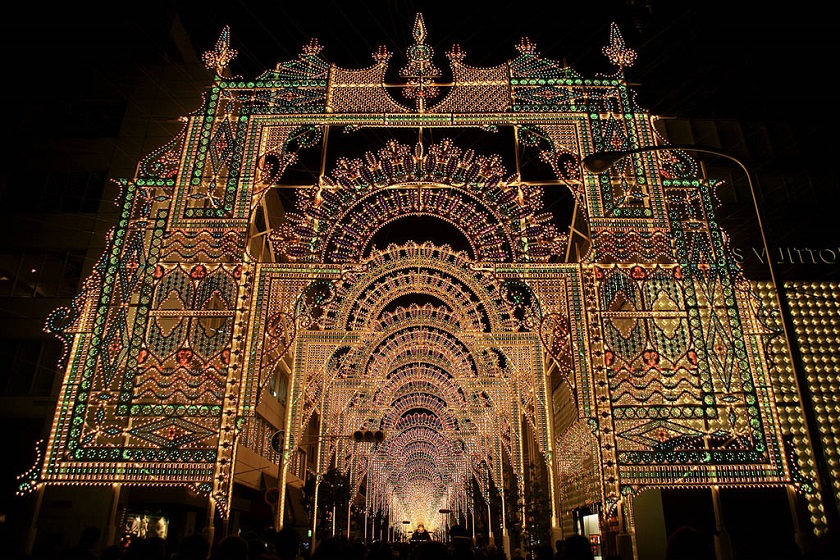 Photo by Kentiki used under CC 2.0
If you're seeking illuminations in Japan beyond Tokyo, then the Kobe Luminarie is the first place to start. Often considered the light festival that started it all, Kobe Luminarie has been an annual highlight for the city of Kobe. But it's not all fun and games, as the festival was started to commemorate the victims of the 1995 Great Hanshin earthquake that hit Kobe. Certainly an uplifting way to honour their memories, I think.
A great deal of care and work goes into Kobe Luminarie, with each and every light individually hand painted. Perhaps that's why the event lasts less than 2 weeks, extremely short by Japanese illumination standards. Even still, over 3 million people manage to visit this free event each year during that brief window.
The displays themselves tend to create elaborate scenes from tunnels of light to frames that create an illusion of Renaissance architecture filling the space. This is likely due to the strong Italian influence surrounding the festival, from the aid that helped start it, to the people that have worked on creating the illuminations.
Sagamiko Illumillion, Kanagawa
While Tokyo may have lots of illuminations, no single event in the entire Kanto region is as large as the Sagamiko Illumillion festival (that's immumination and million in one word). It's said that six million LED lights are used to create the Pleasure Forest at Lake Sagami Resort. With so much effort to set up the illumination, little wonder that the Sagamiko Illumillion is left up for almost 6 months every year.
As its name would suggest, through the Pleasure Forest lights have been arranged as they cross the rolling hills and venture up into the trees. Then there are the attractions like the Swan Palace, where a show is held combining lights, water and music to great effect. Elsewhere in the park, there are other great illuminations and animations, with 21 locations in total.
What's nice about Lake Sagami Resort is that once you've had a good chance to admire all the light displays, there's also all the amusement park with all its rides. This way you get illuminations and rides together in one entrance ticket.
Kingdom of Light
Japan has some rather entertaining yet unusual theme parks, with Huis Ten Bosch certainly being one. Based on a recreation of a Dutch village, this theme park north of Nagasaki also happens to host a pretty dazzling illumination. Called the Kingdom of Light, the Dutch houses, canals and windmills are all dressed up in as many as 13 million lights.
Throughout Huis Ten Bosch you'll find some really special illuminations, whether it's the Rainbow Flower Garden with its gleaming windmill or the whimsical Umbrella Street. Hard to beat though is the technicolour view from the Café of Light Sky above it all.
Besides the special light displays, the Kingdom of Light includes plenty of events, from the canal parade of illuminated neon floats to the largest audio-visual fountain show in all of Japan. And since the park is already pretending to be in Europe, finding a Christmas market here also makes complete sense.
Ashikaga Flower Fantasy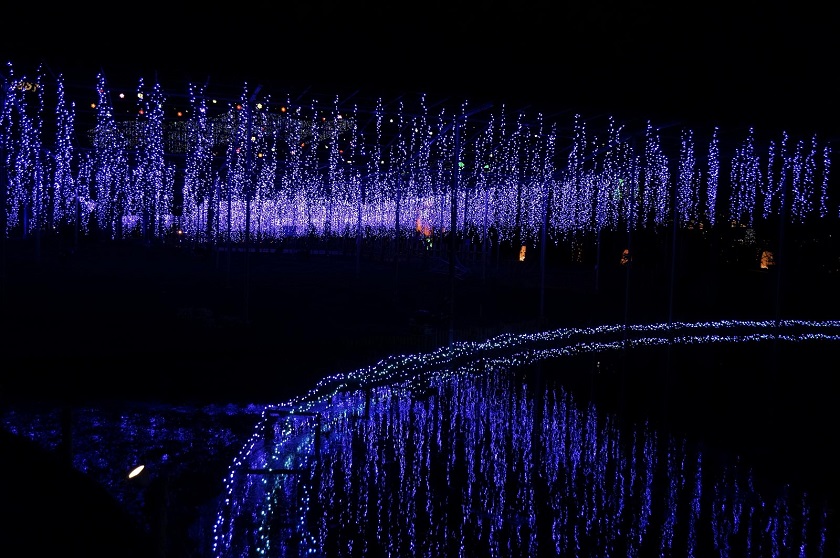 Photo by Hideya Hamano used under CC 2.0
Once again showing the link between flower parks and illuminations is the festival held in Ashikaga Flower Park. Together, this park and festival are a huge draw for this lesser-seen part of Japan, situated outside the city of Ashikaga, north of Tokyo in the Kanto region. Running from late October through to early February, it's a hard one to miss.
That Ashikaga Flower Park is already beautiful in the day time, let alone at night, thanks to its colourful variants of fuji plants, also known as wisteria. In fact, the night-time illuminations even play on their signature attraction, with hanging lights mimicking the park's enchanting pink wisteria. Roughly four million LED lights across the park are used to create this effect, as well feature in light and music shows.
Even though it may not be the most accessible light show in Japan with its entry fee and location, the light shows here easily spectacular enough to justify the trip.