Visiting Japan's shrines and temples is the perfect way to connect with this beautiful country's ancient culture and spiritual beliefs – and there are few more iconic locations than Kyoto's Fushimi Inari Taisha with more than 5,000 Torii gates.
Table of contents:
Intro
A Brief History Of Fushimi Inari Taisha
Visiting Fushimi Inari Taisha
Shintoism in Japan
Shrine Etiquette
Top 10 Things To Do in Kyoto
Bonus Tips for Visiting Shrines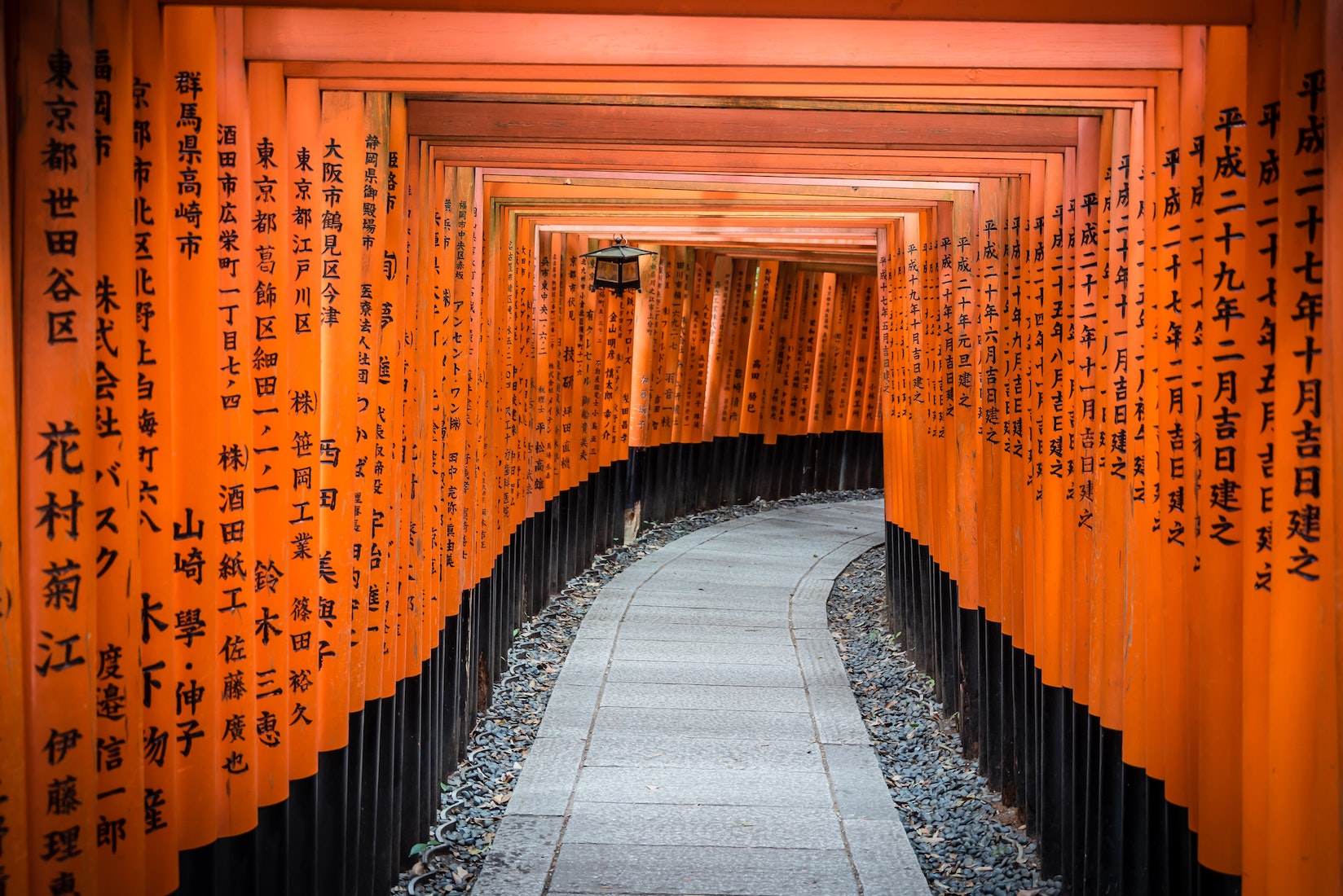 Intro
With its seemingly endless vermilion red Torii gates, Fushimi Inari Shrine has rightly become one of Japan's most iconic and popular spiritual attractions. It also happens to be the most important shrine in Kyoto, which is known as the cultural heart of Japan itself. If you want to experience the 'real' Japan, in particular its ancient history, culture, and long-held spiritual beliefs, then it's likely that Kyoto is at the top of your list of cities to visit. And in Kyoto, Fushimi Inari Shrine is arguably the most significant and iconic of all the city's Shinto shrines. It's certainly the most photographed thanks to those beautiful Torii gates, which were featured in the 2005 film 'Memoirs of a Geisha'. In our Ultimate Guide to Fushimi Inari Shrine, we'll walk you through the history of this unforgettable location, shrine etiquette, what to see and do while you're there, and how to get there with the JR Pass. Get ready for the spiritual holiday of a lifetime.
A Brief History Of Fushimi Inari Taisha
Fushimi Inari Taisha was founded in 711, which makes it one of the oldest shrines in Kyoto. It was originally located on Inariyama hill, in the southwest of the city, before being relocated to its present and permanent home by the Hata family in 816. A century later, in 942, it was given the highest rank among Shinto shrines, and in 1499, after the beautiful and ornate main shrine structure was built, Japan designed Fushimi Inari Taisha as an Important Cultural Property. The origin of Fushimi Inari Taisha is steeped in legend. The story goes that a rice cake was fired into the air and turned into a swan which flew to the peak of Mt. Inari. Rice began to grow on the mountain top and the spot became the head shrine for Inari Okami, the Japanese god of rice, sake, and prosperity, and the patron of businesses, merchants and manufacturers.
Today, thousands of people from across Japan, and millions of visitors from around the world, come to pray for fruitful harvests, business success, and other blessings. It is particularly popular for New Year prayers in Japan – one of the most important dates in the calendar. You can find out more about this in our guide to Celebrating New Year in Japan. And of course, many international visitors come to see the famous Senbon Torii – the thousands of vermilion red gates in dense rows leading to the Torii gate hiking trail. Each one bears the name of a person or business carved in black who donated the gate to receive good luck and fortune. It's a brilliant spot for photos and a lovely place to trail to explore on foot. For more on the history, origin and significance of the country's iconic Torii gates, read our Ultimate Torii Gate Tour of Japan.
Visiting Fushimi Inari Taisha
When you visit Fushimi Inari Taisha shrine, you will see that it is made up of five main shrines – a lower, middle, upper and two auxiliary shrines, plus many smaller sub shrines. However, it is actually the 764ft Mount Inari itself and the land around it that is considered sacred. When you arrive at the shrine's main entrance you'll encounter the Romon tower gate. This is the shrine's main gate and was constructed in 1589 with funds from the ruler of Japan at the time, the samurai warlord Toyotomi Hideyoshi. The Senbon Torii with its thousands of Torii gates is located to the rear of Fushimi Inari with, the hiking trail leading up the mountain.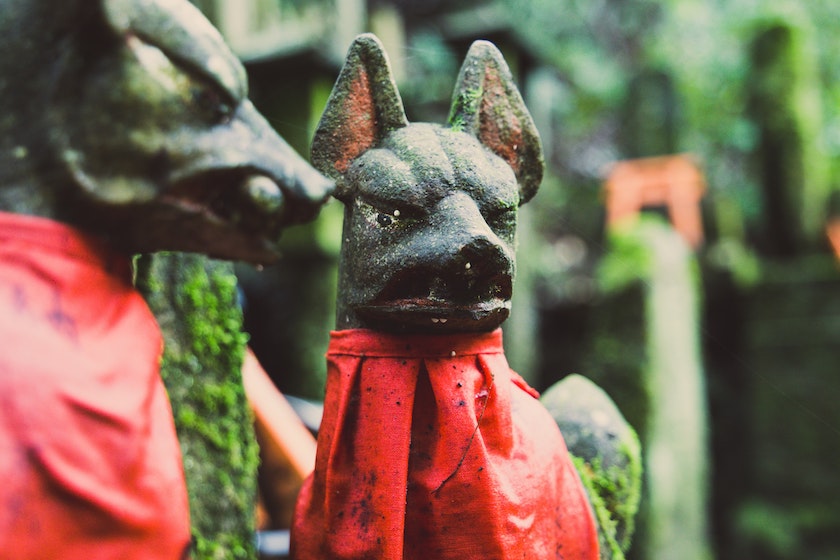 You will also notice dozens of fox statues all around Fushimi Inari Taisha shrines. Foxes, or kitsune as they are called in Japan, are considered to be the messengers of the gods, and they are particularly associated with the aforementioned God of Rice, Inari Okami. If you see some of the foxes with keys in their mouths, this is because they are protectors of the rice granaries and hold the keys to get inside. Given how important rice is to Japanese history, culture, economy and of course, cuisine, it's no wonder the keeper of the keys to the granaries is a respected and worshipped creature, and that there are an estimated 30,000 sub shrines to Inari across Japan.
Fushimi Inari Taisha shrine is a three-minute walk from JR Inari Station on the JR Nara Line and a five-minute walk from Keihan Railway Fushimiinari station. For more on how to get to Kyoto from Japan's other major cities using your Japan Rail Pass and the country's excellent domestic rail network simply keep reading.
Shintoism in Japan
There are two main religious beliefs in Japan – Shinto and Buddhism. As a basic rule, shrines are related to Shinto, while temples belong to Buddhism. You'll find plenty of both in Japan, but there are fundamental differences between these religions, and it's good to have a basic understanding of them before visiting. Today, Shinto and Japanese Buddhism exist side by side and have many similar principles, although they are distinct and separate practices. One of the main differences between the two is that Shinto is animistic (a belief in animal and natural gods and spirits) and polytheistic (the worship of multiple deities), whereas Buddhism is monotheistic and an organised religion whose rules and doctrines can be traced back to the Buddha (otherwise known as Siddhartha Gautama) in the 5th Century BCE. You can read more about the ancient country's important religious beliefs, including information on meditation and mindfulness, and a list of sacred places and holy sites to visit, in our Spiritual Guide to Japan.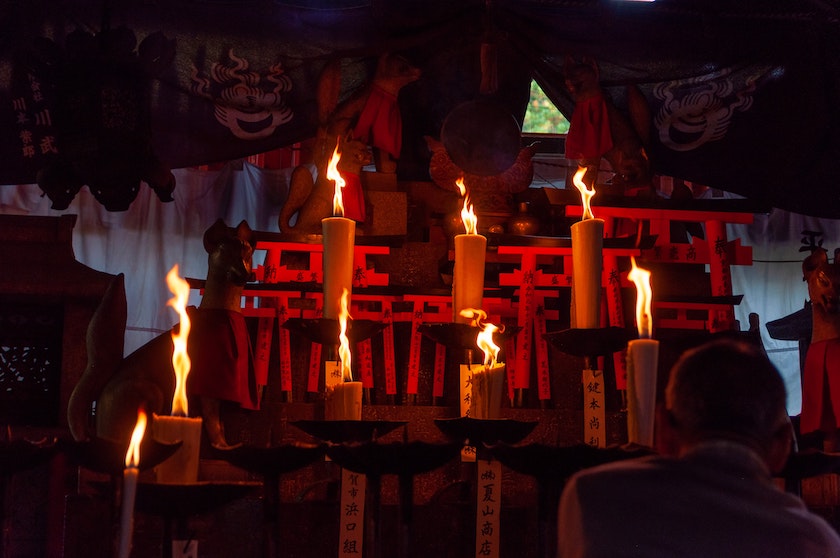 We'll return to Buddhism later in this article when we take a look at what else to do in Kyoto, but for now let's focus on a brief overview of Shinto. Unlike Buddhism, Shinto originated in Japan and is deeply woven into the fabric of Japanese culture and history. The Shinto religion involves the worship of multiple gods or spirits known as kami, who are said to inhabit all things. Purity is the big focus of Shinto and there are different rituals that involve the cleansing of worshippers. Since Shinto has evolved organically and has no single origin or sacred text, practices vary depending on the kami and the region of Japan in which they take place.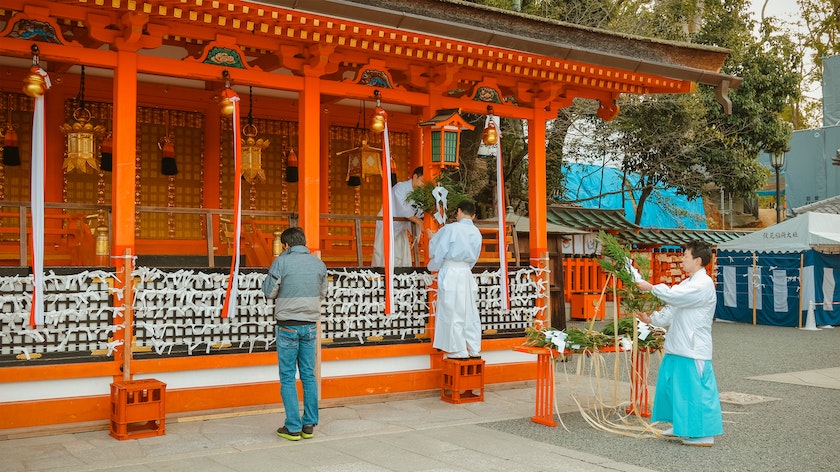 It's worth noting that there are different types of Shinto shrines across Japan. Some are shrines to kami that represent war like in the case of Hachiman shrines or rice as represented by Inari shrines. Sengen shrines, instead, are dedicated to the spirit of Mt Fuji, while there are also ones founded to honour the heads of important Japanese clans. Another difference comes from who builds the shrine, whether it be Imperial shrines created by governments of the past or local shrines built by a local community.
For much more on shrines, read our guide to Five Important Shrines To Visit in Japan.
Shrine Etiquette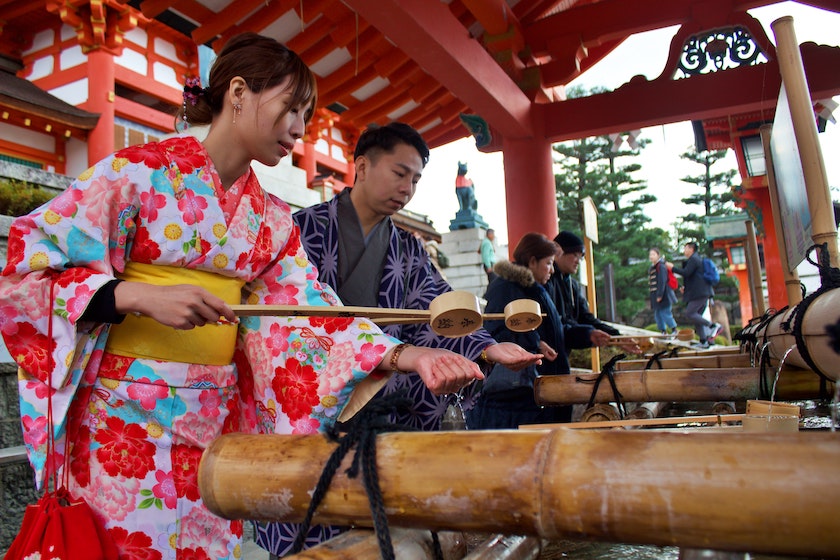 As with any religious landmark, there are certain behaviours expected of visitors to show respect to the site. Some etiquette tips for visiting Shinto shrines respectfully include:
Bowing before you pass through the torii gate at the entrance and under the gate either side of the centre.
Outside the shrine you'll find a basin of water for washing your hands, which is done by filling the ladle and washing each hand, starting with your left.
Some shrines have a bell hanging over a donation box, which you may ring before donating to the shrine.
For more general advice on customs and traditions in Japan, read our Guide to Japanese Etiquette: Rules Every Visitor Should Know.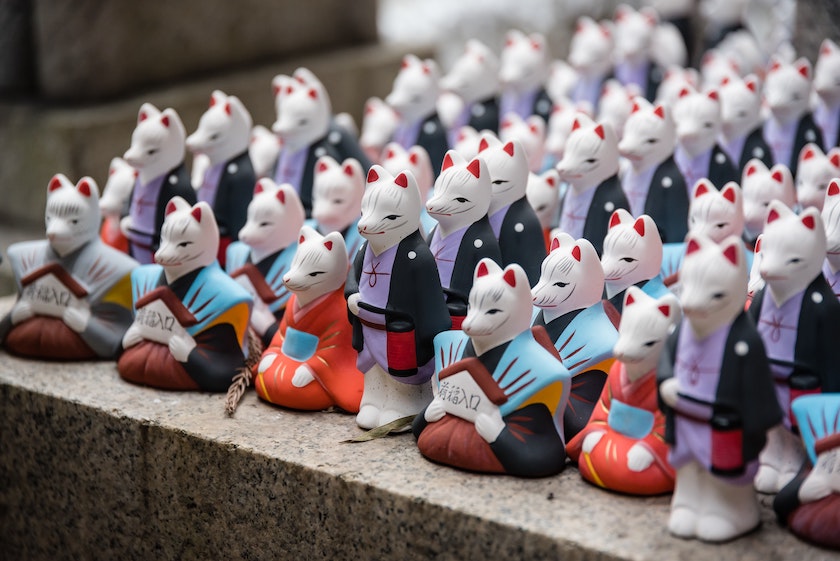 Top 10 Things To Do in Kyoto
One of the largest cities in the country with plenty of history, Kyoto is a destination filled with attractions and curiosities that visitors won't want to miss, including more than 4,000 historic monuments, temples and shrines. The city is also easily accessible from Tokyo and Osaka using the Japan Rail Pass and the country's famous Shinkansen bullet trains. We'll have more on how to get to Kyoto below.
1.) Buddhist Temples
As we mentioned above, Buddhism is the other main religion in Japan. Where Shinto has shrines, such as Fushimi Inari Taisha, Buddhism has temples, and Kyoto has a huge number that are worth visiting. Some of the most famous include the golden pavilion Kinkakuji Temple, the World Heritage site of Kiyomizu-dera Temple, the silver pavilion Ginkakuji temple, Tenryuji Temple, and many more. You can find out more and how to get to each one in our guide to The Best Buddhist Temples to Visit in Kyoto.
2.) Visit the Gion District
This traditional district in Higashiyama ward is best known as the home to the city's Geisha, artists, performers and dancers. Dressed in beautiful and colourful traditional clothing, there can be few more iconic sights than seeing one of Kyoto's Geisha on the streets of Gion. You can even enjoy a traditional Kabuki show in Gion's Minamiza Theater and don't miss the local landmark of Yasaka Pagoda.
3.)Arashiyama Bamboo Grove
Located between Tenryuji Temple and Okouchi Sanso Garden, this famous grove of towering green Bamboo has become another of Kyoto (and Japan's) most popular and photographed locations. Our guide to Arashiyama Bamboo Grove: Jewel of the Storm Mountains will tell you everything you need to know and how to get there.
4.)Ine no Funaya
A floating fishing village on Tango Peninsula on the northern coast of Kyoto, this unique and picturesque town is considered one of the prettiest in Japan and is a great day trip from Kyoto.
5.)Experience a Traditional Festival (Matsuri)
Japan loves festivals and some of the country's most famous and historic matsuri take place in Kyoto throughout the year. They are a great way to experience a unique part of Japanese culture. One of the most famous takes place in Kyoto in July in the Gion district. Read our Guide Experience The Gion Matsuri for more information.
6.)Enjoy the Kamogawa River
Kyoto's iconic river is lined with great cafes and restaurants to try. The riverbank is a great place to walk and it's equally good for people-watching while sampling the city's traditional cuisine.
7.)Walk the Philosopher's Path
This beautiful pathway along a winding canal that leads from Ginkakuji (the silver pavilion) to Nanzenji, is a famous location for admiring Japan's famous cherry blossom, also known as sakura, which blooms between March and May every year for a couple of weeks. This famous spot is just as beautiful later in the year with the golden leaves of autumn too. It's perfect for a spot of 'hanami' (flowing gazing). For much more on viewing the sakura, read our guide to Japanese Cherry Blossom Festivals: Everything You Need to Know About Hanami for more.
8.)Enjoy the Kamogawa River
This historic market is hundreds of years old and features a huge variety of savoury and sweet street foods to try. Try Kyoto's Tsukemono (Japanese pickles) or Taiyaki – a very popular and iconic Japanese sweet treat in the shape of a fish that can be filled with everything from red bean paste to chocolate and custard. You'll find Nishiki Market within five minutes of Shijo Station on the Karasuma Subway Line or Karasuma or Kawaramachi Stations on the Hankyu Line. Japan is paradise for food lovers of course and if you're a fan, you should also read our Beginners Guide to Japanese Food and Regional Dishes for everything you need to know.
9.)Try a Kyoto Tea Ceremony
Kyoto is famous for its Matcha and Uji tea and where better to enjoy a traditional tea ceremony than in this historic and cultural city. You can visit tea plantations across Japan and of course indulge in a tea ceremony in most cities, but the most famous tea is grown in Kyoto and it's arguably the best place to enjoy it. Find out What It's Like To Take Part in a Japanese Tea Ceremony or read our guide to Getting Started with Green Tea to find out more.
10.)Monkey Around
After the peace and tranquillity of Fushimi Inari Taisha, how about a walk on the wild side? Kyoto's Monkey Park Iwatayama features Japan's beautiful and unique macaque (snow monkey) swinging from trees, scampering around and generally being mischievous. They're not shy, but it definitely makes for a fun day out. If monkeys are your thing, also check out our guide to the famous Jigokudani Monkey Park.
Getting to Kyoto with your JRailPass is easy from either Tokyo or Osaka. Both cities are connected to Kyoto by the JR Tokaido Shinkansen. From Osaka, you can also take the JR special rapid train on the JR Kyoto Line. Once in Kyoto, the easiest way to get around the city on public transportation is with a prepaid travel card such as an IC Card for the subway and buses (as well as your JR Pass).
Bonus Tips for Visiting Shrines