Table of contents:
What to Do in Hiroshima
Day Trip to Miyajima Island
When to Visit Hiroshima
Getting to Hiroshima with the Japan Rail Pass
Even though many international travellers know of the city of Hiroshima, few realise just how much this city in western Japan has to offer. Forever tied to the horrific aftermath of the atomic bomb dropped in 1945, tourists often only learn about the other sides of the city once they've visited. If you're thinking about visiting Hiroshima and worried there's not enough to do there, let us put your fears to bed with this quick guide to what to do in Hiroshima.
What to Do in Hiroshima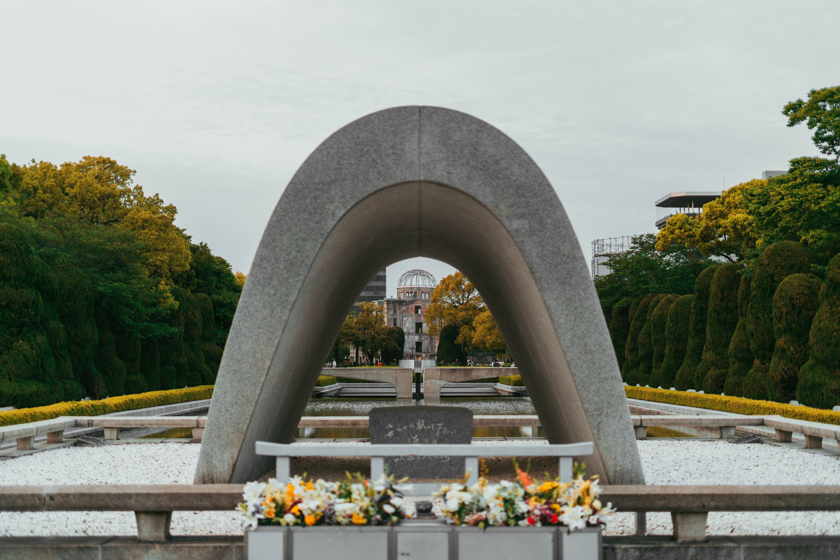 Visitors to Hiroshima may be surprised to learn that is far from a one-note destination, with a promising variety of things to see and do. The best things to do in Hiroshima touch on different aspects of the city's history, as well as its culture, cuisine and local industry. To give you a sense of what to do in Hiroshima, here are some of the most common attractions.
Hiroshima Peace Memorial
With it looming so large in the minds of travellers, it's best to start with a visit to sites associated with the atomic bombing of Hiroshima on 6 August 1945. One of the most sobering memorials to this infamous moment is the Hiroshima Peace Memorial, also known as the Atomic Bomb Dome. This ruined building and World Heritage Site is a continuing reminder to the devastation of that day, but also acts as a symbol for the pursuit of peace and a world without nuclear weapons.
Peace Memorial Park
While the Atomic Bomb Dome is the most iconic landmark related to the fateful event, there are many found throughout the greater Hiroshima Peace Memorial Park. Built where the city's main commercial and residential district once stood, memorials and museums are found across this large open park. One place you shouldn't miss is the Hiroshima Peace Memorial Museum, which since 1955 has shown visitors the circumstances that lead to the bombing, as well as possessions and photographs of its victims.
Hiroshima Castle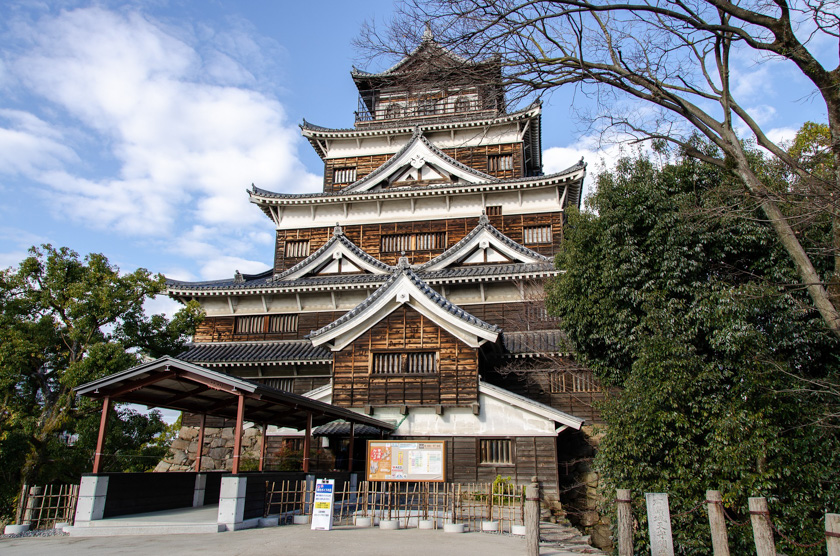 But it's important to understand that not all of Hiroshima's past revolves around one devastating event. Few sights clarify that point quite like Hiroshima Castle, a relic of Japan's feudal period. Built at the heart of the city in 1589, Hiroshima Castle featured a five-storey keep protected by a moat. This castle and its feudal lords exercised great control over Western Japan for centuries, before it was destroyed with much of the city in 1945.
Mitaki-dera
While Hiroshima is most commonly spiritually associated with a certain Shinto shrine we'll talk about later, don't overlook the Mitaki-dera Buddhist temple. Somehow tranquil despite being found in downtown Hiroshima, Mitaki-dera dates back to 809 and features countless Buddhist statues within its contemplative grounds. Interestingly, its two story pagoda actually originates from Hirogawa, but was relocated here in 1951 as a memorial to the victims of the Hiroshima bomb.
Mazda Museum
Visiting a car museum may seem like an unusual choice for a city like Hiroshima, but did you know Mazda was actually founded here in Hiroshima. Mazda has called Hiroshima home since 1920 and has been a large part of the city's economy. Taking a tour of its museum you'll get to learn about the car manufacturer, see a bit of its factory and admire some concept cars that are on display.
Shukkeien
Every big city needs a place where you can escape the hustle and bustle, and in Hiroshima the Shukkeien is one such place. What makes Shukkeien worth visiting is that they have created miniature landscapes like valleys and forests with their greenery. Taking a stroll down its meandering path you'll see all these miniature displays, as well as the tea houses that surround its main pond.
Day Trip to Miyajima Island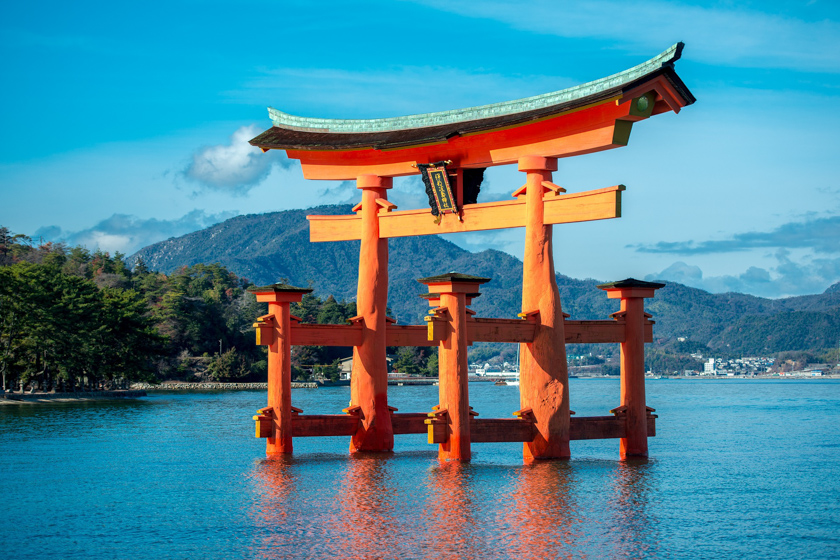 Possibly just as popular as the city itself, few people visit Hiroshima without also visiting the island of Miyajima. While there are closer islands to the city in Hiroshima Bay, Miyajima or Itsukushima as it's properly known, is by far the most common to visit. Chances are you've seen photos of the island's floating torii gate, a landmark that has made Miyajima a haven for photographers and romantics alike.
But Miyajima is also an immensely spiritual place, being home to the World Heritage-listed Itsukushima Shrine, one of Japan's most remarkable Shinto shrines. Sitting across from the iconic torii gate, Itsukushima Shrine is also built over the water and features several temples and pagodas. The island also features walking paths that lets you freely explore and the Miyajima Ropeway, which takes you up to the Shishiiwa Observatory for some serious views.
One factor that may make you even keen to visit Miyajima is that the ferry over is free for those travelling with a JR Pass.
When to Visit Hiroshima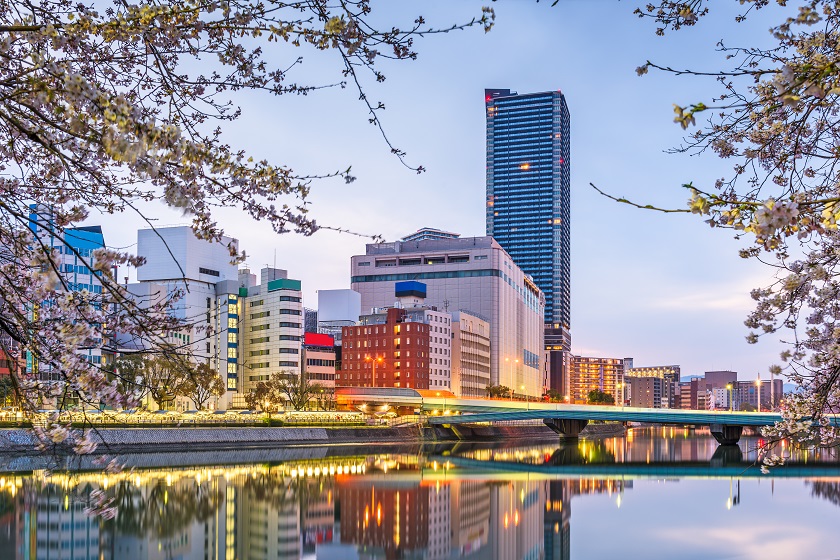 It's best to give special thought when planning your visit to Hiroshima to the timing of your visit. That's because both crowds and weather can significantly impact your enjoyment of the city. Rather than visiting in summer when it's busy, hot and humid, a better option is from April to May and October to November in what's known as shoulder season. Not only do these months have more temperate weather, but you also have the chance to see Hiroshima decked out in spring bloom or autumn colours.
Getting to Hiroshima with the Japan Rail Pass
As you might expect, Hiroshima is an easy city to reach if you're travelling around Japan on a Japan Rail Pass. The easiest way to visit Hiroshima is to take the Sakura service on the Sanyo line from Osaka, which is included in your JR Pass and couldn't be simpler.
Within Hiroshima, you can use the Hiroshima Sight seeing bus for free and use the JR Ferry to Miyajima as well.