Discover the mystery – and impossible cuteness – of Okunoshima, Japan's famous rabbit island near Hiroshima, for a unique and memorable holiday adventure.
Table of contents:
Intro
What is Rabbit Island?
A Brief History of Okunoshima
Top Things To See and Do on Rabbit Island
How To Get There
Nearby Attractions
Bonus Tips for Animal Lovers in Japan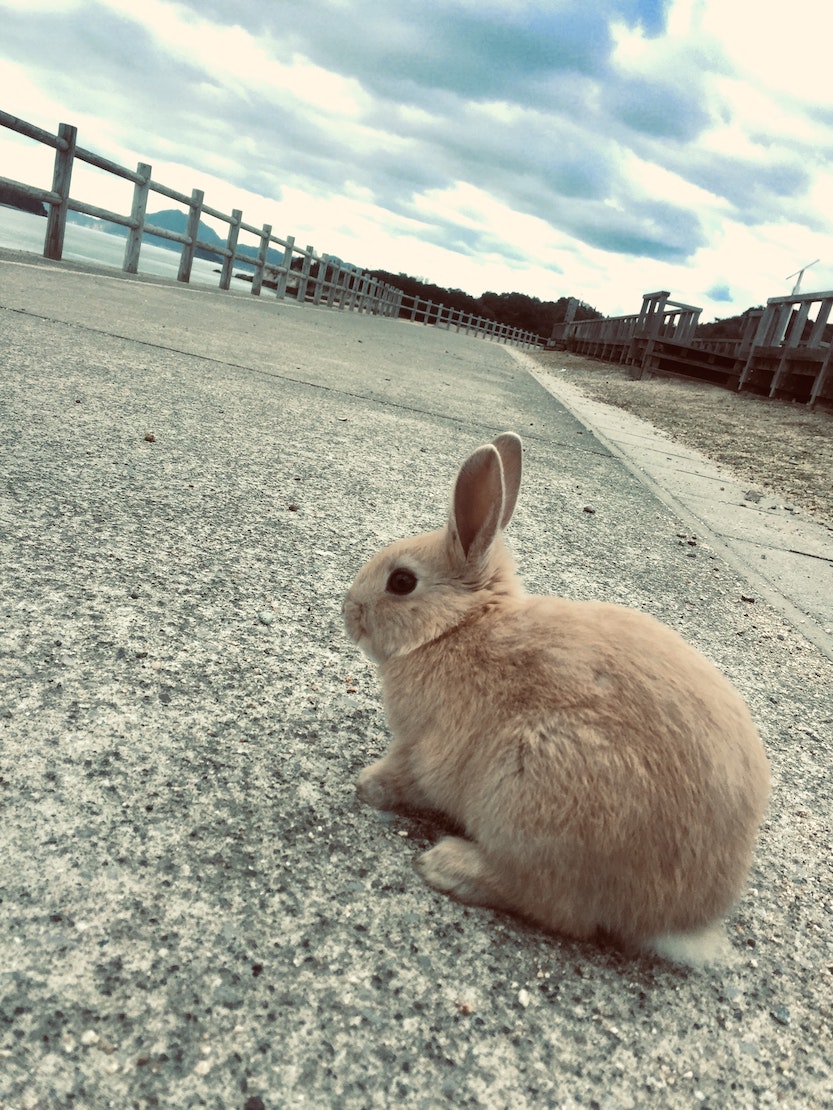 Intro
Rabbits are cute. Arguably the only thing cuter is a whole island of them! Welcome to Okunoshima – Japan's famous and mysterious 'rabbit island'. With a population of more than 1,000 rabbits across the small island, which is covered with overgrown ruins and walking trails, it makes a fascinating place to visit and explore, especially if you're an animal lover. We'll tell you how to reach Okunoshima using your JR Pass and Japan's excellent domestic rail service, a brief history of the island, what to do when you're there, and what else is nearby in the region. If you love cuteness or kawaii – as it's known in Japan – then you'll love rabbit island.
What is Rabbit Island?
Home to more than 1,000 rabbits that roam free across the tiny island's forests and fields, Rabbit Island can be found in the Seto Inland Sea in Eastern Hiroshima and has become a hugely popular tourist attraction in recent years. Rabbits are associated with safe childbirth and fertility in Japanese folktales and mythology and visiting the island is said to bring good luck to couples and families. Rabbits are also associated with Spring and a very interesting link to the moon in Japanese culture. Instead of the 'man in the moon', people from Japan see two rabbits pounding a mochi rice cake. As a result, rabbits are also connected to Tsukimi, the Harvest Moon festival in Autumn. Of course, it's about more than mythology, it's also about cuteness. In Japan, the word 'kawaii' relates to the country's love of all things cute and rabbit island certainly fits the bill. This is definitely one of the main reasons the island has become so popular. If you love rabbits then there can be few destinations better than Okunoshima. It makes a great day-trip and you can even stay overnight on the island.
A Brief History of Okunoshima
Despite being overwhelmingly cute due to the presence of more than 1,000 rabbits, Okunoshima has a somewhat dark history linked to past wartime activity. During the Meiji period (1868-1912), the island was one of many turned into military fortifications in the Sino-Japanese War. More forts were built in 1904-05 during the war with Russia, a power plant and even a lighthouse, which are all now abandoned. Later, between 1929-1945, the island was used to produce chemicals and gases for use in warfare. There is even a museum on the island dedicated to this dark history called the Poison Gas Museum, which you can visit. Other than the museum, the rest of the buildings, manufacturing plant and military fortifications are long abandoned and overgrown by nature, creating a wonderfully atmospheric (and slightly eerie) place to explore. It's great for photography and exploring, plus with more than 1,000 bunny rabbits, it's super cute and an extra special place to visit. This leads us to the next chapter in the island's history. Where did the rabbits mysteriously come from? Interestingly, rabbits have a long association with the island and there are rumours of bunnies living there back when the island was used by the military. However, the current colony dates back to more recent times. Apparently, in 1971, a group of school students from the mainland visited the island and released a small number of rabbits. The rest is history. More than 40 years later and there are now more than 1,000! I guess that's where the saying 'breeding like rabbits' comes from.
Things To See and Do on Rabbit Island
Viewed from the mainland, Rabbit Island is absolutely beautiful and idyllic looking with views across the Seto Inland Sea. The island itself may be relatively small at 4.3 kilometres in circumference, but don't be fooled. There's lots to do! There are various walking and cycling trails and you can rent bikes on the island. The beaches on the island are There is also a resort hotel and coffee shop. More on these below. The No.1 attraction on Okunoshima are the rabbits of course, but as you can see from our recommendations below, Rabbit Island, is about more than just cuddling and feeding super cute bunnies:
Rabbits
Exploring the island and watching the rabbits frolic and play is a great way to pass the time. You can also feed them with special rabbit food purchased on the mainland from the ferry terminal. This is also the location of the Rabbit Cafe and Gift Shop where you can buy all manner of rabbit related souvenirs and memorabilia including bags, umbrellas, notepaper, keychains, and even rabbit shaped food and sweet treats. You can also get a commemorative stamp and an original postcard so you have lifelong proof of your visit to this beautiful, mysterious, and very kawaii island.
When it comes to enjoying the island's main attraction, there are some basic rules to follow such as not holding the rabbits in your arms, or chasing them, not feeding them on the road, or the wrong kinds of food, and not trying to take one home with you – no matter how cute they are!
Beaches
Rabbit Island's beaches are something of an undiscovered gem. Japan has some stunning beaches generally and you can find out more in our guide to the country's Best Beaches and Watersports Destinations. On Rabbit Island, the beach is just a five-minute walk from the hotel. You might find bunnies hopping across the sand to greet you and you can even swim in the sea off the island too.
Staying overnight
Okunoshima has both a main hotel, The National Park Resort Hotel, and a campsite for those wishing to stay overnight. The hotel has an onsen (hot spring) to relax in after a long day exploring the island as well as a restaurant and other facilities. Alternatively if you fancy sleeping under the stars (and surrounded by rabbits), there is a brilliant campsite which can accommodate up to 10 groups.
Walking, hiking and cycling
There are numerous walking and hiking trails around the island and you can also rent bikes from the main hotel for the island's dedicated cycle track. As well as the many abandoned military fortifications and factory buildings, there is also an iconic white lighthouse on the island to find. You'll also find 'rabbi objet d'art' in the form of viewing telescopes with white bunny ears!
Panoramic views
The summit of Rabbit Island offers stunning 360 degree views of the other islands dotted around the Seto Inland Sea. It's definitely worth the climb and a truly beautiful view.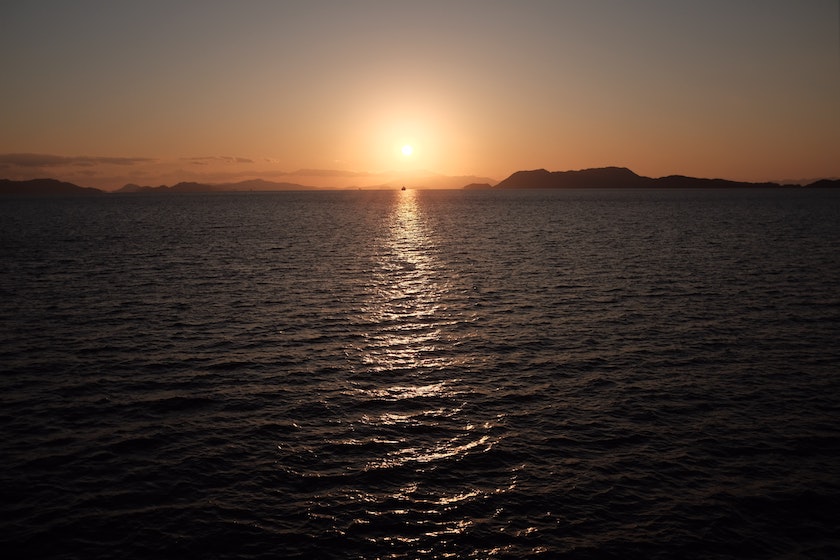 How To Get There
You can reach Rabbit Island by using your JRailPass to take the Sanyo Shinkansen bullet train to Hiroshima and getting off at Mihara station (about 25 minutes before Hiroshima). You should then transfer to the JR Kure Line to Tadanoumi Station. Tadanoumi is a port town where you can get the ferry to Okunoshima. The ferry takes about 15 minutes and costs around 310 yen. Thanks to the Sanyo Shinkansen, it's possible to visit Rabbit Island from major cities such as Osaka, Kyoto and even Tokyo in a day.
Nearby Attractions
Rabbit Island is less than two hours away from the major city of Hiroshima, which is a great place to visit in itself. There are also lots of other attractions along the Seto Inland Sea coastline. Here are a few recommendations to places to explore with your JR Pass: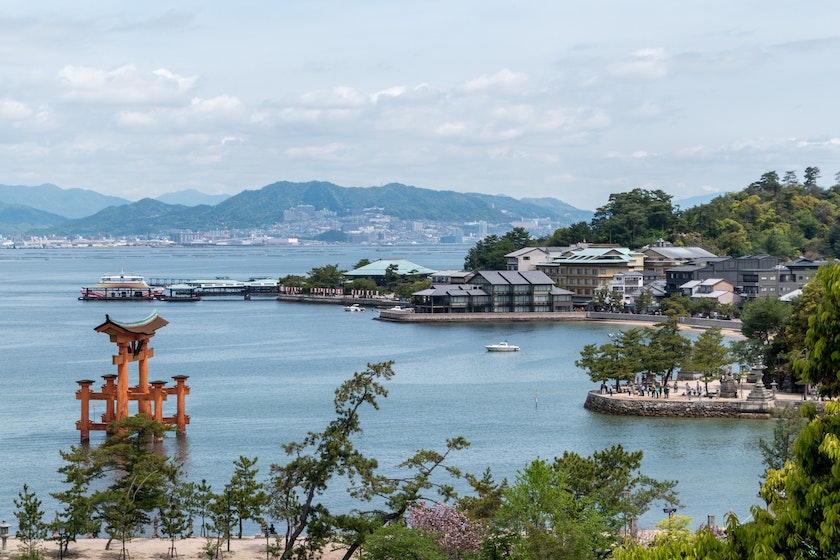 Visit Hiroshima
Hiroshima is the nearest big city to Rabbit Island and can be easily reached by train on the JR Sanyo line. Hiroshima may be most famously associated with the devastating atomic bomb detonation that ended WW2, but the city has a lot more to offer than this and is well worth a visit. Find out much more about the city in our Guide to Visiting Hiroshima.
Miyajima Island and the 'Floating' Torii Gate
One of Hiroshima's biggest attractions is the island of Miyajima (or Itsukushima as it is properly known) in Hiroshima Bay. Chances are you've seen photos of the island's floating torii gate, a landmark that has made Miyajima a haven for photographers and romantics alike. But Miyajima is also an immensely spiritual place, being home to the World Heritage-listed Itsukushima Shrine, one of Japan's most remarkable Shinto shrines. You can reach Miyajima island by ferry which is free for those with a Japan Rail Pass.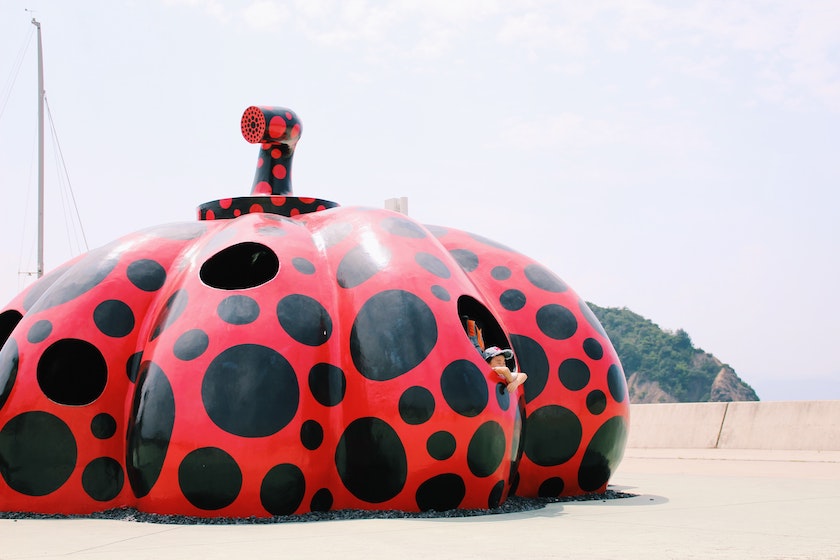 Naoshima Art Island
Naoshima is another of the many smaller islands that dot the Seto inland sea and lies between Okayama and the main island of Shikoku. Famous for both its modern indoor and outdoor art, sandy beaches, stunning panoramic views and sunny weather. Naoshima makes for a great place to unwind and take life one step at a time. Discover everything you need to know about visiting this unique island in Naoshima: How To Get There with the JR Pass.
Kurashiki merchant town
Located halfway between Hiroshima and Osaka on the Seto Inland coast, Kurashiki is celebrated for its historical quarter full of canals and an interesting mix of cultural attractions. An old merchant town, Kurashiki is a destination off the beaten path that's relatively tourist free and gives visitors the chance to experience what life was like in 19th Century Japan. Find our more in our guide to What To Do In Kurashiki, the Quaint Merchant Town of Japan.
Bonus Tips for Animal Lovers in Japan