Naoshima (直島) is one of the many smaller islands that dot the Seto inland sea and lies between Okayama and the main island of Shikoku. Famous for both its modern indoor and outdoor art, sandy beaches, stunning panoramic views and sunny weather. Naoshima makes for a great place to unwind and take life one step at a time.

Table of contents:
What to do in Naoshima
How many days to visit Naoshima?
How to get to Naoshima with the JR Pass

What to do in Naoshima
Naoshima offers plenty to see and do for a day or two, combining art with outdoor activities like hiking, swimming and cycling. Here are our recommended activities to do around Naoshima island.
View the outdoor art
The island is home to the iconic Yellow Pumpkin by Yayoi Kusama, that stands out against its backdrop in a stunning manner. Though it is the most well known art piece on Naoshima, it is only the beginning of the collection of open air-sculptures and installations, that harmoniously blend with the neighbouring landscape. Including works by: Dan Graham, Shinro Otake and Karel Appel. A full list of outdoor art work can be found here.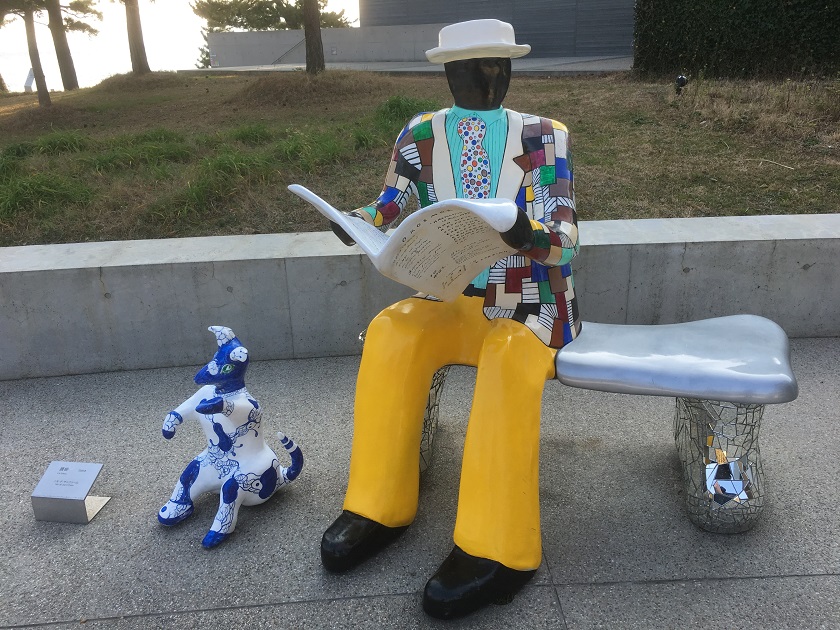 Visit Benesse House (and stay the night)
Benesse Art House is the most well known and perhaps most intriguing museum on Naoshima. Created in 1992, Benesse House is not just a museum but an upscale hotel as well. Staying guests can wander the exhibitions at night without being distracted by others. The art collection includes an international variety of work by Tadao Ando, George Rickey, Alberto Giacometti, Yasuo Kuniyoshi, Andy Warhol and others. For further information and tickets see here. The museum is open most days of the year but do check beforehand.
Lee Ufan museum
The Lee Ufan Museum is one of the most recent additions to Naoshima, as the name suggests the museum is dedicated to the works of Korean contemporary artist Lee Ufan. His work is based on contemporary urban design and building materials. There's also a collection of paintings from Lee Ufan in his early carrier.
Rent a bicycle
The best way to get around Naoshima is renting a bicycle. Roads are well maintained and it's easy to get around the island. Having a bicycle will allow you to stop anywhere, enjoy the beautiful views and stay as long (or short) as you like at any of the sights. The island itself can be circumnavigated in less than an hour on a bicycle, so you don't have to be a Tour-de-France winner to enjoy Naoshima on two wheels. There's a rental shop very close to where the ferry arrives in Naoshima.
Relax near the sea
A visit to Naoshima is not complete without a good moment to unwind on the beach. There are many small beaches around the island, often without anyone on them. Take a moment to relax, or picnic on the beach. You're guaranteed to have a beautiful view of the Shikoku islands in the distance.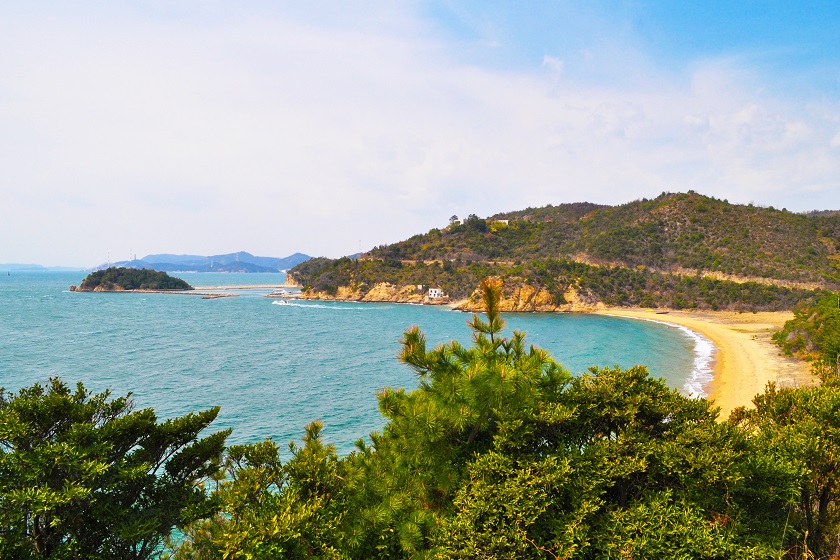 Visit Teshima
Teshima is the sister island to Naoshima, it has its own contemporary art museum and outdoor art. Want an encore after Naoshima? Then Teshima is the place to go! There are multiple ferries to/from Teshima that connect with Naoshima and the mainland.
How many days to visit Naoshima?

The island is fairly small with a total area of 14.22 km2 (5.49 sq mi), that means you'll be able to explore the entire island fairly quickly and for most visitors a single day or day trip is enough to explore Naoshima and enjoy the experience. That said, for those that love to linger a little longer. Naoshima is a great way to disconnect yourself from the world, enjoy the local nature and beaches, and just take it a little slower. In that case, 2 to 3 days could be a rather nice experience.

How to get to Naoshima with the JR Pass
Naoshima has two main ferry connections from its main port Miyanoura, that connect to Uno port (Okayama) and Takamatsu port (Shikoku). The Japan Rail Pass will bring you to either port for free, though the ferry itself is not included in the JR Pass. The first step is to get to Okayama, which can be reached from any direction on the JR Sanyo Shinkansen. From Okayama you can choose to go via Uno or Takamatsu.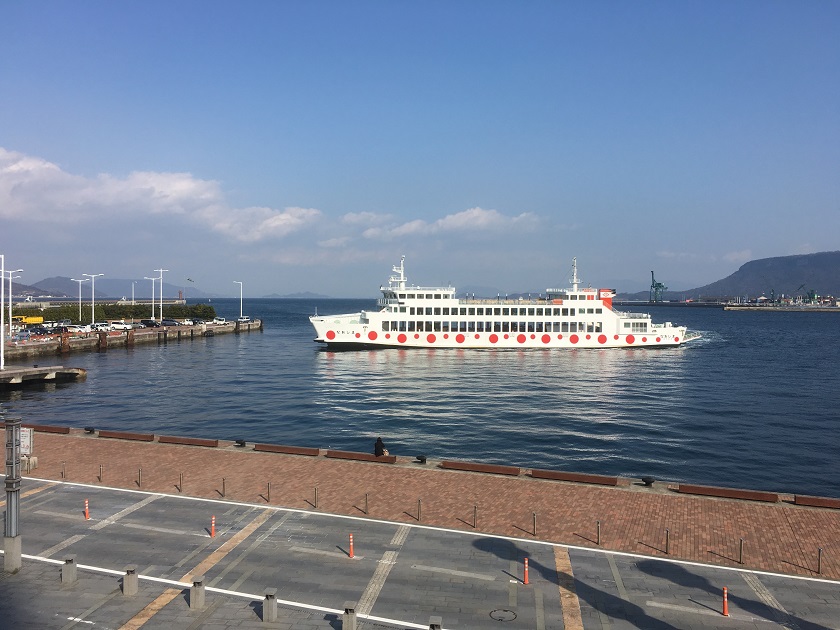 Ferry to Naoshima 
Going to Uno port is the fastest option, there are direct local trains between Okayama and Uno station. It is only a 5 minute walk to the port from the station with clear signage.
Going via Takamatsu takes more time but is by far the more scenic route, as you will be travelling over the great Seto Ohashi bridge that connects Shikoku to the Japanese mainland. Takamatsu itself is worth a visit and a good base to stay for a couple nights to explore Naoshima and Shikoku from.
Looking for more inspiration? Ready our blog post on Exploring Shikoku with the JR Pass