Japan's Harvest Moon Festival, Tsukimi, is held every autumn across the country and dates back more than 1,000 years. It remains a popular celebration today and is a great time to experience this beautiful country.
Table of contents:
Intro
A Brief History of Tsukimi: The Harvest Moon Festival
The Rabbit On The Moon
How To Celebrate Tsukimi
Japan's Most Famous Tsukimi Events
Traditional Tsukimi Food and Decorations
Extra Ideas For Autumn in Japan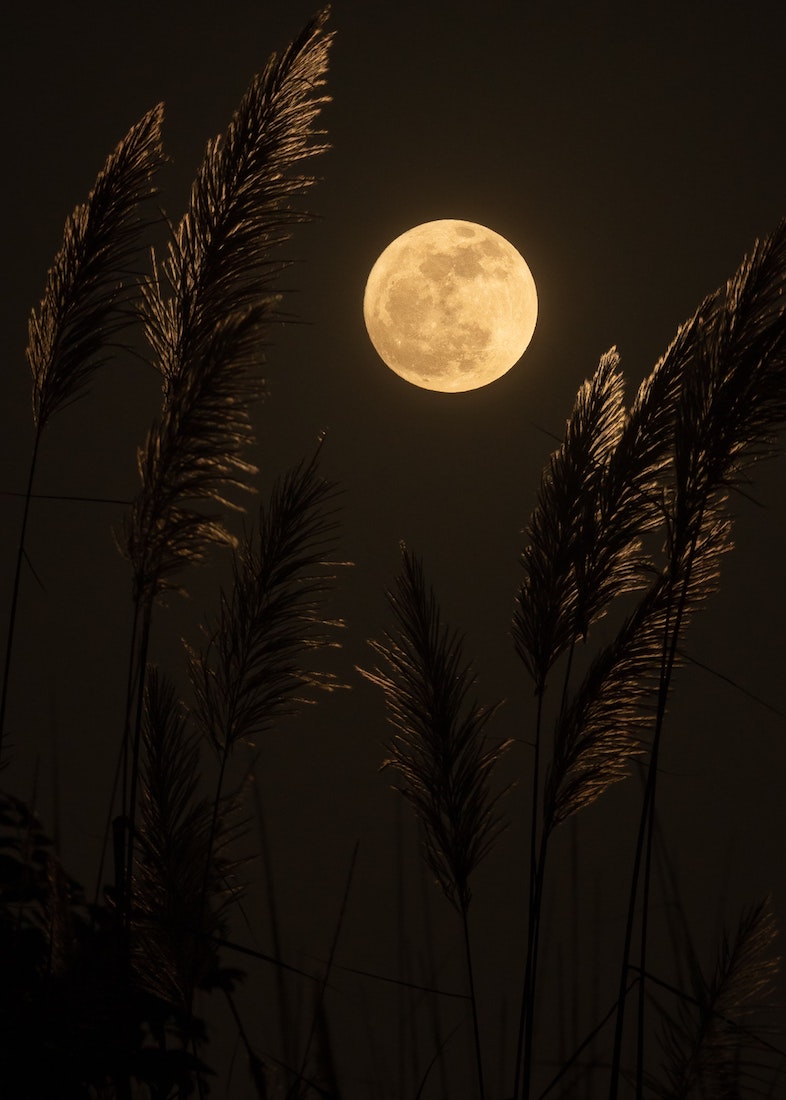 Intro
The moon has captured our collective imaginations for millennia and Japan is no different. Tsukimi means 'looking at the moon', but like Japan's Cherry Blossom season, which is known for hanami or 'flower gazing', there is much more to tsukimi than meets the eye. The Japanese custom of moon-viewing celebrations has become a popular and historic annual festival that takes place each autumn across the country. Autumn in Japan is an absolutely beautiful time of year and a highly recommended season to visit the country, as we'll go on to explain. We'll take a look at the origin and history of Tsukimi – the Harvest Moon Festival -, how to celebrate with seasonal food, traditional decorations, and key events, and how to get around with the JR Pass – one ticket for Japan's world-class rail network. Are you ready to take a walk in the pale moonlight?
A Brief History of Tsukimi: The Harvest Moon Festival
Traditionally celebrated in the month of September in Japan, tsukimi dates back to the Nara period (710-794 AD), but it didn't become a formal celebration until the Heian period (794-1185). Legend has it tsukimi was inspired by the custom of jugoya moon viewing in Tang Dynasty China (618-907), and was taken up by Japan's aristocrats who would play music and compose poetry at parties in the moonlight. They would also take boats out at night to view the moon reflected in the water. The 'moon viewing' tradition gathered momentum throughout the centuries, and by the Edo period (1603-1868) it was popular amongst all classes, including farmers. By this time, the festival had become more closely associated with other autumn traditions, in particular thanking the gods for a bountiful harvest and praying for a successful year to come. Originally, tsukimi was celebrated on the 13th day of the month, but in 1683 the calendar changed and the timing of full moon moved to the 15th. Since then, the exact date of the festival varies depending on the lunar calendar, but it almost always takes place in September which is considered to be the best time to view the moon.
The Rabbit On The Moon
You may have heard of the man on the moon, but what about the rabbit? In Japan, the craters on the surface of the moon are not felt to represent a man's face but instead a rabbit pounding mochi. There are various theories about the origins of this legend. Some say it is based on a Buddhist tale, while others say it is to do with the etymology of the word mochizuki, which means full moon and also sounds like the word for pounding mochi. Given that Japan is a nation of food lovers, where rice is hugely important to the history, culture, and economy of the country, it is probably no surprise to see a food appear prominently in this legend. Thanks to this tale, rabbits have a special significance in Japan during tsukimi. You might even come across some cute rabbit themed tsukimi foods and snacks.
How To Celebrate Tsukimi
Traditionally, tsukimi was celebrated with music and poetry while appreciating the beauty of the moon. Later, rice offerings were made to express gratitude for a good harvest. Today's celebrations bring these customs together. When people gather at a window or balcony to view the moon, it is described as a tsukimidai and is decorated with rice dumplings known as tsukimi-dango, seasonal offerings such as edamame, chestnuts, and pumpkins, with taro bulbs and pampas grass to represent the rice harvest. It's common for people to invite friends and family over for moon-viewing parties, as it's seen as a social occasion. Moon viewing events also take places at temples, shrines, gardens, castles, and at outdoor locations across Japan with traditional dancing, music and poetry recitals. You can also go on boat rides at night to enjoy the reflection of the moon shimmering on the water, just like they did back in Heian times.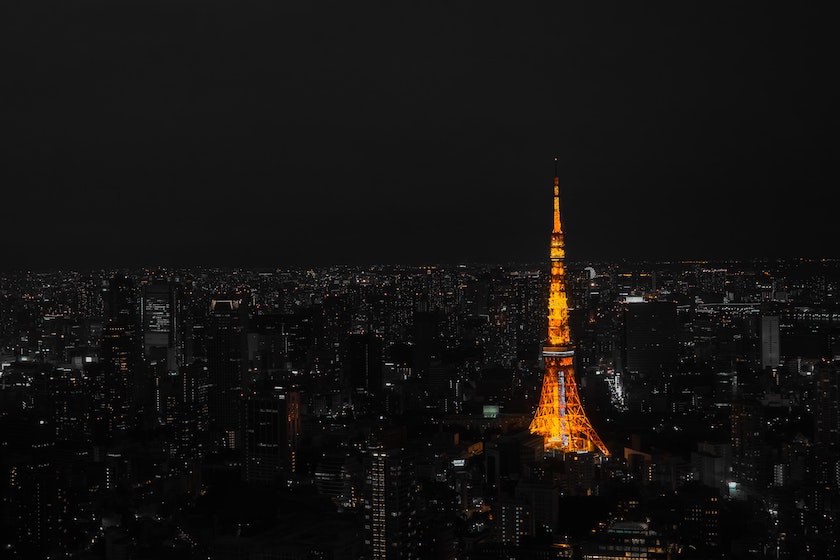 Japan's Most Famous Tsukimi Events
Tsukimi sees seasonal events taking place across Japan to celebrate the Harvest Moon. Some of the most famous include:
Tokyo Tower
Every year, the Tokyo tower is specially lit up for the Tsukimi Harvest Moon festival. With 600 steps to the top, you'll need to be fit to get the best views, but it would definitely be worth it. And even if you don't want to head inside (or don't feel up to taking the stairs), then it makes a stunning image from the ground too, lit up in red against the dark sky and shimmering white moon. The tower is one of Tokyo's most famous spots for Marriage Proposals in Japan.
Sankeien Gardens
These picturesque gardens in Yokohama light up their historic buildings each year for tsukimi and are well known for their moon-viewing events. Sankeien garden is a 10-minute bus ride from JR Negishi Station in Yokohama.
Ise Shrine
Among the thousands of Shinto shrines in Japan, one of the most significant is the Ise Grand Shrine in Ise City. The ancient shrine was built to worship the sun goddess Amaterasu and was said to have been built 2000 years ago, although its exact time of founding is unknown. It's a very popular shrine to visit all year round and hosts annual tsukimi events each September with poetry readings and music. The nearest big city to reach Ise from is Nagoya. Travelling with a JRailPass, you'll want to take the train to Kameyama and then connect to Iseshi Station. If you'd like to visit more of Japan's beautiful shrines, check out our list of the Top 5 Shinto Shrines to Visit while you're in the country.
Tokyo Skytree
Like Tokyo Tower, the Skytree in Sumida, Tokyo, boasts impressive aerial views and observation decks hundreds of metres in the air, providing one of the highest vantage points for an even closer look at the moon's beauty. The Skytree also features jazz music to further enhance the atmosphere.
Himeji Castle
Known as the 'White Heron' for its distinctive colour and architecture, Himeji Castle in Hyogo Prefecture is regularly voted the most beautiful castle in Japan. Each year, the castle stages moon-viewing events with tsukimi-dango, oden, sake, taiko drumming and performances. This year might be slightly different due to social distancing, but nothing can take away from the beauty of the moon in the night sky above the castle or from this splendid castle itself. You can read our comprehensive guide to Himeji – Japan's Most Beautiful Castle for everything you need to know about visiting this incredible location.
Autumn is a beautiful time of year to visit Japan. Alongside these brilliant places to visit for tsukimi, autumn is the season of 'koyo'. Koyo means 'red leaves' but is used to describe all colourful leaves during autumn in Japan. The word has also become somewhat interchangeable with momiji-gari or 'red leaf hunting', which is the term used for the custom of viewing the autumn leaves. Momiji is used to describe the Japanese maple whose five-pointed leaves have been synonymous with the season and its traditions. Often, the most famous koyo viewing locations are spread across the country in parks, temples and mountainous areas, and the Japan Rail Pass is the perfect way to reach them all. Mount Nasu-Dake in Tochigi prefecture, north of Tokyo, is known as a fantastic hiking and autumn foliage viewing spot and also has several onsen. To get there, take the direct train from Tokyo Station to Nasu-Shiobara Station, the station on the edge of the national park Mt. Nasu-Dake is located in. There are local buses from there that can take you the rest of the way. For other beautiful autumn locations, read our guide to The Top Five Autumn Foliage Viewing Spots in Japan.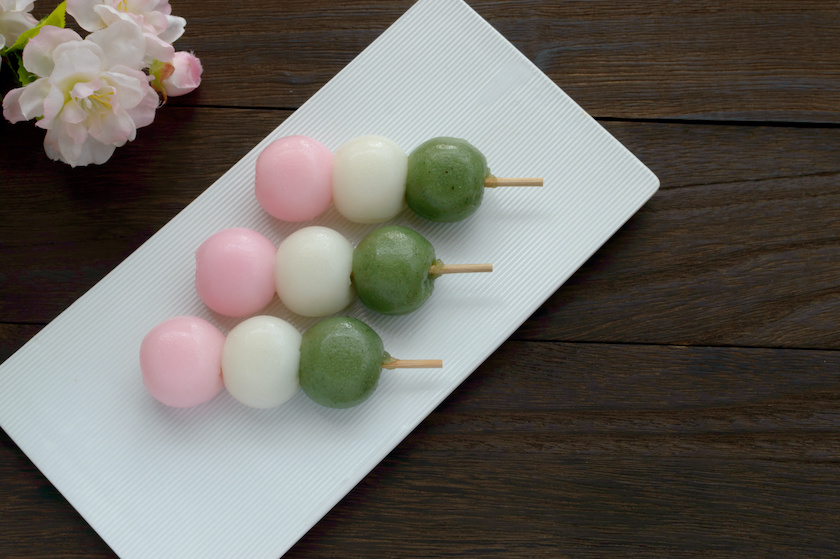 Traditional Tsukimi Food and Decorations
Food is unsurprisingly a big part of tsukimi in Japan – one of the best countries in the world when it comes to eating (and so many other things!). Traditional tsukimi food is known as 'tsukimi ryori', and it is considered good luck to eat these dishes during the Harvest and offer them to the moon by leaving them out as decorations. Other non-food related tsukimi decorations include suzuki (or pampas grass) to represent a bountiful harvest and to ward off evil spirits.
Here is a selection of famous tsukimi foods to look out for:
Tsukimi Dango
Dango are small, white dumplings made of rice that are hugely popular in Japan, and doubly so during tsukimi. Unlike the tsukimi on skewers pictured above in different colours, tsukimi dango are usually served plain and sometimes come stacked in a pyramid of 15 dango balls.
Rabbit-shaped mochi
Remember when we talked about the rabbit in the moon? Well you can even get mochi (a traditional sticky rice cake) in the shape of rabbits (and rabbit ears specifically) to celebrate the craters of the moon looking like a rabbit pounding mochi.
Dishes topped with a raw egg
In Japan, eggs symbol the moon and during tsukimi you'll find several familiar dishes, such as Tsukimi Soba or Tsukimi Udon, enhanced with a raw egg.
Chestnuts, pumpkins and sweet potato
Seasonal and autumnal fruits and vegetables such as chestnuts (kuri), kabocha (Japanese pumpkin), persimmons, Japanese sweet potato, taro, grapes and pears are all traditional during tsukimi.
Tsukimi Burger
If raw egg added to rice and noodles to celebrate tsukimi wasn't enough, how about a cooked egg – usually sunny side up – in a burger? It may sound unusual but in Japan during tsukimi even Western burger chains like McDonalds get in on the Harvest Moon craze and add an egg to their burger.
As we've mentioned, Japan is a paradise for food lovers with famous homegrown dishes such as Sushi, cities like Tokyo and Osaka with more Michelin-starred restaurants than anywhere else in the world, and the very best in regional dishes and street food. There really is something for every taste. You can find out much more in our Beginners Guide to Japanese Food and Regional Dishes.
Extra Ideas For Autumn in Japan