Intro
Does Japan Celebrate Easter? If you're travelling to this beautiful and unforgettable country this Spring, it's very likely you've asked yourself this question, especially if you're visiting from a country that celebrates Easter in a big way every year. The short answer is 'yes', and you'll certainly be able to continue your own Easter celebrations during your time in Japan. The long answer is slightly more complex, and we'll explain further below. What is for certain, however, is that Easter is a great time to visit Japan. We'll tell you what to do, where to go, and how to get there with the JR Pass and Japan's excellent domestic rail network. From Easter celebrations at DisneySea to special chocolates and sweet treats and spectacular Spring festivals (matsuri), Easter celebrated in Japan might just be your best ever.
A Brief History of Easter in Japan
While other traditionally Christian or Western celebrations have become staples in the Japanese calendar, Easter has taken longer to take off. This is perhaps not surprising considering its Christian origins, as only a tiny percentage of Japan, around 1%, is of the Christian faith, with the majority of the country being Shinto or Buddhist. However, this hasn't stopped Japan taking Christmas, Valentine's, and now Easter to its heart – each time with its own similarities to their Western counterparts, but with a special Japanese twist. Christmas for instance is often celebrated with fried chicken – KFC (Kentucky Fried Chicken) to be exact. This is just one of the unique ways that Japan celebrates this special day. Find out more in Do People Celebrate Christmas in Japan?
Valentine's Day similarly is quite different in Japan. The biggest change is that in Japan, Valentine's is the day a woman gives a present to the object of their affection. It's very much a one-way transaction and the recipient doesn't return the gesture until a month later on White Day. The gift is often chocolate or sweets called 'honmei choco', and they are sometimes handmade. This is given to someone a woman is romantically interested in, while she can also give 'giri choco' or obligatory chocolates to male friends and colleagues. On White Day, the object of her affection has the chance to reciprocate with a gift of their own, although rules state it must be worth three times the value of her present. This gift is known as 'sanbai kaeshi'. Of course, even outside these months, Japan is a hugely romantic country for couples to visit. Check out our guide to the Most Romantic Locations in Japan or the Best Proposal Spots in Japan to find out more. New Year's is also a huge celebration in Japan – arguably the most important national holiday in Japan and closely associated with Shinto and Buddhist beliefs of purification and renewal. Halloween has also taken off in Japan in recent years through a natural link to cosplay, anime and Otaku culture.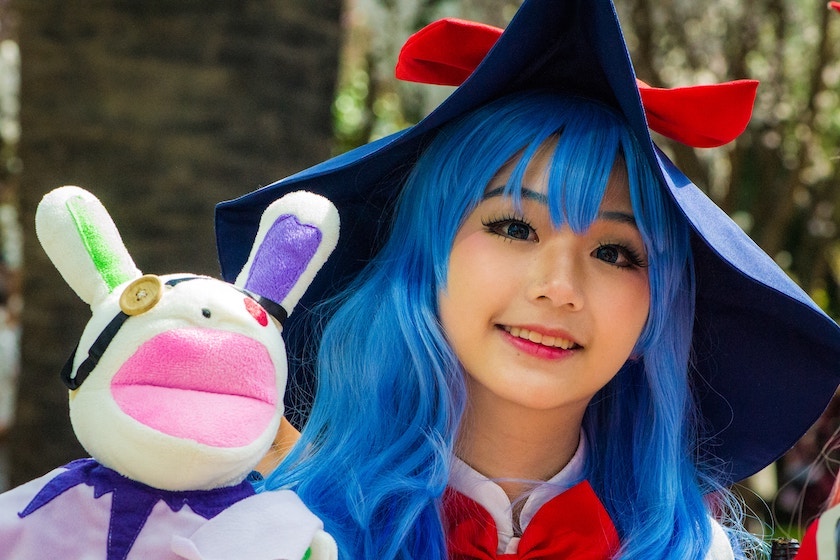 Only time will tell whether Easter, over time, develops similar eccentricities and complexities as Japan makes the holiday its own, but what's for sure is, it's a very fun time to visit Japan with lots to see and do, whether you want to celebrate Easter or just indulge in sweet treats and a colourful, family friendly holiday.
How To Celebrate Easter in Japan
Over the last five or so years, Easter has become bigger business in Japan – going from an estimated worth of 18billion Yen in 2013 to 32billion Yen in 2017. This has included a wide range of Easter chocolate (more on this below) hitting the shelves, special events and celebrations aimed at Western visitors, and much more. For instance, a few years ago J-pop star Kyary Pamyu Pamyu released an Easter themed pop song called 'Easta' which featured dancing eggs!
Easter obviously takes place in Spring too, which is one of the best and most popular times to visit Japan. While Japan doesn't have any particular customs or traditions around Easter itself, you will be able to celebrate the holiday just as you do at home with bunnies, egg hunts, chocolate eggs, lambs, and enjoying plentiful food and drink with family and friends. In previous years, major hotel chains such as Hilton, Hyatt Residency, Grand Hyatt, have put on special Easter brunches, buffets, and even egg hunts, for guests.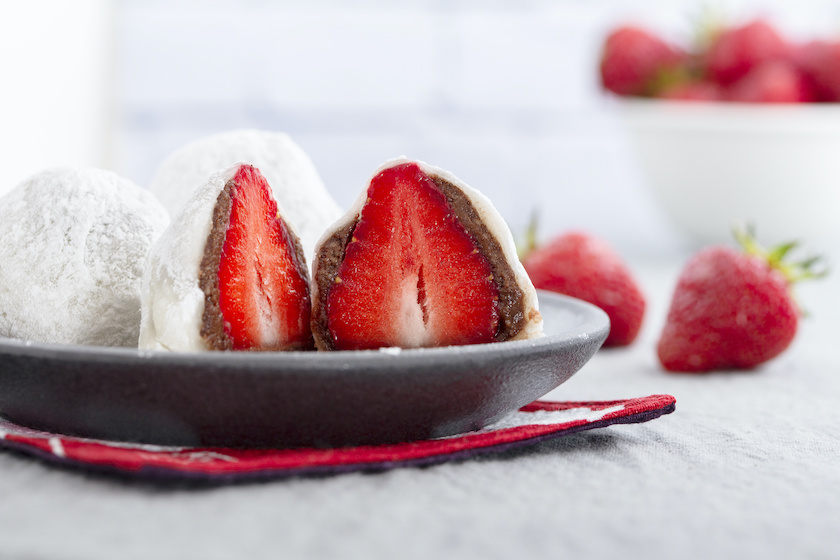 Top Things To See and Do Over Easter
We've put together our essential list of recommendations for the very best things to see and do in Japan over the Easter holidays. As ever, the best way to get around the country is using Japan's world-class domestic rail network and the JRailPass – one ticket for all of Japan. If you're new to Japan's trains, you can find out why they're the best in the world and the most reliable, cost effective way to travel around the country in our Visitor's Guide to Japan's Trains and Railways. Now on to our Easter recommendations…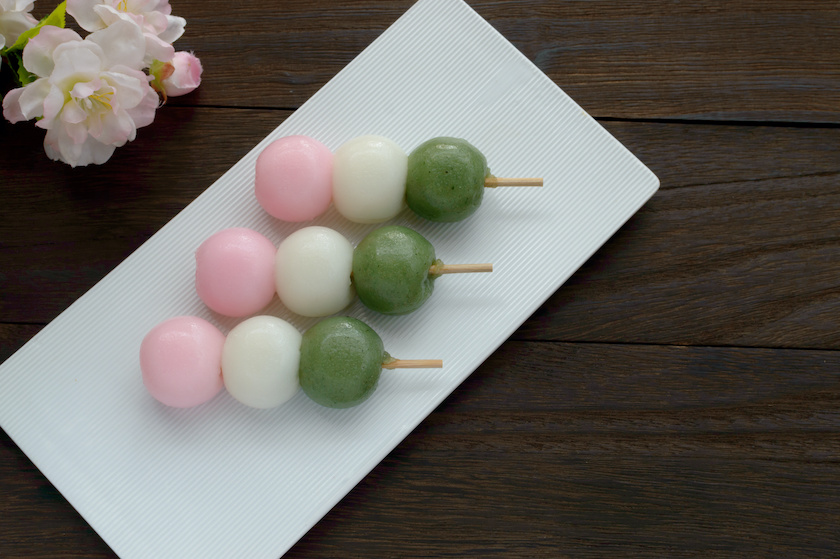 Sweet treats
Japan definitely has a sweet tooth and Easter is the perfect time to indulge in the country's mouth-watering desserts and other sugary delicacies. We've put together a list of some of the best-known (and most quintessentially Japanese) for you to try during your Easter holiday.
Meika Hiyoko
The perfect Easter dessert, Meika Hiyoko is shaped like a baby chick! Fukuoka is the place to go to sample this unique Japanese sweet, which was created in 1912.
Mochi
A traditional dessert made from sweet sticky rice called mochi gome. It is usually shaped into balls and can be dipped in sauce, toasted, or topped with kinako.
Dango
Dango are very popular at festivals and you will often find them on skewers. They are similar to mochi balls, but can be made from a variety of flour and they are often three different colours.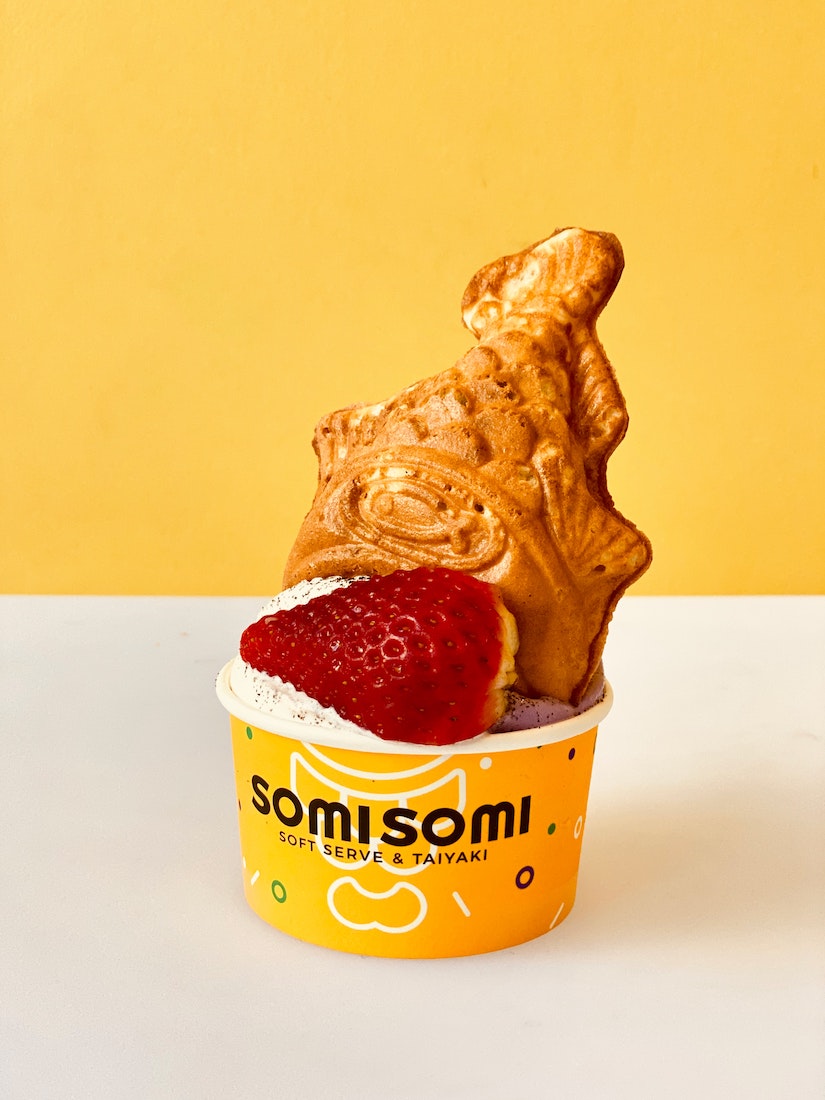 Taiyaki
Cute fish-shaped pancakes filled with a variety of fillings, often red bean paste, Taiyaki are available from street vendors across Japanese and are a hugely popular sweet street treat.
Ichigo Daifuku
This famous strawberry sweet is originally from Osaka. It is made from mochi, sweet red bean paste and a whole strawberry.
Wari Gori
Similar in appearance to hard candy, Wari Gori are beautifully coloured fragments of agar jelly dried over six days.
Anmitsu
A combination of anko and cubes of clear agar jelly, with extra ingredients such as fruit, nuts, mochi and ice cream, Anmitsu is popular in the summer and is usually served with a cup of black syrup.
Tokyo Banana
A soft cake filled with custard cream and shaped like a banana, these popular sweet treats are a Tokyo delicacy.
Mizu Manju
Like colourful water droplets, these beautiful and unique looking sweets come from Gifu Prefecture.
Ki Ni Naru Ringo Pie
You've never had an apple pie like this before! A whole apple is dipped in syrup and baked in a crust of flaky pastry. This is apple pie Japanese style. Aomori Prefecture is famous for its apple so this is the place to go to try this delicacy.
Momiji Manju
A maple leaf shaped sweet treat made from castella cake, these are commonly found and traditionally from Hiroshima.
Sakuranbo Kirara
This is a cherry flavoured jelly with a whole cherry inside. Around 70% of Japan's cherries come from Yamagata so if you love cherries you need to visit here if you'd like to try Sakuranbo Kirara.
As far as sweet treats go, also look out for Japanese variations of world favourites such as shaved ice, French crepes (which are very popular in Japan), honey toast (like sweet waffles with ice cream), and many more. You'll also see special Easter related chocolate such as limited edition Easter KitKats, Disney-themed sweets, and more. Japanese pastry shops have also been known to produce one-off Easter products over the holiday period to appeal to international visitors.
Easter Egg Hunts in the Park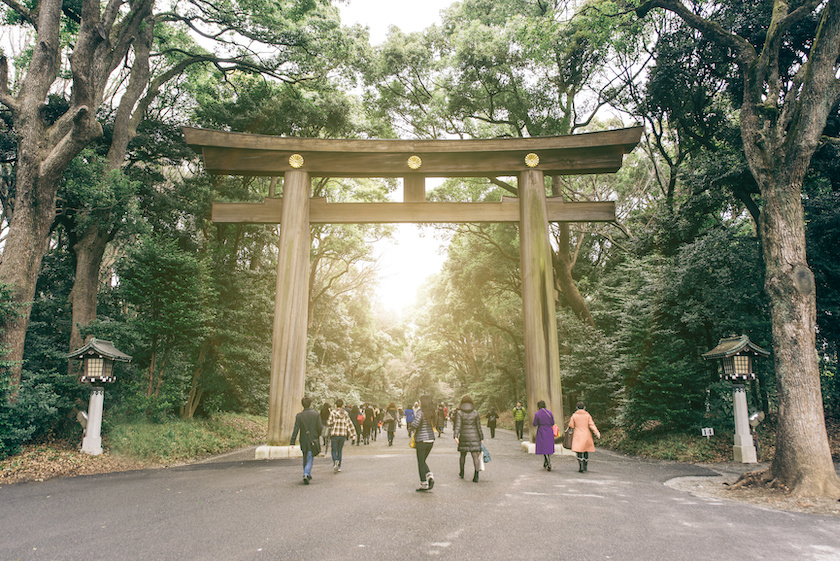 You can create your own egg hunt by buying sweet treats and heading to the park. You could even have an Easter picnic with Japan's famous Bento lunch boxes. Japan's big cities all contain gorgeous green spaces – for example in Tokyo (Yoyogi Park, Ueno Park), Kyoto (Haradani-en Garden, Ryoan-ji Temple, Murin-an Villa), Osaka (Kema Sakuranomiya Park, Osaka Castle Park, Mino Park) – and the rest of the country is even more of a paradise for lovers of forests, mountains, lakes, and beaches. Here are our top recommendations for parks to go on an egg hunt. For your ease, we've divided the list into city parks and national parks.
Shinjuku Gyoen, Tokyo
A beautiful park with three distinct styles of garden – Japanese, English, and French – you'll find this park just ten minutes' walk from Shinjuku station.
Yoyogi Park, Tokyo
A favourite location for festivals, concerts, and other events, Yoyogi is popular for walking and cycling. The nearest station is five minutes away at Harajuku.
Ryoan-ji Temple, Kyoto
A unique UNESCO World Heritage site, this park is famous for its special rock garden. Try here for a different kind of egg hunt or perhaps just a soothing stroll past the rocks. Kyoto has many other beautiful gardens and is easily accessible with the JR Pass from across Japan.
Nagai Park, Osaka
An urban park just outside the city centre with lots to see and do in the vicinity, including Osaka Museum of Natural History and Nagai Botanical Garden. Perfect for an Easter day out. Like Kyoto, Osaka has lots to offer and is easily accessible from other cities with the Japan Rail Pass.
Nikko National Park
Easily accessible from Tokyo, Nikko would make a great day trip at Easter. Nikko is the place to go for history lovers. The shrines and temples of Nikko, including the famous and iconic Toshogu shrine and mausoleum have been designated as a UNESCO World Heritage Site. You will also find Kinugawa Onsen, a hot spring town along the banks of the Kinu River, and the Nasu Volcanic Belt, which gives the area its stunning mountainous landscape. Starting at Tokyo Station or Ueno Station, use the JR Tohoku Shinkansen to get to Utsunomiya Station before transferring to the JR Nikko Line to Nikko Station. For more on Nikko, read our comprehensive guide to Nikko: The Perfect Balance of Nature and Spirituality.
Akan National Park
One of Hokkaido's beautiful national parks, Akan is especially notable for its volcanoes and the lakes in the craters. These include the beautiful Lake Mashu, which would make a lovely place to visit over Easter.
Spring and Easter Festivals in Japan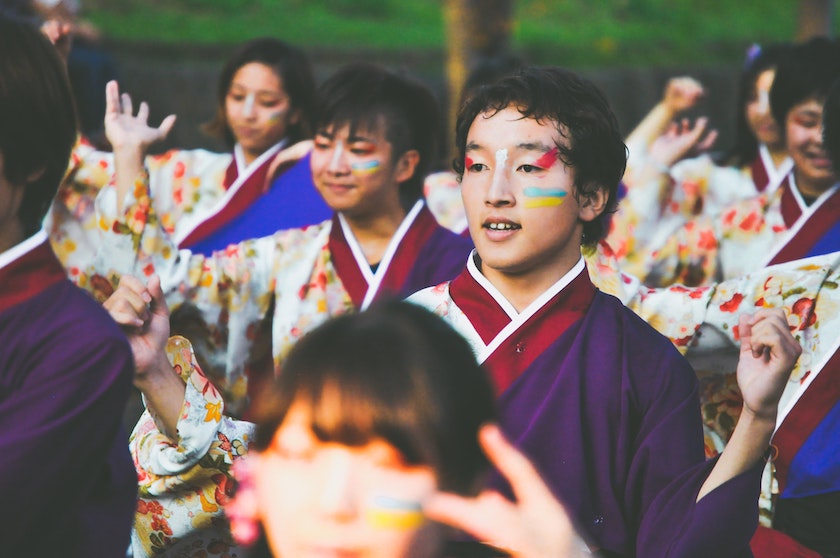 Easter festivals are not common although they are starting to take place, such as the Easter celebration, featuring egg painting and more, in Tokyo's Daikanyama neighbourhood. Generally speaking however, there are a huge amount of festivals (known as matsuri) in Japan all year round, with many over the Spring and Easter period. Throughout the year, there are an estimated 300,000 Matsuri across Japan. One of the reasons there are so many is that almost every shrine, town and village has its own festival. The focal-point of these can vary, from honouring a shrine's kami (a Shinto deity), to remembering an important historical event, or celebrating a particular season. Traditional Matsuri feature processions and decorated floats known as dashi, yatai, danjiri, and other regional variations. There are several major festivals in March and April during Easter. Here are a couple of recommendations:
Takayama Festival
Generally considered to be one of the three most beautiful matsuri in all of Japan, this festival takes place in Gifu Prefecture. You can reach the shrine by a 15-minute walk from JR Takayama station in Takayama City in the Japanese Alps.
Kanamara Matsuri
The infamous and light-hearted 'Festival of the Steel Phallus' or 'Penis Festival' (as it is sometimes known) takes place every year during April in Kawasaki. Although the unusual shaped floats may generate a few smiles, the meaning behind this festival is actually about the wish to have children, as well as for equality and fair treatment across genders. As such, this matsuri is very popular with the LGBTQ+ community.
Bunkyo Azalea Festival
An annual flower festival held at Nezu Shrine in Tokyo, Bunkyo Azalea Festival is famous for its 6,600 square metre Azalea garden. Nezu Shrine is also one of the oldest shrines in the city – its current buildings date back to 1706, but the shrine itself is much older. Inside the garden, there are 100 varieties of 3,000 azalea plants, creating a colourful blanket of flowers – pink, purple, and green. There is also a beautiful pond and a famous Senbon Torii (a tunnel of Torii gates). As well as the flowers themselves, the festival features stalls and a market. The best time to enjoy the festival and the Azalea garden is mid to late April. The Nezu Shrine is located in Bunkyo Ward, Tokyo, five minutes from Nezu Station, Sendagi Station and Todaimae station. Remember, if you're travelling around inner Tokyo, or other major cities in Japan such as Kyoto or Osaka, you'll need a prepaid travel card, such as ICOCA, PASMO or Suica, as well as your Japan Rail Pass.
For more on Japan's love of festivals and our recommendations for the best ones to visit across the country throughout the year, read our Top 12 Festivals in Japan.
Easter at DisneySea
Disney are one of the major backers for Easter becoming bigger business in Japan, presumably because it is such a lucrative holiday season in the company's native North America. Throughout Easter in April (and actually until the beginning of June), Disney's Easter will see bunny ears, chocolate eggs, Easter bonnets, special shows, parades, and performances, egg hunts, and much more for visitors. In 2020, Disney's Easter will focus exclusively on DisneySea due to new rides such as the Baymax Happy Ride and New FantasyLand Zone opening at Tokyo DisneyLand itself. You can reach DisneySea using your JRailPass by taking the train to Maihama Station on the JR Keiyo Line / Musashino Line. If you're visiting Japan in April and you'd like to celebrate Easter then DisneySea is the place to go. Another theme park you might want to consider over Easter is Huis Ten Bosch in Sasebo, Nagasaki, which features canals, windmills, amusement rides, and seasonal flowers.
Fun at the Farm
One of the most iconic sights of Easter – other than chocolate eggs and bunnies – is spring lambs and farm animals. You may not associate Japan with lambs or even farms, but it is a surprisingly rural country outside of its big urban metropolises. One of the top recommendations if this sounds like the perfect Easter day out for you is Mother Farm in Chiba Prefecture. This family friendly farm is the perfect destination for animal lovers with lambs, ducks, pigs, cows and even alpacas. It's so big that cute animal-themed sightseeing buses are needed to help you get around, and as well as petting animals you'll also get to pick your own fruit, including strawberries, blueberries and kiwi. There is also a spectacular flower trail including 25,000 petunias. It really is the perfect Easter day out. To get there using your Japan Rail Pass, take the JR Uchibo line to JR Kimitsu Station and then the free shuttle bus to the farm itself.
Food and Drink
Easter is not just about chocolate eggs, sweet treats, and other desserts. It's also a time to enjoy great food and drink with family and friends generally. In Western countries in particular, it's traditional to have a formal meal at Easter, almost in the same way you would on Christmas Day or New Year's Day. These Western traditions are one of the reasons why major hotel chains have put on so many Easter food related events in Japan over this holiday, including special buffets, brunches, and menus. Food and drink are just as important in Japan too and if you're looking to indulge over holidays then you've come to the right place. Japanese cuisine and produce has a reputation for being clean, high quality, and healthy, and also for being among the most delicious anywhere in the world. (And not everything is super healthy if you really are looking to indulge this Easter – just check out our list of sweet treats above for instance!). Here are just a couple of food recommendations to get you started:
One of the many great things about Japanese food is the variety of produce and ways to dine, from Michelin-starred restaurants to traditional Izakaya, to bento lunch boxes on the train or in the park. For more on the joys of Japanese cuisine read our Guide to Japanese Food and Regional Dishes. As for drinks, how about a spot of tea? Tea ceremonies are hugely important in Japan. You can find out more in What It's Like To Take Part In A Japanese Tea Ceremony and Getting Started With Green Tea. Alongside drinking tea or experiencing a tea ceremony, you can also visit tea plantations and enjoy the scenery. While Japan has many beautiful green tea plantations for all you Matcha-lovers out there, Shizuoka features some of the best and they are within relatively easy reach of Tokyo for day trips by train. Imamiya and Obuchi Sasaba in particular are both highly recommended and offer beautiful green fields against the iconic backdrop of Mt. Fuji (which may still be topped with snow in Spring). The nearest train station is JR Fuji Station and there are buses available in the direction of both plantations.
Tips to get The Most Out of Your Easter Break in Japan