Intro
Forget Paris, Japan is the new capital of romance. This achingly beautiful country is the perfect place to pop the question and is infinitely more original than more traditional proposal destinations. Japan is alternative, hip, and will look sensational in photographs when you share your happy news with family and friends. You could even return for the wedding and honeymoon! With Valentine's Day just around the corner, let's take a look at the most romantic locations in Japan to ask that question and get the answer you're looking for you. We'll run you through our Top 10 and tell you exactly how to get there using your JR Pass and Japan's ever-reliable rail network. All you need next is the ring! 
Top 10 Most Romantic Proposal Spots in Japan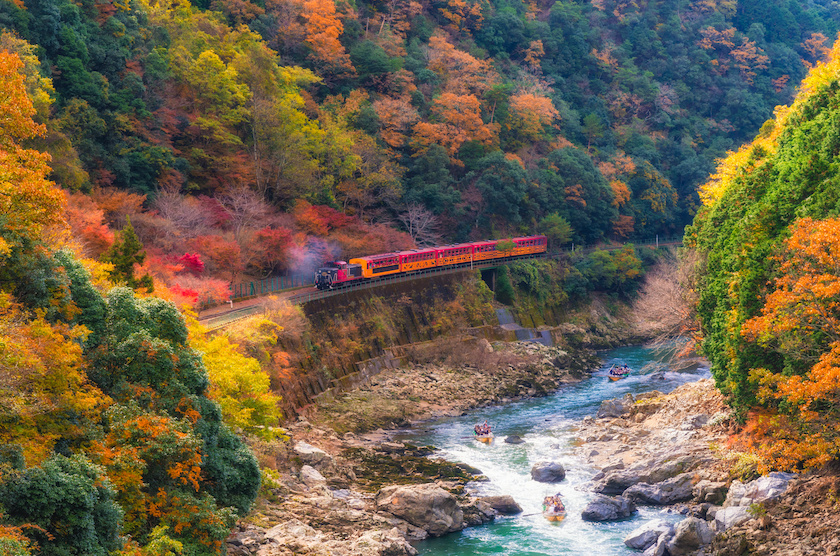 When it comes to proposing, it's not just about finding the most romantic, beautiful or spectacular location of course, it's also about the right moment. Similarly, if you're getting down on one knee in a very popular public place, timing is everything. You definitely don't want somewhere too busy or overcrowded so it's worth considering the best time of day (and even the best time of year) to avoid the crowds. The likes of Cherry Blossom season (late March/early April) for instance, while undoubtedly beautiful and very romantic, is also the single busiest time of year with millions of extra visitors to Japan. The first few days of New Year's Day are also very busy as Japanese people visit temples and shrines across the country. Golden Week – Japan's week of national holidays – is another time when the country may seem busier than usual as many residents will be off work. And of course, in 2020, there's also the small matter of the Olympics too – although if you and your partner are sports fans then maybe this would be the perfect time to propose?! Find out everything you need to know in our dedicated Tokyo 2020 and the JR Pass guide.  As a result, you might want to look at some of our more 'off the beaten track' recommendations and also what season is best for your visit. Our list below takes all of these considerations into account to bring together some of the most romantic, iconic and unforgettable places to say, 'I will'!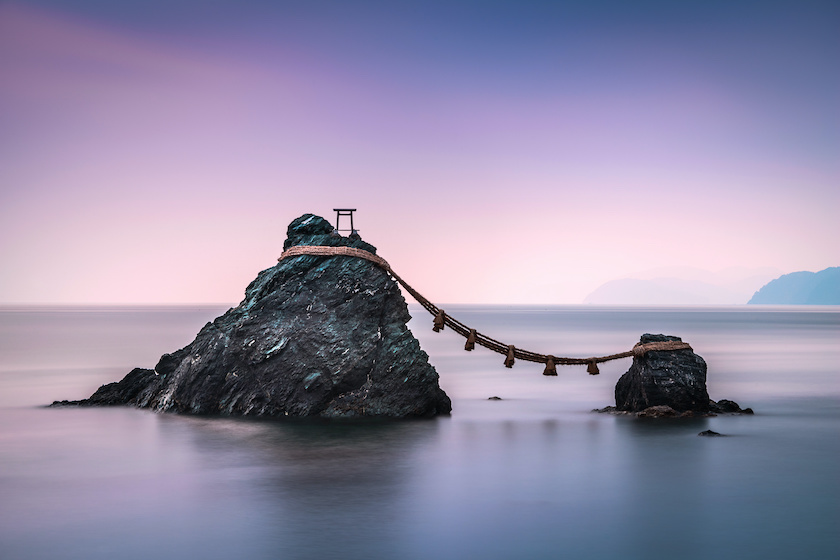 Wedded Rocks (Meoto Iwa)
It's hard to imagine a more aptly named romantic location than this! How can you fail to be successful in your marriage proposal when you take your loved one to the beautiful Meoto Iwa in Mie Prefecture, known as the 'wedded rocks'? These sacred rocky stacks, standing together in the sea, are literally wedded together by shimenawa rope, which is believed to connect the spiritual and earthly realms. They are also a gorgeous spectacle and a truly magical place to ask the person you love to marry you. On a super clear day, you can even see Mt. Fuji in the background. This location truly has it all. Futami-Okitama Shrine and the Ryugu Shrine are also nearby and within walking distance if you want to explore, hand in hand, with your newly betrothed. Meoto Iwa is located in Futami, near Ise City, and is around 10-15 minutes' walk from JR Futaminoura Station, which is a short journey from Iseshi Station using your Japan Rail Pass
Stargazing at Lake Mashu
Located in Akan Mashu National Park in the north of Japan in Hokkaido, Lake Mashu is a serene, tranquil and magical destination to fall in love. Thanks to almost no light pollution over and around the lake, it's a particularly amazing spot for stargazers and there are three observations which would be perfect for a proposal. What could be more romantic? Lake Mashu is especially enigmatic as it is no ordinary lake – it is a caldera lake (or crater lake) formed 7,000 years ago by a volcano and it is said to be one of the clearest lakes in the world. It's a truly special sight. There are also official stargazing tours you can sign up for if you'd like the chance to propose under starlit skies. The nearest train station is JR Mashu Station, which is just 20 minutes from the lake itself and there are shuttle buses available. Hokkaido is a great marriage proposal location generally if you're looking for somewhere quieter as it's just as beautiful as everywhere else in Japan, but definitely less crowded. Another potential place for a proposal in Hokkaido would be Mt. Moiwa whose observation deck and views over Sapporo would provide another great spot to say, 'I do'.
The Seven Waterfalls of Kawazu
Staying on the watery theme, our next selection is the spectacular Kawazu Waterfall in the Izu peninsula. In fact, it's seven waterfalls in the mountains above Kawazu town ranging from 30 metres in height to just two metres! Either way, it makes for a beautiful and unique location to ask for your partner's hand in marriage. The waterfalls were immortalised in the 1926 book The Izu Dancer by Nobel Prize winner Kawabata Yasunari and the area features a number of statues inspired by this famous text. Kawuza also boasts several outdoor onsen – the perfect way to relax with the person you love. You can reach the seven waterfalls by taking the Shikansen Kodama to Atami, then the Izu Kyuko line to Kawazu station. You can read more about the stunning Izu peninsula, and the pretty port town of Shimoda, in our Shimoda Visitor Guide
Tokyo Tower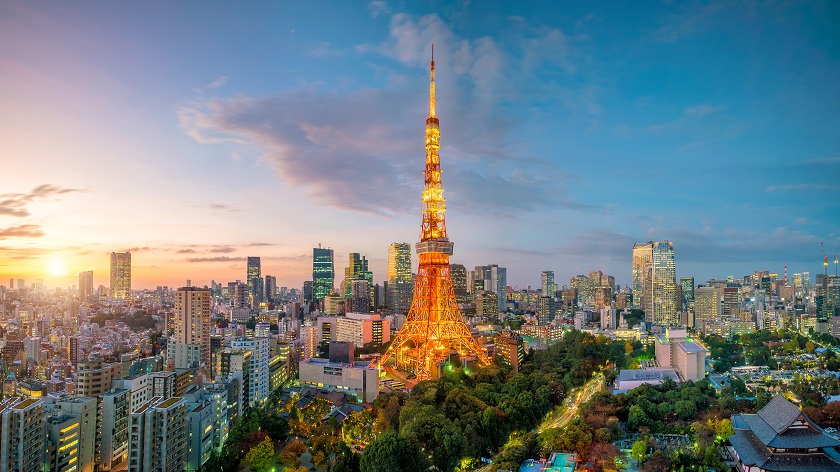 When it comes to marriage proposals, there's a history of getting down on one knee somewhere very, very high. Tokyo's answer to the Eiffel Tower is just as romantic and offers truly stunning views over this vast and incredible city. As an alternative to Tokyo Tower, you could also try Tokyo Skytree in Sumida, which also boasts impressive aerial views and observations decks hundreds of metres in the air. Other recommended locations in Tokyo include Hinokicho Park, which looks quintessentially Japanese and very pretty without being too busy, and the incredibly beautiful Rikugien Garden – an Edo-style garden filled with quaint bridges and gorgeous foliage.
A Boat Ride along Chidorigafuchi Canal
Cherry blossom season is incredibly romantic. There is no denying the beauty and wonder of those pink petals as they rain down like wedding confetti. More importantly, it's also a deeply spiritual time of year – a time to appreciate the joy of spring, the emergence of new life and to be thankful for the beautiful yet impermanent wonders in our lives. While gazing at the Sakura from a picnic blanket in one of Japan's beautiful parks is definitely romantic and a great place to ask for someone's hand in marriage, it can also get very busy. As an alternative, why not take a boat ride along Tokyo's Cherry Blossom-lined Chidorigafuchi Canal in a rowboat for two? Once you're out on the water, you'll be surrounded by beautiful blossoms and you'll have the privacy to get down on one knee and ask the big question. Just be careful not to tip the boast over! And of course, if you feel that cherry blossom season is too busy for your proposal. Why not consider the much quieter but equally magical plum blossom season in February or even a proposal under the golden red, brown and orange leaves of Japan in Autumn? 
Sunrise at Mount Fuji
Is there anything more romantic than proposing at sunrise or sunset at Mount Fuji? If you and your loved one are the energetic types, you could hike right to the top of the mountain and propose at the summit. For the rest of us, the base of Mount Fuji is just as romantic and there are lots of ideal vantage points around the Fuji Five Lakes area (such as northern shores of Lake Kawaguchiko) where you can get down on one knee with the iconic snow-capped mountain in the background. Don't miss our detailed and in-depth Itinerary Tip: Mt. Fuji for everything you need to know about the mountain and surrounding area.  
Chureito Pagoda
This stunning five-storied red pagoda, perfectly positioned overlooking Fujiyoshida City and facing Mount Fuji, is one of Japan's most photographed locations for a reason – it's spectacular and quintessentially Japanese views are hard to beat. While it can get very busy with tourists (and photographers) you'll be hard pressed to find a more photogenic spot to ask that big question. Just imagine the selfies you could take of the bride and groom to be with both Mt Fuji and Chureito Pagoda in the background!   
Itsukushima Shrine and the 'floating' Torii gate
The 'floating' Torii gate at Miyajima is one of the most iconic sights in all of Japan. A small island in the bay of Hiroshima, Miyajima is famous for the massive Torii gate rising out of the sea which at the right tide, appears to be floating on the water. It is considered one of the most beautiful and iconic views in Japan and is part of the Nihon Sankei. The name of the island is technically Itsukushima, but it's more commonly known as Miyajima, or simply 'shrine island'. Miyajima is also inhabited by domesticated deer and you'll find them all around the island, which is perfect for a half-day visit with the one you love. There's also a ropeway up the island for a breath-taking panoramic view of Hiroshima city and surrounding bay – another great proposal location. To reach Miyajima using your Japan Rail Pass, take a local JR train from Hiroshima station on the JR Sanyo line and get off at Miyajima-guchi station. From there it is five minutes or less to the JR Ferry, which will take you to the island. Just make sure to show your JR Pass. Read how to Visit Miyajima with the JR Pass to find out more.
Otaru Snow Light Path Festival
For a February marriage proposal, look no further than the magic Otaru Snow Light Path Festival. Each year, the snowy town of Otaru in Hokkaido puts on Japan's most beautiful candlelight festival. The snow-covered streets are literally aglow with more than 120,000 candles and to make it even more magical, the flames from each candle are protected by hand-made snow lanterns that line the canal and decommissioned railway lines. Just imagine asking for your beloved's hand in marriage amidst the snow and candlelight? Otaru is also a picturesque Japanese town with a 1950s aesthetic. To reach Otaru using your JR Pass, take the JR Hakodate Main Line from Sapporo which in turn is accessible from Tokyo using the JR Tohoku/Hokkaido Shinkansen to Shin-Hakodate-Hokuto and then the Hokuto limited express. If winter wonderlands are your idea of heaven then another romantic recommendation would be Shirakawa-go. A picturesque snowy village that looks like something out of a Christmas card, Shirakawa-go in Gifu Prefecture, in the Japanese Alps, features gasshō-zukuri style thatched roof houses that are topped with snow throughout winter. You can reach Shirakawa-go by using your JRailPass to take the Hokuriku Shinkansen from Tokyo to Shin-Takaoka Station and then getting a ticket for the Kaetsuno Bus, which will take you to the village.
Romantic Railway Journeys
There are few more romantic things to do than go on a beautiful and scenic train ride with the person you love, and Japan has some of the finest railway journeys in the world. There are even several designated 'romantic' trains such as the Sagano Romantic Train in Kyoto (pictured towards the top) and the Odakyu Romance Car in Hakone, among others. Both journeys would provide great opportunities to propose, especially if you and your partner love a romantic train journey (who doesn't?). For a comprehensive guide to the most scenic rail journeys, the most iconic stations, and the history of the country's excellence in all things trains, read our Trainspotting in Japan guide.
And of course, when it comes to getting around Japan, the country's excellent rail network is also the best way to travel generally (as well as the most romantic). Why? Japan's trains are the best in the world – fast, safe, efficient and reliable. They will not only be on time, every time, but they'll take you right across the country, from north to south and east to west, from major cities to rural towns – wherever you want to propose. And with a Japan Rail Pass, you'll be able to hop on and on whenever you want. It's one ticket for the whole of Japan and is far and away the most cost-effective way to travel. Find out more by reading Is The Japan Rail Pass Worth It? and you'll understand why it's so valuable and essential while visiting this beautiful and unforgettable country.    
Don't Forget