Table of contents:
Japan Train Lines
Japan Railway Map
Utilizing Transportation Systems In Japan 

Japan boasts an intricate web of railways that can take visitors to many of their desired destinations. Trains in Tokyo, Osaka, and Nagoya are so efficient, many city dwellers do not own a car or even a driver's license. For some visitors, driving in a new country with different rules can be overwhelming, especially if tourists decided to visit Japan during the rainy season. Railways can take the stress off of tourists and allow them to enjoy traveling while keeping themselves and others safe.
Japan has three types of trains, including:
Shinkansen: Bullet trains that can travel long-distance at a fast speed, and are known for their comfort. There are three types of bullet trains: Nozomi, Hikari, and Kodama;
JR Trains: Shorter, efficient train lines that are divided by region;
Private Lines: Trains owned by private networks with quality service.
Railways can also be inexpensive, clean, and orderly. Normally publicly transportation is thought of as dirty. However, because of Japan's social etiquette, public transportation creates a calm, stress-free environment. No matter the reason for visiting Japan, it is important to know the kinds of transportation and which is the most effective means for navigating the country.



Japan Train Lines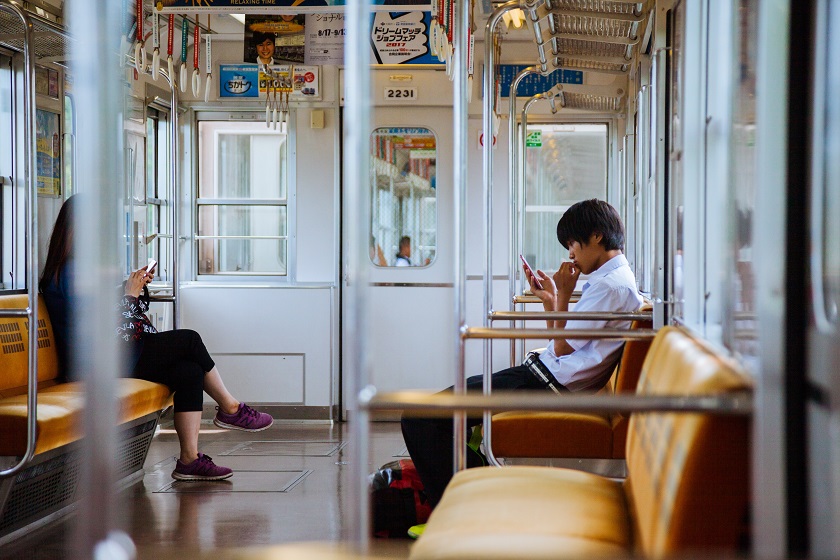 Most of the train lines in Japan are owned by the Japan Railway Group (JR Group). The rest are major private railways, which is why tourists might see differing prices on some train lines. It is also important to note that fares are in the Japanese currency yen, instead of U.S. dollars — knowing the exchange rate will be very helpful. JR Group operates six train operating companies which are defined by region, however, many of these companies operate outside of their regions as long-distance train services.
There are three categories of railway operators:
Category 1: trains that provide passenger or freight transport using its own infrastructure;
Category 2: trains that provide passenger and freight transport on infrastructures of another company;
Category 3: building and selling infrastructures to categories 1 and 2.
These categories were made to separate infrastructure costs from operation costs and to increase competition between railway operators.
Central Japan Railway Company
The Central Japan Railway runs through a hub in Japan called the Tokaido, which includes cultural, historical, and industrial aspects of Japan.
Category: 1;
Route: Tokyo to Osaka;
Fees: Most routes will charge surcharges on top of regular train fares.
East Japan Railway Company
The East Japan Railway Company is the largest railway in Japan and manages the most trains in Tokyo and the greater Tokyo area. This train has many other destinations, including Morioka, Akita, Sendai, Niigata, and Joetsu Myoko.
Category: 1
Route: Aomori to Tokyo
Hokkaido Railway Company
The Hokkaido Railway, also known as the JR Hokkaido, runs all intercity and rail services in Hokkaido. This train offers a north and south route. The south route runs through many popular tourist spots, like Onuma Quasi National Park and Lake Toya.
Category: 1
Route: Sapporo to Hakodate;
Kyushu Railway Company
The Kyushu Railway operates the intercity railway services in Kyushu. The train can take visitors to destinations like the Kumamoto Castle, or Mount Aso. The train line also extends to the ferries, as Kyushu is one of Japan's islands.
Category: 1;
Route: Fukuoka to Kagoshima;
Shikoku Railway Company
The Shikoku Railway, or JR Shikoku, is the smallest of Japan's railways. It operates intercity and local rail services in the four prefectures on the island. The JR Kyushu is also connected to the ferry, in case tourists would like to leave the island.
Category: 1;
Route: Kojima to Kochi;
West Japan Railway Company
The West Japan Railway operates in Western Honshu. The train runs a popular line called the Urban Network, which runs trains in Kyoto and through Osaka and Kobe. This network is so popular, it is known to run every two minutes during peak times. Even though the biggest route is through the Urban Network, other lines make up more than half of JR West's train lines. These are mainly used for business travelers from smaller cities.
Category: 2;
Route: Osaka to Fukuoka; Joetsu Myoko to Kanazawa
Japan Railway Map
See our map page for the full interactive map of the JR Rail Network.
Japan Rail Pass – Interactive Map
Utilizing Transportation Systems In Japan
There are a variety of transportation options and types of passes available when travelling throughout Japan, including:
Buses are rarely used in Japan due to the metro system, but they could be a less expensive option if tourists utilize a night coach instead of a hotel;
Ferries are extensive and efficient in Japan. Many of the smaller islands can only be reached by ship.
Subways in Japan are always punctual, safe, and the preferred mode of transportation in cities like Tokyo.
IC Cards are rechargeable cards that can be used to pay fares on public transportation. They can also be used in some shops and restaurants.
JR Passes are an economical and reliable way to use the train system in Japan. Many passes are multi-day and can be used on most JR trains.
Public transportation can be overwhelming in a foreign country. It's important to bring along Japan rail guidebooks, as well as mobile Wi-Fi hotspot devices in case you get lost on your adventures. However, Japan's train system is so intricate and efficient that it is very likely a tourist can navigate public transportation.