Table of contents
Intro
A Rather Brief History of Japanese Festivals
Best Festivals across Japan
National Celebrations in Japan
Don't Forget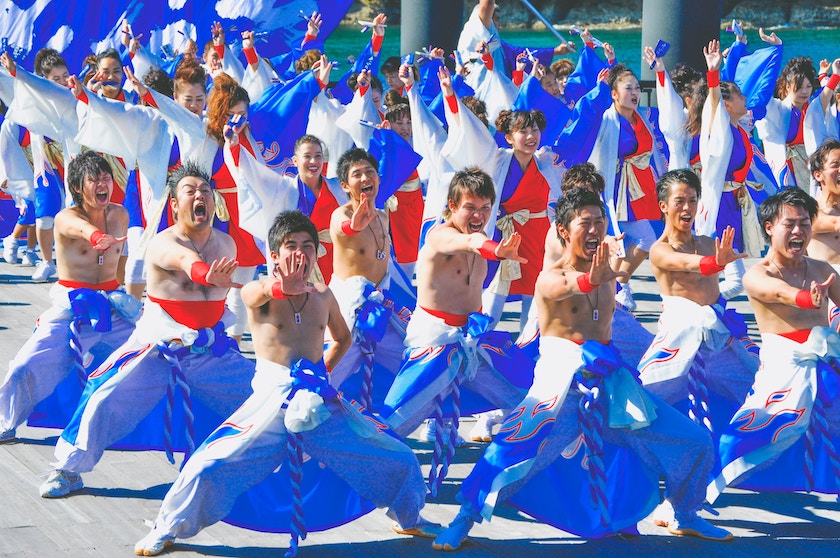 Intro
Japan loves festivals. It really, really loves them. From snow festivals to cherry blossom festivals, religious and spiritual festivals to harvest festivals, from music, food and beer festivals to computer games, cosplay and anime – Japan has festivals and celebrations for all of these and more. Basically, if you name it and it's important or popular in Japan, then they probably have a festival dedicated to it. Festivals, or 'Matsuri' as they are known in Japan, take place across the country all year round. But which are the best and how can you see them? We will take you from the North to the South and back again, in our round up of the very best festivals from across Japan.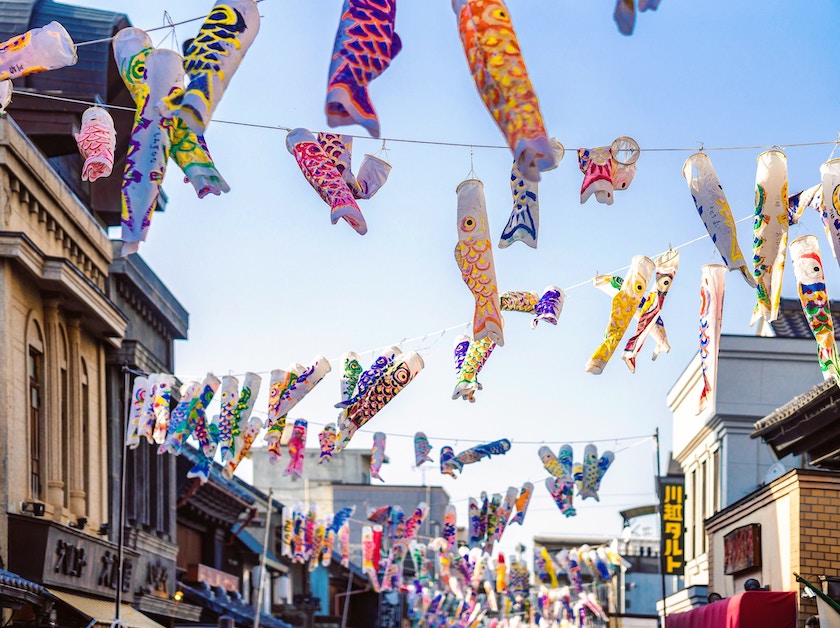 A Very Brief History of Japanese Festivals
Incredibly, there are an estimated 300,000 Matsuri across Japan. One of the reasons there are so many is that almost every shrine, town and village has its own festival. The focal-point of these can vary, from honouring a shrine's kami (a Shinto deity), to remembering an important historical event, or celebrating a particular season. Traditional Matsuri feature processions and decorated floats known as dashi, yatai, danjiri, and other regional variations. Kami are sometimes carried from their shrines in mikoshi (essentially a portable shrine carried by the procession), and processions are often accompanied by drum and flute music. However, each matsuri is also slightly different, with its own unique personality and characteristics. While some are serene and peaceful, others are colourful, loud and energetic, and feature dancing and singing. Traditional Matsuri are a great way to experience the history and culture of Japan.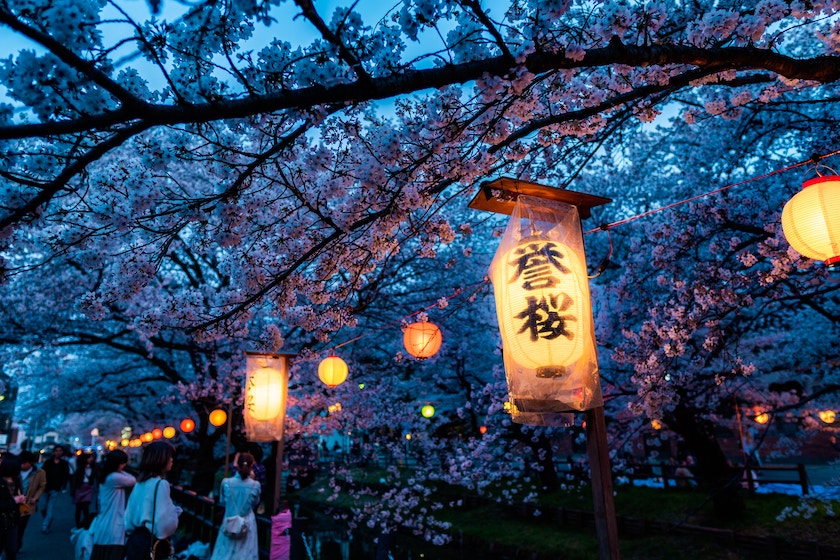 Some traditional Matsuri date back more than 1,000 years, particularly those associated with temples and shrines, while other contemporary celebrations have emerged as much more recent developments inspired by popular current trends and interests from over the last few decades, such as computer games, cosplay and anime. Over time, Japan's traditional festivals and its modern day celebrations have become conflated in the minds of most overseas visitors, although they are quite distinct within Japan itself. The result is a country with a huge number of diverse festivals and celebrations – and a win-win for visitors to the country. If you plan your trip right, you'll be able to experience both the past and present of Japan through traditional and modern-day matsuri.
Best Festivals across Japan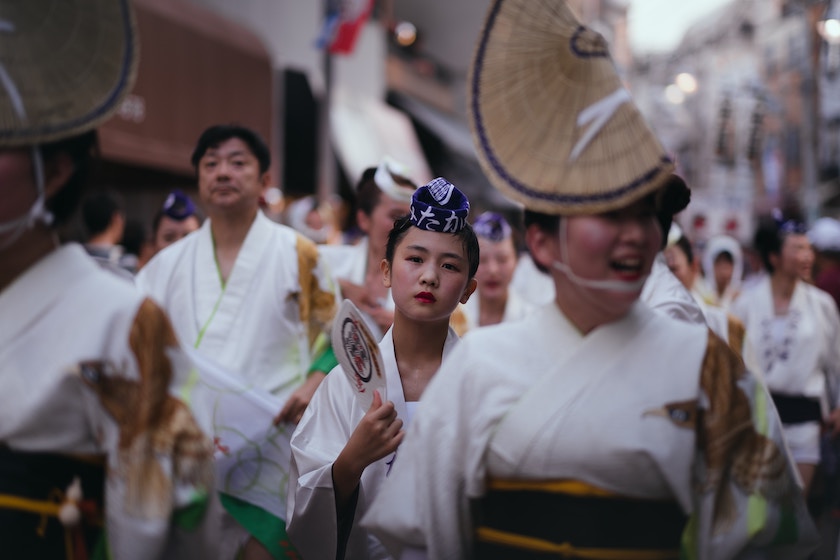 There are so many festivals in Japan, it can be hard to know where to start. Thankfully that's where we come in. We've put together a list of some of the best festivals across Japan and we'll tell you exactly how to get there using your Japan Rail Pass for unlimited travel on the country's excellent domestic rail network.
Gion Matsuri
One of the oldest and most famous festivals in all of Japan, Gion Matsuri takes place throughout the entire month of July at Yasaka Shrine in Kyoto, with processions along Kawaramachi and Oike Street. This famous festival began in the year 869AD as a religious ritual to ward off a plague that had spread through Japan that year, and the festival has been celebrated ever since. The grand procession of floats – Yamaboko Junko – is so spectacular and so significant to the people of Kyoto and the rest of Japan that it has been registered with UNESCO as an Intangible Cultural Heritage of Humanity. The Hakata Gion Yamakasa Festival in Fukuoka, which is a completely separate matsuri, was inspired by a similar story of a monk who travelled on a wooden float spreading water to battle an epidemic. Today, this festival celebrates this with hundreds of men racing through the streets pulling floats. Like Gion Matsuri in Kyoto, this also takes place in July.
Kanda Matsuri
Tokyo's Kanda Matsuri is another of the biggest and most popular festivals in Japan, and it is considered to be one of the best at representing the Edo period. This festival only takes place every odd year around 15 May, so it won't be staged now until May 2021. It honours three deities from the Kanda Myojin Shrine – Taira no Masakado, a 10th Century feudal lord who was deified, Ebisu, god of fishermen and luck, and Daikokuten, of the seven gods of good fortune.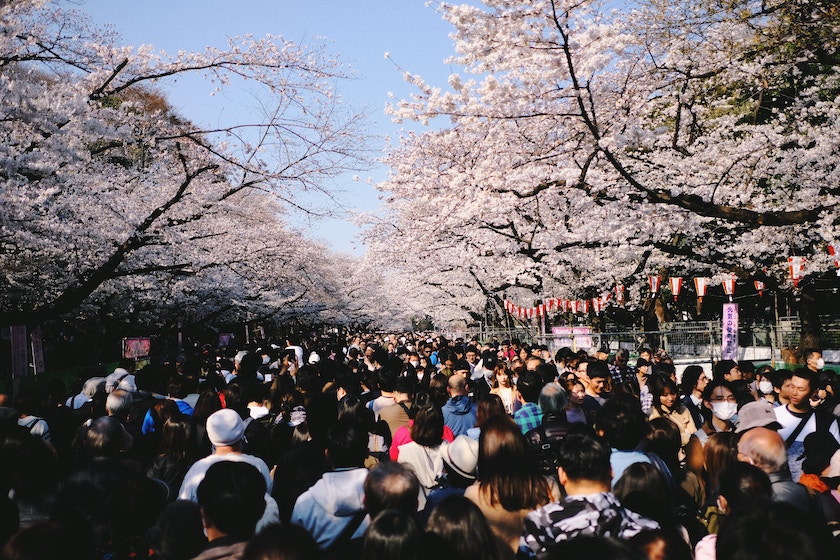 Sakura Matsuri (Cherry Blossom Festival)
Japan is famous for its beautiful cherry blossoms and each year millions of visitors travel to the country during Spring to view them. Hanami, or 'flower viewing' is the practice of appreciating the transience of nature as represented by the sakura (cherry blossom), which bloom and fall to the ground in the space of a few weeks. This is celebrated with picnics in the park, special celebrations and numerous festivals right across Japan. Famous locations include Ueno Park in Tokyo, the grounds of Himeji Castle, Mount Yoshino and Fuji Five Lakes. If you're thinking about travelling to Japan during cherry blossom season, we've put together an essential guide to Visiting Japan to View The Sakura in 2020.
Nada no Kenka Matsuri (The Fighting Festival)
The 'Fighting Festival' at Matsubara Hachiman Shrine in Himeji features processions, music and colourful costumes, but it has earned its name from the events of day two when men from the seven districts enter a square and fight each other (yes, really) in front of thousands of spectators. They fight because it is believed that by doing so they will receive a good harvest and a blessing from the gods. The shrine where this incredible festival takes place is a short walk from Shirahamanomiya station, which can be reached from Osaka and Himeji.
Soma Nomaoi
A three-day celebration of martial arts and horsemanship in northeast Honshu, Soma Nomaoi takes place each year in July and dates back more than 1,000 years. Spectacular and different. To reach Soma, take the JR Tohoku Shinkansen line to Sendai and switch to the JR Joban line for Soma using your JR Pass.
Hadaka Matsuri
You definitely couldn't accuse Japan's festivals of being all the same. Hadaka Matsuri (also known as Saidaiji Eyou Matsuri) at Saidaiji Temple in Okayama sees 10,000 men wearing only fundoshi loin-clothes purify their bodies with stinging cold water before battling to grab a pair of sacred sticks (shingi). The man who successfully retrieves it is the 'lucky man' and will receive a year of good luck and happiness. Hadaka Matsuri takes place in February.
Awa Odori
A hugely popular and colourful dance festival, Awa Odori was originally staged to honour returning ancestral spirits. Fun and colourful, the festival sees hundreds of dancers called Ren compete against each other in Tokushima city centre during August. The dancers, made up of men, women and children, wear distinctive straw hats and summer cotton kimono to create a truly spectacular sight which is watched by more than one million people. Tokushima is on Shikoku, the smallest of Japan's four main islands, and can be reached with the JR Rail Pass.
The Karatsu Kunchi (Autumn Festival)
Held at Karatsu Jinja Shrine in November, this Autumn festival features huge floats made from washi paper, gold and silver leaf, and wood. The main event of this matsuri is called Otabisho Shinko and takes place on 3 November, when 14 of these giant floats (or 'Hikiyama') go on a procession through the city. Autumn is a beautiful time to visit Japan and a great alternative to the busier spring and summer periods. To find out some of the main reasons why, read our Japan in Autumn guide.
Tenjin Matsuri
This famous and celebrated festival at Tenmangu Shrine in Osaka is in honour of Sugawara No Michizane, who was deified as the god of learning and art, and takes place in July. It is also linked closely to the plum blossom season, and related ume (plum) festivals, which take place earlier in the year (February to March), because Michizane is said to have loved the Japanese plum blossom tree. There's an interesting and quirky legend that suggests his favourite tree loved him back and flew across Japan to be reunited with him. You can read all about this, the history of plum blossoms, and the best ume festival locations in our guide to Visiting Japan to View the Plum Blossom. Osaka is easily accessible from a number of major cities using a Japan Rail Pass.
Kanamara Matsuri
The infamous and lighthearted 'Festival of the Steel Phallus' or 'Penis Festival' (as it is sometimes known) takes place every year during April in Kawasaki. Although the unusual shaped floats may generate a few smiles, the meaning behind this festival is actually about the wish to have children, as well as for equality and fair treatment across genders. As such, this matsuri is very popular with the LGBTQ+ community.
Aomori Nebuta Matsuri
Nebuta are huge colourful floats made out of papier-mache in the shape of characters from Kabuki theatre, historical figures and mythological creatures, which are accompanied by hundreds of dancers known as Haneto, and the sound of Taiko drums and flute music. It is held annually during the month of August in Aomori, which is in the Tohoku region. To get there from Tokyo using your JR Rail Pass, take the JR Tohoku bullet train to Shin-Aomori station and then transfer to JR Aomori Station.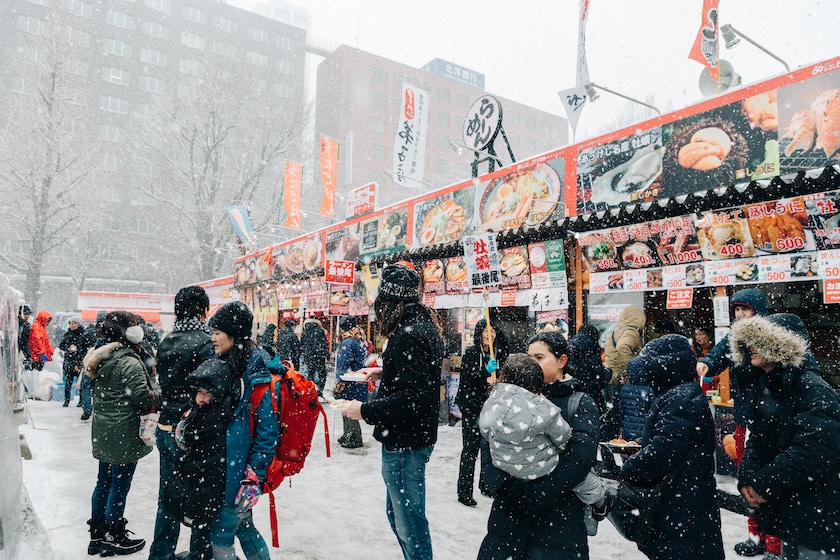 Sapporo Snow Festival (and winter illuminations)
Also known as Yuki Matsuri, the Sapporo Snow Festival is arguably the most famous of the many snow festivals that take place across Japan during the winter months. It is celebrated for a week during February each year and features hundreds of ice carvings, enormous snow sculptures, concerts, stalls, and winter illuminations. Remarkably, it began with just six snow sculptures created by high school students in 1950, and has gone on to become world-famous. Read our Guide to Visiting the Sapporo Snow Festival for a more detailed overview. Japan's winter illuminations internationally-renowned and one of the many reasons why the cold winter months are a great time to visit this amazing country. For more, read Spending Winter in Japan.
As well as these traditional festivals, there are also plentiful food, drink, computer games, cosplay and anime festivals, celebrations and conventions. If you're a beer lover then you'll want to consider annual events such as The Great Japan beer Festival and Snow Monkey Beer Live, although there are a wide number of beer festivals to choose from across Japan. You can find out more in Kanpai! Japan for Beer Lovers. Foodies are also spoiled for choice in Japan. You can find out what to eat and where to go in our dedicated guides to sushi, ramen and regional dishes. Fans of computer games, anime, otaku and J-culture meanwhile, might want to consider visiting the Tokyo Games Show – a huge annual computer game exhibition, which is scheduled for September 24-27, 2020 at Makuhari Messe. If you love all things Otaku, check out our guide to Japan for Gamers, Otaku and J-Culture Fans.
National Celebrations in Japan
There are also several major national celebrations that take place annually in Japan and which are worthy of their own special list. Here's our pick of the biggest and the best to look out for.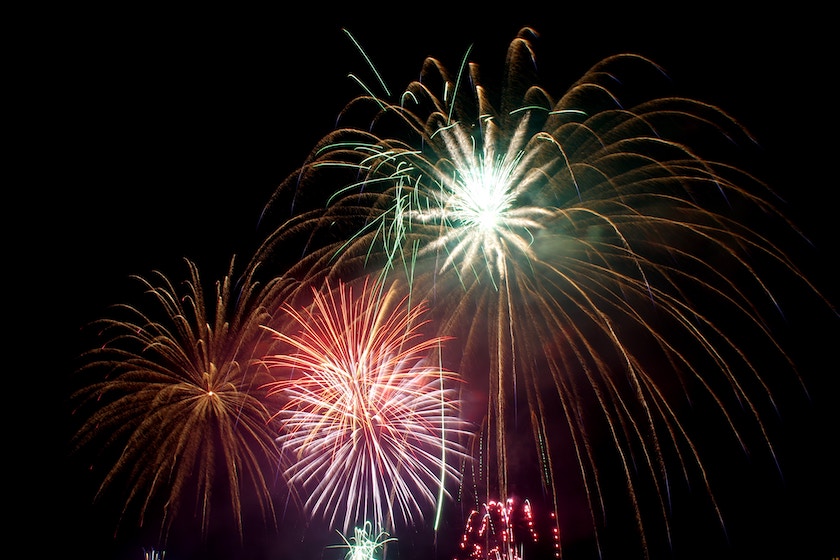 New Year Celebrations (Shogatsu)
Shogatsu is one of Japan's most important national celebrations and is linked to traditions around purification and renewal. Shintoism – one of the two main religious practices in Japan alongside Buddhism – believes that kami (gods) visit people's homes on New Year's Day, so it is important to have a clean home in order to turn over a new slate and have a happy and prosperous year. If you're planning to visit Japan in late December and early January, read Celebrating New Year in Japan to find out everything you need to know.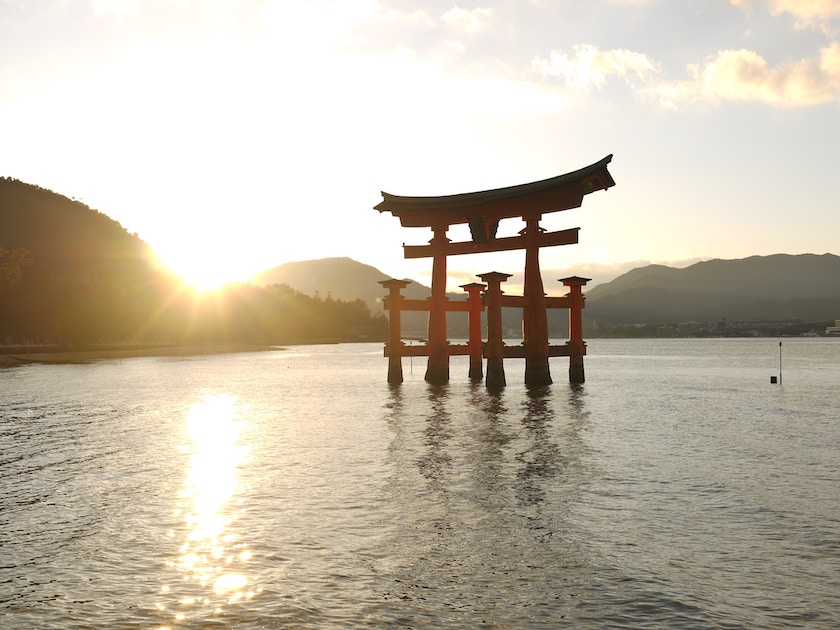 Golden Week
At the end of April and beginning of May, Japan celebrates four holidays within one week – Shōwa Day (29 April), Constitution Memorial Day (3 May), Greenery Day (May 4), and Children's Day (May 5) – formerly Tango no Sekku (Boy's Day). This special week of holidays, from 29 April to 5 May, is referred to as Golden Week, and most of Japan takes a well-deserved holiday due to the ongoing festivities. You can find out more about Golden Week, how each day is celebrated, and what it's like to visit Japan during this period in What Is Golden Week?
The Bean-throwing festival (Setsubun)
This old tradition of throwing soybeans to ward off evil demons has become a nationally celebrated festival, and even includes an event on TV hosted by Japanese celebrities. At home, families mark the occasion by throwing beans and shouting 'get out' at a family member in a mask playing the role of the demon.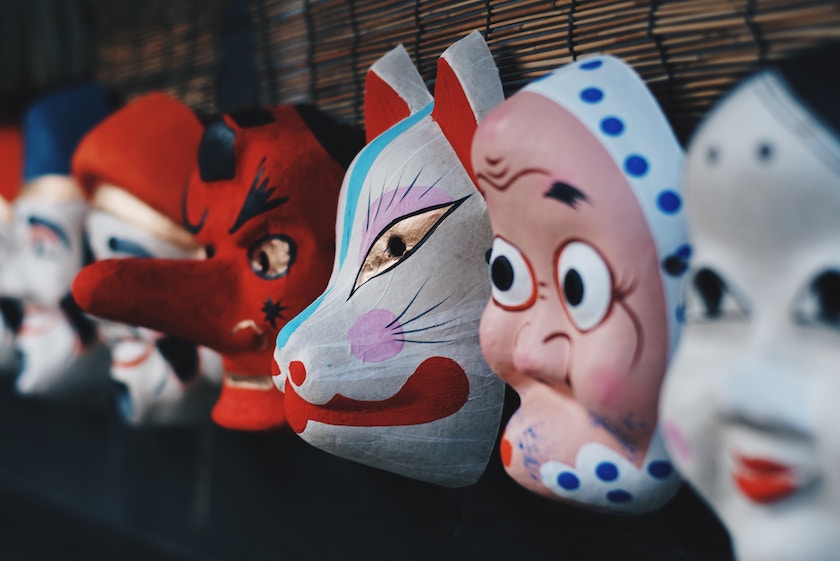 Obon
Obon is an important and deeply spiritual celebration of ancestors' spirits coming home to rest that has been taking place for at least 500 years. It is staged in July and August depending on the lunar cycle and sees families come together at temples, shrines and at home, to light lanterns and fires to guide their ancestors' spirits home.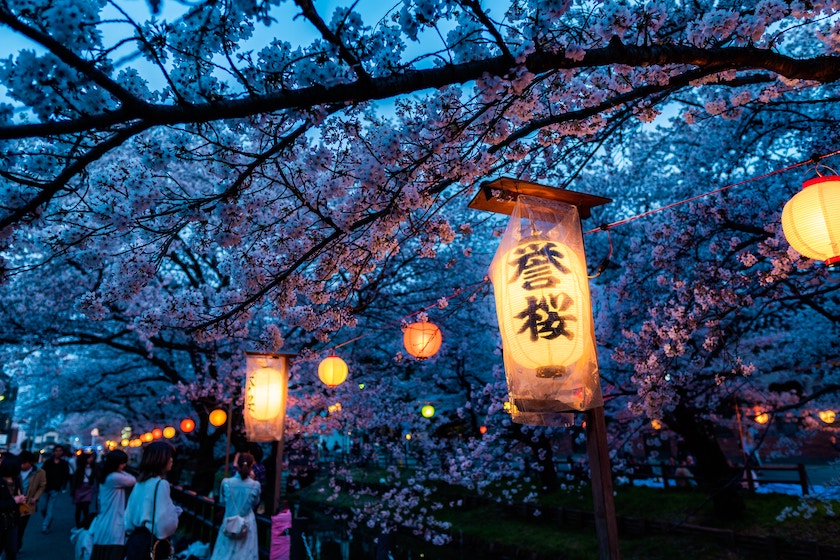 The Emperor's Birthday
December 23 is a national holiday to celebrate the birthday of Emperor Akihito who was born on this date in 1933. The annual celebrations include rare appearances by the Emperor and his family who wave to the public from a balcony. On this date the inner grounds of the Imperial Palace are also temporarily opened to the public.
Don't Forget