Let's face it, there's never a bad time to visit Japan. And many experts actually believe that winter is one of the best times to visit this incredible country.

Table of contents:
Intro
January in Japan
Top 10 Things To Do in Japan in January
Don't Forget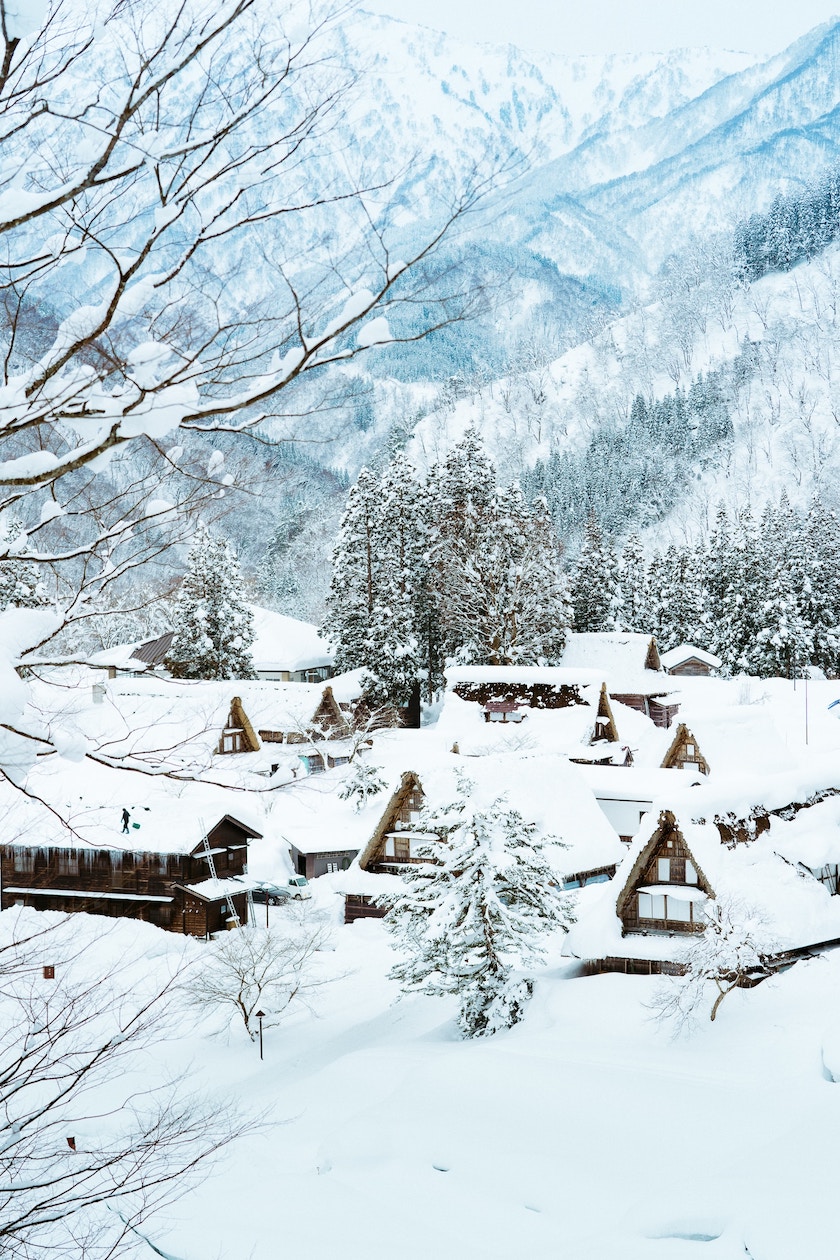 Intro
Let's face it, there's never a bad time to visit Japan. And many experts actually believe that winter is one of the best times to visit this incredible country. At home, the month of January isn't usually something to look forward to. It's cold, it's grey, and we have to go back to work after the Christmas and New Year holidays. However, in Japan, there is a huge amount for international visitors to see and do throughout the month, and it's another brilliant time to experience this unique nation. Let's take a look at things to do across Japan during January, how to get there with the JR Pass, and everything else you need to know to turn your New Year frown upside down.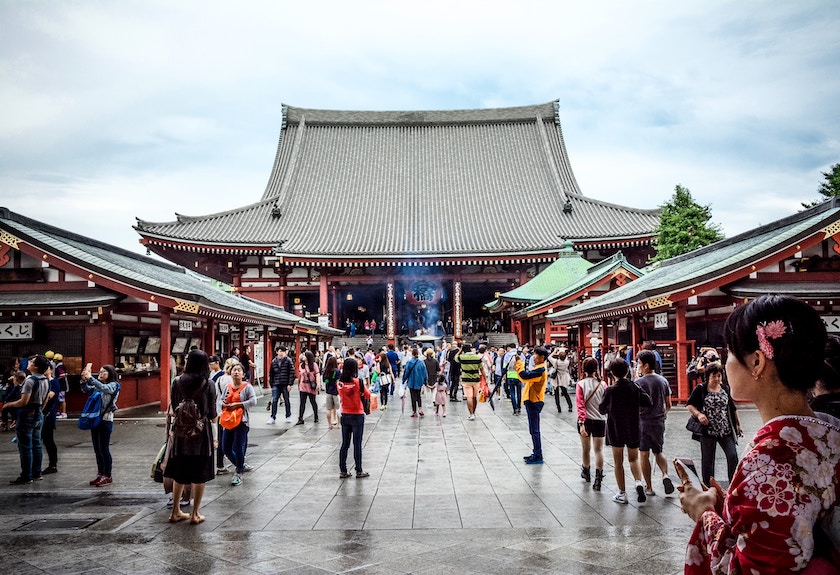 January in Japan
The month of January occupies a special place in Japanese culture because it is the start of the New Year and as such, a time for new hope, fresh beginnings and renewal. The country's New Year celebration, shogatsu, is arguably the most important holiday in the Japanese calendar and has been celebrated on 1 January since 1873, when the country adopted the Gregorian system over previously used lunar cycles. It is also closely associated with Shinto beliefs that kami (spirit gods) visit homes at New Year and must be greeted with a clean house, outstanding debts repaid, and any arguments settled, if you want to receive good fortune and prosperity from the gods. New Year is a great time to visit Japan, and you can find out everything you need to know about how the country and its people marks the occasion in our Celebrating New Year in Japan guide.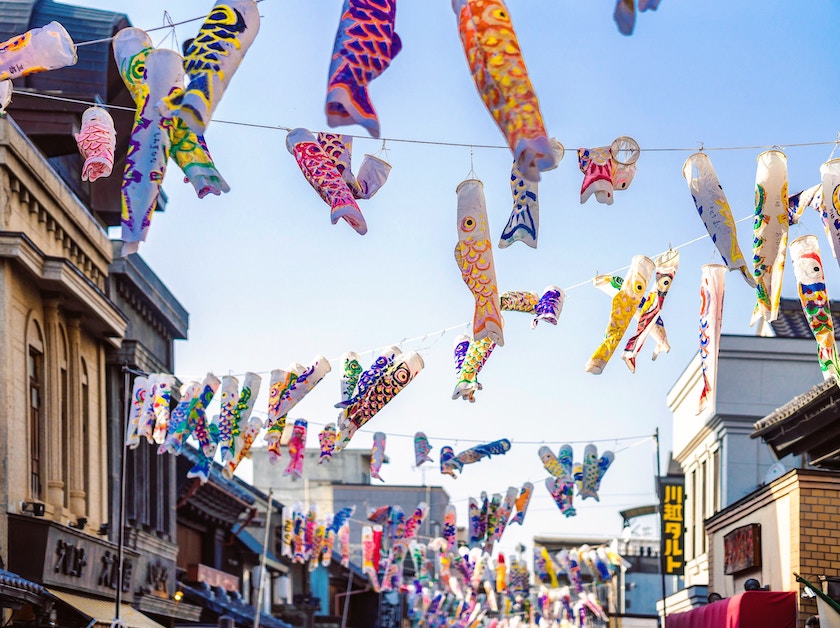 However, there is much more to January than shogatsu. January is also one of the best months to visit because of the weather (yes, really!). Typically, January in Japan is dry and sunny – some parts of the country such as Tokyo actually receive more sun in January than in many other months of the year – and popular attractions are also typically much quieter, due to being out of season, so you'll be able to explore at your leisure rather than waiting in queues. Finally, because it's winter, you'll find travel and accommodation prices generally lower too. No wonder many experts recommend January!
Top 10 Things To Do in Japan in January
1.) Sanjusangendo Archery Content
In Japan, the second Monday in January is Coming of Age Day. Ceremonies are held right across the country when young people turn 20-years-old and officially become an adult. You'll see young women in kimonos for the occasion and men in suits. An event linked to Coming of Age Day is Kyoto's Sanjusangendo Archery Content which is held on 14 January. This contest, also known as Ohmato Taikai, dates back more than 400 years and takes place annually at Sanjusangendo Temple in Kyoto, which is reportedly the world's longest wooden building. Each year around 2,000 practitioners of Kyudo – the centuries old tradition of firing arrows – gather in colourful kimono to display their skill and many of them are 20-year-old women who have 'come of age'. It makes for a spectacular and unique sight. You can use your JRail Pass to travel on the Shinkansen Hikari bullet train from Tokyo to Kyoto.
2.) Winter Hot Springs
Whether it's at a traditional Ryokan inn, an onsen town, a spa resort, or even outdoors in the mountains or forests, almost nothing can compete with the sheer relaxation offered by bathing in an onsen. There are many hot spring resorts throughout Japan. Ginzan Onsen in Yamagata is very popular in January and Takaragawa Onsen is also highly recommended. Bonus fact: Ginzan was the beautiful real-life inspiration for the fantastical onsen town in Studio Ghibli's animated masterpiece Spirited Away. You can reach Ginzan by taking the JR Yamagata Shinkansen from Tokyo to Oishida Station. From there, buses depart for Ginzan Onsen every 60-90 minutes. Kusatsu (pictured below) is another good recommendation. For an overview of onsen resorts across Japan, plus advice on etiquette, read our Relax and Unwind in an Onsen guide. And for those who don't want to travel too far in the cold, check out The Best 5 Onsen in Tokyo.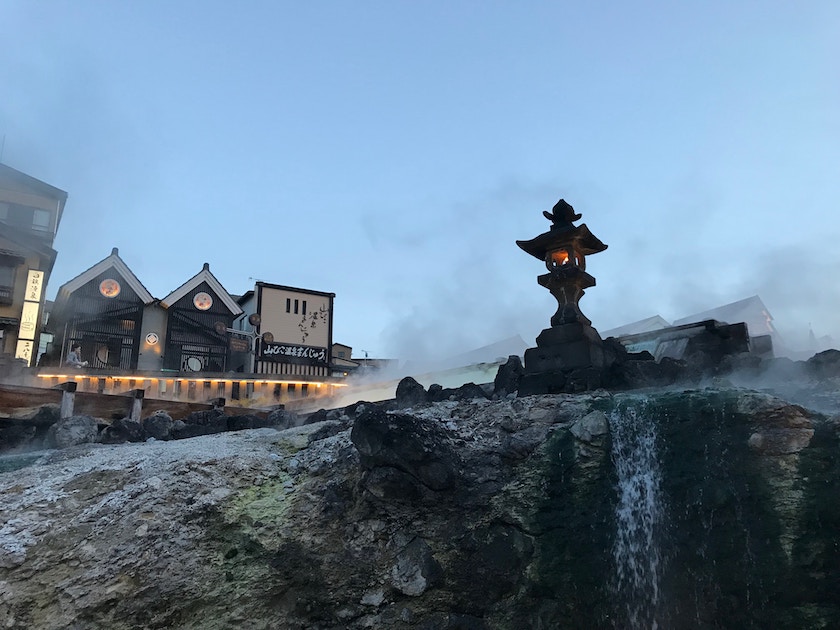 3.) Kitami Yakiniku Festival
A winter BBQ? Yes, you read that right. If you thought BBQs were just for parks, gardens and beaches at the height of summer then think again. A winter BBQ actually makes perfect sense when you think about it. What better way to warm up in the colder months than by eating delicious BBQ food outdoors?! This one in Kitami in Hokkaido is just one of a number of winter food festivals you'll have to choose from. Well known winter dishes in Japan include crab (a traditional winter delicacy), nabe (winter hotpot) and oden (stewed fishcakes with tofu and root vegetables). You can read much more about the food of winter in our Spending Winter in Japan guide and also in our Beginner's Guide to Japanese Food and Regional Dishes.
4.) Dondo Yaki
This annual tradition of burning last year's lucky charms (such as daruma dolls) in a huge bonfire makes for quite the spectacle. The reason people do this is because it is considered bad luck to throw out charms with Japanese zodiac symbols so instead they are burned in a fire. Dondo Yaki takes place on either 15 January or 18 January each year at locations across Japan. Why not try Oyama Dairi Park in Machida where Dondo Yaki is an annual tradition. The nearest station is Tamasakai Station (Keio-Sagamihara Line).
5.) Sumo Grand Tournament
The first grand sumo tournament of the year in Japan is held in January at the iconic Ryogoku Kokugikan. This would be a spectacular and uniquely Japanese way to kick off the New Year. And remember, if you're travelling around Tokyo itself, you may want to invest in a prepaid travel card for public transport as well as your Japan Rail Pass for trains.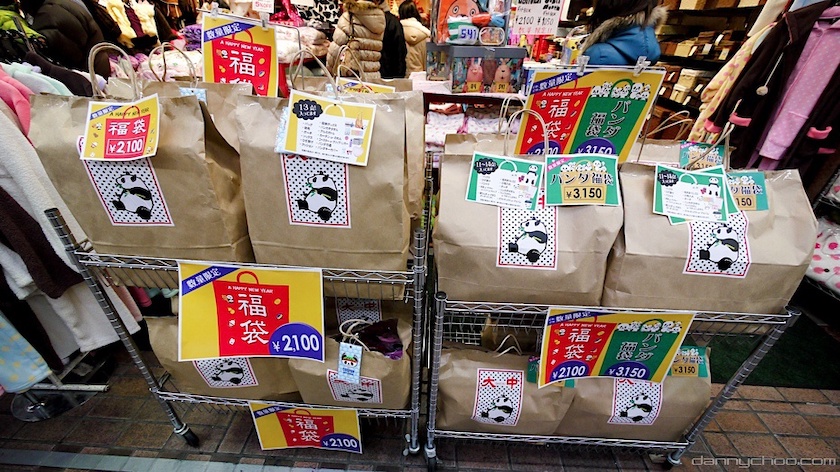 6.) Fukubukuro and the January Sales
Fukubukuro are mystery bags filled with discounted goods that are traditionally sold in the New Year. This is a fun tradition that is unique to Japan. You'll also find January sales at shops across the country throughout January so if you're looking to pick up a bargain during your holiday this might be the time to do it. For excellent shopping destinations check out Ginza and Shinjuku in Tokyo, Umeda and Grant Front in Osaka, Minato Mirai in Yokohama and Hakata in Fukuoka.
7.) Wakayama Yamayaki
This festival in Nara is held every year to mark a centuries old dispute between two temples, Kofukuji and Todaiji. Mount Wakakusa was set alight during the feud and now every year, the Wakayama Festival marks this event by staging a ritualised burning of the mountain. You can reach Nara using your Japan Rail Pass from Kyoto and other major cities using the JR Nara line. Nara is a beautiful place to visit at any time of the year and is famous for its free-roaming deer. You can read more in our Day Trip to Nara guide.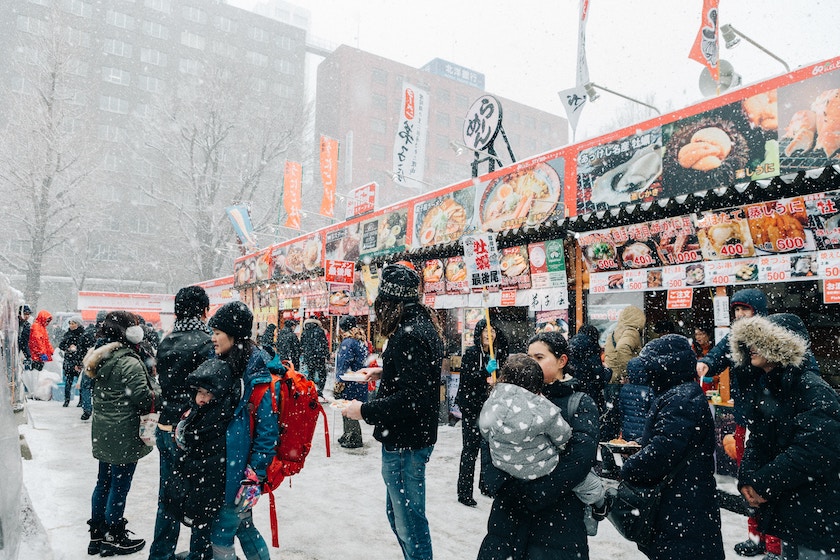 8.) Sapporo Snow Festival and Winter Illuminations
Next year in 2020, the 71st Sapporo Snow Festival (it was originally founded in 1950 by a group of high school students) will be held in the 'winter city' of Sapporo in Hokkaido and it will include a huge range of activities including an International Ice Sculpture Contest, illuminations and ice skating. For a detailed guide to the festival read our Guide To Visiting the Sapporo Snow Festival. Of course, this isn't the only snow festival you'll have to choose from and there are also a huge range of winter illuminations right across Japan, which continue on throughout January. Japan loves illuminations and some of the best include Kobe Luminaire or Sagamiko Illumillion festival in Kanagawa.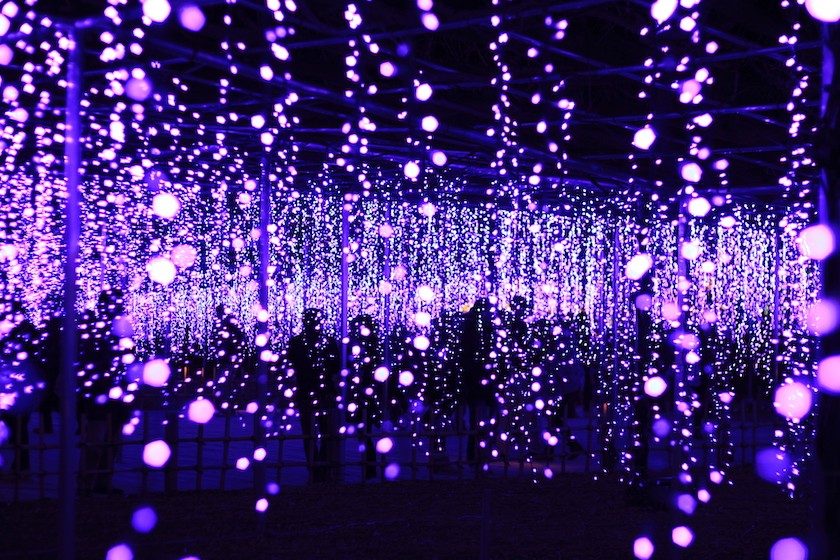 9.) Toka Ebisu Festival
This annual market takes place every year at shrines across Japan and is dedicated to the deity Ebisu. Lucky items hanging from bamboo branches are sold for good luck and prosperity in the New Year for people's businesses. One of the biggest is Imamiya Ebisu Shrine in Osaka. Use the Hikari and Kodama trains on the Tokaido Shinkansen lines to get from Tokyo to Osaka with your JR Pass.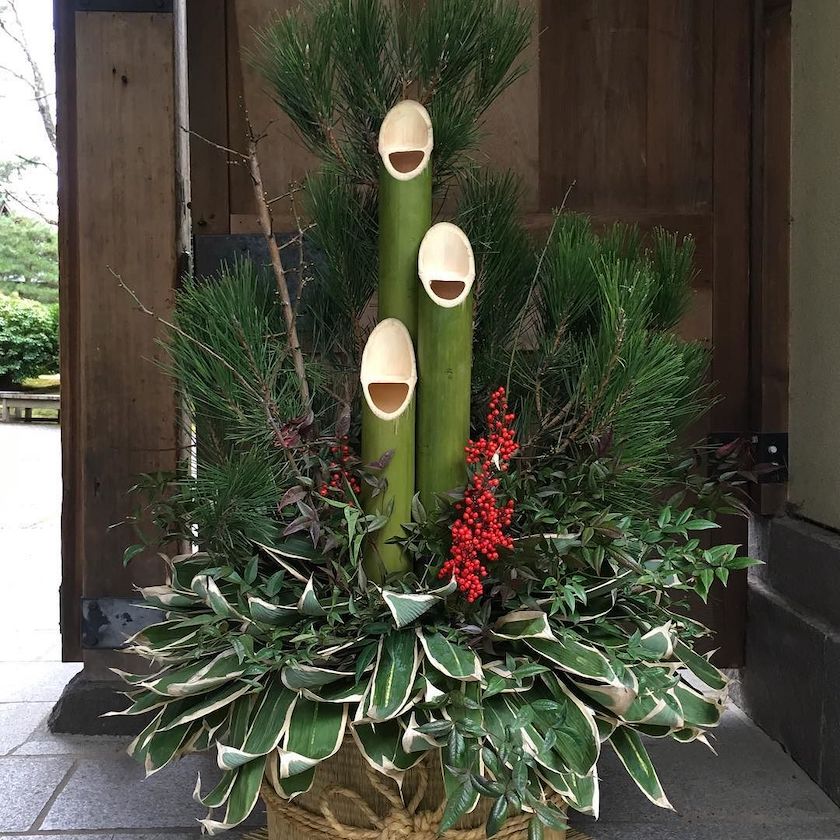 10.) New Year celebrations and January traditions (Shogatsu, Hatsumode and Hatsuhinode)
Finally, as we mentioned at the outset, January is also very special because of the New Year celebrations, which are considered the country's most important national holiday. While Shogatsu is the overall name of the celebrations there are many special traditions to look out for such as Hatsuhinode, Hatsumode, Omamori (good luck charms) and Shishimai (a traditional lion dance).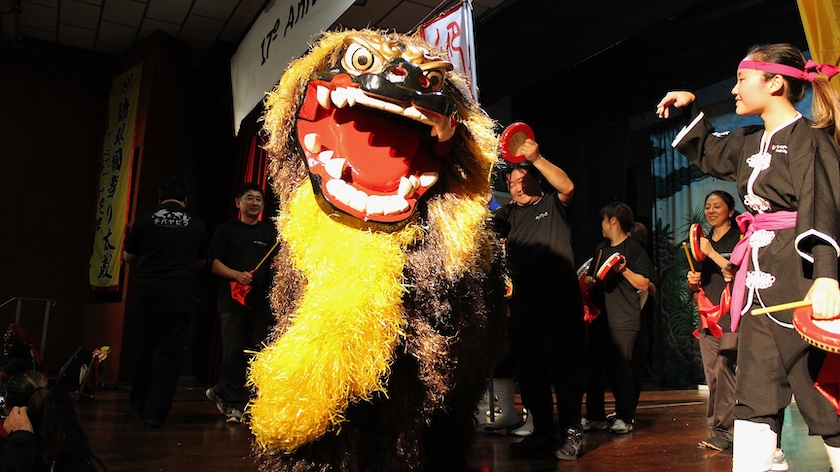 Hatsuhinode is the first sunrise of the year. This beautiful tradition sees people gather at special locations with a good view of the horizon to catch the hatsuhinode, as they believe a glimpse of the sunrise will help ensure good fortune and happiness in the coming year.
Hatsumode is the first shrine visit of the year for families and individuals, from 1 January. Hatsumode festivities are held at almost every shrine and temple across Japan during the first few days of the year. You'll experience a festive atmosphere with food stands, and you will be able to buy a lucky charm for the year ahead. Some of the busiest temples and shrines such as Tokyo's Meiji Shrine, Kyoto's Fushimi Inari Taisha, Osaka's Sumiyoshi Taisha and Kamakura's Tsuruoka Hachimangu attract more than a million visitors each over the first few days of the New Year.
Don't Forget
A great activity at any point during the winter months in Japan is of course, winter sports as it's high season for skiing, snowboarding and more. You can read up on this in our Starting Guide to Skiing and Snowboarding in Japan. 
January is typically dry and sunny in Japan, but can still get very cold so make sure your pack and dress appropriately.
If your January holiday to Japan is your very first time in the country, check out these super useful tips and general advice for newbies in 10 Tips For First Time Travellers in Japan.
Remember, over New Year in particular many places will be closed and shrines and temples will also be busy initially with people making their first traditional visit of the year, however the rest of January will be much quieter. 
Japan's northernmost island, Hokkaido, is famous for its winter celebrations, regional food and incredible landscape. Find out everything you need to know in What Is There To Do in Hokkaido in Winter?