Step back in time with a visit to Shinsekai and experience the best of retro futuristic Osaka street life.
Table of contents:
Intro
A Brief History of Shinsekai
Top Five Things To Do in Shinsekai
How to access Shinsekai
What's nearby Shinsekai
Bonus Tips for Osaka visitors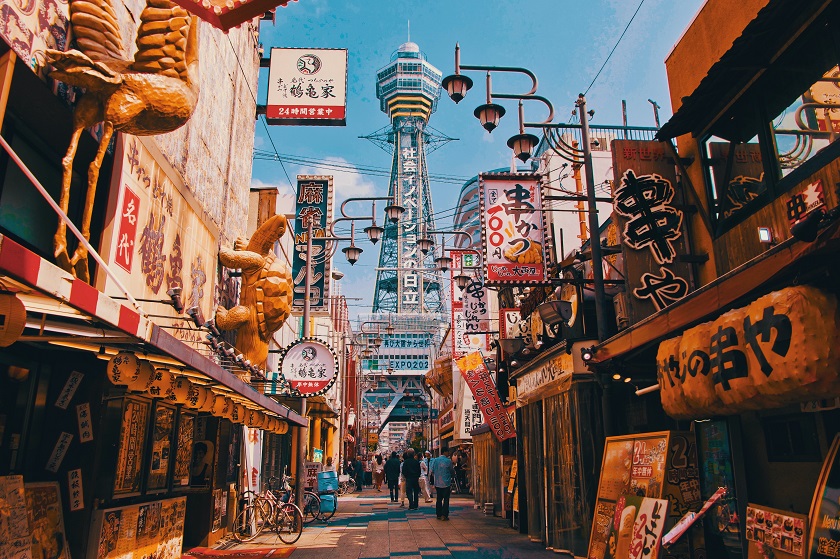 Intro
Shinsekai is a time capsule of old-school Osaka street life, filled with arcade machines, neon lights, quirky shops, hidden bars, delicious street food, and more. This famous district offered a vision of the future back in the early 1900s and now provides a nostalgic blast from the past. It's a great place to go if you want to step back in time during your visit to Osaka and has been compared to taking a walk through Ridley Scott's 1982 masterpiece Blade Runner for its synthesis of the past and future. We'll tell you about the history of this unique place, it's landmarks and specialties, and how to get there with your JR Pass. It's time to step back in time.
A Brief History of Shinsekai
Shinsekai has a truly fascinating history dating back more than 100 years to Osaka's 1903 National Industrial Exposition, which saw more than five million people flood into the district in a matter of months. Visionary plans to transform Shinsekai into a district of the future were drawn up, with designs based on Paris and New York's Coney Island. A suitable landmark was also built to literally tower over this futuristic area and act as a beacon for visitors – the Tsutenkaku Tower. Shinsekai, which means 'New World', was born. The southern area of Shinsekai was based on Coney Island with amusements, arcades, mechanical rides, and even its own version of New York's famous Luna Park funfair, while the northern part was modelled on Paris, complete with its very own Eiffel Tower in the form of the Tsutenkaku Tower, which was constructed in 1912. The area flourished in those early years, particularly Shinsekai's answer to Luna Park amusements, but gradually fell into neglect in later decades and particularly during the Second World War. It was then that the original Tsutenkaku Tower was taken down. The current incarnation was built in 1956 and designed by Tachu Naito, the man behind the Tokyo Tower and Sapporo TV tower. After the War, Shinsekai took on a new life as an entertainment district for the labourers who were rebuilding Osaka following its bombing. Today, Shinsekai is a gateway into Osaka's past street life, a nostalgic glimpse of the retro glitz and glamour of early 20th Century amusements, and a unique, fun, and vibrant place to explore.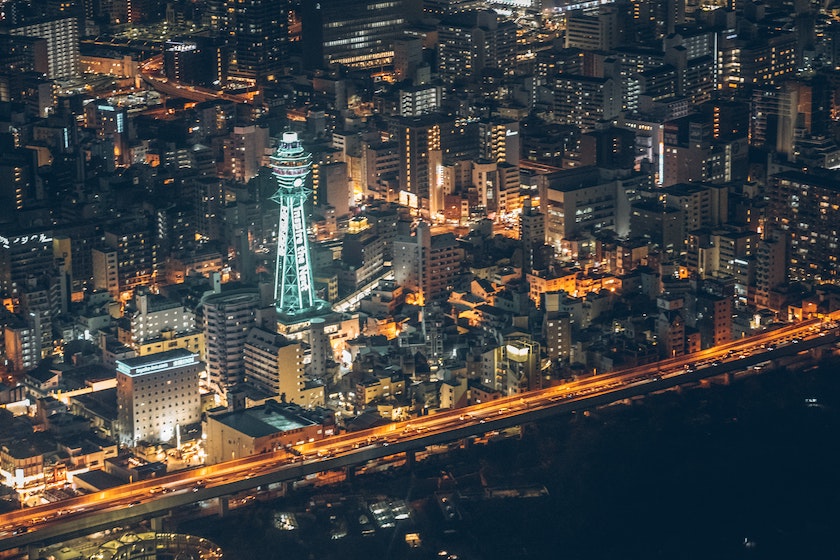 Top Five Things To Do in Shinsekai
Visiting Shinsekai is like diving headfirst into a kaleidoscope of light, sounds, and smells. Like other famous Osaka districts such as Dotonbori, it's a sensory experience, but Shinsekai comes with an added feeling of nostalgia. If you enjoy retro signage, arcades, and a glimpse into the past, this is the place to go. Here's our list of the top five things to do while you're there:
Explore Osaka's future past
One of the best things to do in Shinsekai is simply to enjoy the retro atmosphere. Shinsekai's alleyways, adorned with lanterns, retro signage, glowing neon, amusement arcades, bars, restaurants, and more, feel like time stopped decades ago in these unique streets, and that is a major part of the area's unlikely charm. Look out for the covered Jan-Jan Yokocho Lane, which takes its name from the 'Jan-Jan' banjos traditionally played by waitresses to attract customers to the tiny, hidden bars and restaurants.
Tsutenkaku Tower
Tsutenkaku literally means 'tower reaching heaven' and was built in 1912 to emulate Paris's Eiffel Tower. The original tower was taken down during the Second World War, but rebuilt in 1956 and remains an iconic landmark, not just in Shinsekai but in all of Osaka. It stands 103 metres tall and has an observation deck at 91 metres. In 2015, an outdoor viewing platform was added which offers stunning panoramic views of Shinsekai and wider Osaka. Tsutenkaku is open to the public and remains an iconic landmark and meeting place in the area. It's also a stunning sight at night, as it is covered with LED lights which change colour with the seasons.
Food
Osaka is known as 'Japan's kitchen' and is particularly famous for its amazing seafood. Shinsekai has its own specialities and is packed with fantastic places to taste authentic, down-to-earth Japanese cuisine. Arguably the area's most famous dish, Kushikatsu is essentially deep fried food served on a skewer, which is then dipped (once only) in sauce. The filling can be a variety of things from fish and meat to vegetables and even desserts, but Shinsekai is known for using seafood, chicken, beef, asparagus and even banana. You'll find lots of kushikatsu restaurants on Jan-Jan Yokocho Lane, although the most recommended is Kushikatsu Daruma, which opened in 1929. There is a particular etiquette about only dipping kushikatsu once, as the sauce is shared between customers, and it is seen as bad manners to double dip. Read our guide to Table Manners in Japan for more on this.
Shinsekai, like the rest of Osaka, is also known for its seafood and you'll find lots to try including Fugu (Blowfish) – a delicious delicacy that can only be cooked and served by certified chefs because it contains deadly poison.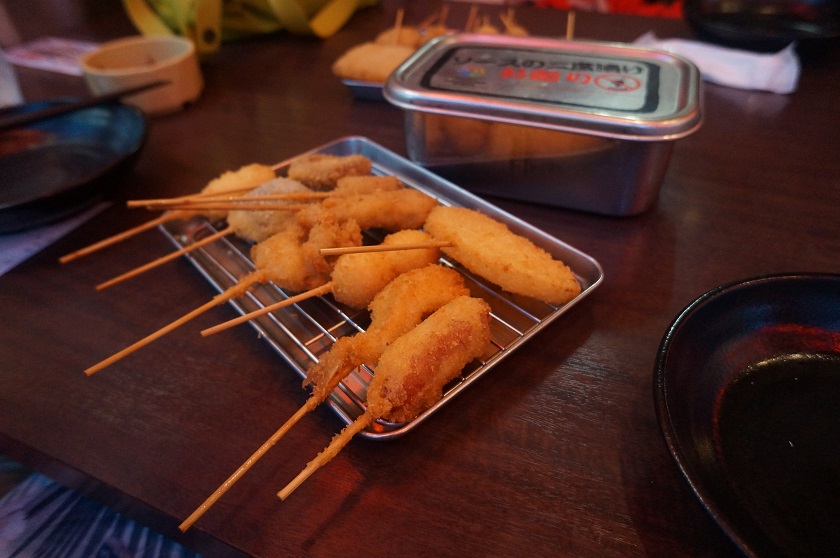 Retro arcades
You simply can't go to Shinsekai without checking out its retro arcades, slot machines, and amusement rides. Shinsekai was Japan's answer to New York's Coney Island and still retains many old school amusement stalls and arcades to enjoy. Unlike the futuristic and high-spec games found elsewhere in Japan, these amusements are distinctly retro! Japan is world-famous for its Otaku (geek culture) and if you love everything computer games, manga and anime, you'll be in heaven. Read our guide to Japan for Gamers and J-Culture Fans for more.
Shinsekai Onsen
The area is also known for its spas. There are several to choose from, but the most famous is Spa World, which is a vast building across multiple floors with authentic Japanese bathing, European-style spas, and heated natural mineral water directly from Japan's geothermal rocks. It's a great way to unwind after a day's shopping and exploring in Shinsekai. If you've never been to an onsen before, find out all you need to know about onsen etiquette in our guide to Relaxing in a Japanese Onsen.
How to access Shinsekai
Shinsekai is close to a number of train and subway stations. It is within walking distance of Shin-Imamiya Station on the JR Loop Line and Tennoji Station, and can also be reached from Namba (via Shin-Imamiya Station) and Umeda Stations (via Dobutsuen-Mae Station).
Getting to Osaka itself is super easy with the JRailPass too. You can reach the city from Tokyo and Kyoto on the JR Tokaido Shinkansen. Once in Osaka, the easiest way to get around the city is using public transportation, so you'll want to invest in a prepaid travel card such as an ICOCA, PASMO or Suica card, as well as a Japan Rail Pass for getting around the rest of the country. Check out our Top 30 Tips for Using Japan's Metros for advice and guidance on using the city's subway network. Osaka is huge so you may also want to invest in PocketWifi to stay connected and avoid any unwanted data charges if you happen to need directions or language advice while you're on the move.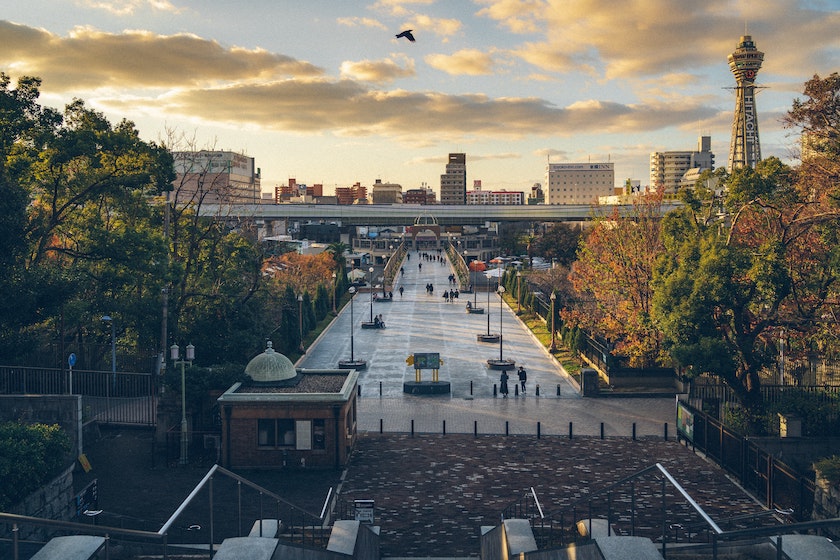 What's nearby Shinsekai
Shinsekai is directly adjacent to Tennoji and the two can be visited together to make an excellent day out. The two main attractions in Tennoji are:
Tennoji Park
The lush green fields of Tennoji Park are ideal for getting away from the big city and recharging with a gentle walk past the trees or a picnic on the grass. The park is also home to Tennoji Zoo (see below), Keitakuen Garden, and the Osaka City Museum of Fine Arts. Tennoji Park is just east of Shinsekai and close to Tennoji Station.
Tennoji Zoo
The third zoo to be built in Japan with a heritage going back more than 90 years, Tennoji Zoo is well worth a visit if you're an animal lover. As well as zoos like this you can also discover Japan's amazing wildlife outdoors in the country's National Parks, and its sea life at its many fantastic aquariums, such as Osaka Aquarium Kaiyukan.
Osaka is also a huge city and there is an enormous amount to see, so once you've seen Shinsekai and Tennoji you certainly won't be short of things to do.
Bonus Tips for Osaka visitors