Sleeping in a futuristic capsule hotel has become as uniquely Japanese as a traditional tea ceremony. It's also innovative, convenient and fun.
Table of contents:
Intro
What is a Capsule Hotel?
Capsule Hotel Rules and Etiquette
Japan's Best Capsule Hotels
Bonus Tips for Accommodation
Intro
If you're planning a holiday of a lifetime to Japan, there are certain things that you just have to do, from seeing Mount Fuji and the Cherry Blossom, to dining at an Izakaya restaurant, relaxing in an onsen, and partaking in a traditional tea ceremony. The list goes on and on. One of these 'must do at least once' activities is staying in a capsule hotel. Despite being a relatively contemporary innovation, at least compared to the likes of centuries old Japanese tea ceremonies, capsule hotels have become synonymous with Japanese culture. They're quirky and different, innovative and convenient. And can you really go to Japan without trying one? Of course, if you've never visited Japan before and have never stayed at a capsule hotel, then you may be unsure where to start. That's where we come in. We've put together a helpful guide to everything you need to know about capsule hotels, including where to find some of the best examples using your JR Pass to travel this amazing country.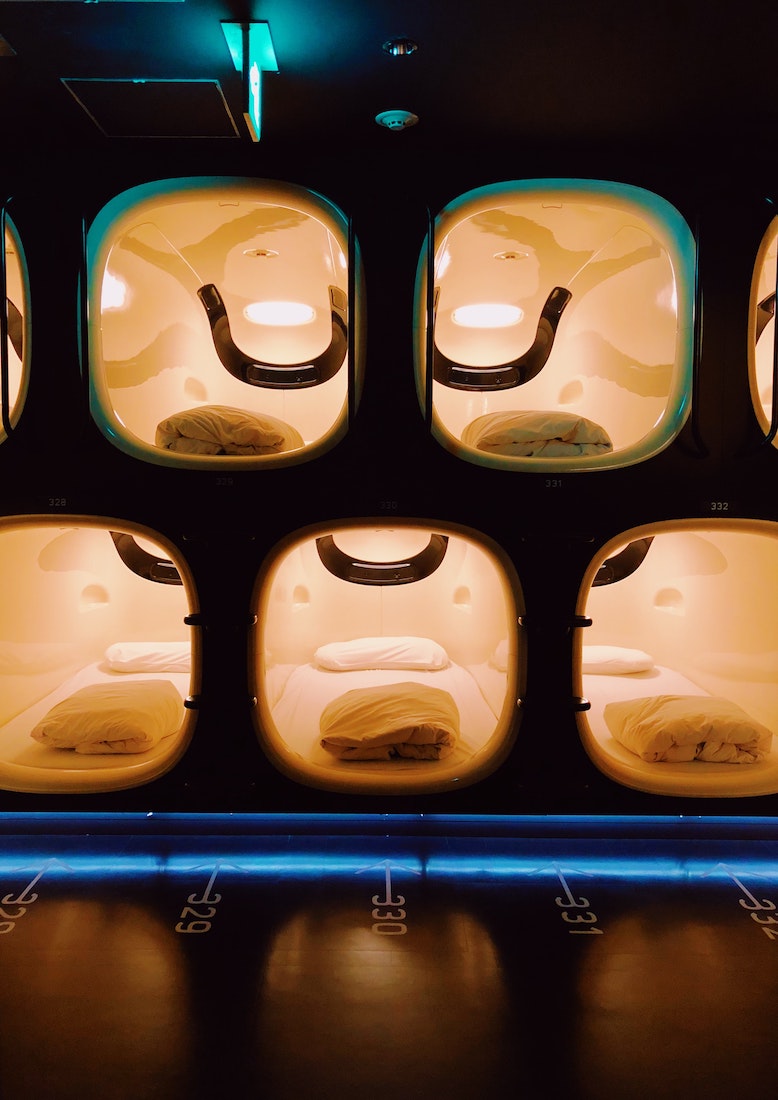 A Brief History of Capsule Hotels
Capsule hotels feel like they've been around forever in some ways, at least since the 1950s or 1960s, so you might be surprised to discover that the first capsule hotel didn't open until 1979 in Osaka. The aptly named 'Capsule Hotel in Osaka' was the first of its kind in the country and spawned a hotel phenomenon that was replicated all over Japan and right around the world. Located in Osaka's busy Umeda district, the original capsule hotel was designed by architect Kisho Kurokawa and is said to have been based on the Nakagin Capsule Tower, which was built in 1972. The word 'capsule' in Japanese ('kapuseru') has a very similar meaning to its English equivalent and has been used in the country for longer than the concept of capsule hotels has existed. In fact, as it means 'futuristic and compact' in Japanese it has been applied to everything from cars to computer consoles. The latter is where the company Capcom gets its name i.e. capsule computer. Today, capsule hotels can be found all over the world (where they are often called 'pod' hotels), but the very best can still be found in Japan itself where they have continued to evolve and diversify, from low budget, practical options for single night stays, to more luxurious and quirky alternatives (and everything in between).
What is a Capsule Hotel?
The answer? It's exactly what it sounds like. Capsule hotels are hotels where instead of standard rooms, guests have a small, compact capsule, traditionally made from a fibreglass unit and no bigger than a bed (around 1.2 metres across, two metres long and a metre tall). They were designed to save space in Japan's growing mega cities and were traditionally aimed at lone male travellers or businessmen. They were intended to be practical and convenient (simple places to sleep for a night) rather than luxurious, but over the years they have diversified and evolved. Today, there are mixed, and women-only, capsule hotels and you can even get capsules for couples (such as UNPLAN in Kagurazaka). Each capsule comes with a light, a door or curtain for privacy, and sometimes facilities such as a TV or alarm clock. Today, they usually have free Wifi inside the capsules too, although when travelling to Japan we always recommend PocketWifi to stay connected without any unexpected charges. Otherwise, capsule hotels feature all the amenities you would expect from a budget hotel or hostel from restaurants and laundry facilities to communal baths, lounges, internet kiosk, while others have spas and treatment rooms, and some have uniquely Japanese extras like Manga libraries.
Capsule Hotel Rules and Etiquette
The rules and etiquette around staying in a capsule hotel might seem daunting if you've never done it before, but it's not so different to regular hotels or hostels. Here are some general rules to observe:
When you check in, you'll be given your capsule number and locker key.
Take off your shoes (this is standard good etiquette in Japan) and put them in your designated locker. You will likely be supplied with slippers. You can also store your belongings and valuables here as your capsule cannot usually be locked.
There are communal baths segregated by gender where you can wash and change into clean clothes. Observe the same bathing etiquette as you would in a Japanese onsen and cover any tattoos etc. Shampoo, toiletries and other amenities are provided.
You can also relax in shared areas, which may feature a lounge or vending machine. Some capsule hotels have spas, gyms, and other facilities too.
When you get into your capsule for the night be sure to close the door or curtain for privacy. Remember to be courteous to your neighbours as the walls between capsules can be thin.
Check out the next day as you would at a regular hotel.
You can find out much more in our Guide to Japanese Etiquette. We also have dedicated guides to Japanese table manners, business etiquette, and staying in a Japanese home.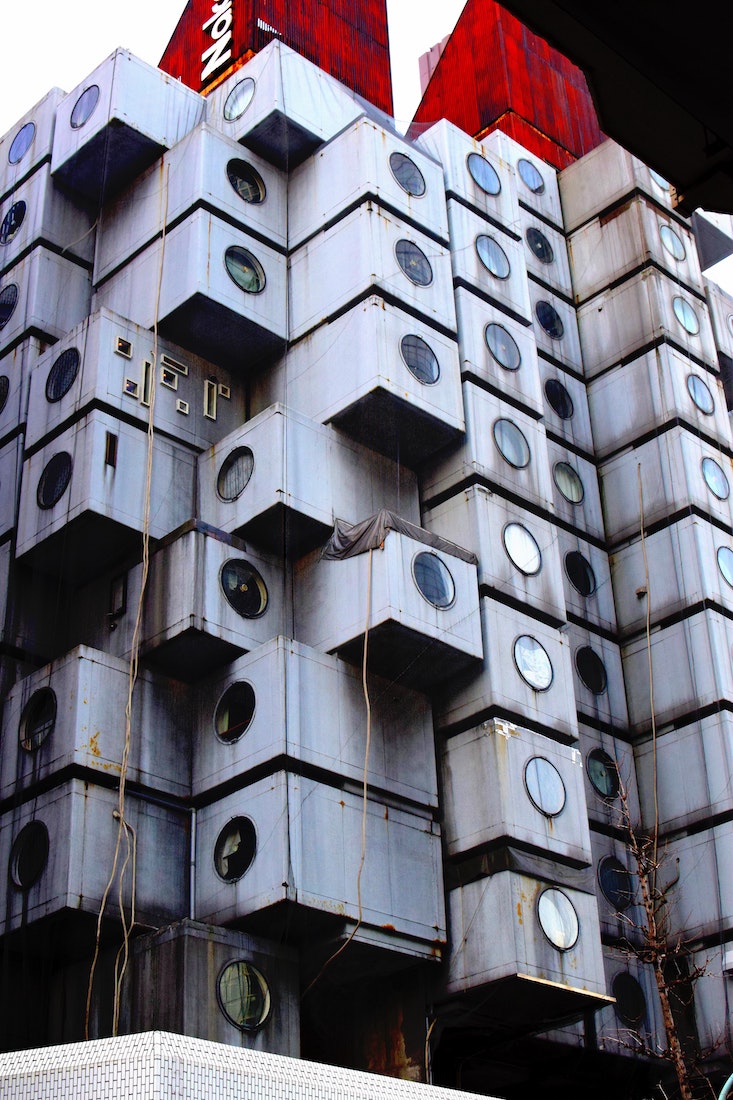 Japan's Best Capsule Hotels
Capsule hotels have become a global hotel phenomenon since they were introduced to Japan in the late 1970s and can now be found everywhere from Sydney, London, to Reykjavik, Iceland, but Japan remains the originator and king. Here's our selection of Japan's coolest capsule hotels:
Book and Bed, Ikebukuro, Tokyo.
If you're a book lover, what could be better than sleeping inside a bookshop, and not just inside, but in a bunk surrounded by books, that looks like a cross between a hotel and a library. It's definitely a special experience and has proven so popular with book lovers in Japan and international visitors that it's spawned a whole phenomenon in itself. If you want to read more about Japan and literature check out our Literary Tour of Japan and our guide to the Five Books to Read Before You Visit Japan.
Nine Hours, Kyoto.
Designed with a super cool minimalist aesthetic, the inside of this hi-tech capsule hotel looks like a sleek spacecraft with sleeping pods. If you've ever dreamt of going into space, this is the next best thing. Nine Hours is a chain and they have locations across Japan, including Tokyo.
The Millennials Shibuya, Tokyo.
Japan has continued to innovate with its capsule hotels and this is a prime example. With your entire pod controlled by a smartphone app, guests can adjust the bed, control the door and even access an 80-inch home theatre screen. This is a capsule hotel made luxurious thanks to technology. It also features art on the walls of each pod created by Tokyo's Tosaken company and local artists.
Hotel Cabana, Osaka.
Osaka. Hotel Cabana's capsules may look like giant steel ovens, but they're a lot cosier on the inside, we promise. The hotel also boasts a 24-hour spa, gym, relaxation lounge and treatments.
Centurion Cabin, Tokyo.
As we mentioned above, capsule hotels were traditionally for men, but Centurion Cabin & Spa is exclusively for women. Each capsule has a large TV and aroma diffuser. Other women-only capsule hotels include Le Luck Spa in Tokyo and Osaka Hokko Marina Resort Guesthouse, which also allows children up to nine-years-old.
First Cabin, Akihabara.
Ideally located just four minutes' walk from Akihabara station, every room has a bed, TV, headphones and safety deposit box. Read our Guide to Akihabara to discover why this district is so popular among tourists, Otaku (geek) and J-Culture fans. Also check out Green Plaza Shinjuku for being in another popular Tokyo location.
Capsule Hotel Astil, Dotonbori.
In the heart of Minami where you'll find Osaka's famous Dotonbori area, this hotel is brilliantly located for exploring the city and sampling its famous seafood, street food and ramen. It's also just a minute from Namba train station.
Capsule Inn, Osaka.
Last on our list but definitely not least is the original capsule hotel (yes, it's still open!) in Osaka. Please note, Capsule Inn Osaka is only open to men over the age of 19.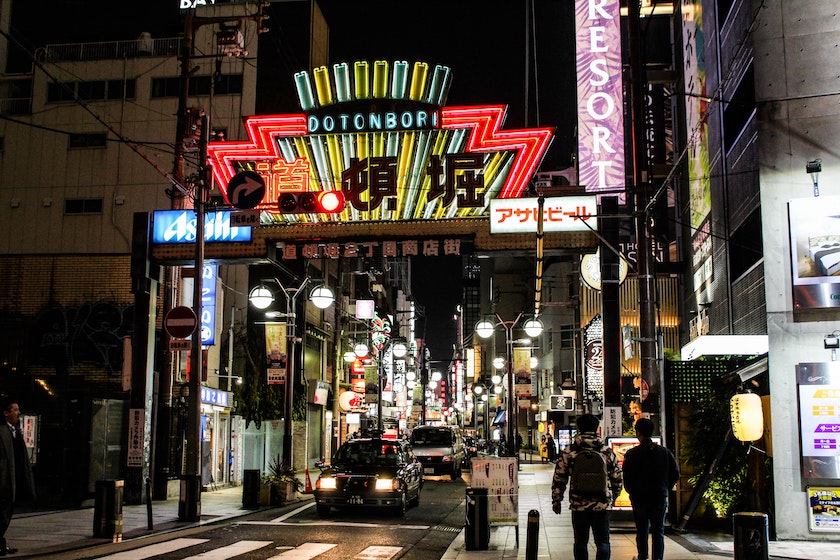 There are many more capsule hotels across Japan to choose from of course and you'll often find them congregated around train stations, airports, or other transport hubs for convenience as well as in densely populated areas. You can reach Tokyo, Kyoto and Osaka with ease (and travel between all three) on the Shinkansen bullet train with your JRailPass – one ticket for all of Japan's super-efficient domestic rail network.
Remember, if you're travelling around the inner cities of major cities such as Tokyo, Osaka and Kyoto (where many capsule hotels are found) then you'll want to invest in a prepaid travel card such as an ICOCA, PASMO or Suica card for Tokyo's public transport, as well as a Japan Rail Pass for getting around the rest of Japan. Check out our Top 30 Tips for Using Japan's Metros for advice and guidance on using the city's subway network.
Bonus Tips for Accommodation
So, you've tried a capsule hotel. Where next? If capsule hotels are futuristic and innovative, how about something traditional and timeless? A traditional Ryokan inn is just as much of a 'must do' as staying in a capsule hotel. Find out everything you need to know in our Guide to the Best Ryokan in Japan.
Another unique experience in terms of accommodation would be to stay at a Buddhist monastery or retreat. This is a great way to detox from city life, experience Japan's spiritual side and learn more about its traditions and beliefs. One of the most famous retreats in Japan is at Koya-san. You can learn all about this and more in our Spiritual Tour of Japan.
Capsules are a great way to save money if you're looking to extend your trip to Japan over a longer period or if you're simply trying to watch the pennies. Read our tips for Five Ways To Travel Well in Japan on a Budget and our guide on how to Budget in Japan and Make Your Money Go Further for more helpful advice.