Denden Town is the Akihabara of Osaka, here you'll find everything related to anime, electronics, gadgets, music and Otaku culture.
Part of the Nipponbashi city ward, DenDen town is a massive commercial district. It includes well known departments stores like Bic Camera and many small retailers that specialise in a wide variety of items like audio equipment, camera's, computers, model kits, toys, machinery, anime, manga and anything slightly related.
Visiting Denden town is a great way to experience Japanese Otaku culture (most known for anime, manga and video games), or to shop for electronics and parts. There's a wide range of items on sale in Denden town that are hardly available anywhere else. Denden town is arguably a better experience than Akihabara for different reasons. Firstly, there's a lot less traffic, which gives way to a relaxed atmosphere. The area is also a lot less touristic and more focused on locals, making the experience more authentic.
Best visits in Denden town
Walk around and explore
This is honestly the best thing to do in Denden town. There are so many things to see, explore and enjoy. Especially the smaller shops and restaurants are all hidden gems waiting to be discovered. Navigating Denden town on foot is straightforward as there are two main shopping roads: Sakaisuji street where Nipponbashisuji Shopping Mall is located and Ota Road that is more like a backstreet. Both run parallel and are easy to get around.
Indulge yourself in J-Culture
Whether it's going for Karaoke, trying your luck to get Gachapon machine-dispensed capsule toys, getting some company at a Maid café, browsing manga comics, searching for an old vinyl record, playing some video games in an arcade, your options are limitless and it's all part of the local culture and experience. Make sure to set some time aside and enjoy the endless possibilities Denden town offers.
Shop Retro, vintage and pre-loved merch
Denden town is a hub for used items, whether you're looking for an old Nintendo Game Boy title, a J-Rock CD from the 80s, a retro headphone, the odds are in your favour finding something special at in Denden town. Not only that, the prices are very reasonable too.
Try local foods
There are plenty of local restaurants in Denden town that serve food associated with the Otaku culture. Think of beautiful curry rice, a yummy bowl of Gyudon or a true classic like a bowl of ramen. A complete meal can be as little as 500 yen and will make you feel satisfied for the remainder of the day. If you want something smaller, head over to the close by Kuromon market where fish and street food is sold.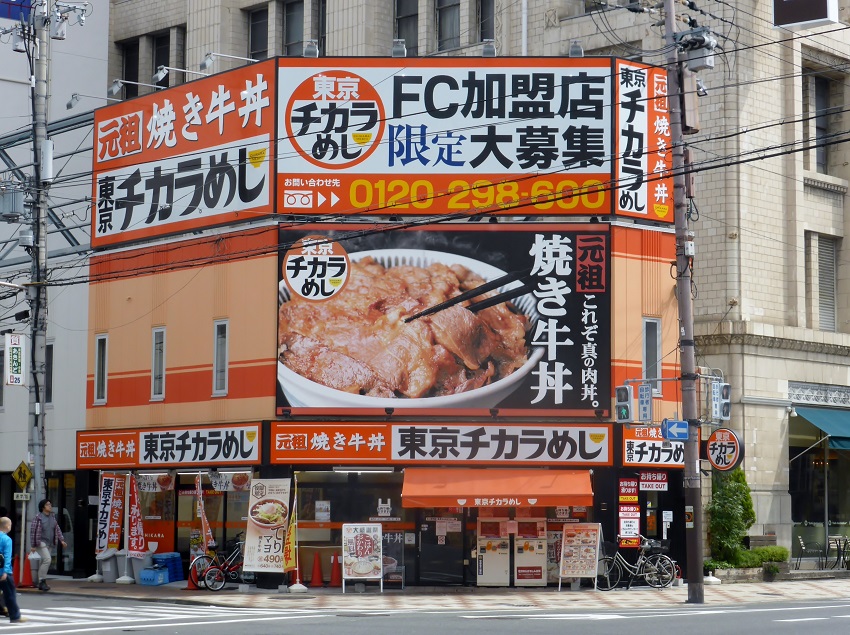 The picture above is a chain store called Chikara-meshi, that offers decent meals at low prices. Similar brands include Yoshinoya, Sukiya and Matsuya. Be sure to check them out at least once.
Visit the Department stores
Electronic department stores in Japan are a class on its own, simply not found in other countries. Denden town would not be so loved without them. Major stores include Bic Camera, Joshin and DosPara. If you're looking for anything new from a phone case to a complete PC, then be sure to check these out. They also have a ton of anime, manga and cool merch to sell. However, do not expect a bargain at these stores. Most prices are the usual retail prices, if you're out for a good deal, check out the smaller stores in the area. It's possible to compare prices online beforehand at Kakaku.
Super Kids land character Museum
If you're travelling with chilkdren or are into action figures, then Super Kids land character museum is definitely recommended. There are thousands of anime action figures. There's also a giant Gundam painted on the front building, so you can't miss it at all.
How to access Denden town
Denden town is within 10 minutes on foot from JR Namba station. Using the JR Pass, this is the best way to access the area. JR Namba station is served by the JR Yamatoji line that runs to Shin-Imamiya, Tennoji and Nara stations. Coming from other area's in Osaka or Kyoto, take a local JR line first to Shin-Imamiya, then transfer to the Yamatoji line.
Using the Osaka Metro the district can be accessed using Ebisucho Station or Nipponbashi stations.
Extra tips for visiting Denden town
Check out if there are any events ongoing when you are visiting, there are often cosplay parades, music festivals or other gigs, that will make your visit all the better.
If would like to know more about Anime and Manga in general, then check out our blog post about Japan for Gamers, Otaku and J-culture fans.
Denden town is closely located to Shinsekai, a worthwhile visit on its own.
If you're into headphones, check out E-earphone in DenDen town, the world's biggest headphone store.